These paleo vegan brownies are super chocolaty and gooey. If you chill them, they become fudge-like! The texture is absolutely perfect and sure to please the pickiest of brownie connoisseurs.
I'm SO happy that after 9 years of blogging, I finally have an amazing vegan brownie recipe to share! They're every bit as delicious as traditional brownies and nobody will miss the grains, eggs or dairy.
I promised something special after posting the non-gluten-free vegan tortillas last week and these brownies are definitely it!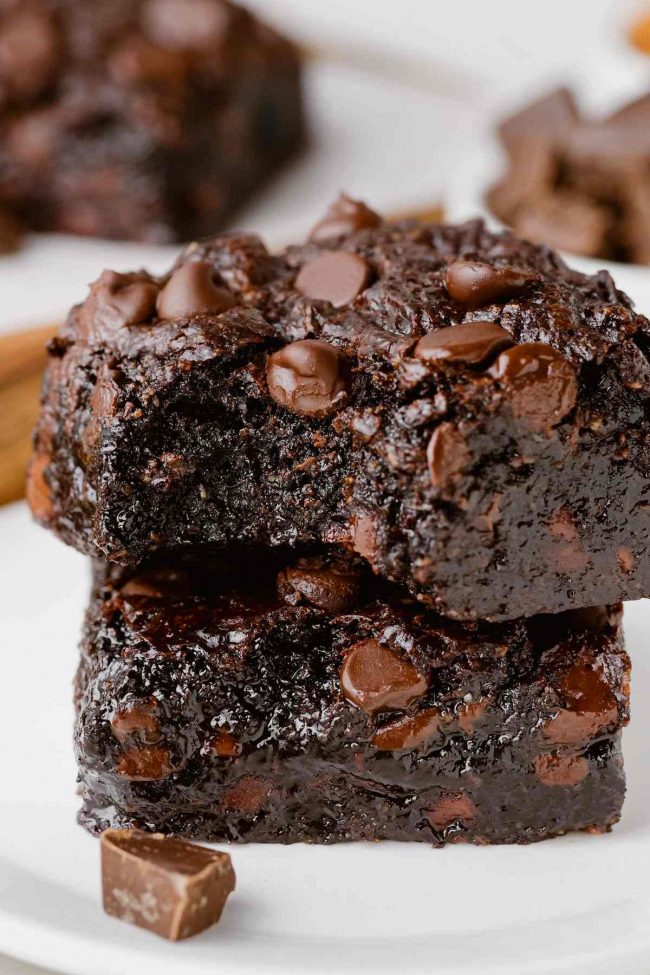 Ingredients
Almond flour – more on this below! Also, make sure to use finely ground almond flour. Otherwise, your brownies will be greasy and there will be little chunks of almonds in your brownies.


Cocoa powder – I used Dutch-process. If you use regular ("natural" cocoa powder), they may be a bit more cakey, but considering how insanely gooey they are, I think it'd be fine. Cacao powder is more bitter and I usually like to add more sugar when using it.

But, because these are already so sweet, I also think that'd be okay. I haven't tried anything other than Dutch-process, though, so no guarantees!


Baking powder – if you're paleo, you need to be sure to use paleo baking powder. Regular baking powder has cornstarch in it, which is a grain. For this recipe, you need 1 teaspoon of cream of tartar + 1/2 teaspoon baking soda in place of the baking powder.

I generally never use leaveners in my brownies but without it, these brownies just don't work. They were hard to chew without it.


Refined coconut oil – I used refined because I don't like my brownies to taste of coconut oil. If you like the coconutty taste that it adds, then go ahead and use unrefined.


Vanilla extract – a whooping 1 1/2 tablespoons of it! If you're allergic, you need to use the same amount of water.


Chia eggs – I used 3 chia eggs for this recipe. So you mix 3 tablespoons ground chia seeds (18 grams, it's best to weigh this!) with 1/2 cup + 1 tablespoon of water until gloopy like an egg.

I have no idea if other egg subs would work as I haven't tried them. I would really recommend not experimenting as you would waste a lot of ingredients should your experiment go wrong!

You can not use regular eggs. If you want to do that, use the original almond flour brownies recipe (linked to below).


Chocolate chips – make sure to use paleo + vegan-friendly chocolate!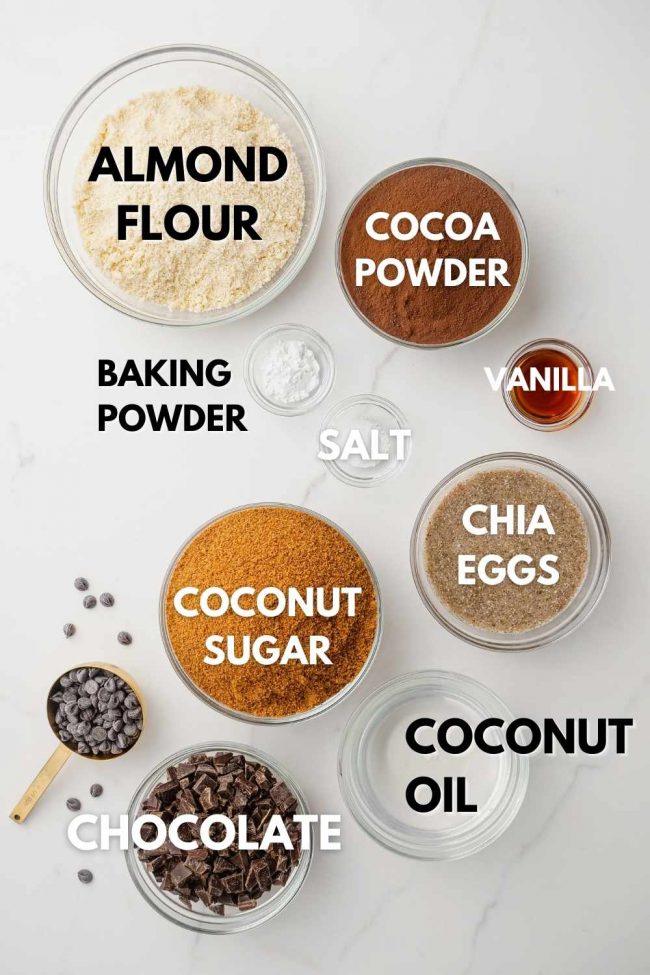 A very long journey
I'd been trying to convert my gluten-free brownies to be vegan almost since I posted them 6 years ago.
They're already dairy-free so "all" I had to do was make them egg-free. I first tried my favorite egg replacement – chia eggs.
That resulted in a soupy, oily mess. I had to add a few tablespoons of coconut flour after 20 minutes of baking just to make them edible.
A commenter said that they had replaced the eggs with 3/4 cup of pumpkin puree and that it worked well. So I tried that. The texture wasn't nearly as amazing as the original so I couldn't post those.
Another commenter used a combination of three different egg replacers and said it worked well, but I know most people don't want to buy three different egg replacers. So that was out.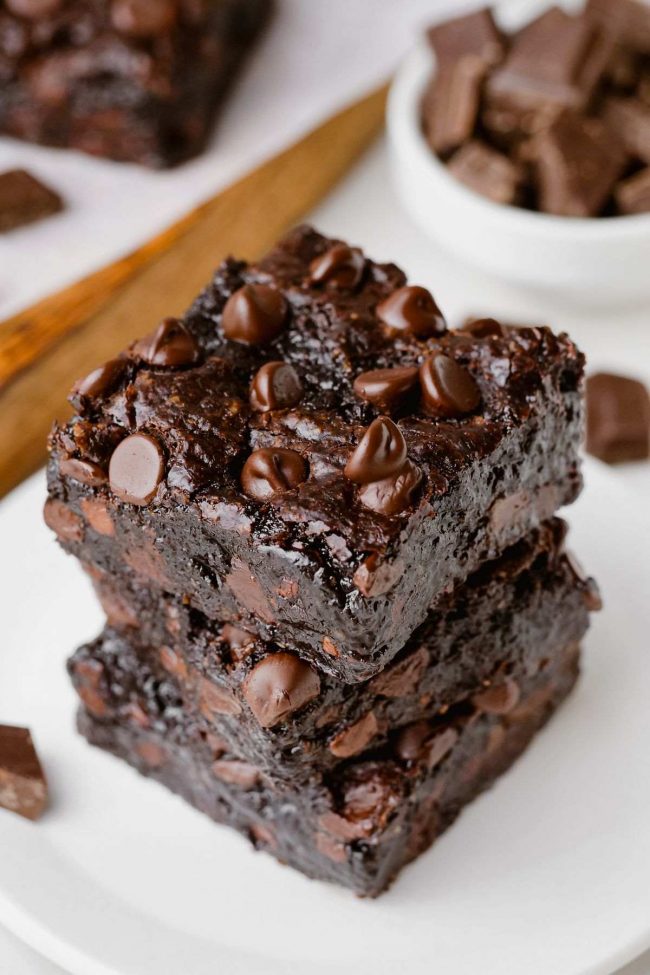 Then I tried other vegan brownie recipes to see what kind of texture they had, and I didn't really like what I tried.
I tried almond butter as a sub. Apple sauce. Bananas. Nope, nope, nope.
So then I told myself to just convert the original darn recipe until it worked. I love the texture and didn't want anything less delicious than that. So I spent the last few weeks making nothing but brownies.
I made about 80 individual brownies, each with slight tweaks, and several whole 8″x8″ pans. I don't think I'll eat another brownie for many, many months.
I hope you all will benefit from my testing so that my current brownie aversion won't be in vain. ;)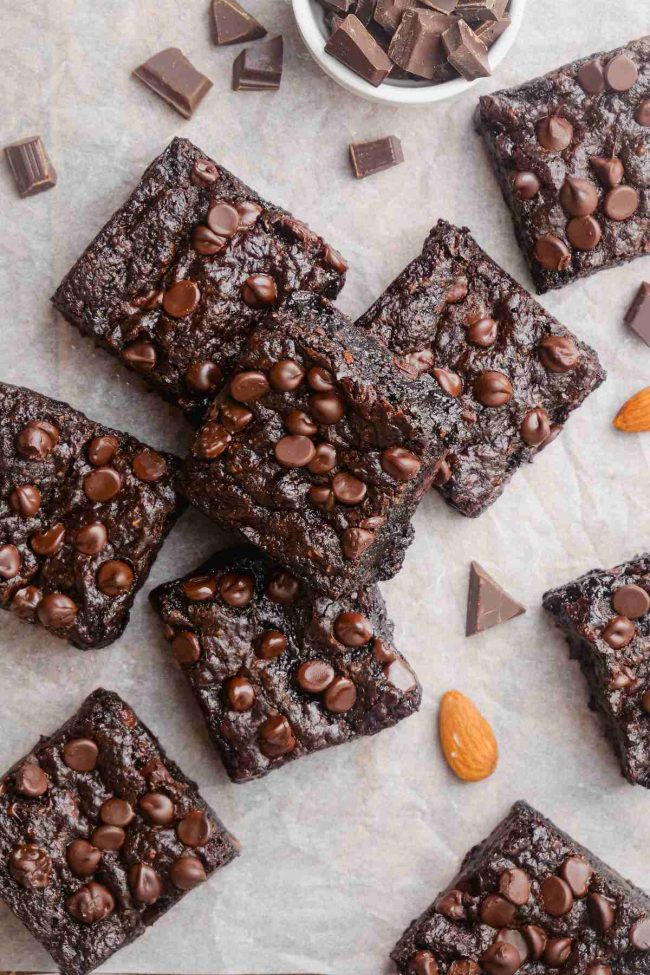 Based on my almond flour brownies
So today's recipe uses my Almond Flour Brownies as the base.
The recipe had to be totally reworked and in a big way to remove the eggs. Then the brownies were just slightly too thin so I 1.5x the recipe.
Now they're super thick. I'm not complaining, though. I don't think you will, either!
If you compare today's recipe and the original almond flour brownies recipe, you'll see that they're totally different, BUT they taste the same.
They have a deep chocolate taste and aren't too sweet. If you've made my gluten-free brownies or almond flour brownies and can't have eggs anymore (which I know is true for at least some of you!), then PLEASE try out today's recipe!
Then let me know how you liked them. :)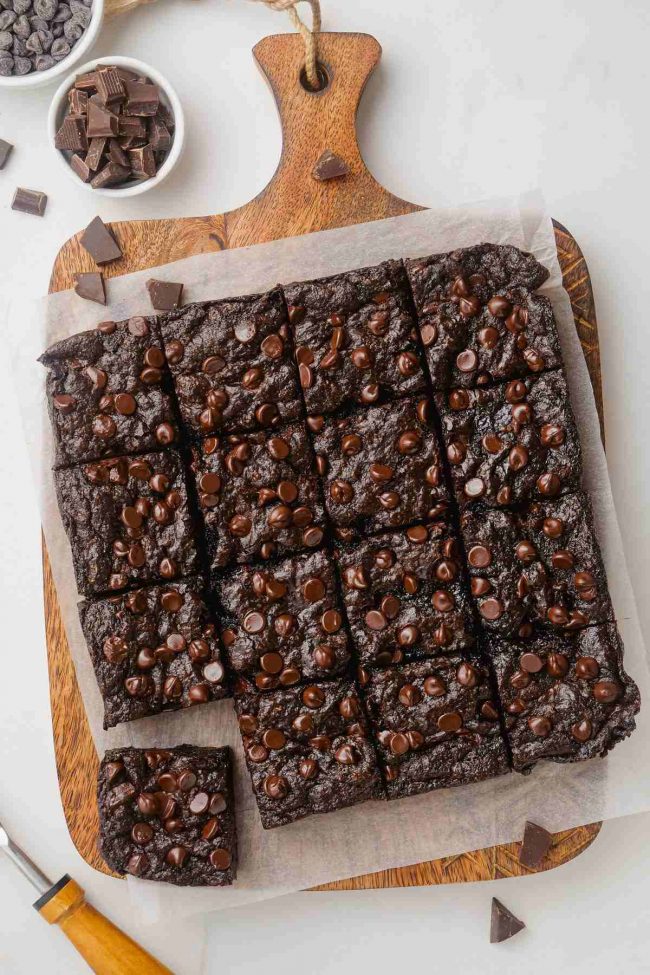 What can I use instead of almond flour?
I haven't tried this recipe with any other flour yet. Another type of nut flour might work, but without trying it myself, I wouldn't recommend it. 2 1/4 cups of nut flour is quite expensive and I'd hate for you to waste it on a failed experiment.
I have these Coconut Flour Brownies that I'd love to convert, but I think they'd require even more tinkering to make egg-free.
I do plan on converting the original gluten-free brownies recipe, which uses buckwheat, teff, or gluten-free baking flour – but not right now. The thought of making more brownies right now makes me queasy. ;)
If you're thinking you don't want to buy almond flour just for these brownies, then I've got you covered with my other Almond Flour Recipes!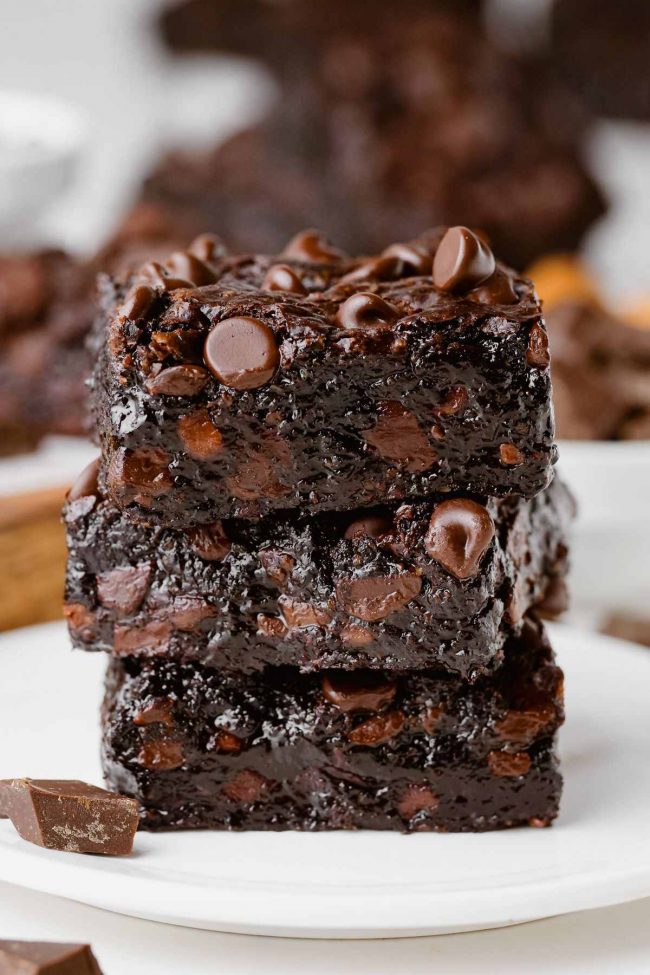 Are these even baked? They look like a pile of goo!
Haha. I hear you. When I got these photos from the videographer, I thought the same! But then I saw this photo below and realized that her brownies did come out as mine did. She just didn't let them sit long enough before taking the first photos.
So yeah. If you take these out of the oven and don't let them sit very long, they'll be insanely gooey. If you let them firm up for a few hours, you'll still have gooey brownies but not as crazy as most of these pictures look.
And you know what – if you refrigerate them, they'll turn into almost straight-up fudge!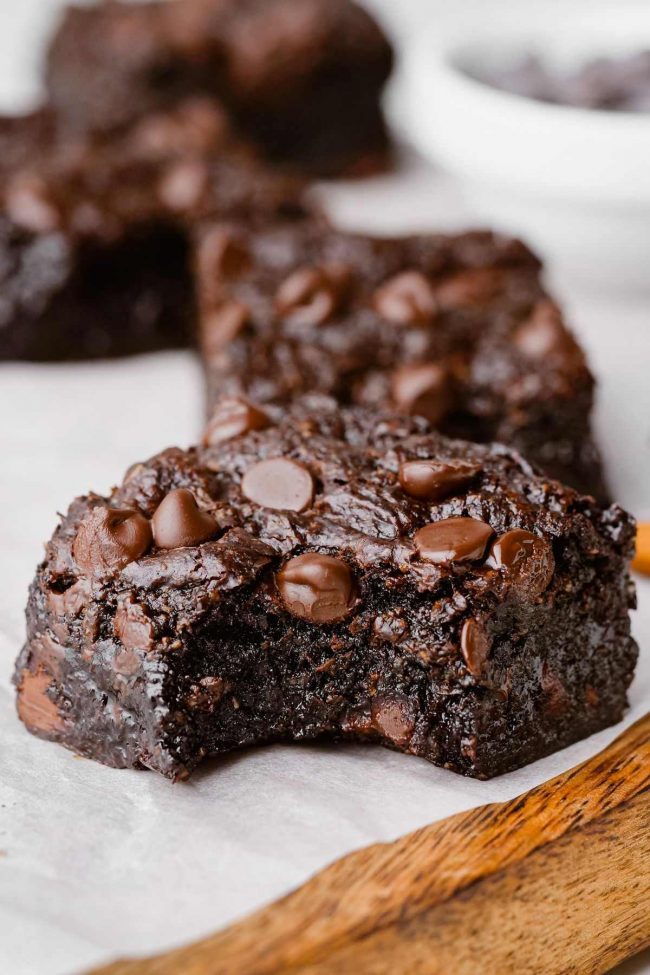 Questions about these brownies?
Can I use something instead of almond flour?

Almond flour is somewhat interchangeable with other nut flours like cashew flour or hazelnut meal, but the texture won't exactly be the same because the fat content of those flours is different from almond flour. I haven't tried using almond meal, but I think it'd work fine.

Can I use homemade almond flour?

I don't recommend it. It's impossible to grind almond flour as finely as you can buy at the store. If it isn't finely ground, you'll likely get greasy brownies.

Do I have to use Dutch-process cocoa powder?

Nope, they won't have that super chocolaty taste and might be cakier than you'd like. Or it could totally fail (although I don't think it would). This type of cocoa powder is the best for some recipes, this one included.

Can I use something instead of coconut oil?

That's all I've tried but I bet vegan butter would work fine.

Do they taste like coconut?

Not if you use refined coconut oil. They taste 100% like regular, super gooey traditional brownies.

Can I use something instead of coconut sugar?

Substituting a liquid sweetener will not work. There isn't any liquid to reduce to make up for the added liquid. It might make the brownies cakey or possibly a liquid mess. Other granulated sweeteners like maple sugar should work fine.

I've tried making it this way with the original gluten-free brownie recipe with keto sweeteners, but the oil separated. They were inedible. I don't suggest experimenting!

Can I reduce the sugar?

There's been quite a lot of talk about this on the original recipe. People were saying that they reduced the sugar to basically nothing and the brownies were still gooey. I don't see how that is possible. Or maybe we have different opinions as to what gooey means. I do know that the less sugar you add, the cakier and less gooey they are. Because sugar is a binder, they also might not hold together so well.

You could probably cut ¼ cup of sugar, but don't be surprised if they don't have that perfect texture you see in the photos. And don't be surprised if they've overly greasy, or the oil bubbles at the top while baking.

What can I use instead of chia eggs?

These are the only egg subs I've tried and can't say if other ones would work. I highly recommend sticking to chia eggs!

Can I just use regular eggs if I'm not vegan?

Nope! I had to totally rework my Almond Flour Brownies, recipe which uses eggs, to be egg-free. If you want to use regular eggs, please make the original recipe.

Do I have to use the chocolate chips?

Not at all! They will be sweet enough without it. I just prefer them in my brownies.

Can I double this brownie recipe?

I haven't tried it, but assume it would work. However, the yield would be huge. These brownies are already super thick!

24 minutes of baking isn't long enough!

These brownies were tested in three different ovens. The baking time is 24 minutes. On every brownie recipe I have (and the others I look at online), there are several people saying the baking time isn't long enough (with several people saying that it is indeed correct!).

I think that's because some people just don't know what brownies are supposed to look like when they're done. These are not cakey brownies (and baking them for 1 hour, as some others have claimed to have done, won't get that cakey texture you're looking for) so they're not going to look dry like cake.

They're going to be gooey-looking. They won't look like the raw batter but they're going to be liquidy.

Can you freeze them?

These paleo vegan brownies freeze great. In my freezer, they were edible straight from the freezer, but my freezer isn't set super low (mine's at -0.4 °F / 18 °C).
I hope you'll enjoy them! If you make these brownies or any of my recipes, I'd love to see 📸 pictures of your creations on Instagram, Facebook and Twitter! Please hashtag them #texanerin so I can find them. :)
❀
Paleo Vegan Brownies
Prep Time:
Cook Time:
Ready in:
Yield:

16-20 brownies
Ingredients
2 1/4 cups (225 grams) almond flour
1 cup + 2 tablespoons (129 grams) Dutch-process cocoa powder, sifted if lumpy
3/8 teaspoon salt
1 1/2 teaspoons baking powder (make sure to use paleo baking powder!)1
9 tablespoons (126 grams) coconut oil (I recommend refined for no coconut taste)
1 3/4 cups (350 grams) coconut sugar, very tightly packed
1 1/2 tablespoons vanilla extract
3 chia eggs2
1 cup (170 grams) chopped paleo/vegan semi-sweet chocolate chunks or chocolate chips
2/3 cup mini paleo/vegan chocolate chips for the top
Directions
Preheat the oven to 350 °F (175 °C) and line an 8"×8" (20cmx20cm) pan with parchment paper.
In a medium mixing bowl, stir together the flour, cocoa powder, and salt. Set aside.
In a large mixing bowl, stir together the melted coconut oil, sugar, and vanilla extract. Once combined, add the chia eggs and stir until combined. It may look like the oil separates, but just keep stirring and it'll combine.
Add the dry mixture to the wet and stir just until almost no streaks of flour remain. Do not overmix! Fold in 1 cup (170 grams) chocolate chunks.
Pour the batter into the prepared pan and sprinkle the mini chocolate chips on top.
Bake for 24 minutes. When you remove it from the oven and tilt the pan, it may appear to move a little but shouldn't look super jiggly. A toothpick inserted into the center will come out wet. A toothpick inserted into the sides will come out with some moist crumbs on it, but not totally raw batter. The brownies will continue to bake as they sit in the pan and will firm up as they cool. They're very gooey.
Let cool completely and cut into squares. Cover and store at room temperature for 3 days or refrigerate for 5 days. Keep them chilled if you want them fudgy rather than gooey.
Notes
To make paleo baking powder, you need 1 teaspoon of cream of tartar + 1/2 teaspoon baking soda.
I used 3 chia eggs for this recipe. So you mix 3 tablespoons ground chia seeds (18 grams, it's best to weigh this!) with 1/2 cup + 1 tablespoon of water until gloopy like an egg.