This raspberry almond tart has a sugar cookie-like crust and almond cream cheese filling. Can be made with gluten-free, whole grain or all-purpose flours. Thanks to Driscoll's for making today's post possible!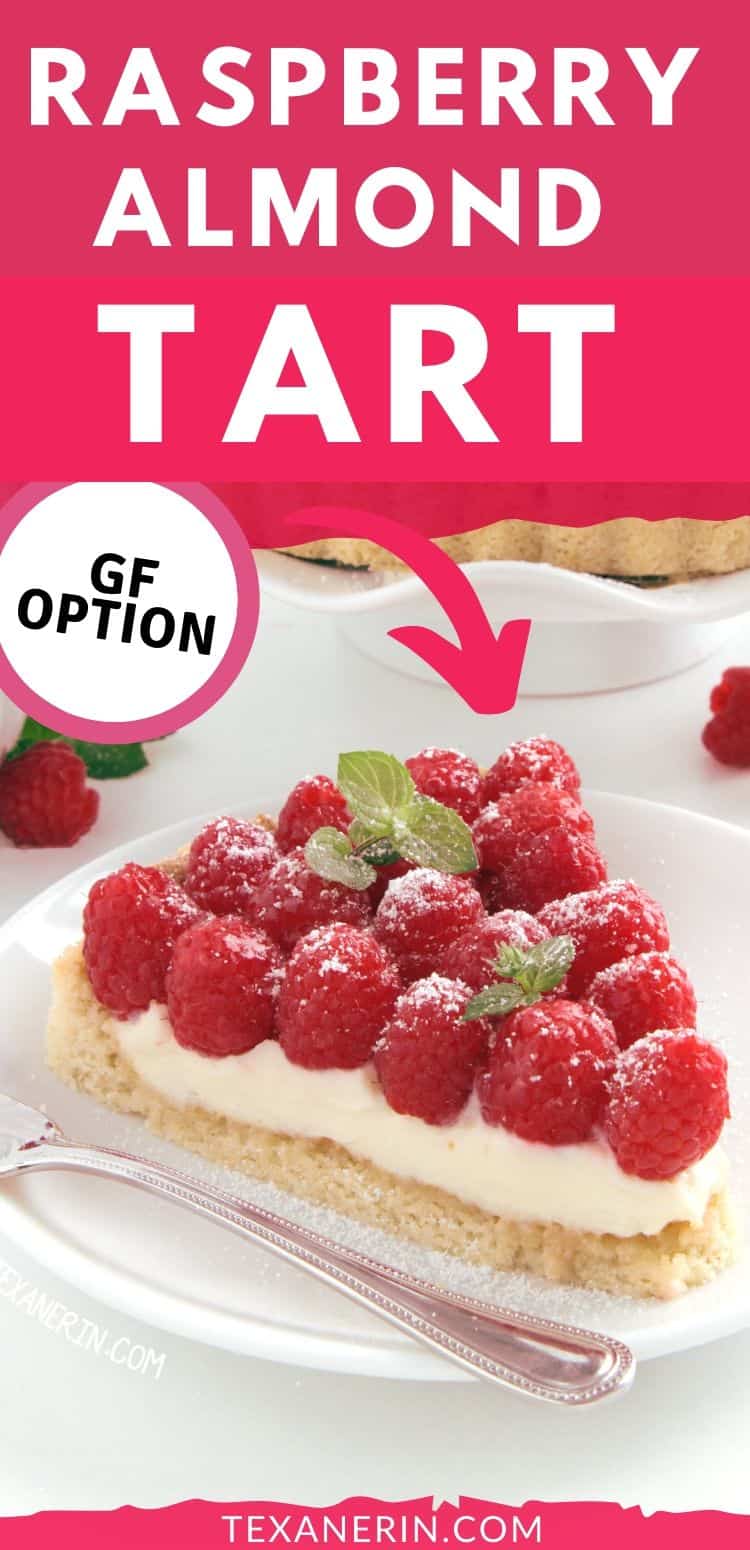 Amidst all the pumpkin, apple and spiced treats, I thought it was high time for some berries! Baking with berries just makes me so darn happy – not just during the summer but during the holidays (and really, year-round!).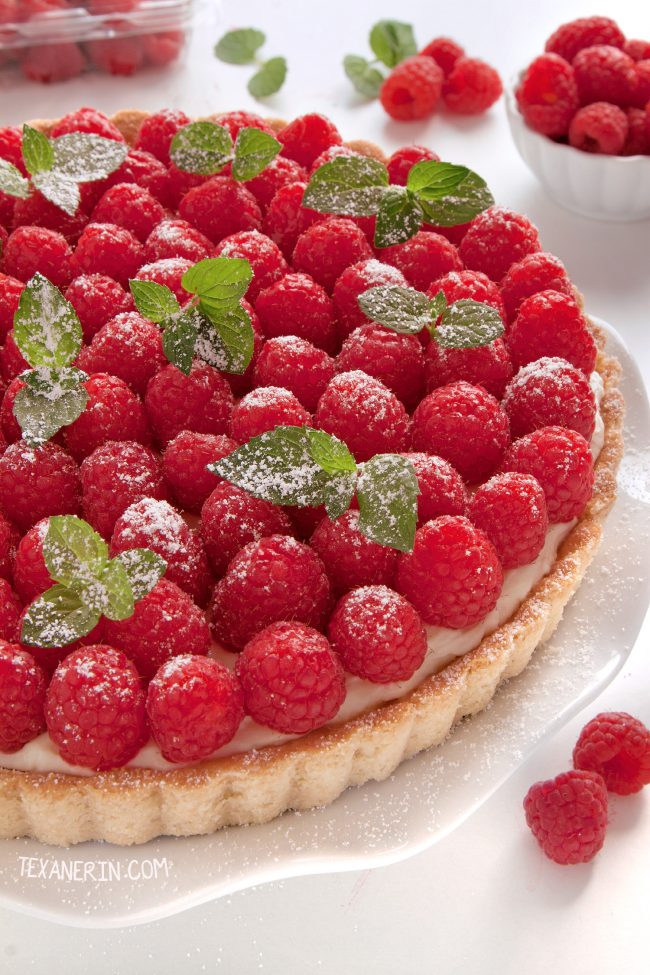 It's extremely dark and dreary around here in the fall and winter and berries do a great job of perking me up. And they add some joy and brightness to my holiday baking, which is the most fun part of the season for me.
Mr. T rarely bakes with me – except for Christmas. We loved this tart so much that we decided to make this tart again together for the holidays. We'll also make these grain-free raspberry thumbprint cookies, one of our favorite Christmas cookies, and these no-bake mini raspberry cheesecakes.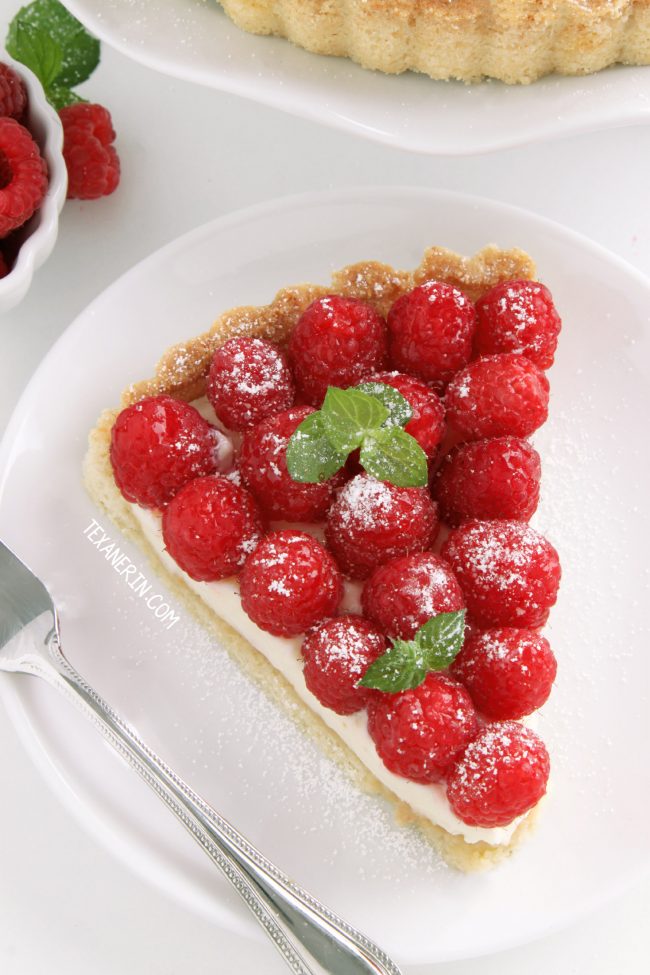 The crust is similar to a sugar cookie crust and is quite soft and not crisp like a traditional flaky pie crust. There's a bit of almond extract in there, as well as in the filling. Rapsberries (or really any berries) + almond extract is one of my favorite combinations ever.
For a more summery version (or if you're not a fan of almond extract), then lemon extract would be a great sub! Then you could also add some lemon zest to the crust. Definitely go with Driscoll's raspberries for the most vibrant, sweetest and tastiest raspberries!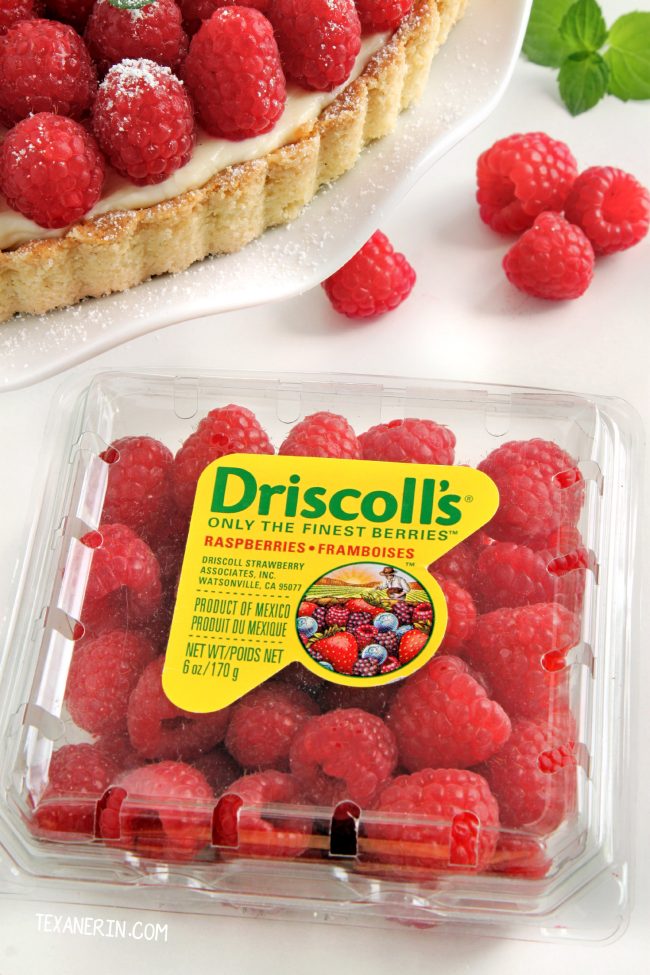 I've made this crust with all three flour types listed in the recipe and the only difference between the whole wheat + all-purpose flour and the gluten-free version is that the gluten-free version is more fragile.
Mint leaves + almond is kind of a weird combination but they made this tart so very Christmas-y looking, I couldn't help but add them! We just picked them off before eating.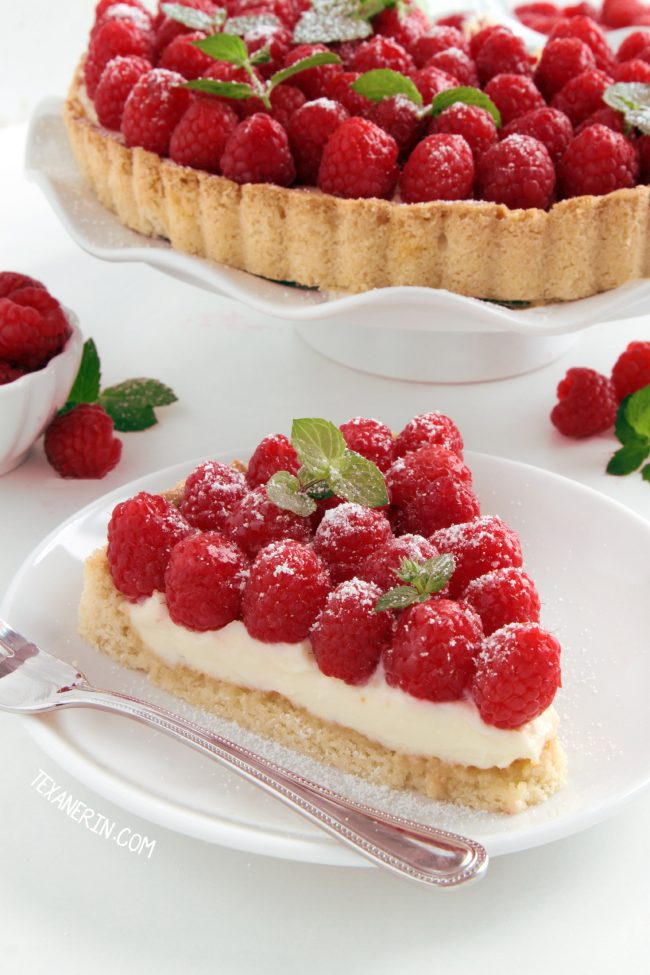 Apparently I'm not alone when it comes to the berries + happiness connection.
You know what this Christmas dinner picture is missing? Berries! And non-starchy vegetables, for that matter. There are three desserts on the table and the only veggies are sweet potatoes covered in brown sugar, butter and cinnamon. :D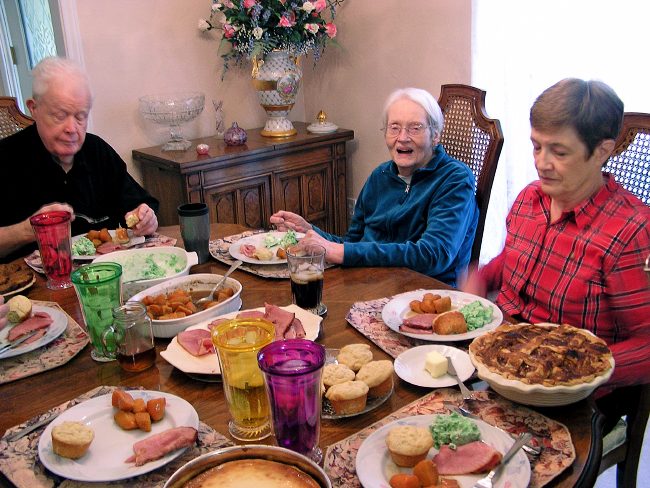 This is definitely something I planned. It was probably 8 years ago and didn't care a bit about nutrition. Whoops. I like to think that I've improved since then!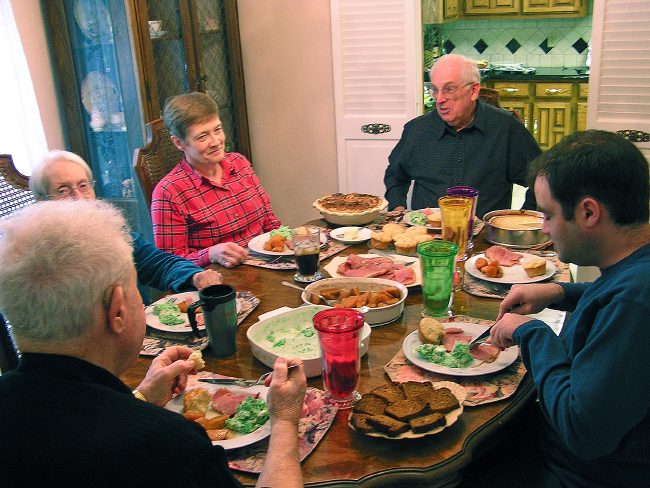 Thanks again to Driscoll's for sponsoring today's post! Be sure to check them out for some more delicious raspberry recipes. As always, all opinions expressed are my own.
For something more chocolaty, try this raspberry chocolate tart!
❀
Raspberry Almond Tart (gluten-free, whole grain, all-purpose flour options)
Prep Time:
Cook Time:
Ready in:
Yield:

8 slices
Ingredients
For the crust:

5 tablespoons (70 grams) unsalted butter, room temperature
3/4 cup (150 grams) raw sugar or granulated sugar
1 large egg (50 grams, out of shell), room temperature
1 teaspoon almond extract
1/2 teaspoon vanilla extract
1/2 teaspoon salt
1/8 teaspoon baking soda
1 1/2 cups (188 grams) white whole wheat flour, all-purpose flour or the gluten-free flour blend listed below1

For the filling:

1 pound (450 grams or two 8-ounce packages) cream cheese, room temperature2
1/2 cup (100 grams) raw sugar or granulated sugar
1/2 teaspoon vanilla extract
3/4 teaspoon almond extract
pinch of salt
2 1/2 packages (6 ounces or 1 1/3 cups each) Driscoll's Raspberries
mint leaves and powdered sugar, optional
Directions
Preheat the oven to 350 °F (176 °C) and get out a 9" tart pan with a removable bottom
In a medium mixing bowl using an electric hand mixer, beat together the butter and sugar at medium speed until fluffy.
Add the egg, almond extract, vanilla extract, salt and baking soda and mix until well combined.
Gradually beat in the flour on low until well combined.
Press onto the bottom and all the way up the sides of the tart pan and bake for 15-20 minutes or until evenly and lightly browned.
Let the crust cool completely, about 1 hour, before filling.

For the filling:

Beat the cream cheese and sugar at medium speed using an electric hand mixer or stand mixer. Once smooth and well combined, beat in the vanilla and almond extracts, and salt. Spread over the cooled crust.
Place the raspberries on top. Immediately before serving, garnish with mint leaves and powdered sugar.
Best served on the day of making. Cover and keep refrigerated until ready to serve.
Notes
This is the gluten-free flour blend I used:

1 cup (140 grams) white rice flour
1/3 cup (51 grams) potato starch
2 tablespoons + 2 teaspoons (20 grams) tapioca flour / starch
1/2 teaspoon xanthan gum

If you live outside of North America and have the kind of cream cheese that's meant for toast (that comes in a little plastic tub) rather than American style brick cream cheese, then get 600 grams of cream cheese, place it in the center of a cheesecloth, and wring out the liquid until you have 450 grams of cream cheese left.