This fruit-sweetened and healthy paleo blueberry smoothie is vegan, grain-free and gluten-free! With a little added lemon and vanilla for extra flavor.
This recipe certainly isn't innovative but it is delicious, so I'm sharing it, anyway. :)
I started off wanting to make a non-paleo blueberry pie smoothie. I added oats, which makes it thicker and more filling, but it didn't really remind me of a blueberry pie.
By the way, if you're not paleo, you should totally make this blueberry cream cheese pie. It's still one of my absolute favorites!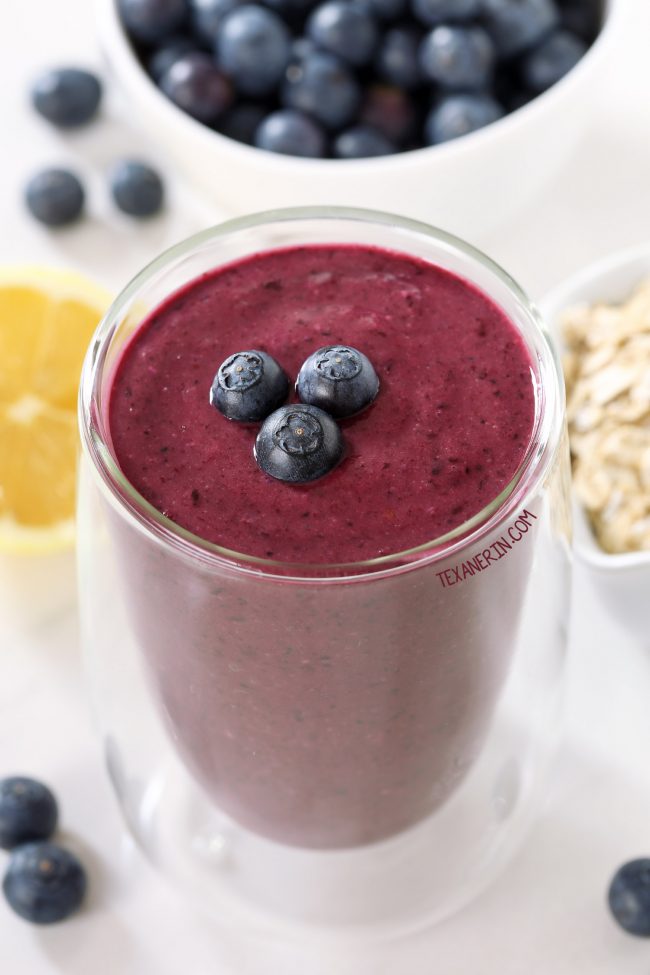 I prefer the totally smooth oatless version of this smoothie. Mr. T preferred the oat version. If you can eat grains and want to try the oat version, I recommend trying the smoothie without oats and then adding them if you want a bit more texture.
You can switch out the type of berries, citrus juice and zest type. Just don't omit bananas as they're the main source of sweetener and they also add creaminess.
If you want even more of a creamy texture, you can add some avocado. It takes away from the sweetness, so you'll likely need to add some sweetener.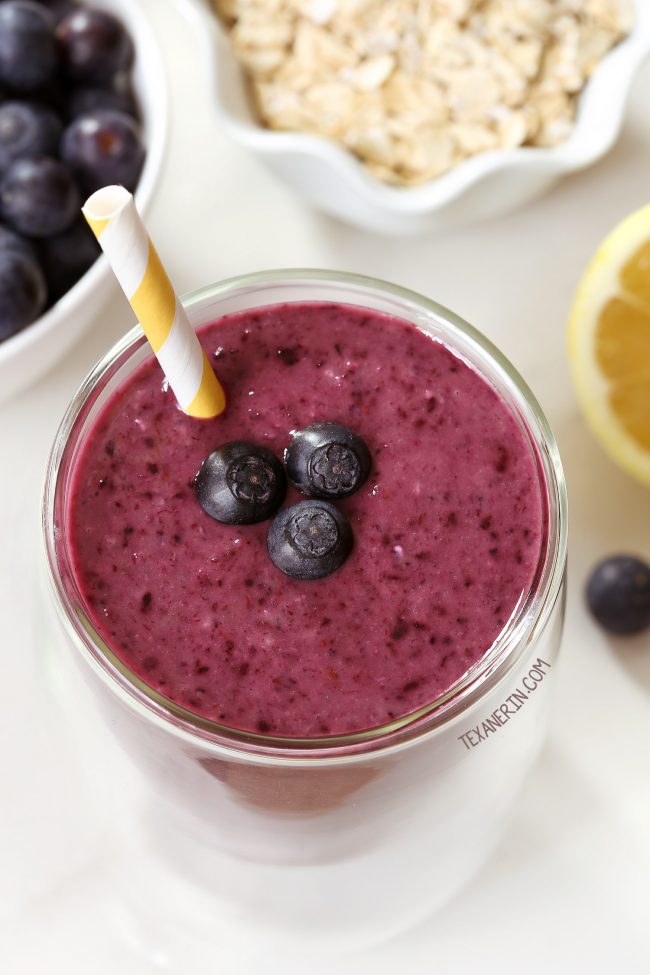 If you use raspberries or strawberries that aren't very sweet, you'll want to add more banana or more sweetener. I used maple syrup but you can use whatever you like.
I don't recommend coconut sugar, though, as I think it has too strong of a taste for this smoothie.
The lemon juice doesn't really make the smoothie lemony. It just brightens the blueberry taste, if that makes sense. I wanted a little lemon taste so I added some lemon zest, which did the trick.
I think next time I make this, I'll omit the lemon juice and zest and add some cinnamon instead! I'm thinking it'll be just as delicious. :)
And for another refreshing summer drink, check out this sweet blackberry tea.
Enjoy!
❀
Paleo Blueberry Smoothie (vegan, grain-free, gluten-free)
Prep Time:
Cook Time:
Ready in:
Yield:

2 small smoothies
Ingredients
1 cup (240 milliliters) milk of choice (I've tried with almond, coconut and dairy milk)
1 1/2 cups (210 grams) blueberries, fresh or frozen
2 medium cold or frozen and partially thawed ripe bananas (each was 130 grams without the peel)
1 tablespoon lemon juice (plus more, to taste)
1 teaspoon lemon zest
1 teaspoon vanilla extract
1 tablespoon maple syrup, optional (you won't need this if your bananas are ripe and blueberries are sweet)1
for a grain-containing / non-paleo version: 1/2 cup (45 grams) rolled or quick oats to create a thicker more filling version2 (use gluten-free oats, if necessary)
Directions
Blend everything together, except for the maple syrup, in a blender until well combined.
Taste and add more lemon juice, if desired, and the maple syrup if it's not sweet enough.
Notes
You can also use another sweetener. I think coconut sugar would be too strong, though.
If you want to use oats but don't want little chunks of oats in your smoothie, you can soak the oats in milk for about 5-10 minutes before blending them.
Source: My post on Cohen's