This strawberry ginger banana smoothie is not only delicious but helps relieve nausea and upset tummies!
I call this my upset tummy smoothie. For a few years up until last November, I'd wake up in the middle of the night feeling really nauseous and I'd remain a little nauseous for a few days.
It was bizarre. Several doctors and an endoscopy later, I decided just to try probiotics. I took those for a week and haven't been nauseous since!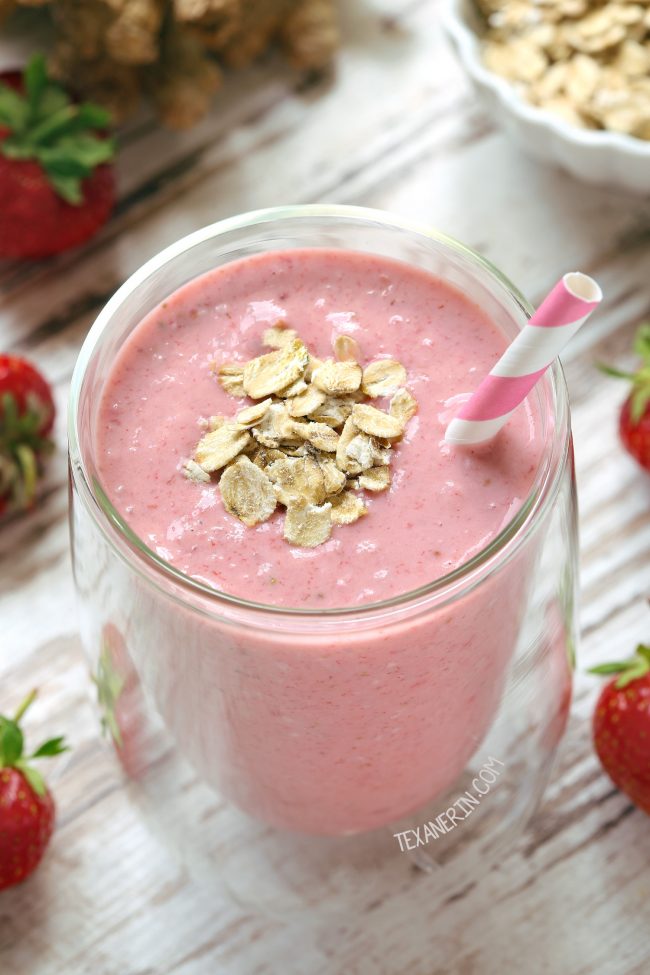 But I still keep this strawberry ginger smoothie around because it's yummy and I get bored way too easily by what's on my regular smoothie rotation. Banana ginger smoothies seem to be the classic anti-nausea smoothie but let's be honest – that's really boring.
If you're super nauseous, boring is great, but if you're not feeling that terrible, the strawberries are a nice touch. Strawberries don't actually appear to benefit the stomach in any way, but they don't hurt it (unless you've got an allergy!) Besides. It's finally strawberry season which means it's time to throw strawberries into everything!
It's a really basic smoothie. Ginger, bananas, strawberries and Greek yogurt or coconut milk yogurt for a dairy-free / vegan / paleo version.
They also have cultured almond milk! Think of it as dairy-free Greek yogurt. And I threw in some oats, which you'd have to leave out for the paleo and grain-free version.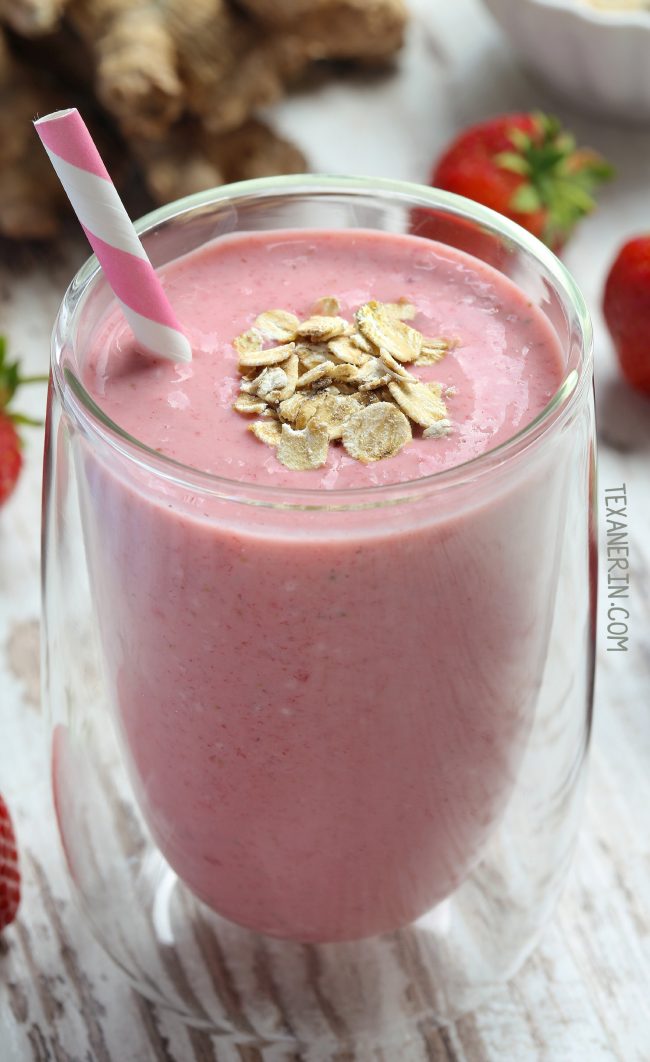 Here are some of the reasons why I picked these ingredients.
Ginger:
Has been shown to treat or even prevent nausea which results from motion sickness, pregnancy, and chemotherapy. If using ginger for morning sickness, do not use it for more than 4 days.
Soothes the intestinal tract.
Note: it's not recommended to consume more than 4 grams of ginger per day. Also, do not give ginger to children younger than two.
If you don't have fresh ginger, you can sub ground ginger. Use 1/4 teaspoon and add more until the smoothie is your desired spiciness.
Bananas:
Easy to digest.
Don't upset the stomach.
Well-known to help with stomach issues. The pectin they contain helps naturally firm bowel movements (the first and last time I ever mention that over here. ;))
Contain potassium, which you may need if you're dehydrated from vomiting or diarrhea.
They also have a super important role as the sweetener in this smoothie recipe! There's no added sugar, no honey, no anything. Unless I have some outrageously sweet strawberries, I've found that I need a banana to sweeten my smoothies.
Strawberries:
Like I said earlier, eating strawberries doesn't have a beneficial effect on the stomach like the other two but diets rich in strawberries have been shown to help prevent gastric illness and protect the stomach lining from alcohol.
That's something, right? :D
Oats:
Coat the lining of the stomach which eases digestion and creates an overall soothing effect.
Contain soluble fiber which is important in helping to maintain digestive tract health. Healthy digestive tract = happier tummy = fewer tummy aches. At least in theory. :)
Want something a little more dessert-like? Try this roasted strawberry shake from Vegetarian Mamma!
❀
Anti-Nausea Smoothie (Strawberry Ginger Banana Smoothie)
Prep Time:
Cook Time:
Ready in:
Yield:

1 serving
Ingredients
1 medium to large very ripe banana (120 grams without the peel)
7 large strawberries (186 grams), hulled and washed
1/2" piece of ginger (4 grams), peeled and chopped into 4 chunks
1/2 cup (114 grams) plain or vanilla Greek yogurt (or coconut milk for a dairy-free / vegan / paleo version)
1/4 cup (25 grams) quick oats or rolled oats if you don't mind some chunks of oats in your smoothie, optional (use gluten-free certified oats if you need this to be GF or omit for paleo / grain-free)
1/2 teaspoon vanilla, optional and only if you're feeling well!
milk of choice, if desired
Directions
Use an immersion blender, blender or food processor to blend everything together until thoroughly combined. Add milk to thin it out, if desired. My strawberries were very watery and I didn't need any milk at all. Serve immediately or refrigerate for up to 1 day.
This post is not intended as medical advice – it's for informational purposes only!