This Vegan Baileys is the real deal! If you love Baileys but need it to be vegan, I think this recipe is the closest you can get. It's creamy, sweet and the consistency is just right.
I've always thought the world had enough vegan Baileys recipes. Then I tried 4 of them and decided that it didn't. 😄
Perhaps the people who created those recipes hadn't had Baileys in years and couldn't remember what it tasted like. Some of the reviewers on those recipes even said the recipe came out better than Baileys!
We thought 2 out of 4 were hardly drinkable. Different strokes for different folks, I guess.
If you want a recipe that results in a drink that tastes super close to Baileys, and has a similar consistency, this is it!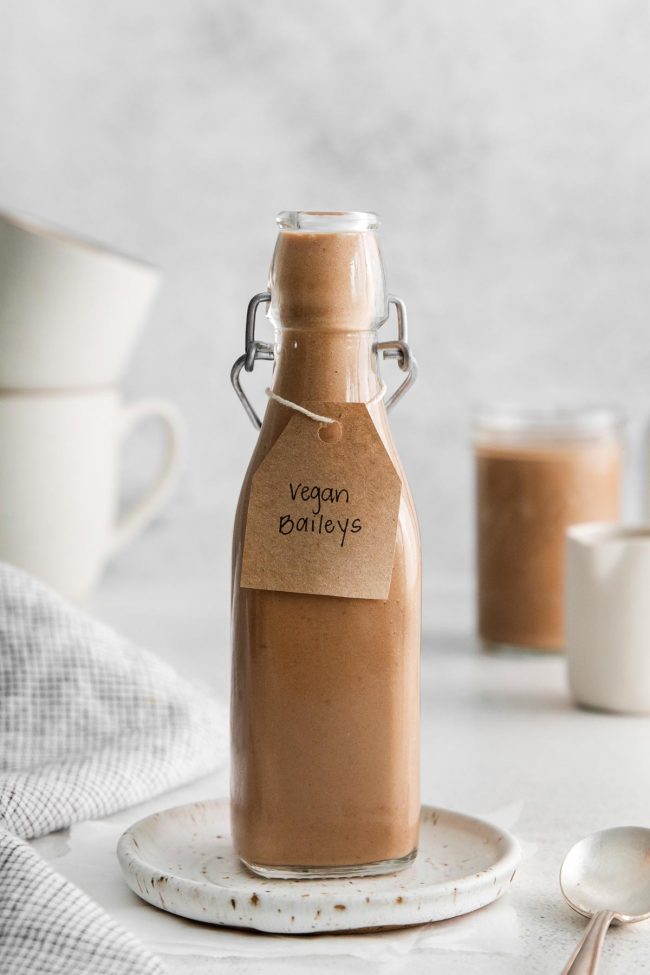 The key to success
The Baileys recipes I tried all called for canned coconut milk. I'm usually on board with that!
None of the results tasted coconutty, but when I chilled them, a weird layer of coconut cream/oil formed on top. The recipes said to just stir or shake it.
But that didn't work. After stirring, instead of a layer of coconut cream/oil, I had lots of unappetizing lumps.
So then I tried a mix of cashew milk + coconut milk. The layer was still there, and the drink wasn't nearly thick enough.
But I liked the taste better. While the all coconut milk version wasn't coconutty, the 50/50 mix was just tastier.
So now to find a way to thicken the Irish cream and fix the gross layer.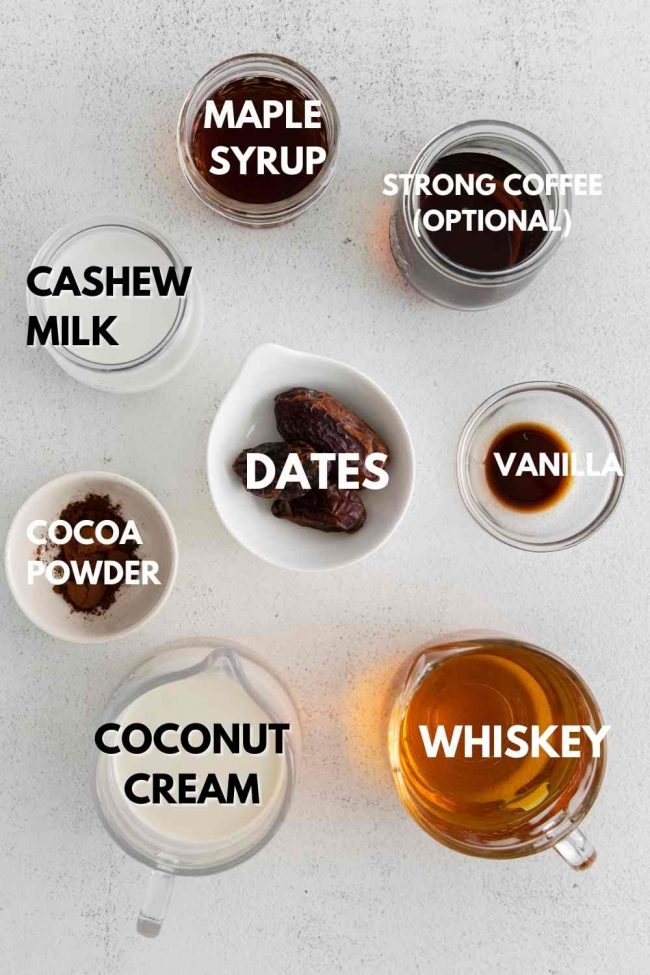 The solution – dates! And coconut cream.
It still separates as it sits, but you really can just shake the bottle or stir it to combine to get it creamy and smooth. It's not a weird greasy coconutty layer.
The whiskey starts to separate after you put it in the fridge. What I do is shake it after about an hour, and then it comes together and stays that way. But you should still shake it a little before serving, just to be sure.
Can I omit the dates or use something else?
No. They're needed for sweetness, thickness and to prevent the coconut fat from forming a layer on top.
I wouldn't bother making this recipe if you can't or don't want to add the dates.
If you don't want to use the dates because you don't generally like the taste or texture of dates, I think it's safe to use them here because there's no obvious date flavor!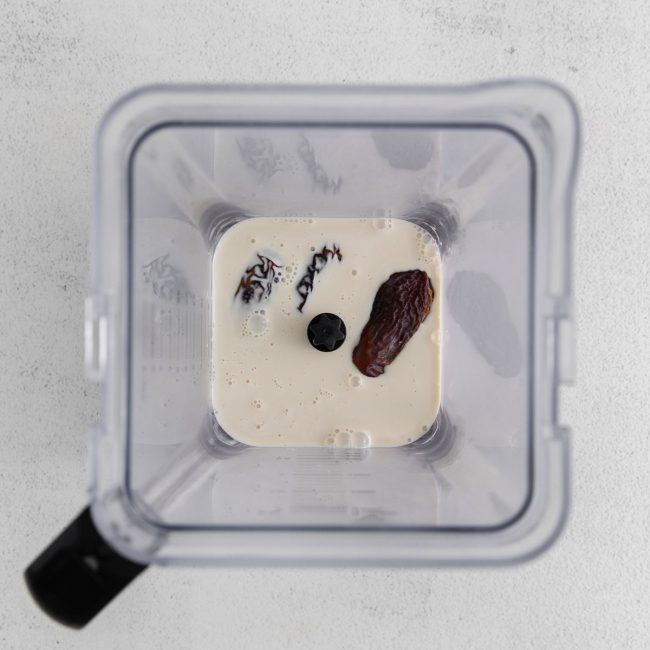 Can you taste the coconut or cashew milks at all?
This vegan Baileys recipe tastes very close to the real thing. The only noticeable difference is that Baileys is more syrupy.
Baileys doesn't disclose ingredient information, so I'm not quite sure how or what type of emulsifier they're using to produce that consistency.
I used coconut cream instead of coconut milk to increase the richness and creaminess. Instead of basically using coconut water (which is what's left in the can after you use the coconut cream), I used cashew milk for better flavor.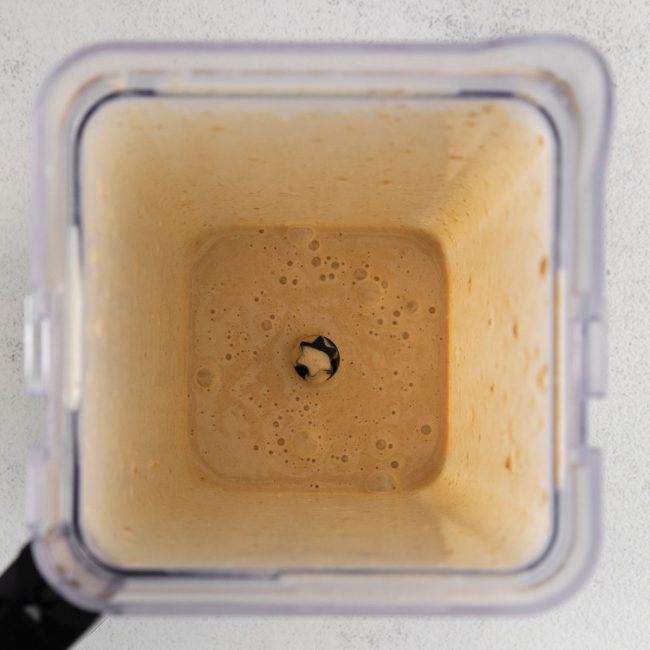 What type of whiskey is best?
I made this the first several times with Canadian whiskey, which is lighter and smoother than Irish whiskey. To be honest, it was a cheap bottle from Lidl. The company doesn't even make it anymore.
Then I tried it with Tullamore Dew, an Irish whiskey. The whiskey flavor was then quite strong.
I thought the result with Canadian was WAY better.
I didn't like how strong the whiskey flavor was, so I tried it with Bushmills. I had to use a fourth less whiskey and basically redo the whole recipe to get it to taste just like Baileys, but hey – at least I can tell you what type of whiskey to use instead of sending you out for a cheap bottle of whiskey with little flavor. ;)
I didn't try Jack Daniels or any American whiskies because I read that Irish whiskey is lighter. Baileys doesn't have a strong whiskey flavor, at least in my opinion, so light is what was needed.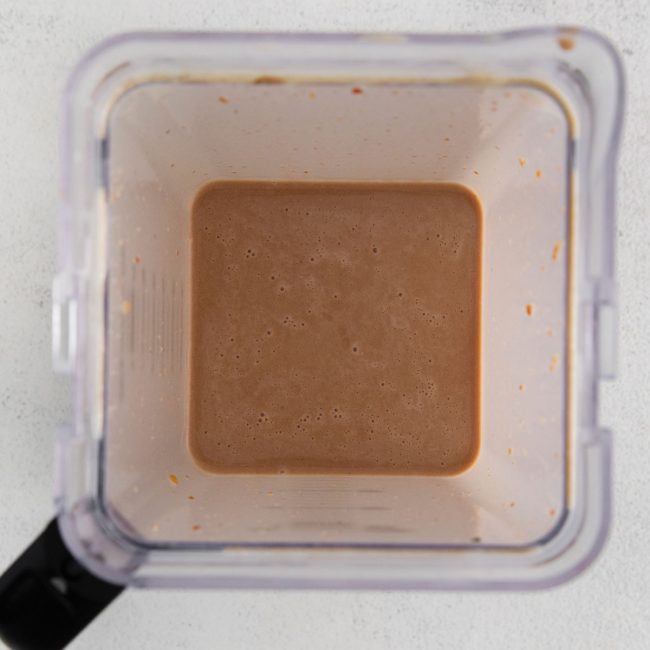 Can I use a flavored whiskey?
No, please don't. :)
Can I use something in place of whiskey?
Vodka or rum sounds tasty! But it won't taste like Baileys.
Why's there coffee in this? There's no coffee in Baileys!
I know there's not, but it just works here. The result doesn't taste like coffee, though.
Can I omit the coffee?
Yes, definitely! I once forgot to add the coffee and loved the result. But note that if you do that, the finished Irish cream won't be pourable. It'll be like a runny mousse.
That might not sound very tasty, but it was great.
Do I have to use a blender?
Yes. Because the coconut milk absolutely must be blended. I once just poured in the coconut milk, thinking maybe that'd prevent the weird layer on top.
That resulted in the coconut oil separating from the rest of the drink. So that was even weirder.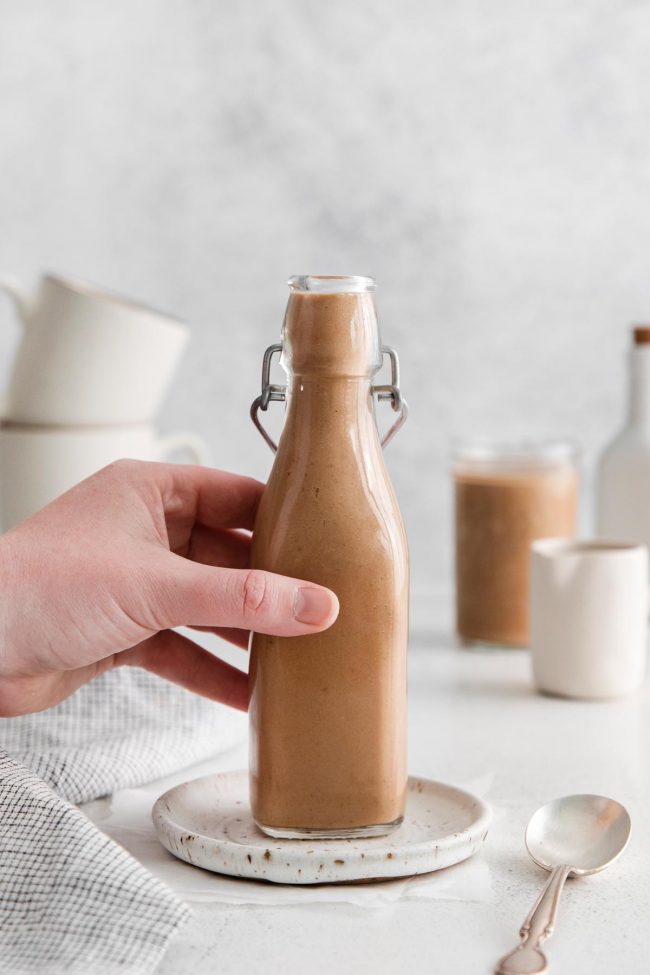 Maple syrup sub?
The blend of sweeteners is just right. While you can't taste the dates nor the maple, when you go and mess with the proportions (more maple and fewer dates or the other way around), it really makes it taste different and not as balanced.
I know because I tried it out several times.
So you can't omit the maple. I also don't recommend a sub because the flavor so perfectly blends with everything else. If you use anything else, the result won't taste right.
Since this is a copycat recipe, you really need to follow it exactly if you want it to taste like Baileys.
How to make strong coffee
I used a French press. I used 21 grams of coffee beans, ground medium coarse, and 8 ounces of water and let it sit for 5 minutes before plunging.
You can read more about how to use a French press in this post here French Press Espesso.
You only need 5 tablespoons of coffee for this recipe, so you'll have about ⅔ cup of coffee left over to drink.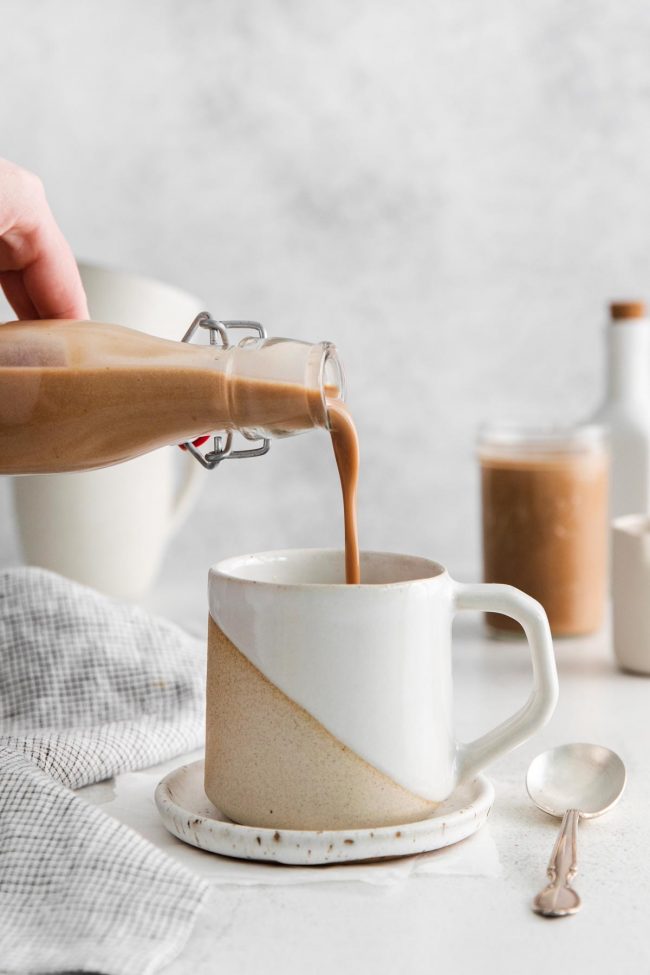 Is this gluten-free?
The short answer is yes, due to the distillation process – but if you need it to be gluten-free, check out this Is Whiskey Gluten-free post for a list of brands and more information.
Can I bake with this?
I replaced the ¾ cup of canned coconut milk in this Vegan Cheesecake Recipe with ¾ cup of this homemade vegan Irish cream. It worked great!
It didn't separate or do anything funky. The Irish cream flavor isn't strong enough, though, so don't try it out yet!
I added more maple syrup, a bit of whiskey, and a little cocoa. The flavor was great.
But all those additions made it a bit too liquidy. I forgot to add more coconut oil to make up for all the extra liquid. Otherwise, I'd share the recipe right now.
I also made these Baileys Brownies and was nicely surprised. I didn't have much hope, but it worked just as well as with normal Baileys.
That recipe's not vegan, though, but I plan on trying it out soon. I used coconut oil instead of butter to make it dairy-free – 52 grams of oil instead of 56 grams of butter – in case you want to try.
It just has one egg in it, so I think an egg sub would work, but I haven't gotten that far with the testing!
Can I freeze this?
I am very excited about this answer. ;) Yes, you can!
I had assumed that it would separate and be super weird after defrosting, but it was just as good as pre-freezing.
And that's a really good thing because I don't recommend keeping this vegan Baileys too long in the refrigerator. I feel like drinks made with coconut milk go bad faster than drinks made with other plant-based milks.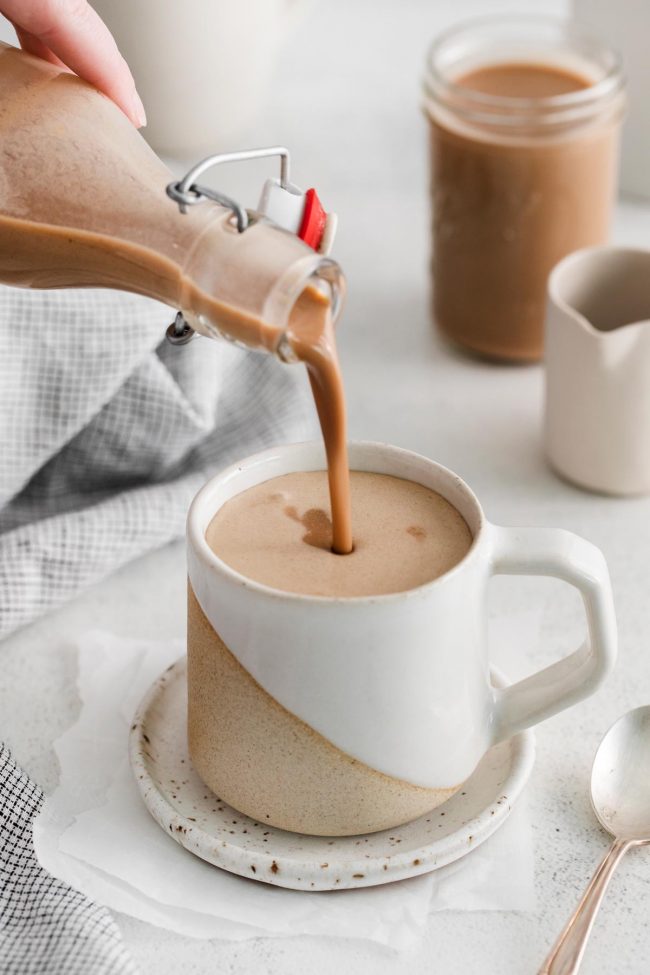 Vegan sweets
If you made it this far, you're probably looking for other vegan desserts. Here are some of my favorites.
I hope you enjoy this Vegan Irish Cream recipe! I'd love to hear what you think. :)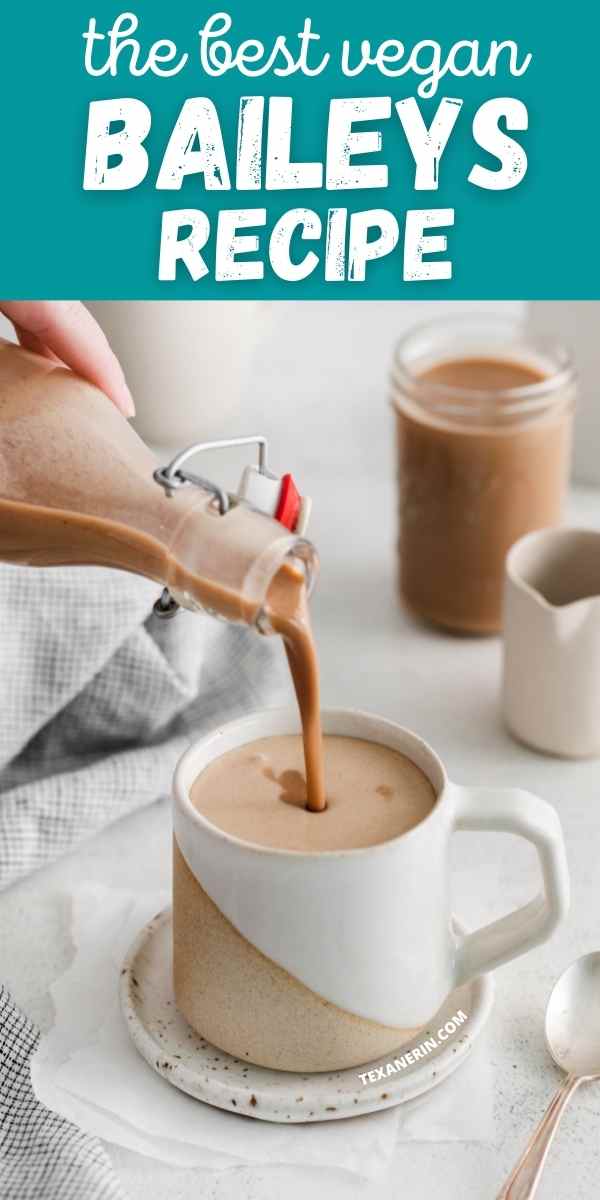 ❀
Vegan Baileys Recipe
Prep Time:
Cook Time:
Ready in:
Yield:

3 cups (710 ml)
Ingredients
1/4 cup (60 grams) pitted dates1
3/4 cup (180 ml) unsweetened cashew milk, divided
5 tablespoons strong coffee, optional2
6 tablespoons maple syrup
1 1/2 teaspoons Dutch-process cocoa powder
1 teaspoon vanilla extract
1/2 cup (120 grams) coconut cream, soft or melted3
1 1/4 cups (300ml) Irish whiskey (I used Bushmills Original)
Directions
To a high-speed blender, add the dates and enough of the cashew milk to cover the dates (for me, that was ½ cup). This is to make blending the dates easier. If you just dump everything together in the blender, it takes forever to blend the dates.
Blend on high until totally smooth and then add the rest of the cashew milk and all the other ingredients.
Blend on high for 1 minute. 4
It'll thicken in the fridge and also separate. But it's easy to combine by shaking the bottle or stirring with a spoon. I stir after about an hour and then it stays combined, but still think it's good to give it a little shake before serving.
Refrigerate for up to 3 days. It can also be frozen for up to 2 months.
Notes
If your dates aren't soft, then you can put them in a mug and pour in enough boiling water to cover them. They'll soften within a minute or two. Drain all the water.
If you omit the coffee, the taste is really great, but it'll be like a runny mousse after chilling rather than a pourable drink.
It's important to warm the coconut cream (if it was refrigerated) or else you'll have chunks of coconut cream in your drink. If it's room temperature and soft, then you don't need to warm it. If there's any coconut water at the bottom of your can, leave that out. You only want the hard coconut cream.
It's important to blend it in a blender. If you just mix in the melted coconut cream, the coconut fat separates and rises to the top while chilling.