These Vegan Peanut Butter Chocolate Chip Cookies are flourless and have the absolute best texture! They're incredibly quick and easy to make and the result is an ultra peanut buttery cookie.
I would say that I specialize in cookie recipes. I kind of think of myself as a cookieologist, tinkering away in the kitchen making cookies dozens of times to get them perfect.
The recipe I based today's recipe on is one of those labors of love. It's my Gluten-free Peanut Butter Cookies recipe, but with a modified chia egg in place of the regular egg.
How long it took me to realize I just needed to reduce the water in the chia egg to make the perfect texture in this vegan version is a bit embarrassing, but here they are!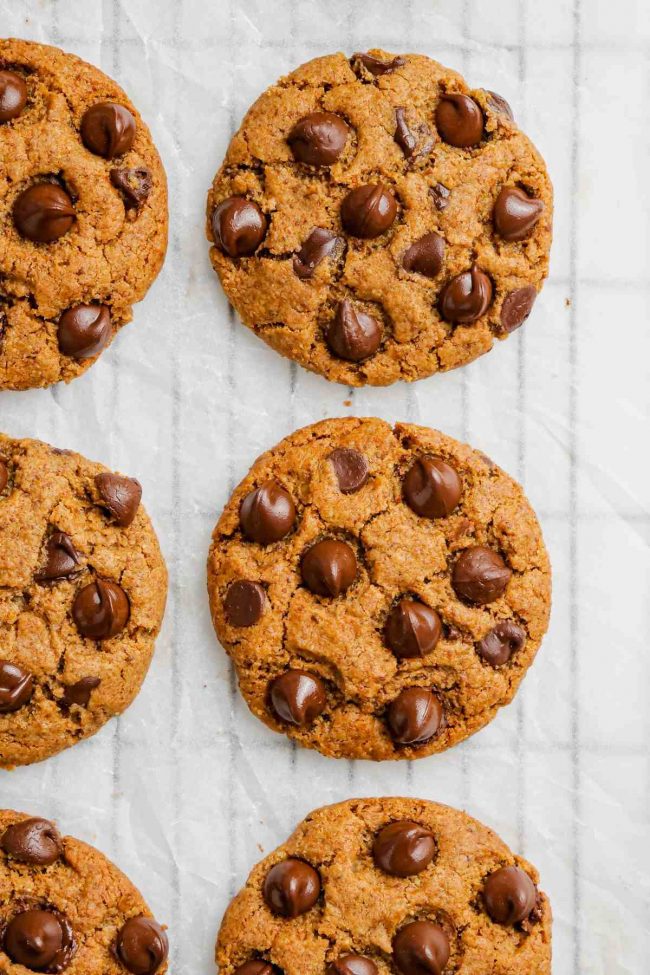 By the way, these cookies are especially delicious with homemade peanut butter! Here's how to make peanut butter in just 5 minutes.
These cookies are like the popular 3-ingredient flourless peanut butter cookies. But way better. Like WAY better.
I do like simple, which that classic recipe is, but by adding some baking soda, salt and vanilla, I find that they taste tremendously better. And they're still just as easy!
Ingredients
Nothing fancy here! The only thing you might not have is the chia seeds.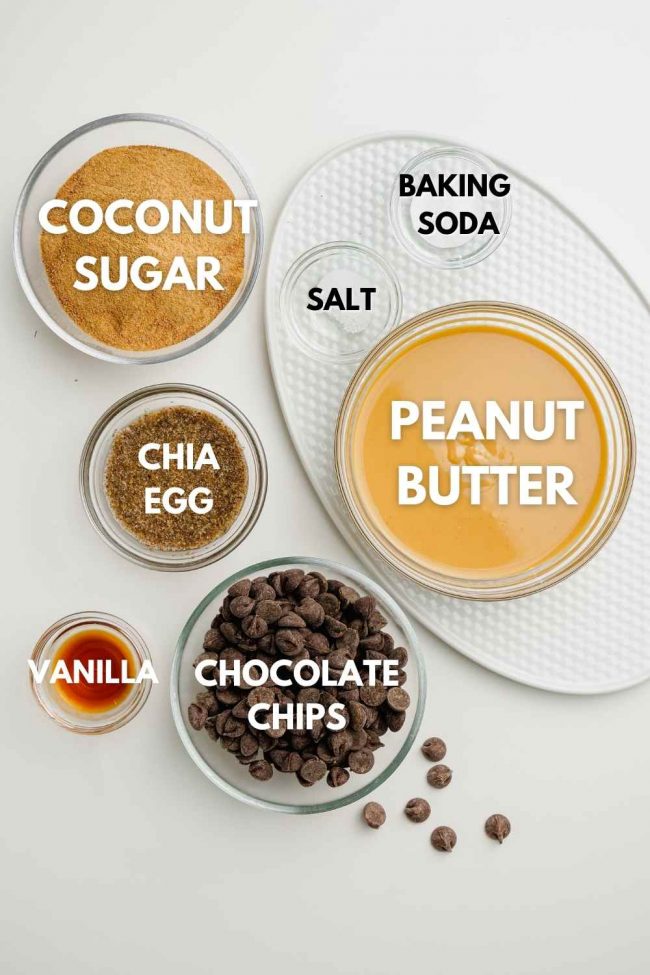 How to make them
Cookie recipes don't get much easier than this! It's all done in one bowl.
Mix everything, except for the chocolate chips, together in a bowl.


Stir in the chocolate.


Divide into balls and place on the pan.


Bake!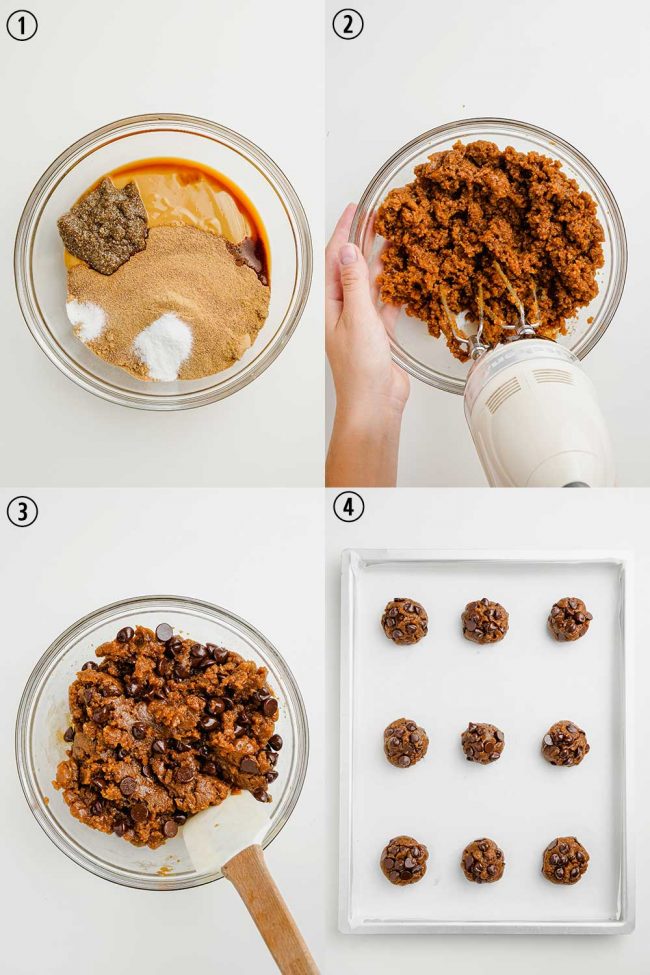 The taste + texture
Because there isn't any flour to detract from other flavors, they're the peanut butteriest peanut butter cookies I've ever had! These peanut butter Vegan No-bake Cookies are also awesome, but they taste more like a mix of peanut butter and maple syrup (which definitely isn't a bad thing!).
The original 3-ingredient peanut butter cookies recipe tastes quite strongly of sugar, in my opinion, so in today's recipe, I reduced the amount of sweetener. I also used coconut sugar instead of brown or granulated sugar, which helps with the flavor, and added some vanilla and baking soda.
The baking soda improves the texture greatly. They really have the best texture of any peanut butter cookies I've ever had. They're perfectly chewy and have wonderfully crisp edges.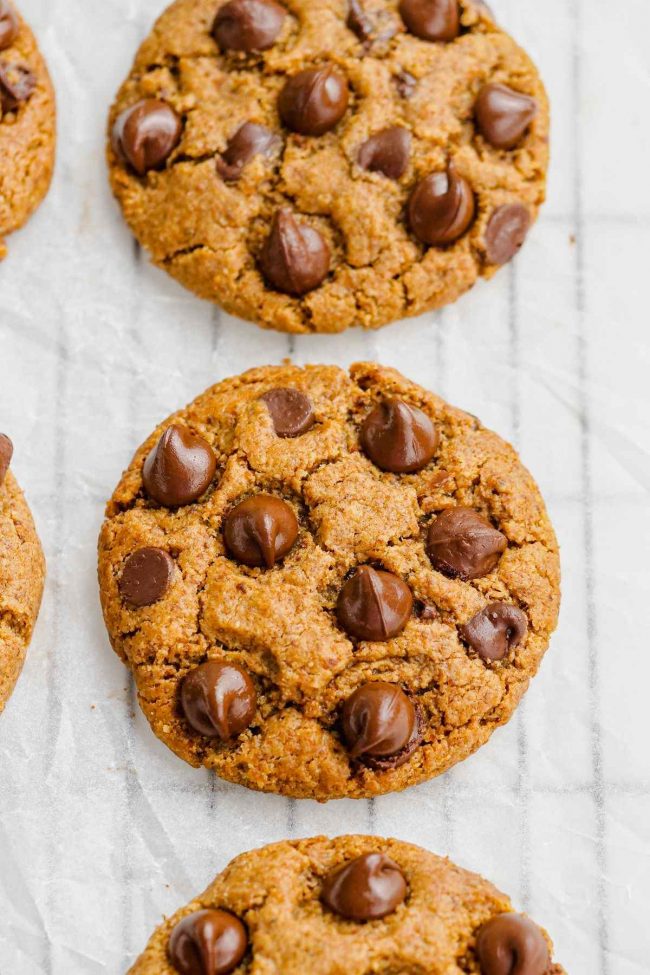 Other nut butter?
I've also tried these cookies with almond butter and sunflower seed butter, but they didn't work out.
Believe me, I've tried. Like 30 times over the last few years. They were greasy, flat and spread a ton.
I've said it a ton of times before, but different kinds of nut butter aren't always interchangeable! Especially in a recipe like this where there are so few ingredients and every ingredient is important.
Here are some other cookie recipes with almond butter and sunflower seed butter: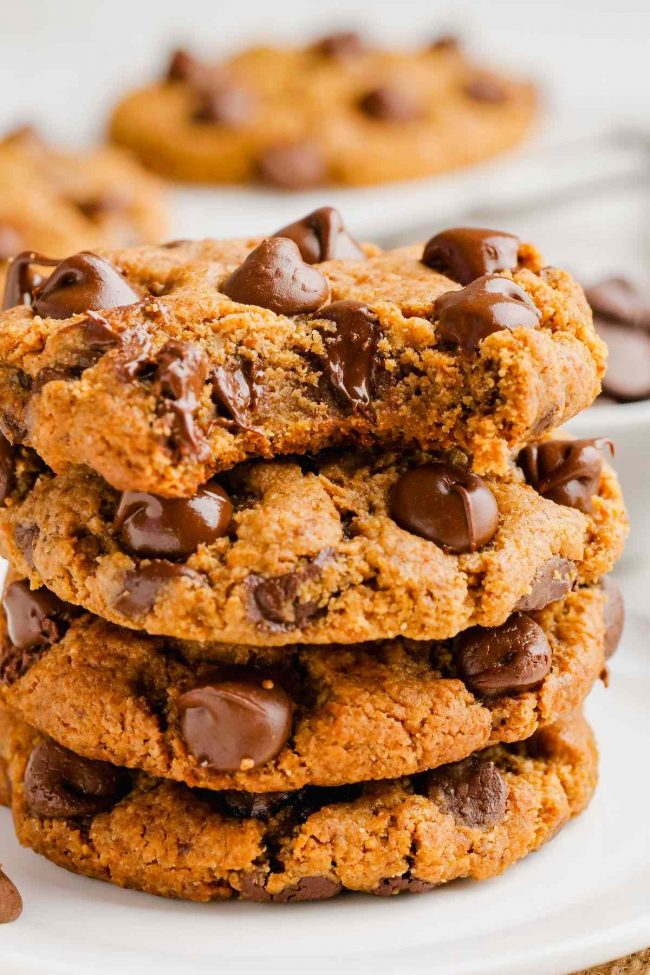 Substitution questions: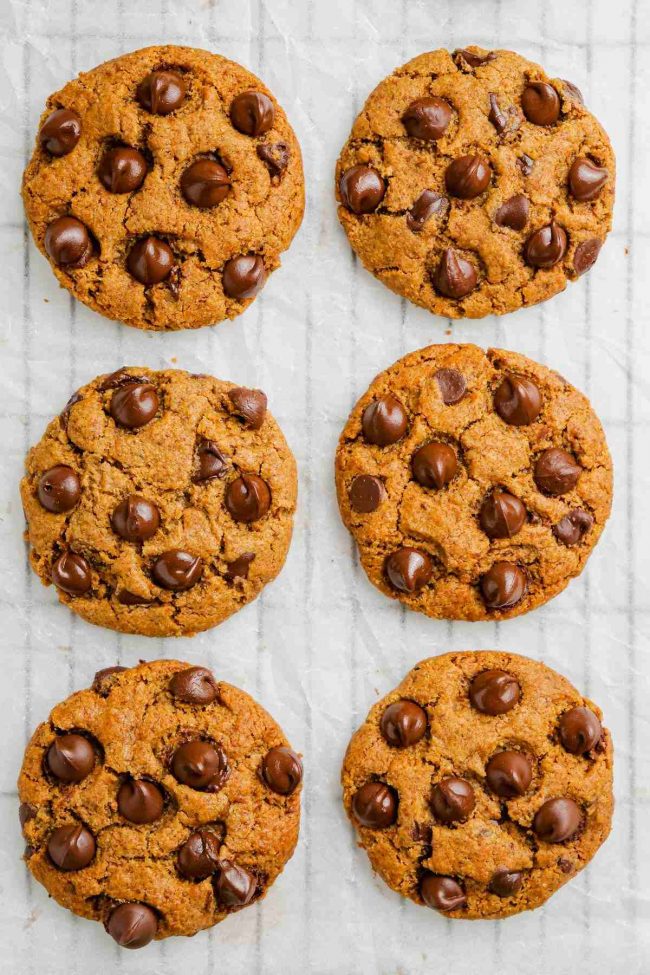 More vegan peanut butter desserts
If these vegan peanut butter chocolate cookies aren't for you, I have loads of peanut butter recipes and the following are some of my favorites.
So which vegan peanut butter treat is your favorite? If you make these Vegan Peanut Butter Chocolate Chip Cookies, please tell me about it! If you post pictures on social media, tag #texanerin, so I can see your delicious baked goods! Thanks, everyone and enjoy!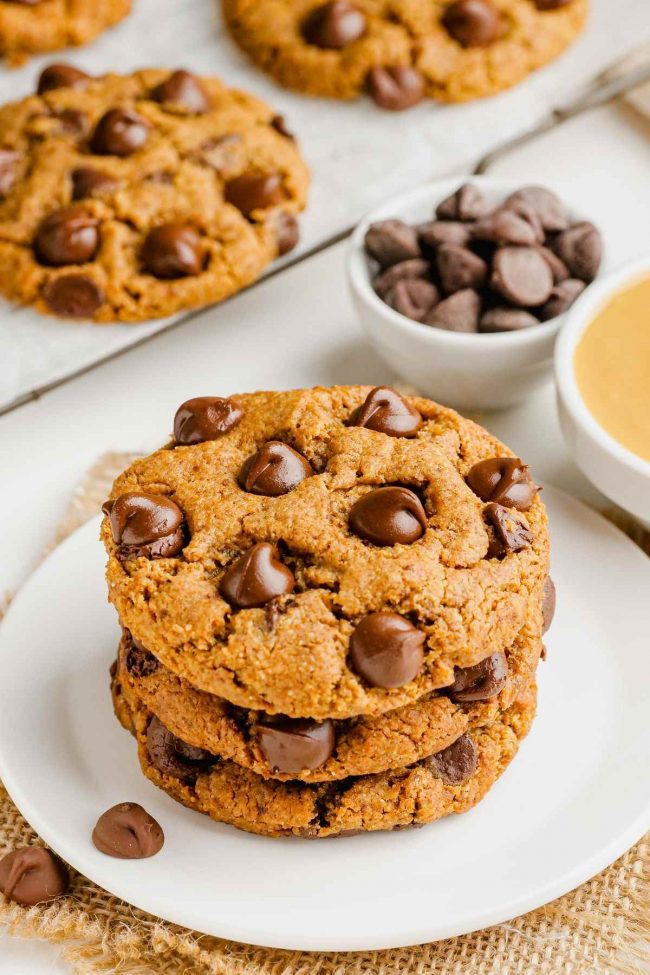 Resources if you're new to eating gluten-free/vegan!
❀
Vegan Peanut Butter Chocolate Chip Cookies
Prep Time:
Cook Time:
Ready in:
Yield:

9
Ingredients
1 cup (256 grams) natural peanut butter (the kind with just peanuts and salt)
3/4 cup (150 grams) coconut sugar, very tightly packed (it's best to weigh this)
1 1/2 teaspoons vanilla extract
1/4 teaspoon salt (or 1/2 teaspoon if your peanut butter is unsalted)
1/2 teaspoon baking soda
1 tablespoon ground chia seeds + 2.5 tablespoons water for chia egg
1 cup (170 grams) vegan semi-sweet chocolate chips + another 1/4-1/3 cup for the tops of the dough balls
Directions
Position the oven rack to the lower third of the oven. Preheat the oven to 350 °F (170 °C) and line a baking sheet with a piece of parchment paper.
In a mixing bowl large enough to mix all the ingredients, stir together the ground chia seeds and water. It should only take a few seconds for it to get thickened like an egg.
Add all the remaining ingredients, except for the chocolate chips. Use an electric mixer on low to combine it. At first, it will be very thin but after about 30 seconds of mixing, it should be firm enough to roll into balls. Add in the 1 cup chocolate chips. The dough may or may not feel oily.
Divide into nine 50-gram balls and place about 4" apart on the prepared cookie sheet. If using homemade very runny peanut butter, they spread a lot! Look at the video to see what my peanut butter looks like. If yours is firmer, you'll likely want to press the dough balls down. Cover with more chocolate chips.
Bake immediately. It seems as though letting them sit for a while affects how they bake up. Bake for 13-15 minutes or until they've crackled nicely and no longer appear wet in the middle. Let them cool completely on the baking sheet, where they'll continue to bake. If you don't let them cool on the baking sheet, the bottoms of the cookies likely won't be baked enough.
Store totally cooled cookies in an airtight container for up to 5 days. They can also be frozen for up to 3 months.