This olive oil coffee (Starbucks Oleato copycat) is smooth and creamy with a hint of nuttiness and a buttery finish. It's a copycat you can easily make at home before it hits the market. It's vegan but can be made with dairy if you prefer.
Starbucks is making a buzz worldwide with its new line of Oleato lattes. It was released in Milan this week and is expected to hit the states in early spring. Oleato is late Latin meaning olive, and after Howard Schultz's – the Starbucks CEO – trip to Sicily, the story behind adding olive oil to coffee began.
There's been a lot of uproar since the drink was released in the press. Starbucks introduces its new Oleato line as "disruptive innovation." And I have to agree.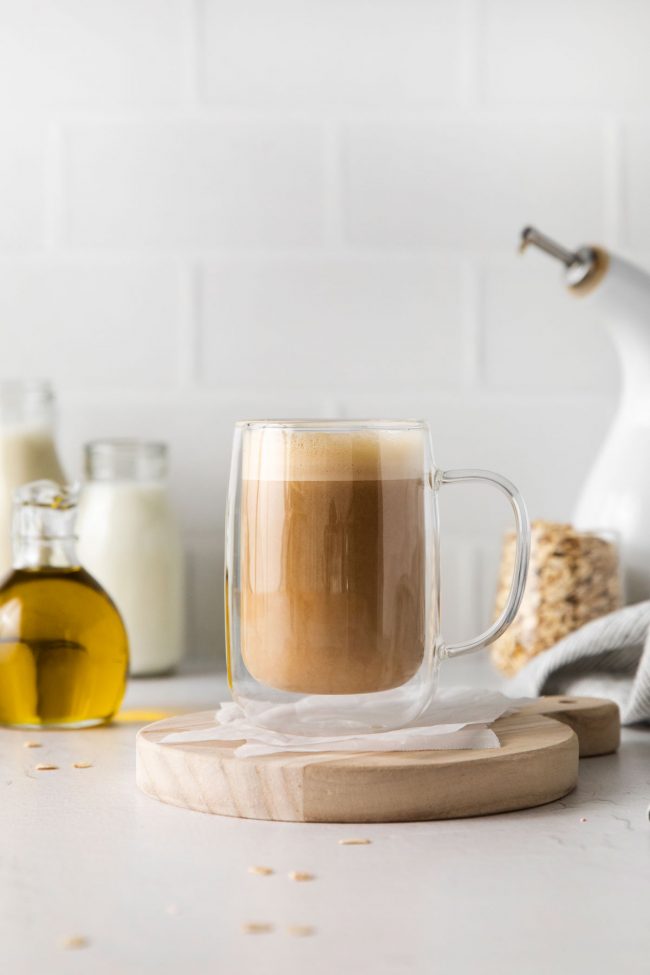 I've seen a lot of comments, and they usually start with, "No way!" It's difficult to wrap your head around adding olive oil to coffee, but there is something lusciously special about it.
I reached out to my assistant, a Texan living in Sicily. There isn't a Starbucks in Sicily, but she had already heard about the new drink and decided to taste test it with her Italian housemates.
With apprehension and scrunched-up noses when pouring olive oil into the oat milk, it surprised everyone that this new concoction was velvety smooth and 'cremoso' – ultra-creamy.
They all approved with surprise and delight despite their apprehensions, so today, we're diving into Italian coffee culture with an added twist that makes this latte a silky sensation.
Can you taste the olive oil?
You can smell the olive oil after heating it with the oat milk, but you can't taste it.
The olive oil reduces coffee's bitterness and extends the coffee flavor. You do notice something different in that it's not your typical latte.
It has a really nutty, creamy, buttery quality that you don't usually get in most lattes, and with the added benefits, it makes a nice, smooth treat.
I would say the nuttiness is stronger than the coffee flavor, as long as you use oat milk or cashew milk. Dairy milk doesn't contribute to the nuttiness.
Ingredients
Oat milk — Starbucks uses Oatly Barista Edition oat milk, but you can use any oat milk – or any type of milk – you'd like. For a paleo version, I used unsweeetened cashew milk.


Cold-pressed extra virgin olive oil — The Oleato line is made with Partanna Cold Pressed Extra Virgin Olive Oil. The exact blend is not available in stores yet, but the key is to choose an olive oil with a robust flavor that has a nutty, silky flavor.


Freshly pressed espresso — I use the blonde roast Starbucks espresso pods, but any medium-bodied espresso will work.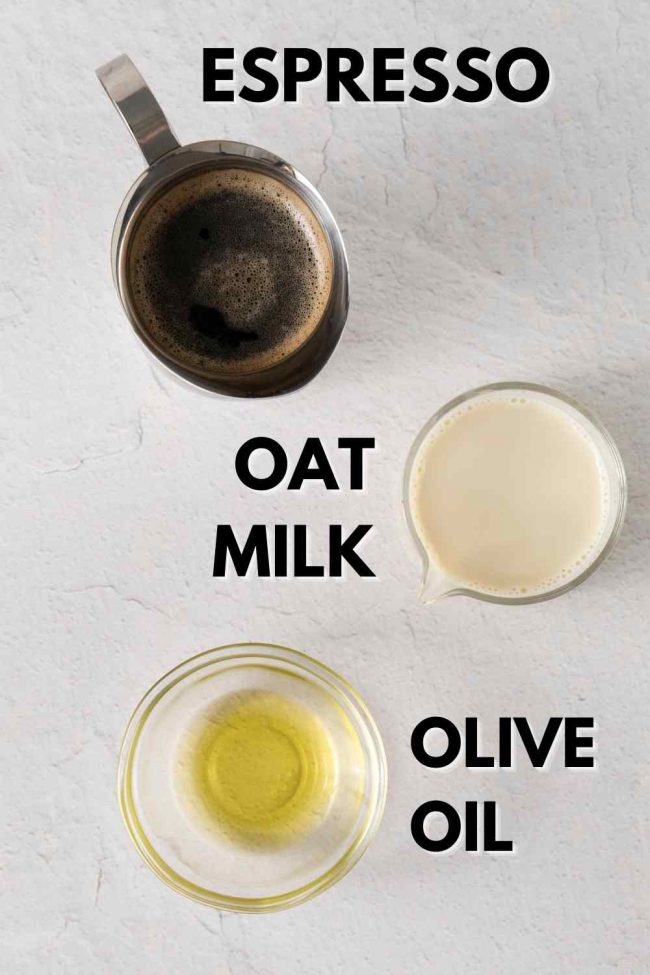 Why add olive oil?
For one, it turns coffee into a velvety drink that extends the coffee flavor, but there are many health benefits, too.
Adding fat to coffee gives you sustained energy by slowing down the absorption of caffeine, which in turn prolongs the caffeine's effect. Because the absorption rate is slower, it helps prevent insulin spikes and blood sugar crashes.
Also, adding fat makes the coffee less acidic and less bitter, which is good for your gut and digestive system and the taste of your coffee.
The extra virgin olive oil fat is unsaturated fat – the best fat to consume. There are two types of unsaturated fat: monounsaturated and polyunsaturated fats.
Olive oil is mainly comprised of monounsaturated fat and omega-9 fatty acids. These fats are known to balance cholesterol and can help reduce the risk of chronic degenerative disease.
Coffee has little nutritional value, so adding extra virgin olive oil has many benefits.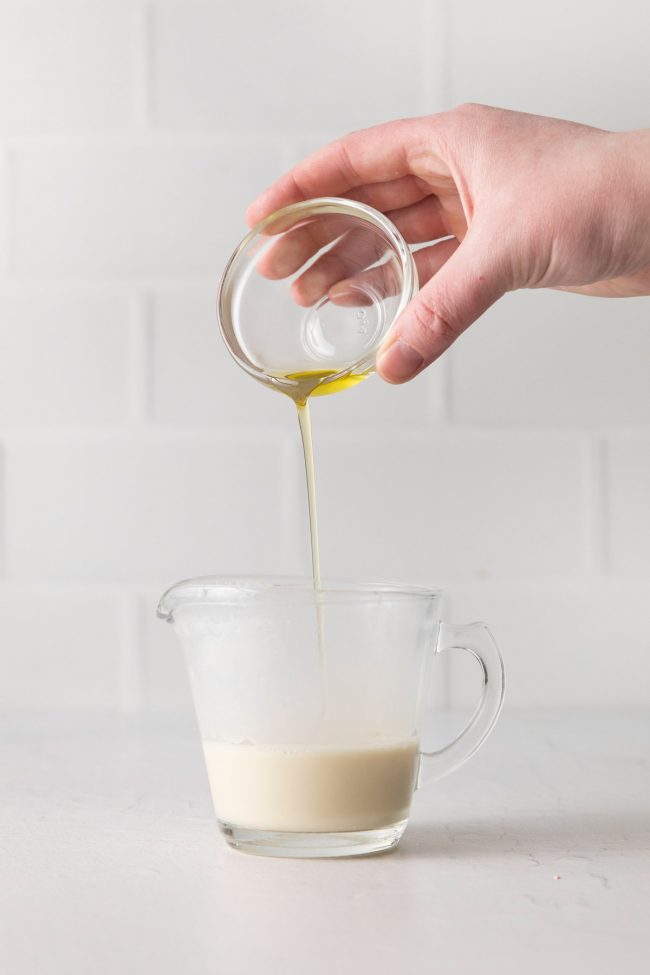 Benefits of olive oil
Olive oil is extremely rich in antioxidant content. And olive oil polyphenols have antioxidant, anti-inflammatory, antimicrobial, antiviral, anti-atherogenic, anti-thrombotic, anti-mutagenic and hypoglycemic characteristics.
It also has omega-9s to help protect against cardiovascular diseases, hypertension, inflammation, oxidative stress, obesity, type-2 diabetes and cancer.
​​One tablespoon of extra virgin olive oil provides about 13% of the daily recommended value of vitamin E. Not only does it add to the antioxidant levels, but it's important for vision and reproduction and for maintaining healthy blood, brain and skin.
Plus, it has 9% vitamin K, which helps make proteins for blood clotting and building bones.
Adding olive oil to your diet boosts cardiovascular health, helping to break down plaque build-up in the arteries, and it has a fair amount of iron.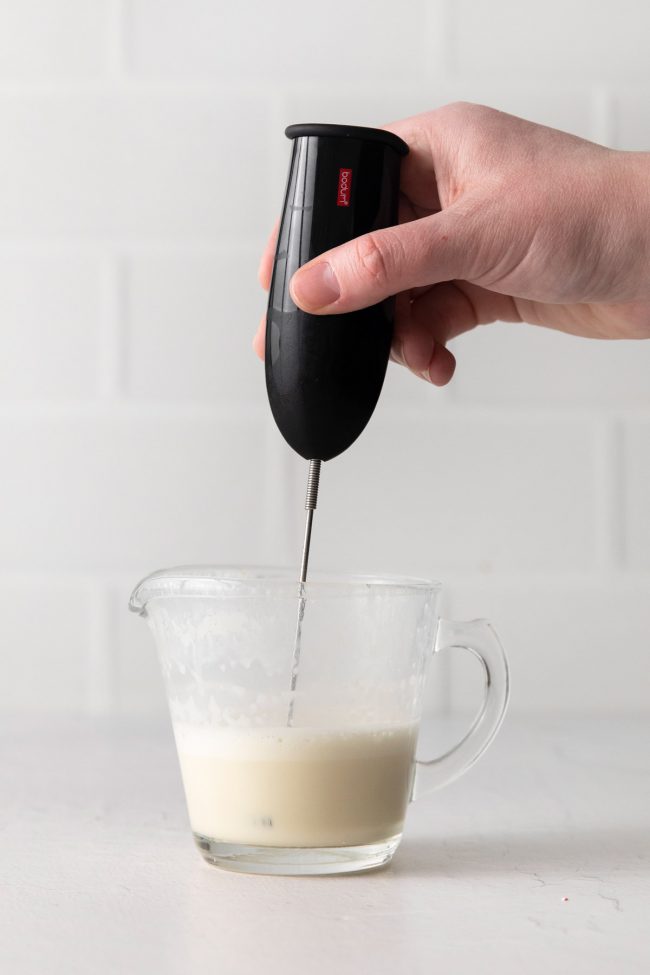 What kind of olive oil?
I used Olio Santo cold-pressed extra virgin olive for this latte oil because it was what I had.
You definitely want a good quality extra virgin olive oil or finishing oil, not an all-purpose cooking oil.
Extra virgin olive oil is the least processed oil on the market. It's often made with a cold or stone press, meaning no heat was used during processing, which helps to maximize freshness and preserve the polyphenols and antioxidants.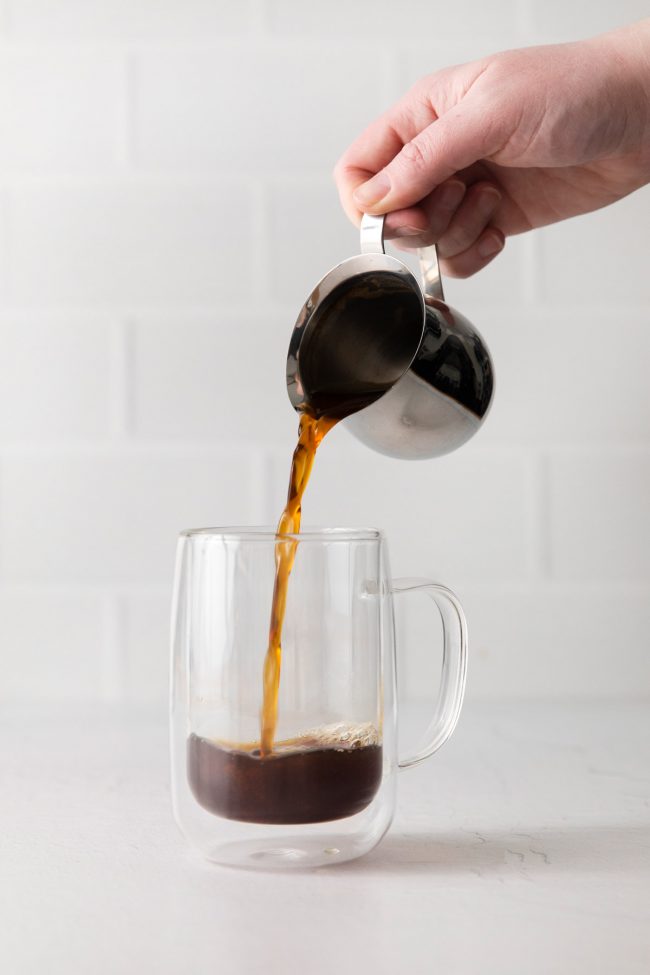 Plant-based milk
Starbucks uses oat milk, but any milk will work for this latte – dairy or non-dairy.
I've made it with cashew and oat milk and had terrific results with each one.
Pour over espresso, and you've got "il caffè Oleato!"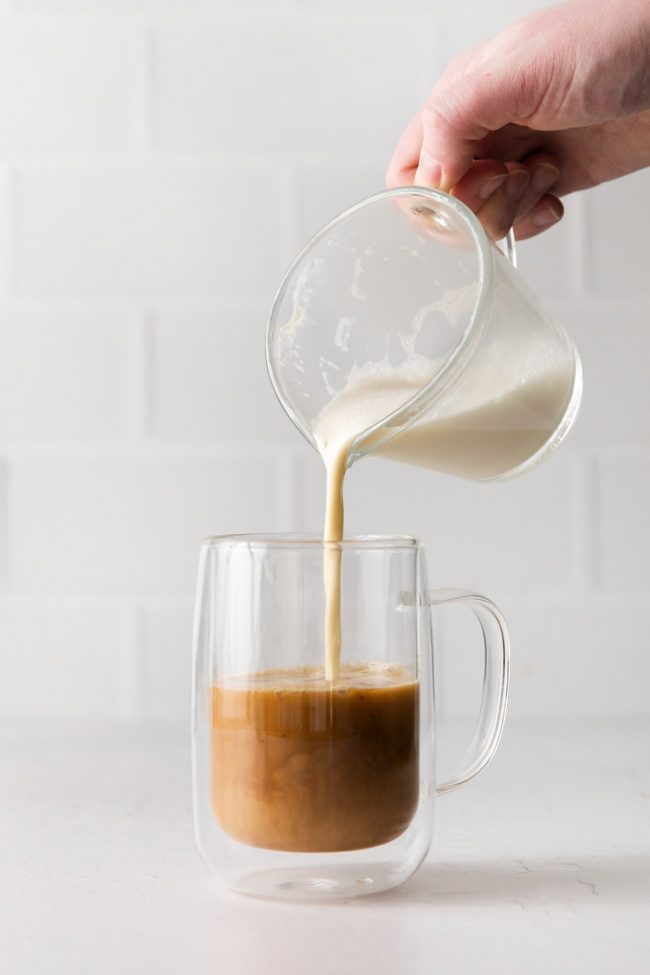 Sweeteners
The Oleato Caffe Latte does not come sweetened at Starbucks, but you can add any sweetener you'd like – vanilla syrup, maple syrup or brown sugar. Simply add it to taste.
I like to add sweetness to my mornings, so I use maple syrup and a light drizzle of vanilla, making it just slightly sweet and nutty.
Espresso roast?
I use the blonde roast Starbucks espresso pods, but any medium-bodied espresso will work.
Read this if you're wondering about the difference between Espresso Beans vs Coffee Beans.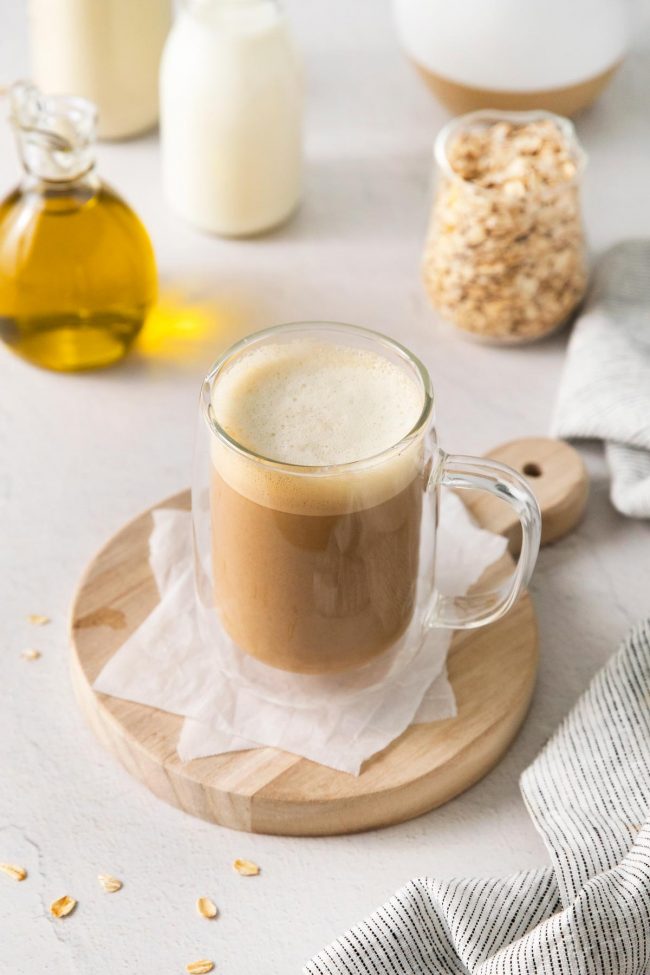 How to make espresso without a machine
If you don't have an espresso machine, there are a few ways to get that robust espresso-like coffee into your lattes. A mocha maker works great, but you can also use a French press.
This latte is served warm, so check out French Press Espresso for full details on how to make espresso easily.
In the hotter months, I prefer Cold Brew Espresso. This method takes 24 hours, but it also makes the espresso less acidic, and you can always heat it in the microwave if you take your lattes warm.
If you're into coffee and cocktails, you might also like this Espresso Martini or this Vegan Espresso Martini.
More copycat coffee drinks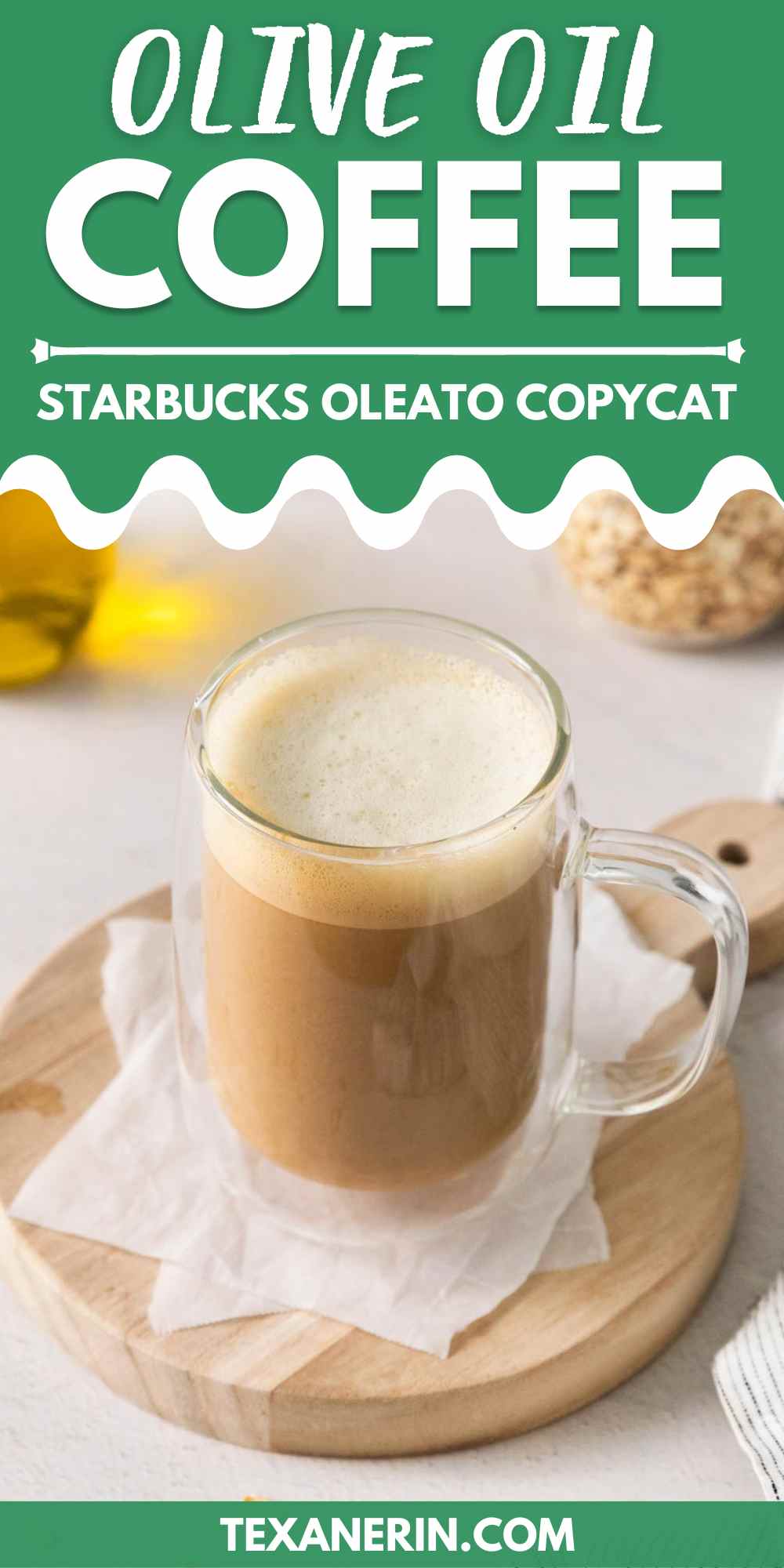 I would love to hear your thoughts if you give this olive oil coffee a chance! Please comment below and tag #texanerin if you share on social media. Thanks!
Sources:
❀
Olive Oil Coffee (Starbucks Oleato Copycat)
Prep Time:
Cook Time:
Ready in:
Yield:

1
Ingredients
1/3 cup (80 ml) oat milk or unsweetened cashew milk
1 tablespoon cold pressed extra virgin olive oil
2 shots freshly pressed espresso
Directions
Heat the oat milk to steaming – about 45 seconds in the microwave or 3-4 minutes on the stovetop over medium-low heat.
Add the olive oil to the oat milk and froth it for 20 seconds or until thick and creamy.
Add the espresso to your mug and top it with the frothed oat milk. Enjoy immediately.
Notes
If you're paleo, make sure to use unsweetened cashew milk or whatever paleo milk you'd like.