This vegan chocolate frosting is super easy and just requires two ingredients! Can easily be made paleo.
This is the same frosting I used on my vegan chocolate cake, which has been a big hit both online and with my friends and family.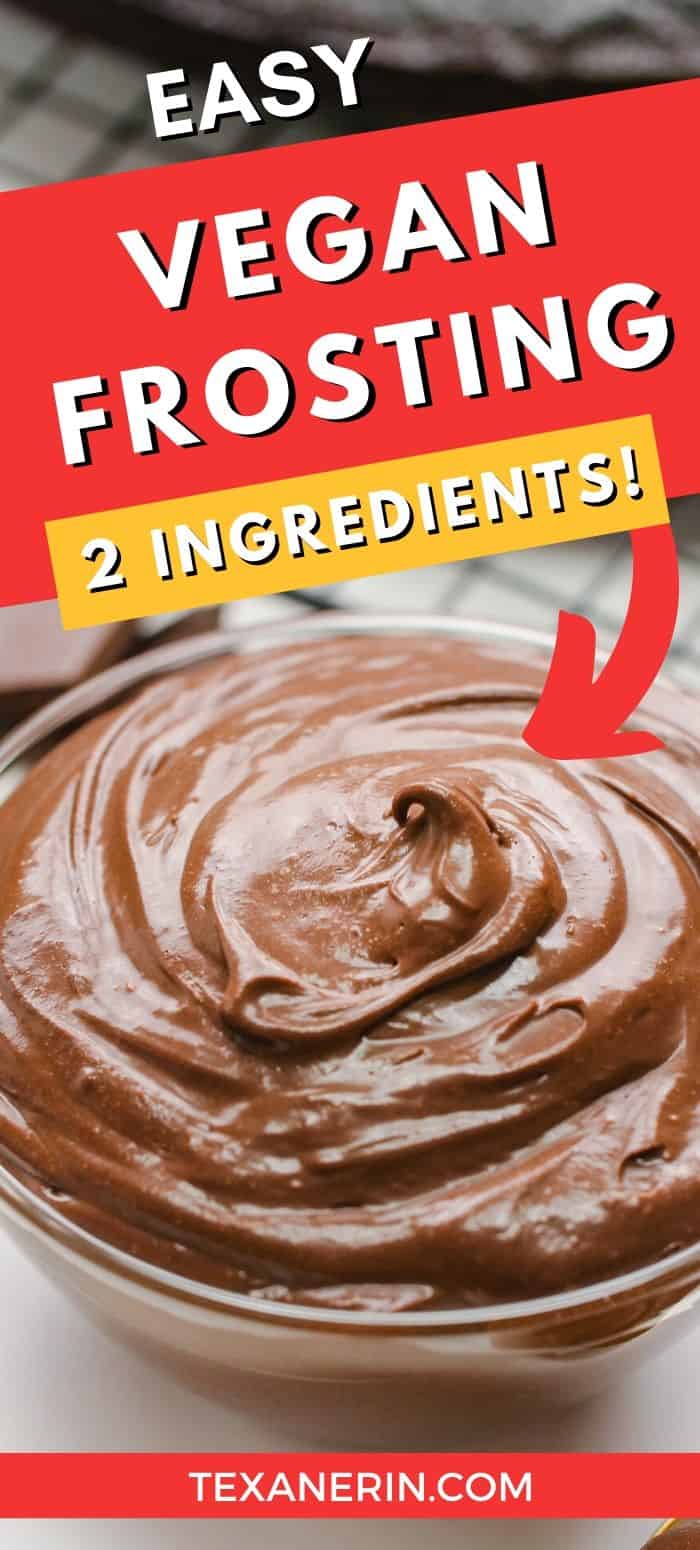 I made it for myself for Björn's first birthday (he got a healthy oat-based date-sweetened cake :D) and then I made it again for Mother's Day. And my mother-in-law's birthday. And every other special occasion since then!
I guess it's safe to say it's my favorite cake. Or maybe tied with another one that I'll be posting soon.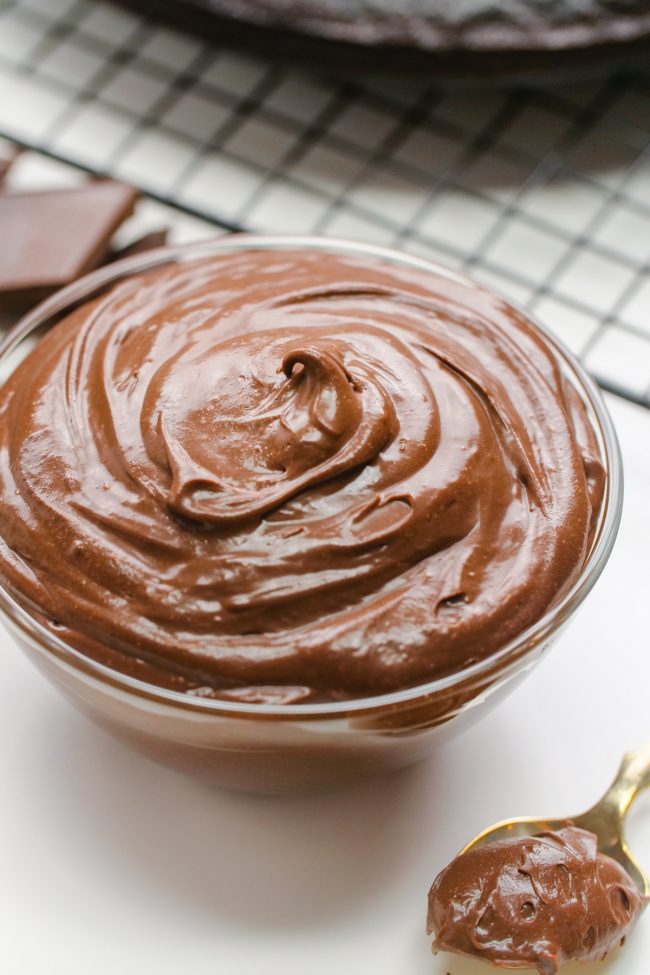 If you want something a bit healthier to slather this vegan chocolate frosting on, these paleo cupcakes, this paleo chocolate strawberry cake or these coconut flour brownies are great options!
And if you eat grains, you can make these amazing whole wheat chocolate cupcakes with whole wheat, whole spelt or all-purpose flour.
The frosting portion of the vegan chocolate cake recipe has always called for coconut milk but I keep seeing people on social media make it with coconut cream. I have no idea why as I never mention using that as an option, chilling the coconut milk, or anything like that.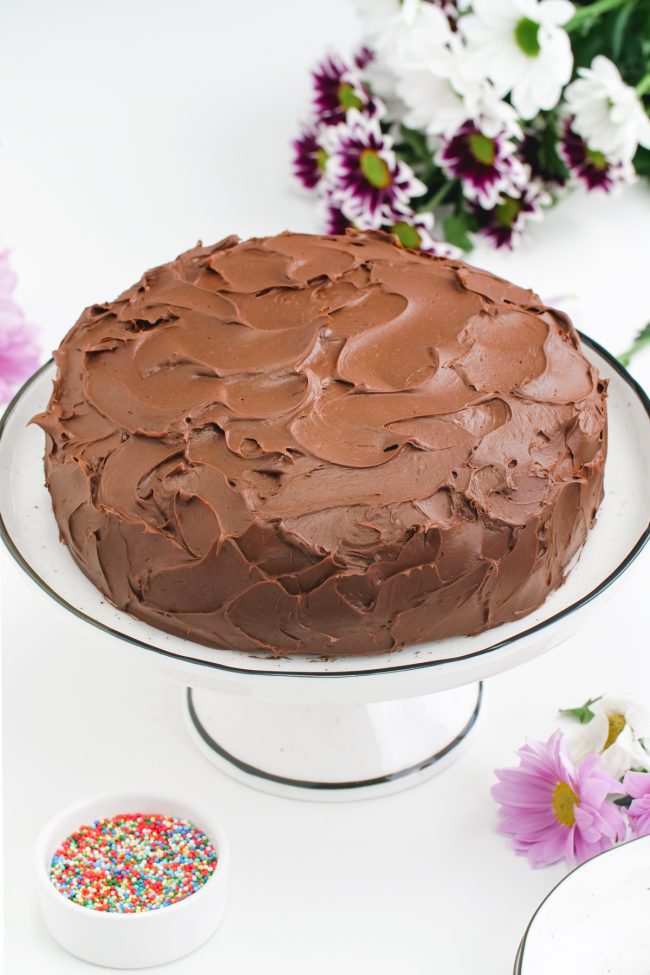 And then they're confused that it's too thick. So here's a whole post dedicated to the frosting. It deserves its own post, anyway!
So this recipe is super easy but doesn't look or taste like it. It's just chocolate, coconut milk and salt. If you're paleo or vegan, I'm guessing you probably already have that in your pantry.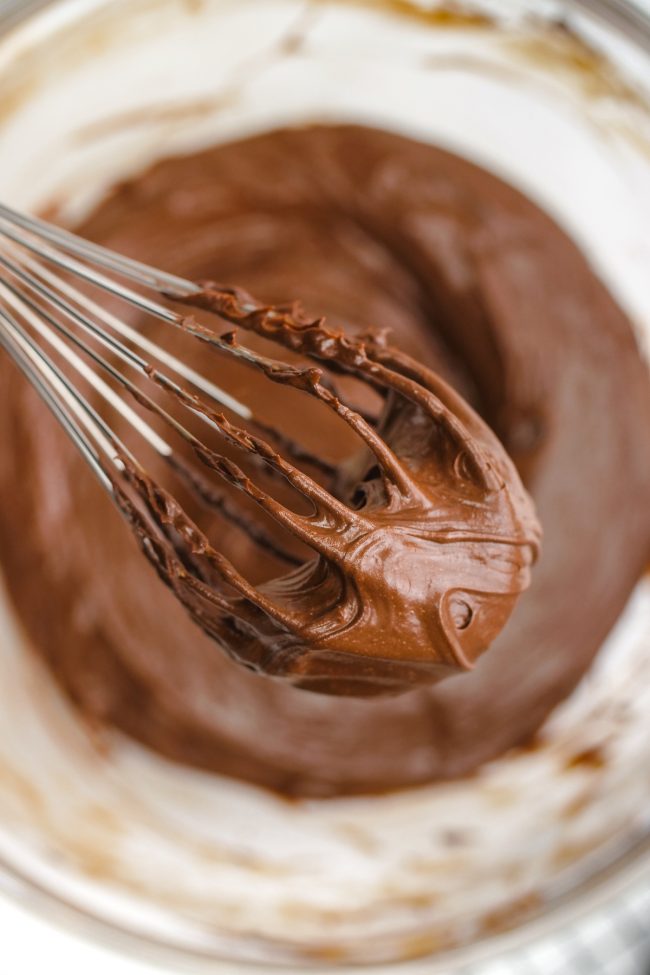 You just melt the chocolate and coconut milk together, chill and then whip. So this frosting is actually a whipped chocolate ganache but I'm calling it frosting because… it's just simpler.
I've gotten a lot of compliments on this recipe and how it's not too sweet. If you want it even less sweet, then using dark chocolate instead of semi-sweet would do the trick.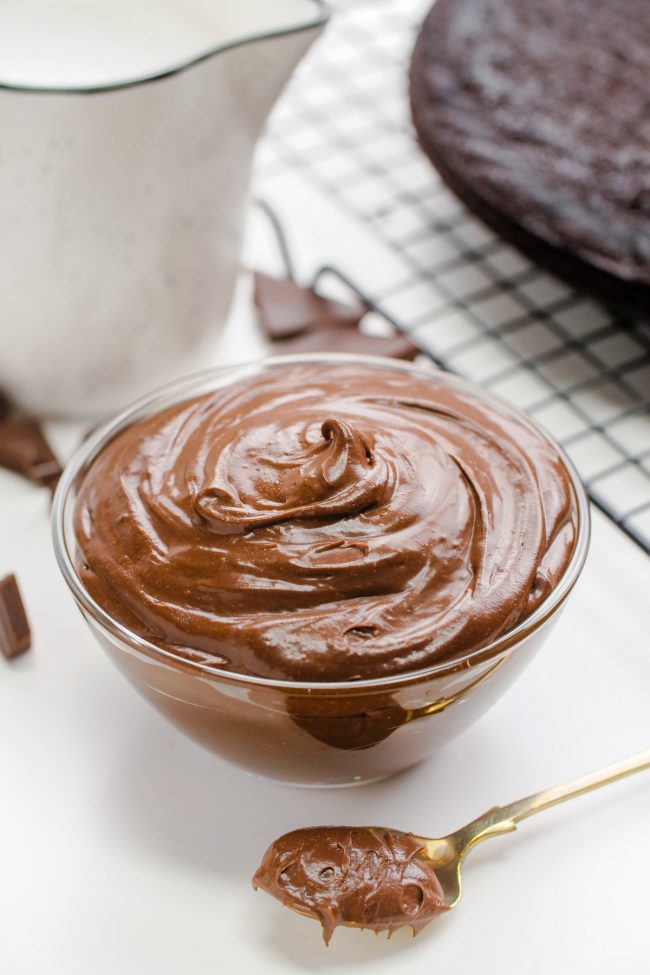 I don't think that almond milk or another type of milk would work in place of the coconut milk but if you can have dairy, I think heavy cream would be fine. But I haven't tried it.
If you don't want to whip it, you don't have to. Without doing that, you have a plain but very delicious chocolate ganache! And it really tastes just like traditional ganache.
So what are you going to put this on first?! Feel free to leave links! I'd love to see your favorite cake recipes.
❀
Paleo Vegan Chocolate Frosting
Prep Time:
Cook Time:
Ready in:
Yield:

2 cups
Ingredients
For the whipped ganache frosting:
1 2/3 cups (283 grams) semi-sweet chocolate, chopped or chips (make sure to use vegan / paleo chocolate, if desired)
1 cup (240 milliliters) canned full-fat coconut milk - not coconut cream!
up to 1/4 teaspoon salt
Directions
In a medium or large sauce pot (one big enough for you to use your mixer in), mix together the chopped chocolate and coconut milk. Turn the heat to low and while stirring occasionally, melt the mixture. When no more lumps remain, stir in the salt (I like 1/4 teaspoon but you may want less). Place the pot on a trivet and put in the refrigerator to chill for 1 1/2 - 2 1/2 hours or until the mixture is cold and has thickened quite a bit (so that it's no longer pourable).
Remove the chilled ganache from the refrigerator and using an electric mixer (you could also transfer it to a stand mixer), beat the ganache until light and fluffy, about 2 minutes.
If making an 8" cake - spread about 2/3 cup of frosting between the two layers of cake, 1/2 cup on top and the remaining on the sides. There's about 2 cups of frosting. The frosting is stable at room temperature and doesn't melt but should be kept refrigerated (it's fine to keep the cake out for about 8 hours at room temp). Keeps refrigerated about 4-5 days.