This paleo chocolate strawberry cake has a great texture, chocolate fudge frosting and strawberry filling. With whole wheat and all-purpose flour options!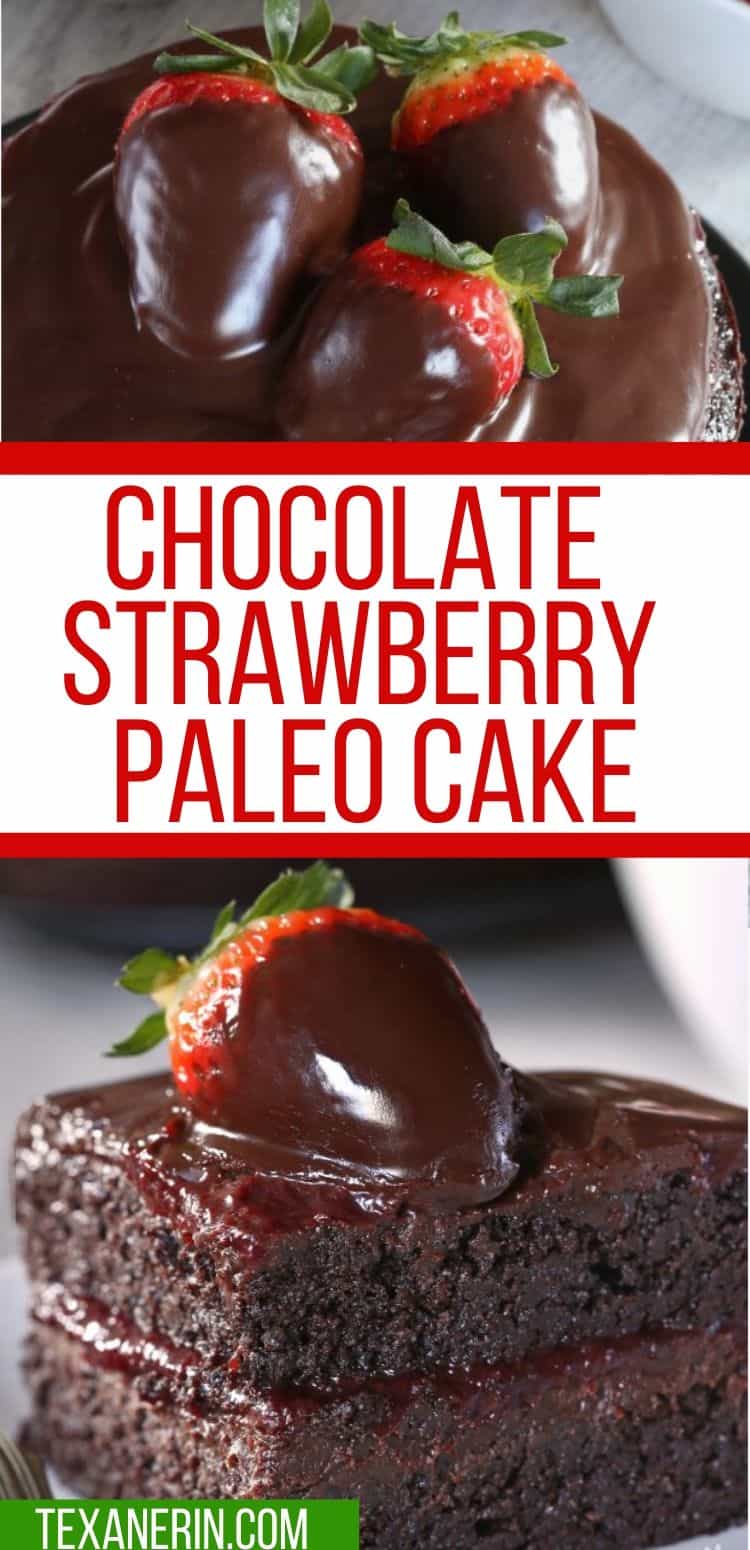 Today's recipe is basically a combination of three of my recipes, scaled down for a two-layer 6″ cake. Some might consider this a chocolate cake for two (and I could certainly eat half of it) buuut… that's a ton of sugar. So I'm going to say it serves four. :)
For the cake, I halved the recipe for my paleo chocolate cupcakes. I've tried the full recipe in a 9″ springform before but I thought that it didn't come out nearly as light as in cupcake form. The 6″ layers were just perfect, though!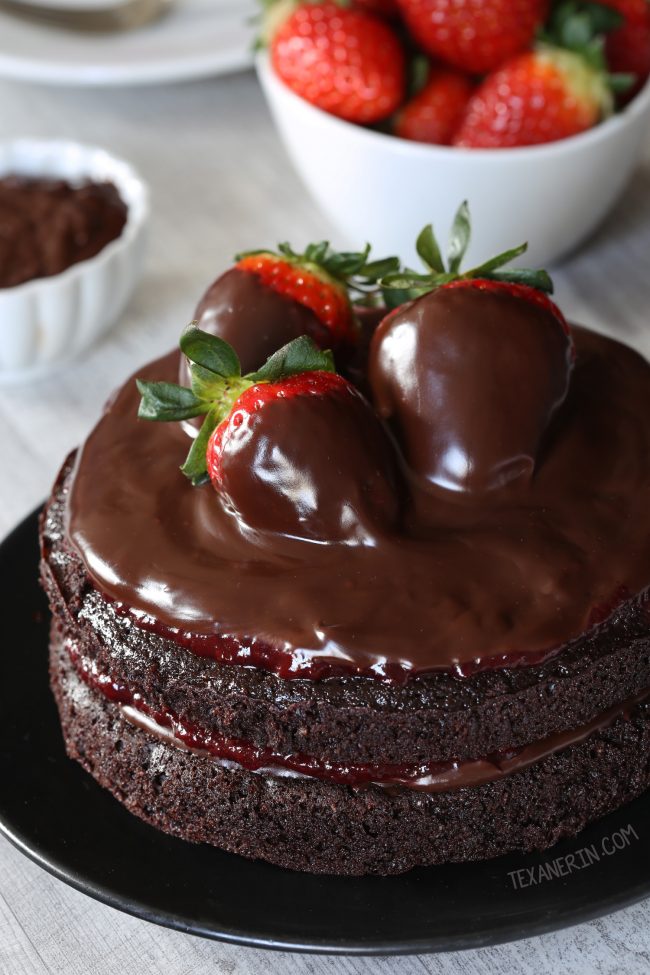 If you don't want a paleo cake base, then make half of the recipe for these whole wheat chocolate cupcakes and bake for 20-25 minutes in two 6″ pans. Or make the whole recipe and bake the other half as cupcakes! I bet you won't regret it.
That recipe can also be made with gluten-free flour or all-purpose flour! And I meant to try these vegan chocolate cupcakes in 6″ pans but I wasn't able to. If you give it a try, I'd love to hear how it comes out! You'd also need to use a vegan strawberry jam.
For the filling, I used my paleo chocolate fudge frosting recipe. It yields enough for 1/4 cup filling for each layer and then about a dozen dipped strawberries. If you don't want to dip the strawberries in the frosting, then you could get by with half the recipe.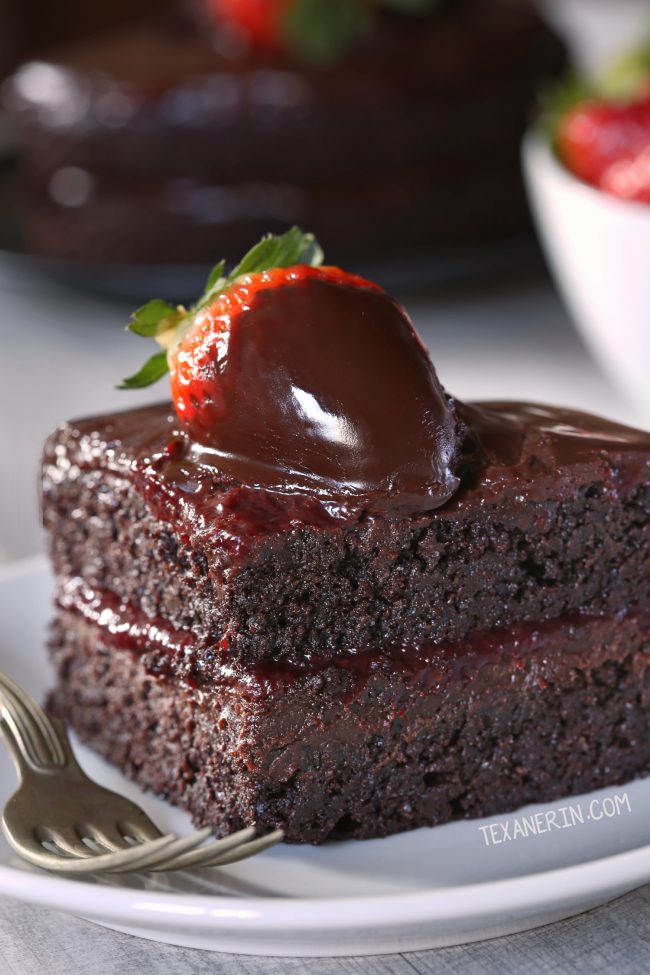 It's not like dipping strawberries in regular frosting, though. I don't think I'd like that. This is more ganache-like and not too sweet!
And for the strawberry filling, I adapted my honey sweetened strawberry jam. Removed the lemon zest, added some vanilla and scaled it down.
If you like strawberry jam, I recommend doubling or tripling or even quadrupling the recipe so you have some left over! I was so sad to have used the entire 1/2 cup in the cake.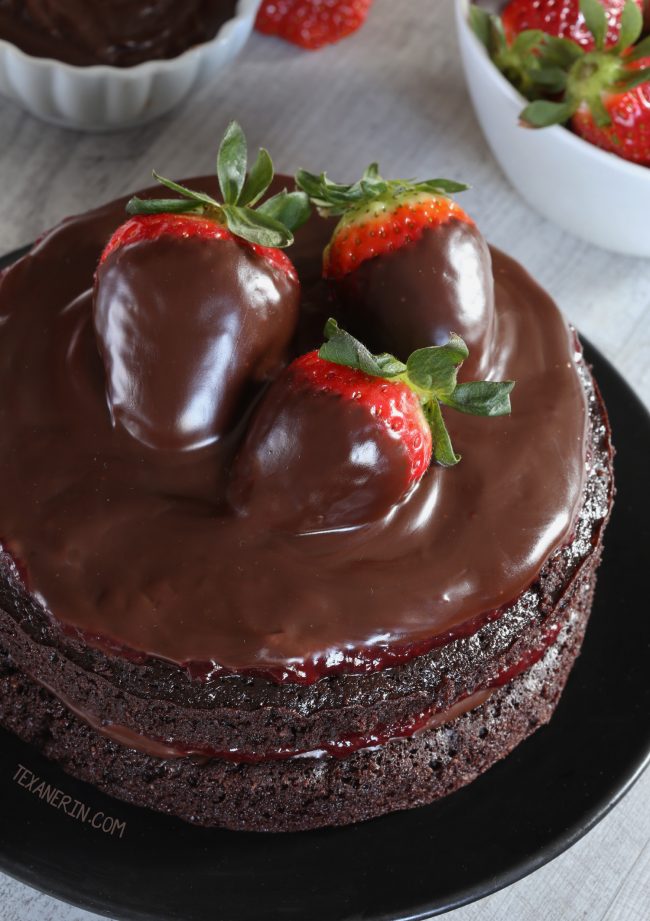 I used some really bad frozen strawberries that tasted like cardboard box and after 20 minutes of boiling, I was sure that I'd have to throw my jam out. It tasted terrible and it was super liquidy.
Luckily, all it needed was time! And a little more honey.
One more thing – you'll probably want to let the top layer of frosting chill and harden a bit before putting on the chocolate covered strawberries. The way I did it looks kind of weird, like the berries are growing out of the cake.
If you're looking for something a little easier, try this paleo chocolate mug cake! And for a sugar-free treat for Valentine's Day, try this keto sponge cake.
I have one more Valentine's Day recipe coming on Monday! It's fudge. One can never have enough healthy fudge recipes, right? :)
❀
Paleo Chocolate Strawberry Cake (whole wheat, traditional options)
Prep Time:
Cook Time:
Ready in:
Yield:

4 slices
Please see the post for notes on the whole wheat / all-purpose flour option!
Ingredients
For the strawberry filling – use 1/2 cup strawberry jam or make your own with this recipe:

2 cups (313 grams) fresh or thawed and drained frozen strawberries
2-3 tablespoons (40-60 grams) honey
1 tablespoon lemon juice
pinch of salt
1/2 teaspoon vanilla extract

For the chocolate fudge frosting:

1 batch paleo chocolate fudge frosting1

For the cake:

40 grams (about 6 1/2 tablespoons) almond flour or almond meal
3/4 teaspoon baking powder (use paleo baking powder, if necessary)
1/8 teaspoon salt
1/2 cup (52 grams) Dutch-process cocoa powder
1 tablespoon coconut sugar
4 1/2 tablespoons (63 grams) coconut oil, melted
1/3 cup (106 grams) honey
5 tablespoons (80 grams) unsweetened applesauce
2 large eggs (50 grams each, out of shell), room temperature
1 1/2 teaspoons vanilla extract

For decoration:

Strawberries
Directions
For the jam filling (this can be prepared several days in advance):

Place the strawberries in a medium pot and smash with the bottom of a glass. Add 2 tablespoons honey, the lemon juice and salt and heat over medium-high. Bring to a boil, and then lower the heat to medium and continue stirring every now and then, until it's reached the desired thickness (it'll thicken a little as it cools). This takes about 30-45 minutes. It could take more or less time depending on your strawberries. After it's started to thicken, taste it and if you need more honey, add another tablespoon (or whatever you need to make it sweet enough). I used frozen strawberries that weren't sweet at all and 3 tablespoons was enough. Then stir in the vanilla extract. Let cool completely before using to fill the cake.

For the cake:

Preheat your oven to 350 °F (175 °C) and grease two 6" pans. I used a piece of parchment paper to line the bottom of the pan and greased just the sides and where the parchment paper meets the edges of the pan. In a medium bowl combine the wet ingredients and set aside. In another medium bowl, combine the dry ingredients and add this to the wet ingredients. Stir in just until combined. Do not over mix! Pour evenly (232 grams of batter per pan) between the two pans. Bake for 16 minutes. A toothpick inserted in the middle should come out mostly clean. A few moist crumbs or a little stickiness is good, just not raw batter. This cake is super moist so if the toothpick comes out totally clean, it's probably overdone. Let cool in the pans for 5 minutes and then turn out onto a wire rack to cool completely.

For the frosting:

While the cake is baking, prepare the frosting. Let chill in the fridge to firm up. Don't let it sit too long (longer than 30-50 minutes) or else it'll be too firm to spread on the cake!

To assemble:

Place one of the cake layers on a plate. Spread 1/4 cup of the frosting over it, leaving about a 1/2" frosting-free perimeter around the cake. Place in the refrigerator or freezer to firm up (will take about 10 minutes in the freezer or 20-40 in the fridge). You can skip this step if you don't care about the jam mixing together with the frosting. Spread 1/4 cup jam over the chilled and firm chocolate layer. Add the second cake layer and then add the remaining 1/4 cup jam and 1/4 cup frosting. Dip strawberries in remaining frosting, if desired. You can either put them on the cake immediately like I did or chill the cake until the frosting layer is firm and then add the strawberries.
Keep cake refrigerated. Stays good for up to about 3 days. The cake gets quite dense when refrigerated, but some people preferred it that way. You could also let it sit for 30 minutes or an hour before serving to have it a little softer. It'd also keep well for about 12 hours at room temp.
Notes
You'll have enough left after filling the cake to dip about a dozen strawberries in the frosting. You can also just make half the batch if you don't want to cover any strawberries for the top.