These vegan and gluten-free walnut chocolate chip cookies are soft, chewy and made with a healthy amount of walnut butter. They're also made with oats and oat flour, making them 100% whole grain!
I'm a terribly forgetful and disorganized person. After 3 1/2 years of blogging, I thought it was time to go through my post drafts folder and clean things up.
I found this recipe from March 2011, which was before I even started posting anything. I wanted it to be one of my first posts but here we are in 2015. Whoops.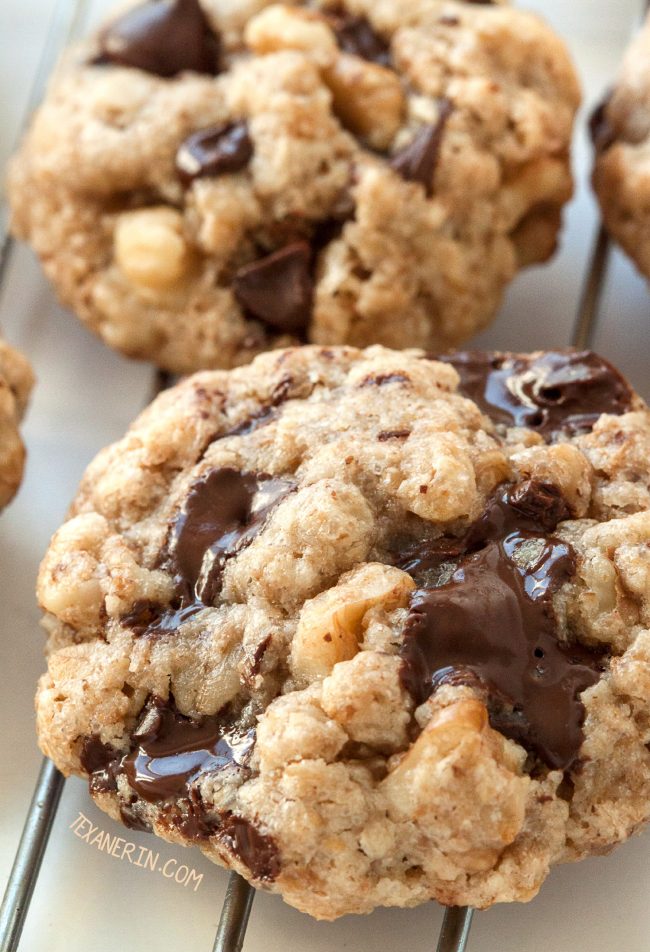 These walnut chocolate chip cookies are adapted from Vegetarian Times' Heart Healthiest Chocolate Chip Cookies in the World, but after tweaking it for the past few years, only the amount of walnuts and oat flour remains the same.
The original recipe is great as is but somehow I just found myself changing things here and there. I also made it easier by omitting a step where you boil 1/2 cup water and the sugar.
I assume it has a purpose but I couldn't taste any difference between doing that and just adding the sugar to the batter and adding 1/2 cup milk. I'm all for easier so that's what I went with.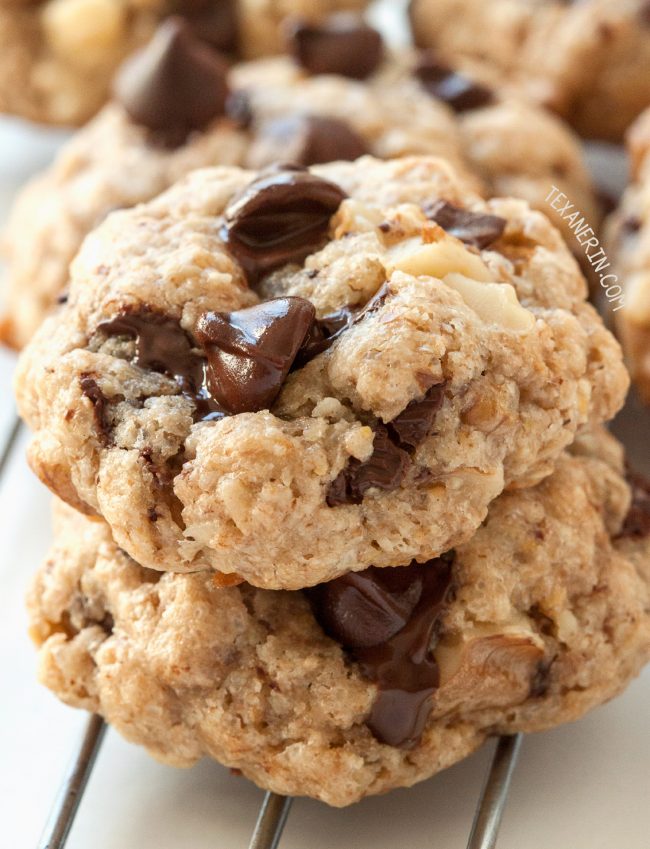 Something important to note is that other nuts don't seem to work in these cookies. I've tried using the same amount of peanut butter and almond butter and they came out pretty terribly. Stick with walnuts!
Even if you don't even like walnuts, I bet you'll love these cookies – just leave out the chopped walnuts!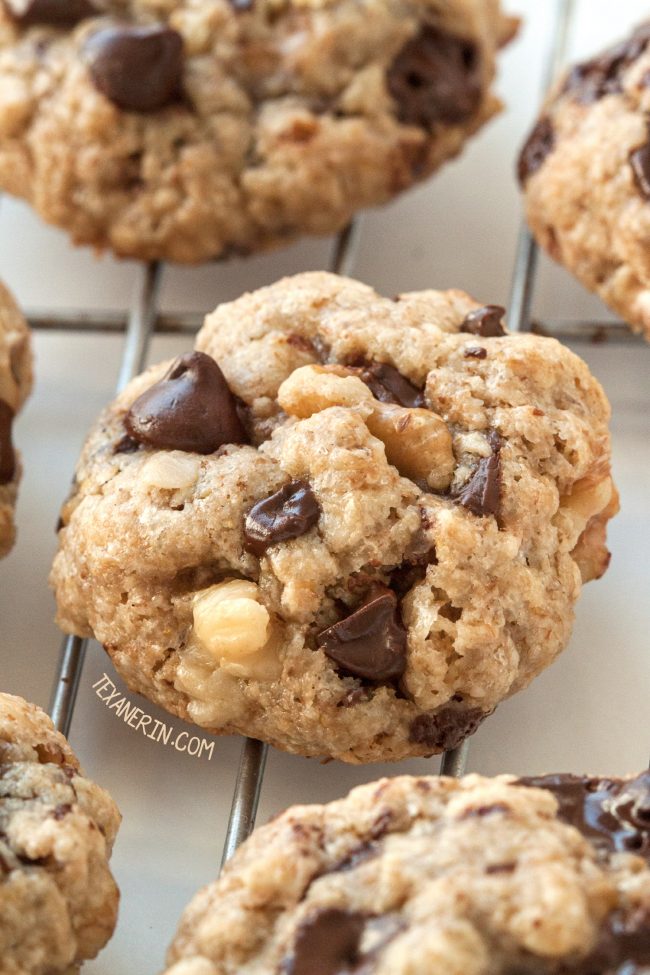 The recipe calls for processing walnuts in a food processor until you have nut butter. Out of all the nut butters I've made, I think walnut butter is the quickest.
It takes about 2 minutes in my food processor. I guess you could also use store-bought walnut butter but this way is so much cheaper!
If you were hoping for a more Easter-y post today, here's an awesome 100% whole wheat carrot cake and here's a grain-free carrot cake recipe. I hope you all have a lovely Easter! :)
❀
Vegan Gluten-free Walnut Chocolate Chip Cookies
Prep Time:
Cook Time:
Ready in:
Yield:

32 cookies
Ingredients
2 cups (220 grams) walnuts (not any other type of nut)
1 1/2 cups (138 grams) oat flour (use certified gluten-free oat flour, if necessary)1
1 teaspoon baking powder
3/4 teaspoon salt
1/4 cup (56 grams) coconut oil, room temperature2
3/4 cup + 2 tablespoons (175 grams) raw sugar or coconut sugar
1/2 cup (120 milliliters) milk of choice (but not canned coconut milk, as it's too thick)
1 tablespoon vanilla extract
1 3/4 cups (161 grams) rolled oats (use certified gluten-free oats, if necessary)
1/2 cup (55 grams) chopped walnuts
3/4 cup (128 grams) semi-sweet chocolate chips (use dairy-free / vegan chocolate, if necessary)
Directions
Preheat the oven to 350 °F (175 °C). Line a baking sheet with a piece of parchment paper.
In the bowl of a food processor fitted with an S-blade, grind the walnuts until they have the consistency of natural peanut butter. Meanwhile, in a medium mixing bowl, stir together the oat flour, baking powder, and salt. When the walnut butter is ready, transfer it to a large mixing bowl.
To the large bowl, add the coconut oil, sugar, milk and vanilla and beat with a large spoon or with an electric hand or stand mixer until well combined. Slowly add in the dry ingredient mixture and stir just until combined.
Fold in the oats, walnuts and chocolate chips. Form into 1" balls and place 3" apart on the prepared baking sheet. Do not press the balls down.
Bake for 10 minutes or until the centers of the cookies no longer appear wet (they should not brown – if they do, they're overbaked and will be cakey instead of chewy). They should have formed a light crust.
Let cool on the cookie sheet for 5 minutes and then remove to a wire rack to cool completely.
Store in an airtight container for up to 4 days.
Notes
If you don't have oat flour on hand, use a coffee grinder or small food processor to grind rolled or quick oats until powdery.
I used refined coconut oil, which doesn't have any coconut flavor. If you use unrefined coconut oil, these will likely have some coconut taste to them.
Adapted from Vegetarian Times