Chia seed oatmeal is warm, soothing, and easy to make. This breakfast bowl is made with rolled oats, nutritious chia seeds, sweetened with maple syrup and a dash of cinnamon and vanilla for cozy mornings. It's also naturally gluten-free and vegan.
These oats are nutritious, heart-healthy and you can top off this oatmeal with just about anything.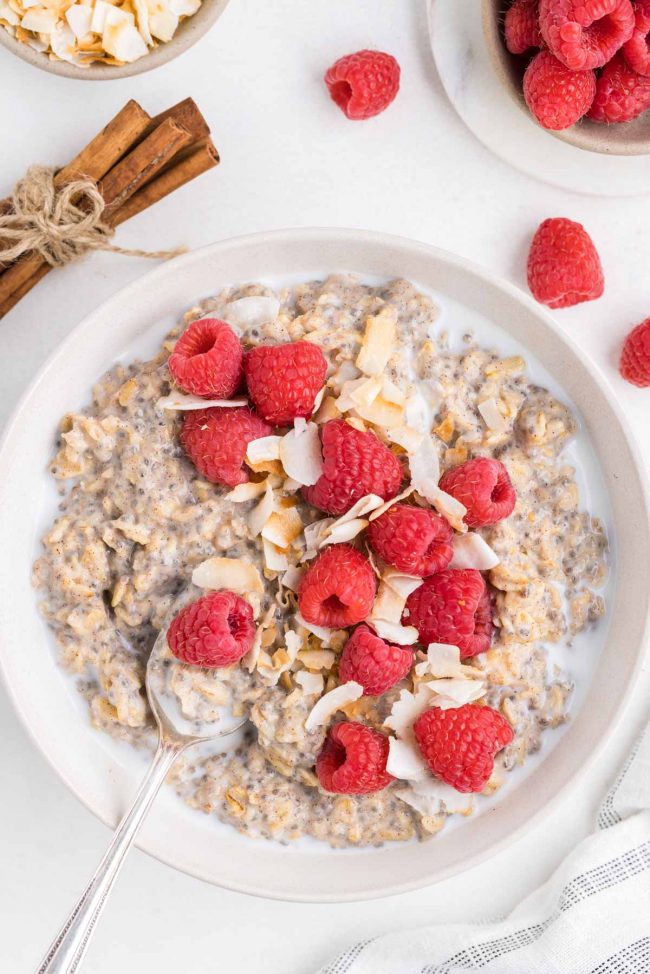 Ingredients
You just need your basic oatmeal ingredients, plus chia seeds.
I think oatmeal is pretty boring without cinnamon and vanilla, but you can omit them if you wish.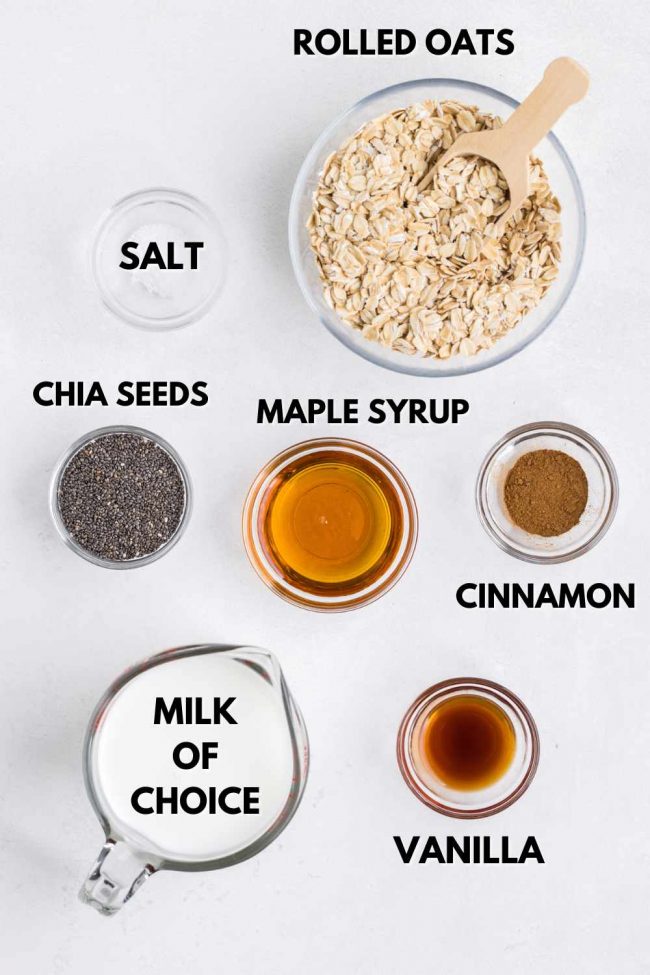 Are these overnight oats?
Nope, this recipe is traditionally cooked oatmeal with the addition of chia seeds.
But I've been into making overnight oats lately. I've got these Chocolate Protein Overnight Oats and these Cinnamon Overnight Oats for starters.
They're super easy to make ahead and ready when you wake up.
You can even heat them up if you like warm oats. Learn how here.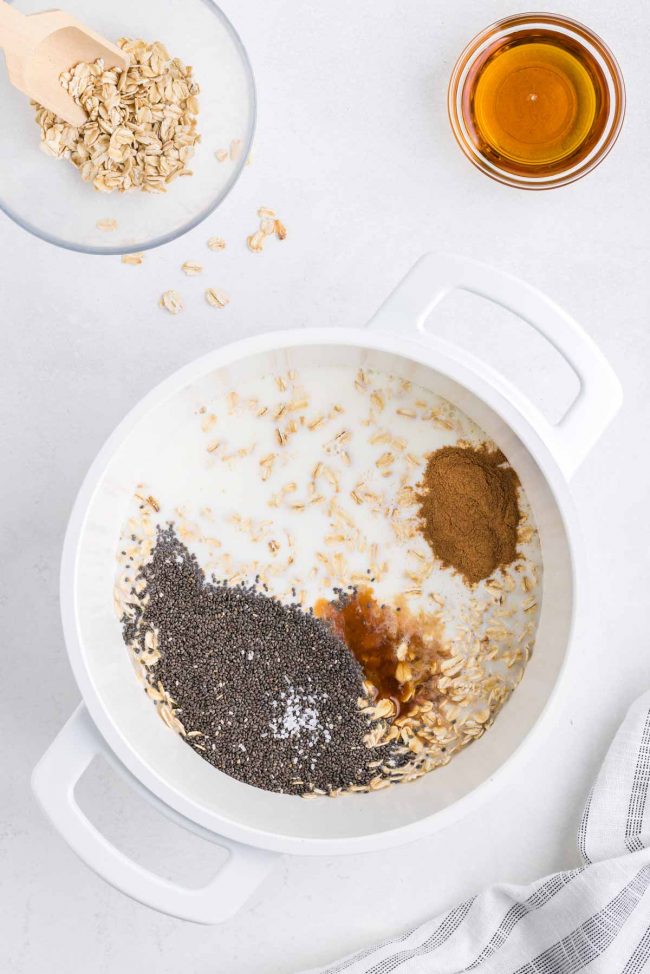 Toppings
You can jazz up your morning oatmeal with just about anything.
Fresh berries make an excellent topping, adding a pop of color, flavor and antioxidants.
But if you want to add a little texture with a slight crunch, you can add nuts like toasted cashews, walnuts or pecans.
Adding bananas and toasted walnuts would make this oatmeal even more filling and nutritious.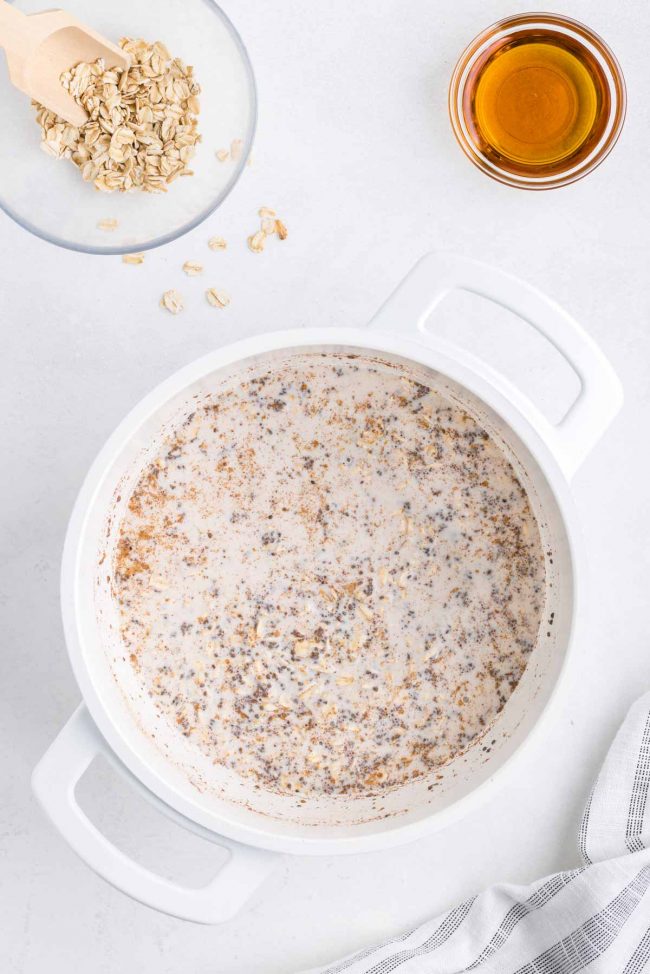 Or you could try adding shredded toasted coconut and some pineapple for a tropical breakfast to add more fiber and flavor.
Adding in extra protein is always a good option, and I have several nut butters to choose from. Homemade peanut butter is super easy and perfect on this oatmeal.
So whether you like it plain, with a pop of color from juicy berries, or the added crunch of toasted nuts, you can make this chai seed oatmeal just as you like it.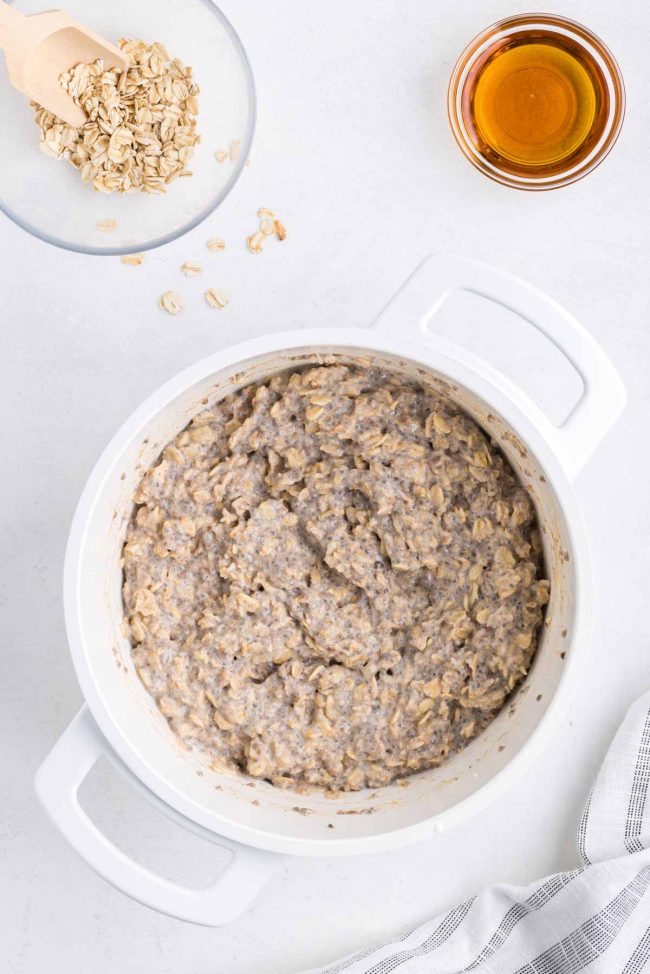 What type of milk?
I always use cashew milk, but you can use whatever type of milk you prefer, including dairy milk.
If you only have canned full-fat coconut milk, then water it down by about 50% so that it's about as thin as regular milk.
Do I need salt?
Using salt helps bring out the flavor, so I recommend it. If you're trying to cut down on salt, then it's not mandatory. But the oatmeal will be quite flat and boring without it.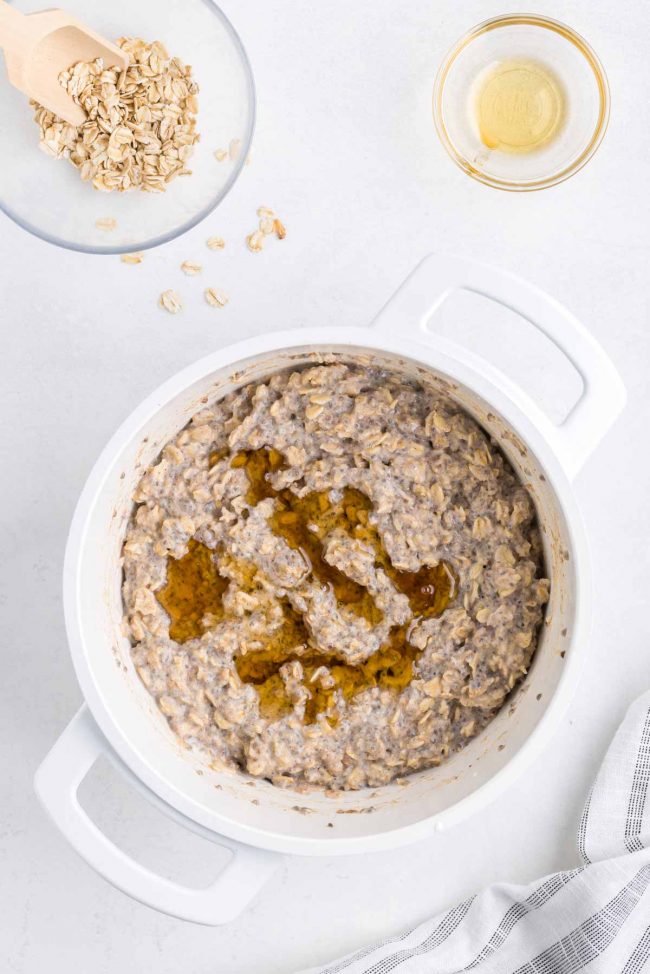 What are chia seeds?
Chia seeds are seeds from a flowering plant in the mint family. They're small, edible oval and gray seeds with black and white spots and have many important nutritional properties.
You can add them to smoothies, breakfast cereals, energy bars, yogurt and baked goods. They can be used as subs for eggs, like in these Paleo Vegan Brownies, making them great for vegan and allergen-free baking.
They're hydrophilic, meaning they absorb up to 12 times their weight in liquid when soaked, which gives them a gel-like texture. Some people like that and some people don't.
If you don't like the crunch and gelatinous texture they add to chia pudding, then you won't like this oatmeal. This recipe is only for people who like chia seeds!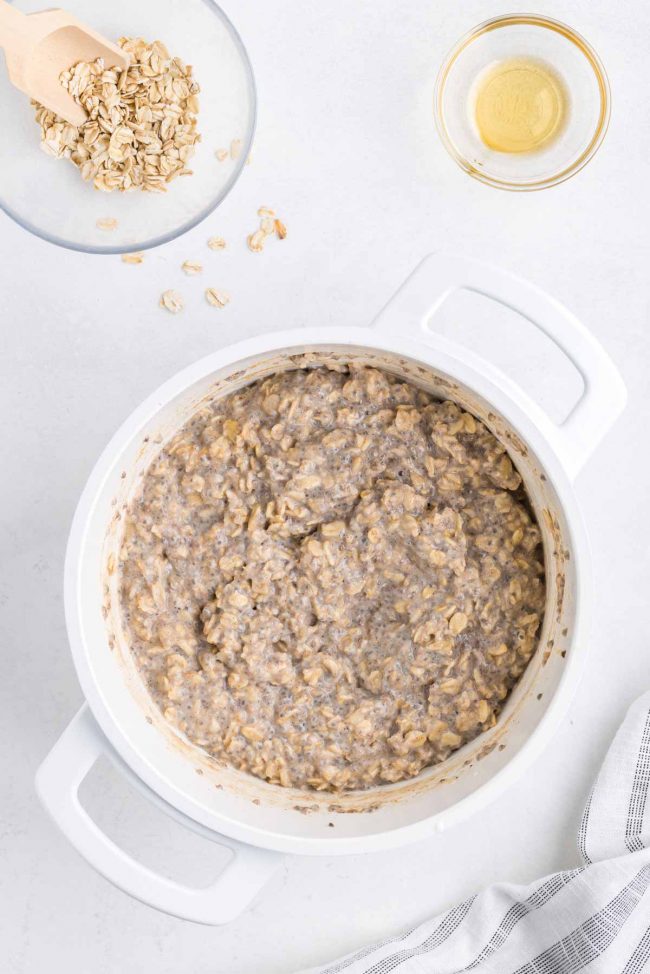 Chia seed benefits
Chia seeds are rich in nutrients, support heart health, strengthen bones, improve blood sugar management, and are highly antioxidant.
They're also high in protein and fiber. And they have an amazing nutritional value: high in calcium and iron, carry 23% of the DV in magnesium, and rank in phosphorus, zinc and vitamin B1 and B3 with a single serving of about two tablespoons.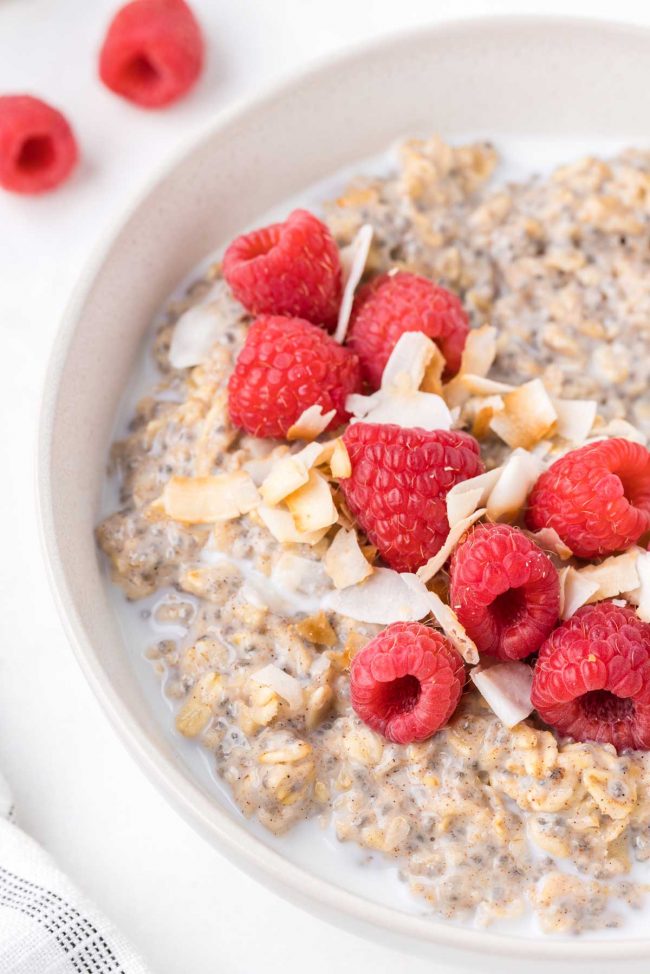 They're also an excellent source of antioxidants that have protective effects on your heart and liver and anticarcinogenic properties.
Plus, the soluble fiber in chia seeds can help lower the bad cholesterol (LDL) in your blood and reduce heart disease.
So these little seeds pack a powerful punch to start your day!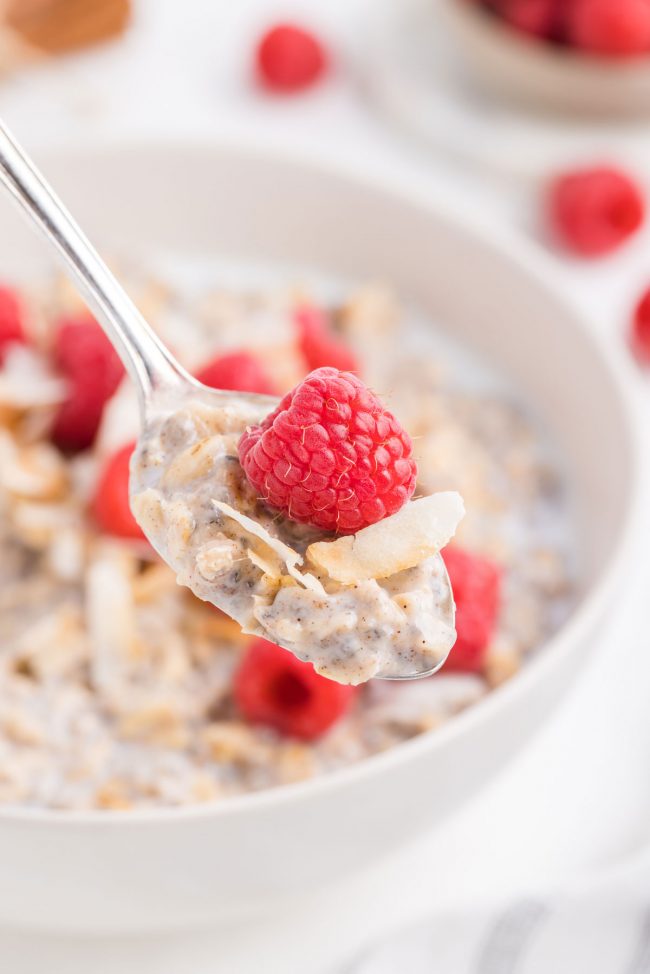 Other treats with chia seeds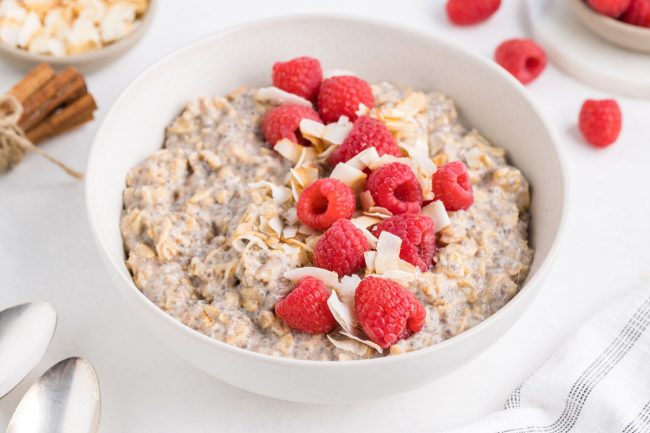 Gluten-free and vegan
If you're wondering Are Oats Gluten-free? – the quick answer is yes, but first, read the post so you have the information you need to meet your dietary needs. The main point is to purchase gluten-free oats that are labeled or certified gluten-free if you're sensitive to gluten.
I hope you'll enjoy this chia seed oatmeal. I'd love to hear about it if you make it! Please leave a comment or share on social media by tagging #texanerin so I can be sure to see it Thanks! :).
Sources
❀
Chia Seed Oatmeal
Prep Time:
Cook Time:
Ready in:
Yield:

2 big bowls
Ingredients
1 cup (92 grams) rolled oats (gluten-free oats if you're GF)
1 1/2 cups (355 ml) milk (if vegan, use vegan milk)
2 tablespoons chia seeds
2 teaspoons vanilla extract
1 teaspoon ground cinnamon
pinch of salt
2 tablespoons maple syrup
Directions
In a medium/small pot, stir together the oats, milk, chia seeds, vanilla, cinnamon, salt.
Turn the heat to medium-high and bring to a simmer, stirring frequently.
Lower the heat to medium and cook another 5 minutes - or until the oats are done to your liking - while stirring occasionally.
Remove from the heat and stir in the maple syrup.
Let cool for a few minutes and serve.
Cover and refrigerate leftovers for up to 3 days.