These fudgy paleo chocolate banana muffins are super rich and decadent! They're also naturally sweetened with honey and are grain-free, gluten-free and dairy-free.
When I make muffins, I'm usually able to eat at least three or four before I feel even the slightest bit full (I have to admit that I'm kind of a piggie). But these chocolate banana muffins are so rich and filling I could hardly do one and a half.
I suppose that's not too surprising considering all the almond flour and chocolate in there!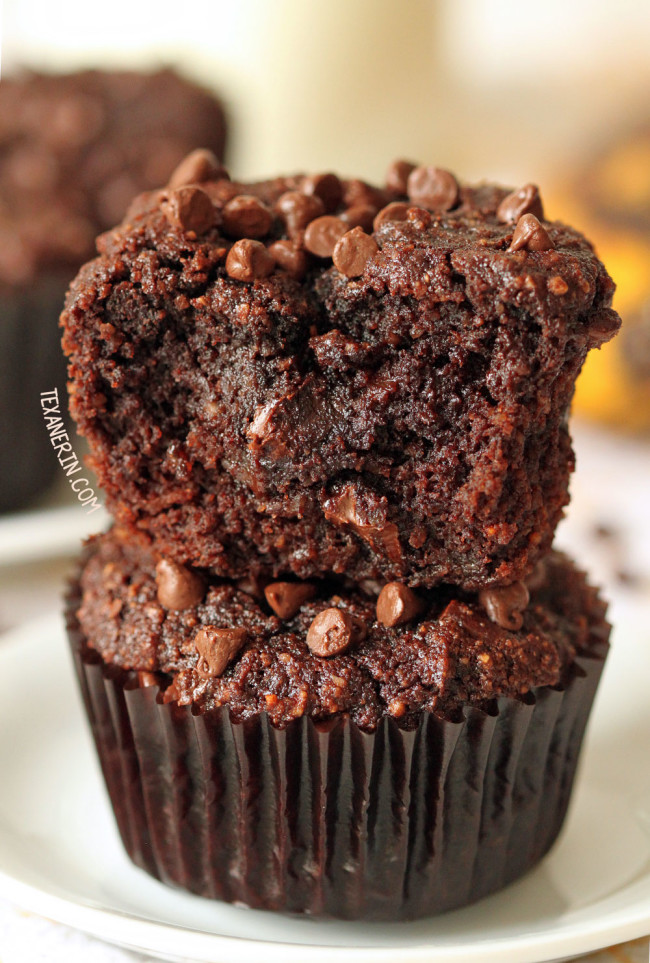 These paleo banana muffins have a really nice texture! They're not quite fudgy, but definitely headed that way, which is probably another reason why I couldn't handle eating several of these at once.
So they're dense, but a nice dense, and have a really nice crumb. And they definitely don't have that typical paleo muffin texture! I don't know about you, but I've had way too many bad grain-free muffins.
They're often weirdly spongy and just don't taste very good. My taste testers thought that these were made with all-purpose flour. To be honest now, my taste testers don't know a thing about baking, let alone grain-free baking, but I was happy. :D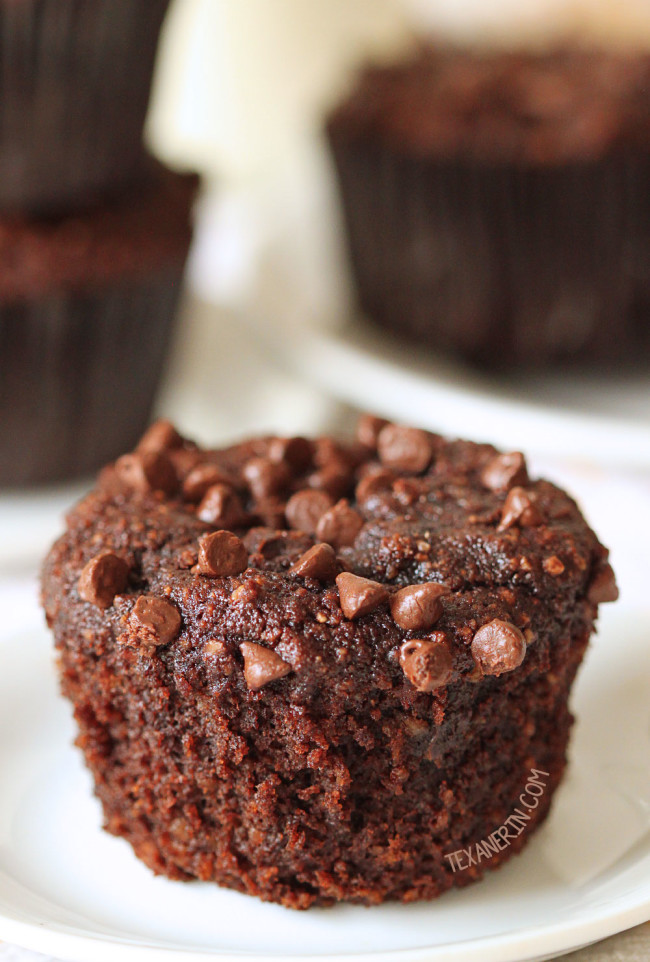 The banana taste is also pretty strong in these banana muffins so I wouldn't recommend making these unless the idea of chocolate and banana appeals to you! I was kind of hoping to use up my bananas in these muffins and not have them taste like banana at all, but I'm still really pleased with how they came out.
I haven't tried subbing the banana with something else so I have no idea how that'd work. If you try using something else, let us know in the comments how it worked out!
❀
Want more paleo chocolate goodies?
❀
Paleo Chocolate Banana Muffins (grain-free, gluten-free, dairy-free)
Prep Time:
Cook Time:
Ready in:
Yield:

12 muffins
Ingredients
Directions
Preheat the oven to 350°F (175°C) and line a muffin tin with 12 muffin liners.
In a large bowl, mash the bananas with the bottom of a glass. They should almost be like a puree.
Add the honey and vanilla and stir.
Add in the eggs and oil and stir until well combined.
In a medium bowl, mix together the almond flour, coconut flour, cocoa powder, baking soda and salt.
Stir just until combined and then stir in the chocolate chips.
Spoon the batter into the muffin liners and sprinkle on additional chocolate chips, if desired.
Bake for 18 minutes or until a toothpick inserted in the center comes out clean. Be careful not to confuse a melted chocolate chip with the batter.
Let the muffins cool for 5 minutes in the pan and then turn out onto a wire rack to cool completely.
Place in an airtight container and store in the refrigerator for up to 5 days.
Notes
Use can use unrefined coconut oil if you don't mind a slight coconut taste.