These protein pancakes get a nutritional boost from cottage cheese and Greek yogurt! The recipe makes enough for just two people but you can easily double or even quadruple the recipe. Can be made gluten-free or whole grain.
Protein pancakes don't sound exactly appetizing but seriously… these are so good and you don't need to be put off by the protein in the title! There's lots of cottage cheese in these pancakes but all it does is make the pancakes less bready and more moist.
I don't know if I've ever mentioned this before, but I'm a terribly messy person. And this also applies to the fridge.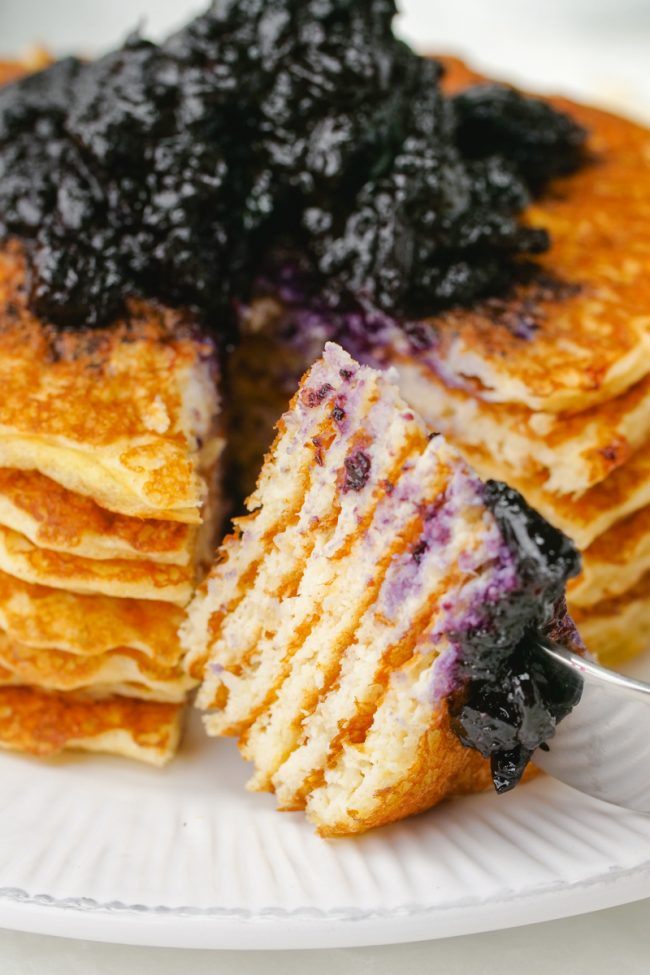 I buy stuff intending to bake with it and then I get a different idea, buy more, get another idea, and so on. Today was get rid of the cottage cheese and Greek yogurt day.
I'm not really into thick pancakes. I always spread them out with the measuring cup I used to pour them into the pan.
These are SO soft. I don't know if I would say fluffy, just because they're so thin, but super soft. Just like my gluten-free Swedish pancakes and paleo buttermilk pancakes!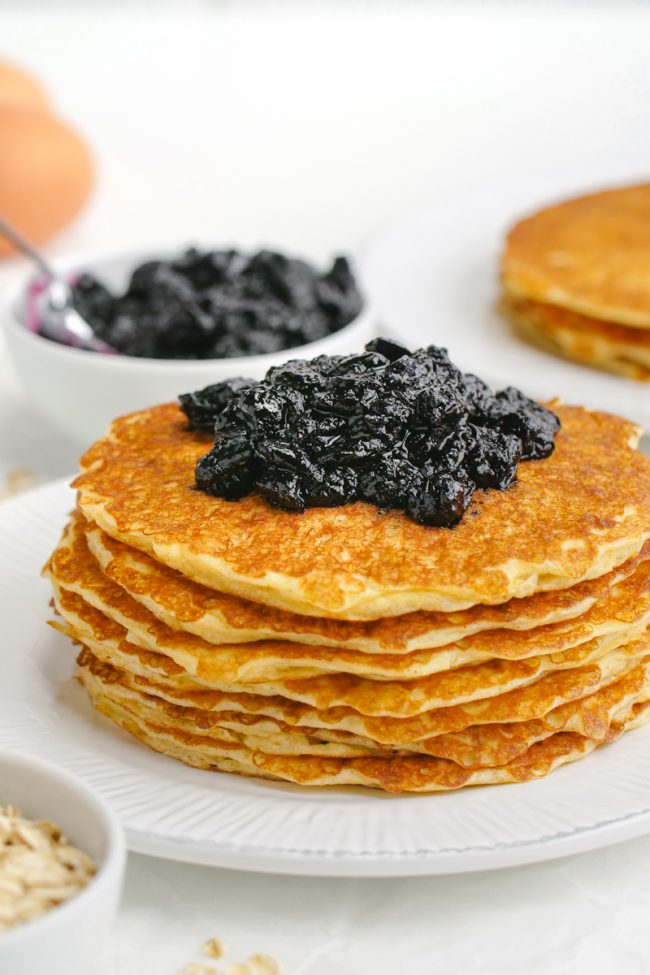 Something else that I love about them is how good they are cold. I ate these from the fridge all day and they were awesome. I just couldn't get my mind off of them. To add even more protein to your breakfast, add these egg bites.
This recipe is easily doubled, which is how I prefer to make them. I like to have some for the week to make my mornings a little brighter. It's nice to have something to wake up to early in the morning. :)
These have absolutely no added sugar of any type, but I didn't even notice as I had some super flavorful strawberry sauce. If you want, you could add a teaspoon or two of honey or sugar or whatever you like. It shouldn't affect the pancakes.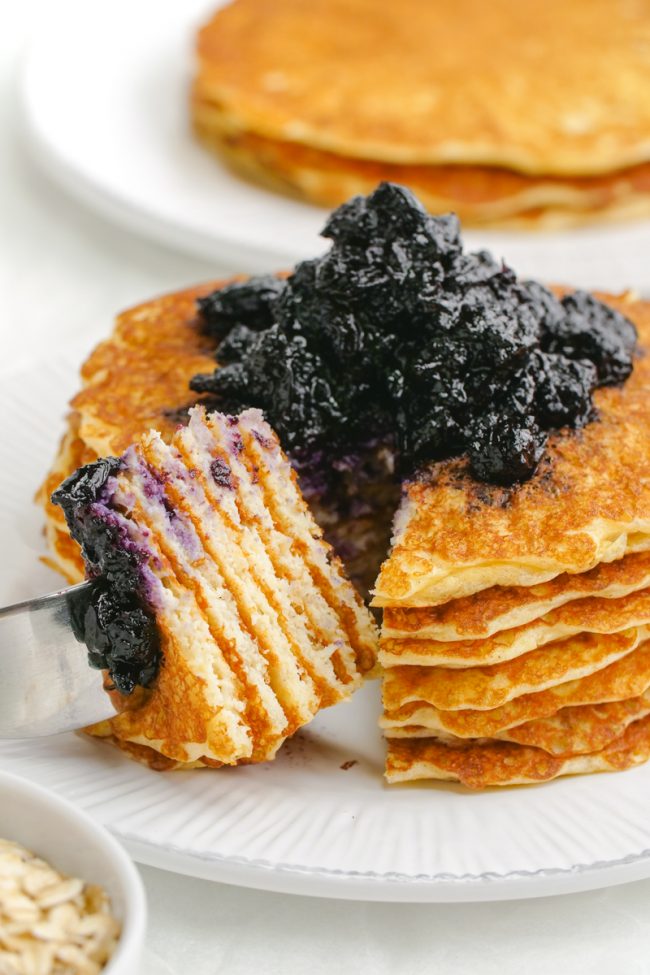 Most of my recipes these days are dairy-free and vegan but unfortunately I couldn't find a way to veganize these. Chia or flax eggs might work in place of the eggs (though I'm not sure) and dairy-free yogurt would work for the Greek yogurt, but then there's cottage cheese. And I can't think of a good sub.
These banana pancakes can also be made gluten-free and also have a vegan option! I usually have a batch sitting in my freezer for emergency snacks.
Enjoy! I hope you all had a lovely Christmas (if you celebrate) and are having a great start to 2019. :)
❀
Protein Pancakes (gluten-free, whole wheat options)
Prep Time:
Cook Time:
Ready in:
Yield:

6 5" pancakes
Ingredients
2 tablespoons rolled or quick oats (make sure to use GF oats if needed)
2 tablespoons 1-to-1 Gluten-free Baking Flour for a gluten-free version or whole wheat, whole spelt or all-purpose flour for a non-GF version
1 1/2 teaspoons baking powder
2 large (50 grams each, out of shell) eggs
1/2 cup (113 grams) cottage cheese (I used full-fat)
3 tablespoons Greek yogurt
1 tablespoon oil of choice (I like coconut oil or olive oil)
1 1/4 teaspoons vanilla extract
Directions
Pour the oats in the food processor pulse about 5-10 times until they're chopped more finely.
Then add all the other ingredients and mix until thoroughly combined. There definitely shouldn't be any lumps.
Heat a non-stick medium pan over medium heat. Make a 5" pancakes and cook for about 2 minutes before flipping over and cooking for another 1-2 minutes.