The ultimate soft and chewy ginger cookies and as a bonus, they're 100% whole grain (though they don't taste like it!)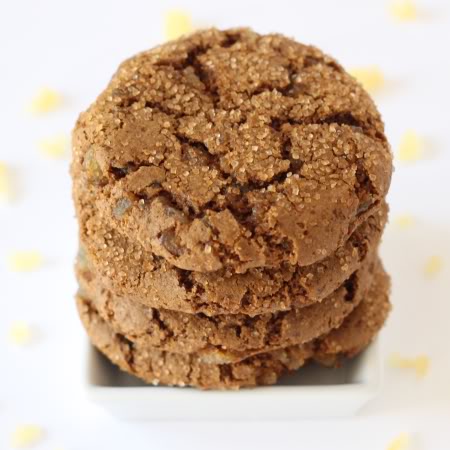 I make these chewy ginger cookies throughout the year, but nobody wants ginger cookies in July, so here they are now. I really think they're my favorite cookie ever. Crystallized ginger is really expensive here, so when I went back to Texas last Thanksgiving, I brought back over six pounds of the stuff just so that I could make loads of these cookies. If you dislike crystallized ginger, use chocolate chips! Or chunks.
These ginger cookies are perfectly chewy. And awesome. I know this person who ate one of my cookies and now every time I see her, I get asked when I'm making ginger cookies again. And that is seriously the only thing this person ever says to me. I'm not exaggerating. "Hello, when are you making ginger cookies? Ginger cookies? Can I have? Ginger cookies? When are they coming? Ginger cookies."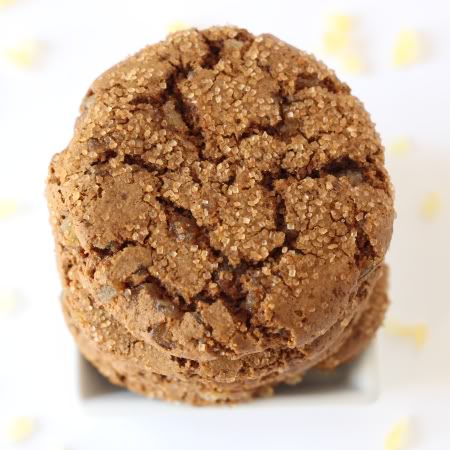 And I don't know if this will help convince you but they're adapted from an Ina Garten recipe. All I did was make it whole grain, use olive oil instead of vegetable oil, and reduce the sugar a little. And add orange zest to the sugar coating because orange zest makes everything better. I followed the original recipe the first time and kept adding more and more whole wheat until they were 100%. And they taste just the same. And the same thing with olive oil and less sugar. These cookies are seriously just as amazing as the original!
❀
100% Whole Grain Soft and Chewy Ginger Cookies
Prep Time:
Cook Time:
Ready in:
Yield:

16 cookies
Ingredients
2 1/4 cups (292 grams) whole spelt, whole wheat pastry, or whole wheat flour
1 teaspoon baking soda
2 teaspoons ground cinnamon
1 1/2 teaspoons ground cloves
1/2 teaspoon ground nutmeg
1/2 teaspoon ground ginger
1/4 teaspoon salt
2/3 cup (133 grams) unrefined sugar (brown sugar is also okay)
1/4 cup (60ml) olive oil (extra-virgin is fine)
1/3 cup (117 grams) molasses (blackstrap is fine)
1 egg, room temperature
1 1/4 cups (170 grams) chopped crystallized ginger
Unrefined or granulated sugar, for rolling the cookies
Orange zest from two oranges, optional
Directions
Preheat the oven to 350°F / 175°C. In a large bowl, mix the flour, baking soda, cinnamon, cloves, nutmeg, ginger, and salt.
With an electric mixer, beat the sugar, olive oil, and molasses on medium for 5 minutes. Add the egg, and beat for 1 minute on low. Scrape the sides of the bowl and then beat for another minute. Slowly add the dry ingredients and mix on medium for 2 minutes. Add the crystallized ginger and mix until combined.
Roll each cookie into a 1 3/4-inch ball and flatten them slightly with your fingers. Press each side of the cookie in sugar, which has been mixed with the orange zest, if using, and place them on a Silpat or a cookie sheet with parchment paper. Bake for exactly 13 minutes. As soon as they're crackly, I take them out. If they're not crackly, they're not ready. Cool the cookies on the sheets for 1 to 2 minutes, then transfer to wire racks to cool completely.
Adapted from Ultimate Ginger Cookies from Ina Garten