This apple smoothie is thick, creamy and so delicious. Think of it as a fuss-free, less sugary and more healthy version of apple pie. With vegan, paleo and AIP options.
I know that some people are still dealing with high temperatures so here's a cool and refreshing apple smoothie before I start posting a ton of baked apple treats.
If you're already in the mood for some fall baking, my Swedish apple pie, gluten-free apple crisp, and paleo apple muffins are some reader (and my!) favorites.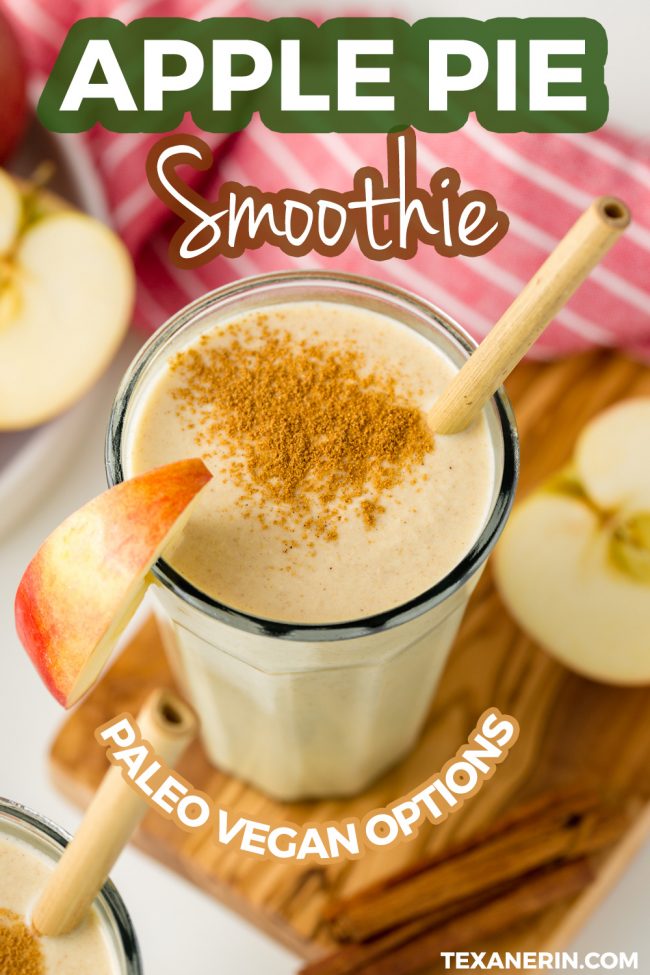 When I first started working on this recipe, I tried it with ingredients like raw apples, applesauce, apple juice and cottage cheese. They were watery and mealy. To be honest, they were disgusting.
Then I got the idea of cooking the apples in the microwave first. Tada! That's the key. You can, of course, cook the apples on the stovetop if you prefer.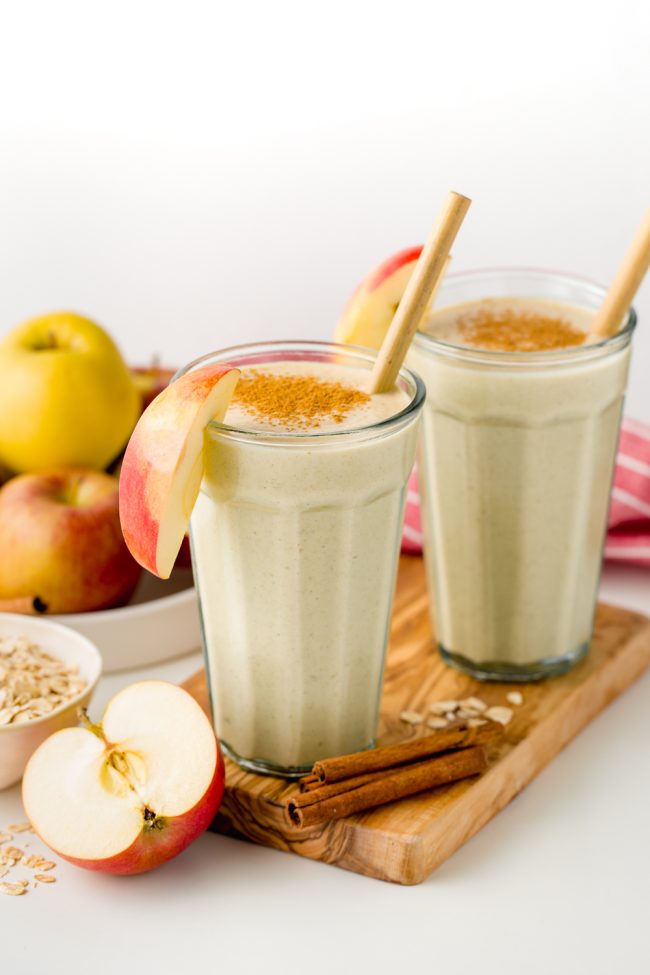 This apple smoothie recipe calls for oats, which isn't something I usually add to my smoothies. It made the smoothie more filling and somehow made it a bit tastier. But they're not necessary.
For a paleo version, shredded coconut works. Or maybe almond flour?! That's something I've never added to a smoothie so I can't say for sure that it'd work.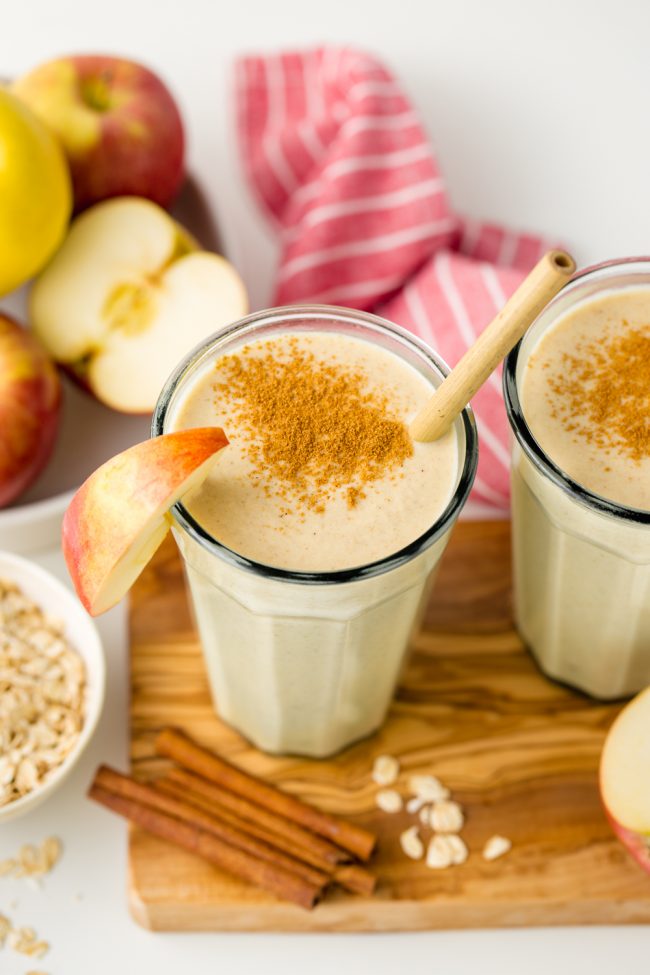 For the yogurt, you can use whatever type you'd like. It all works!
If you try out this apple smoothie, I'd love to hear how it goes. :)
Questions about this apple smoothie?
Can I use a different type of fruit?

I think pears might work! Not too sure about anything else. But if you want to make a pear smoothie, it's probably best to make this Pear Smoothie.

Can I use something other than maple syrup?

Any liquid sweetener that you would use as a 1:1 sub for maple syrup or honey would probably work. Actually, you can use whatever sweetener you'd like, including granulated. Add to taste until you're happy with it.

Can I use something other than yogurt?

If you don't have yogurt on hand, I'd recommend coconut cream as it's quite thick. Milk would be fine but your smoothie will be very thin. And you can use whatever type of yogurt you have. Regular cow milk yogurt, Greek yogurt, almond / coconut / soy / whatever yogurt.

Can I omit the maple syrup?

You might not even need it! For my taste and using the apples I used, 2 teaspoons was just right.

Do I need to add the oats or coconut?

Nope. It just makes it thicker and more filling.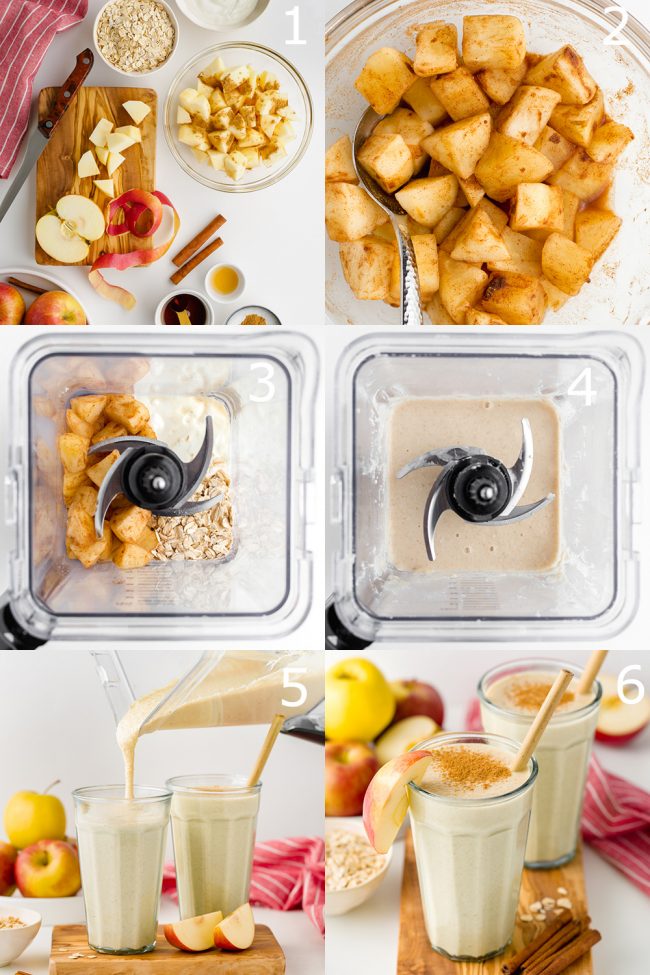 ❀
Apple Pie Smoothie (paleo, vegan options)
Prep Time:
Cook Time:
Ready in:
Yield:

1 large smoothie
Ingredients
2 medium sweet apples (mine were 135 grams each - you can use tart apples but then will need more sweetener)
1-1 1/2 teaspoons cinnamon
2 teaspoons maple syrup
3/4 cup (177 milliliters) yogurt (any kind - make sure to paleo / vegan / AIP yogurt, if needed)
1/4 cup (23 grams) rolled oats (use GF oats for a gluten-free version) or 1/4 cup (20 grams) shredded coconut for a paleo / AIP version
1 teaspoon vanilla extract (use 1/4 teaspoon vanilla powder for AIP)
1/8 - 1/4 ground nutmeg, optional (mace for AIP)
Directions
Peel and chop the apples coarsely (about 1/2" chunks).
Put the apple pieces in a microwave-safe bowl along with cinnamon and maple syrup.
Stir and microwave for 2 minutes on high. They should be soft after the two minutes.
Meanwhile, add the yogurt, oats and vanilla.
Let the apples cool for 15 minutes and then add to the blender. Blend until smooth. Add more cinnamon or maple syrup to taste.
Serve now, or chill, or even warm up in the microwave if you'd like it warm.
Notes
For AIP, use coconut milk yogurt (make sure it's AIP-compliant or make your own),