This vegan pumpkin pie is also paleo and has a richer and creamier pumpkin filling than your traditional pumpkin pie! A great grain-free and gluten-free pie for Thanksgiving dessert. With a how-to recipe video.
I'm SO excited about this recipe. I made it about a month ago and have been trying to be patient and not post it before Halloween. But according to the people on Instagram, it's never too early for pumpkin pie so here we are!
Pumpkin pie has never been a favorite of mine because of the texture. To me, it's just kind of bla. But this vegan pumpkin pie?! Definitely the opposite of bla. :D I've made some no-bake cashew-based desserts before, like these no-bake paleo vegan key lime pies and this paleo vegan maple frosting but this one is different in that it's baked.
The result is a super creamy, rich and decadent pumpkin pie. I'm not vegan nor paleo but I'm telling you… if I had the choice between this filling and one with sweetened condensed milk and eggs, I'd much rather have this one. Nobody will know that it's allergy-friendly and made healthier.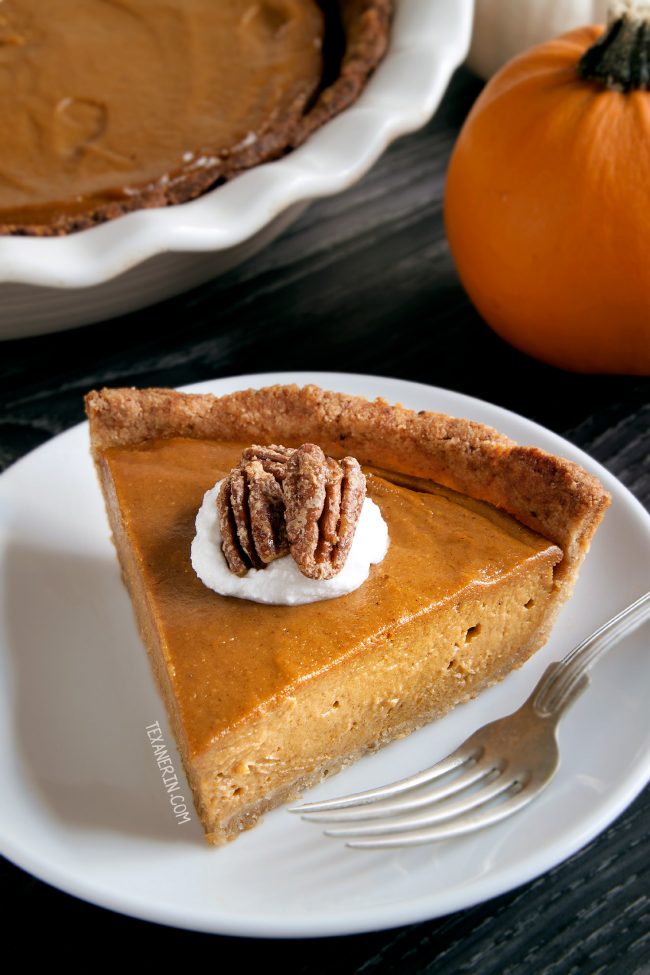 Before I made this, I tried some recipes that basically just used coconut milk in place of the evaporated / sweetened condensed milk and coconut sugar instead of brown sugar. But nope. I can't have any coconut taste in my pumpkin pie.
I did use some whipped coconut cream on one piece, but to be honest, it was just because I wanted the pie to look more interesting for the pictures. I then wiped it off and put it in a smoothie because coconut taste is not welcome here. ;) And seriously – the texture in this cashew-based recipe is so much better than the coconut milk based ones!
The crust is the same one I used in this paleo chocolate fudge pie and like I said in that post, the only kind of crust I really like is a cookie crust.
This isn't at all a cookie crust but it's still a great crust (if you like regular pie crust!). I used a chia egg in the pictured pie but a regular egg works just as well!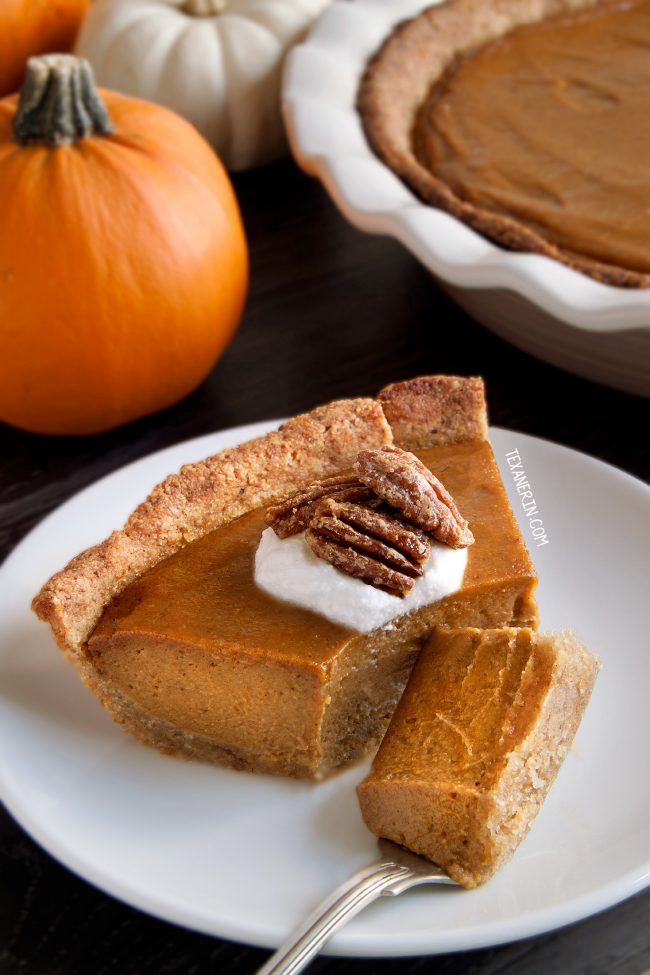 If you can eat grains and aren't vegan, the whole wheat cookie crust in this blueberry cream cheese pie would be my favorite crust to use in this (or really – any!) pie. I'm not sure if you'd need to pre-bake the crust, though. I'm guessing not but I'm not positive!
Prefer a cheesecake? This Vegan Pumpkin Cheesecake is one of my favorite recipes on the blog!
There are a few downsides to this pie. I think it's really best to prepare it the day before serving (or the day of). I didn't cut into the pie until after it had chilled overnight and both the crust and filling were perfect.
The next day (so two days after I had made it), I thought the crust wasn't as good. It had gotten kind of soft. And I thought the filling started tasting a little weird on the fourth day.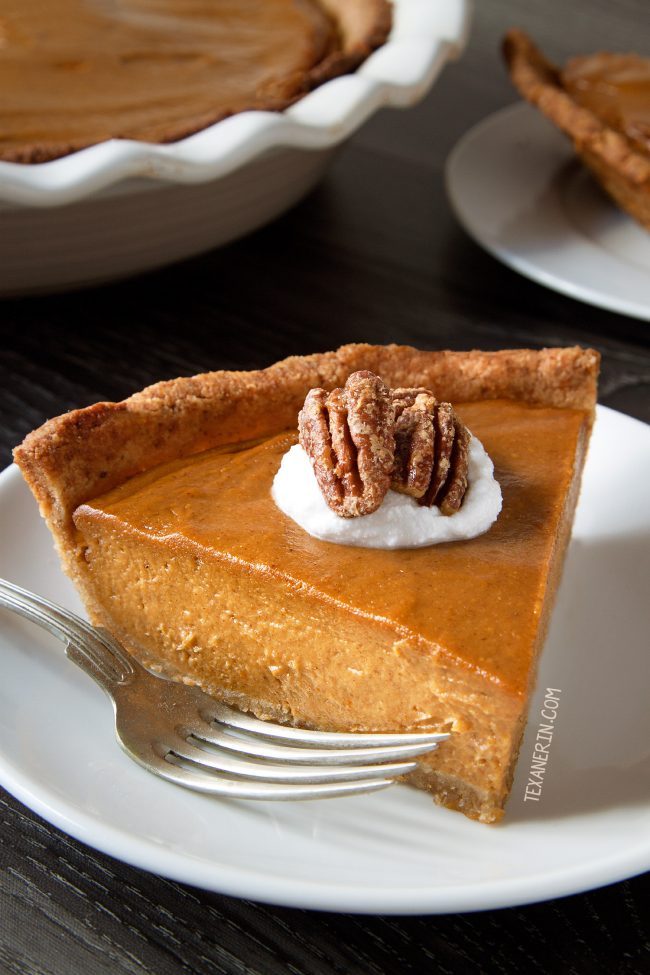 If you're worried about not being able to eat it all before the funkiness sets in, freeze it! I'm pretty sure it'd freeze well, though I doubt the crust would be as crisp.
The other negative thing about this paleo vegan pumpkin pie is that it uses a full cup of maple syrup. If maple syrup is super expensive in your neck of the woods, you could try using half agave or brown rice syrup (if you're not paleo) or half honey (if you're not vegan). By the way, I haven't tried any of these ideas – they're just suggestions. :)
By the way, if you're vegan, I recommend checking out my post on Is Maple Syrup Vegan? Some manufacturers use an animal product during production that you may or not be okay with.
If you're paleo but not vegan, definitely also give my paleo pumpkin donuts a try! They're seriously SO good!
And if you're vegan but not paleo, check out this gluten-free pumpkin mousse pie for another great gluten-free pumpkin recipe.
And for the vegans, I have vegan pumpkin muffins! Which you also coat in cinnamon sugar, making them donut-like.
I'd love to hear what you think about this paleo pumpkin pie! It's one of my very favorite recipes ever.
❀
Vegan Pumpkin Pie (paleo, grain-free, gluten-free, dairy-free)
Prep Time:
Cook Time:
Ready in:
Yield:

8-12 slices
Ingredients
For the crust:

2 cups (200 grams) blanched almond flour
2 tablespoons coconut sugar
1/4 teaspoon salt
2 tablespoons + 1 teaspoon (33 grams) coconut oil
1 chia egg1 or 1 large egg (50 grams, out of shell) for a non-vegan version

For the filling:

1 1/3 cups (193 grams) raw unsalted cashews, soaked and drained2
1 cup (240 milliliters) maple syrup, room temperature
2 tablespoons coconut sugar
1 15-ounce (425-gram) can pumpkin puree
2-3 teaspoons pumpkin pie spice3
1 teaspoon vanilla extract
3/8 teaspoon salt

For garnish:

I used whipped coconut cream and healthier maple candied walnuts (just to make the pictures look nice – I don't think the pie needs it!)
Directions
Position the rack in the lower third of the oven and preheat it to 350 °F (175 °C).
Prepare the crust. You can either mix the dry ingredients together and then stir in the wet ingredients with an electric hand mixer or by hand (which will take some time and strength) until well combined or use a food processor. To use a food processor, place the almond flour in the bowl of a food processor fitted with an S-blade. Sprinkle the sugar and salt over the top and then add the coconut oil and egg / chia egg. Pulse just until a ball forms.
Press the mixture up the sides and over the bottom of a 9" pie plate. Set aside while preparing the filling. If you don't have a pie shield then you should create one now out of foil. Set it aside until you need it after it's baked for about 20 minutes.
Blend all the filling ingredients in a high-powered blender (I don't think this will work in a food processor) at medium or high speed for about 1 or 2 minutes or until completely creamy and no lumps remain.
Pour the filling over the unbaked pie crust and bake for 45-55 minutes or until the topping looks slightly puffy and has turned slightly brown. I put a pie shield over my crust after about 20 minutes to prevent it from browning too much. The pie will still be quite soft but firms up as it chills.
Let cool completely, about 2 hours, and then refrigerate for another 2 hours. Best served on the day of making or the next day. Keep refrigerated for up to 2 days and freeze leftovers after that. By the way, the pictured slices are WAY too big. I didn't realize how rich the pie was until after I had sliced them!
Notes
To make a chia egg, mix together 1 tablespoon of ground chia seeds and 2 1/2 tablespoons water. Let sit 5-15 minutes or until goopy like an egg.
To soak the cashews, place them in a large mug, small pot, or some kind of container that's safe to pour boiling water into. Pour enough boiling water over the cashews to cover them. Let them sit 2 hours.
Since everyone's ideal amount of pumpkin pie spice is different, I recommend starting off with 2 teaspoons, blending, tasting and adding more, if desired. I used 3 teaspoons.
Crust adapted from Elana's Pantry.