This caramel pecan cheesecake pie has a layer of caramel pecans over a cream cheese filling. With gluten-free, whole grain and all-purpose flour options. Thanks to Bob's Red Mill for making today's post possible!
I rarely post pies because they're hard to recipe test. Baking a fourth pie is a whole lot more difficult than baking a fourth batch of cookies! The other reason is that gluten-free pie crust is my nemesis. Why's it gotta be so hard?!
But with Thanksgiving around the corner, I thought I'd better get on the pie bandwagon. So here we have a super delicious adaptation of my blueberry cream cheese pie. If you want a whole grain or all-purpose flour crust, that's the crust recipe you'll be using instead of the below gluten-free pie crust.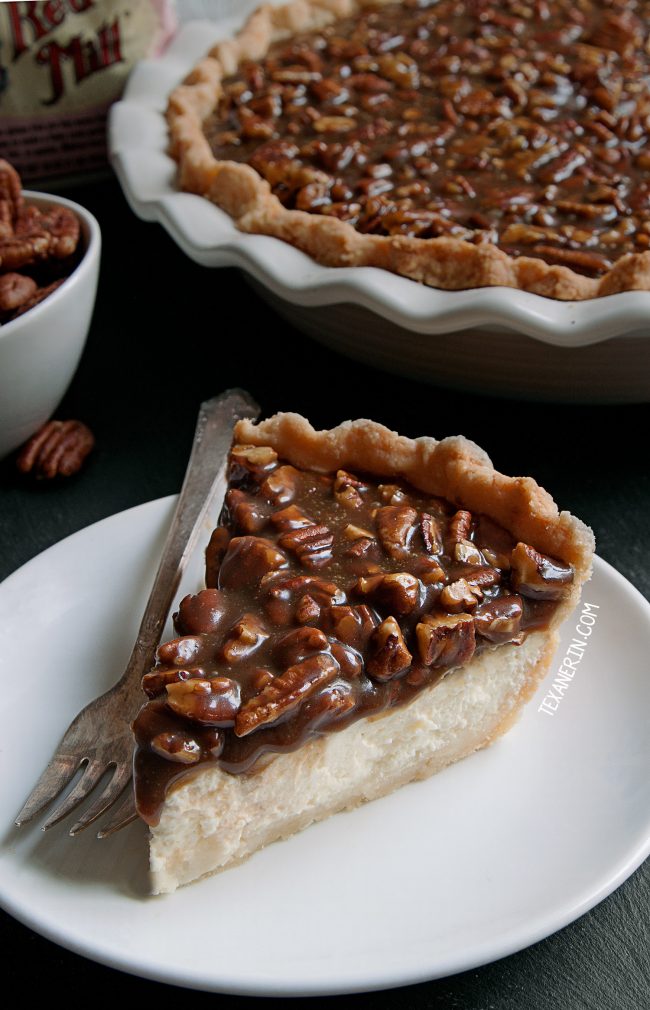 I first made this caramel pecan pie last year with an almond flour-based crust. It was delicious but I would hardly call it a crust. It fell apart and got soggy within hours. If you want to make this pie grain-free, you can use the crust in my paleo vegan pumpkin pie.
With all those pecans, it's not the cheapest pie to make so I just gave up. But when I came across Bob's Red Mill Gluten-free Pie Crust Mix, I thought I'd give it another try.
I've posted several recipes this year in partnership with Bob's Red Mill but just so you know, I pick which products I want to incorporate into these recipes. I wasn't asked to write about this pie crust mix – I chose it. :) After reading the rave reviews for it on Amazon, I knew that I had to try it.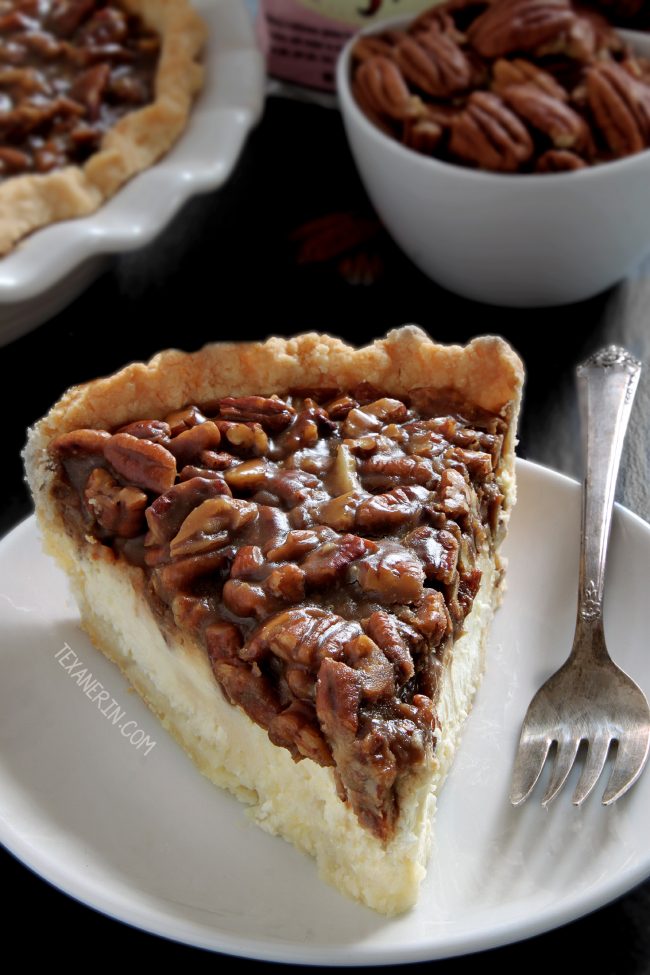 So here's what I love about it:
The lack of preservatives and artificial junk! I've never posted any kind of mix on the blog before because I generally prefer to make everything from scratch, but after looking at the ingredients – rice flour, potato starch, tapioca flour, sugar, rice bran, sea salt, xanthan gum – I felt good about using this one.
How easy it is to prepare – all you do is toss the mix, butter and / or shortening, and water into a food processor. Then roll it out.
The dough is easy to work with. Gluten-free pie crust dough is notoriously difficult to work with but this was a breeze. You can even crimp it! My crimping looks bad just because I'm a lousy crimper.
It's really tasty! And flaky. I was actually really surprised!
The pie pieces are SO easy to get out of the pan. You know how crusts sometimes cling to the pan or fall apart while cutting? This was the easiest pie cutting experience I've ever had.
What I don't love about it:
There's no sugar cookie pie variation. Haha. It'd be awesome if there were the possibility to dump in 1/2 cup of sugar to make it taste like a sugar cookie pie crust. :D Unfortunately, that's not how baking works so I'll just have to wait for them to make a sugar cookie pie crust mix. ;)
If you have crust making anxiety, be sure to check out this super helpful step-by-step gluten-free pie crust guide. I also found this video.
I just realized I haven't really written anything about this pie, other than about the crust. But is that really necessary? I mean, it's caramel pecans over a cream cheese filling. ;)
I think all you really need to know is that the filling is slightly softer and creamier than cheesecake (the one in the pictures is slightly overbaked). I'd take this caramel pecan cheesecake pie over regular pecan pie any day!
As always, all opinions expressed are my own. Head over to the Bob's Red Mill coupon section for some $1 and $3 coupons!
❀
Caramel Pecan Cheesecake Pie (gluten-free, whole grain, all-purpose flour options)
Prep Time:
Cook Time:
Ready in:
Yield:

8-12 slices
Ingredients
For the crust:

1/2 bag of Bob's Red Mill Gluten-free Pie Crust mix or this whole wheat pie crust, which can also be made with all-purpose flour, or the grain-free crust in this paleo vegan pumpkin pie

For the filling:

1 pound (450 grams or two 8-ounce packages) cream cheese, room temperature1
1 cup (240 grams) plain full-fat Greek yogurt
1/2 cup (100 grams) raw sugar or granulated sugar
2 large eggs (50 grams each, out of shell), room temperature
4 teaspoons vanilla extract
1/8 teaspoon salt

For the caramel pecan topping:

3/4 cup (180 grams) packed brown sugar
3/4 cup (150 milliliters) whipping cream (do not use half-and-half, reduced fat, etc.)
7 tablespoons (98 grams) unsalted butter
1 teaspoon vanilla extract
3/8 teaspoon salt
2 1/2 cups (275 grams) chopped pecans
Directions
For the crust:

If using the gluten-free pie crust mix, follow the instructions on the bag for preparing ONE 9" or 9.5" pie crust. That means you only need half the bag (so 8 ounces), 10 tablespoons of fat and 3 tablespoons of water. Here's a step-by-step tutorial with lots of pictures – note that you'll need to blind bake the crust before pouring in the filling.
Once the crust is in the pie pan, place a piece of parchment paper over the crust and fill with pie weights or dried beans. Cover with a pie crust shield and bake at 425 °F (218 °C) for 30 minutes. The pie weights and parchment paper are ready to be removed when the crust is dry but still appears undercooked. Remove the pan from the oven and remove the pie weights and parchment paper. If the sides of the crust haven't lightly browned, then remove the pie crust shield so that the crust will brown a bit.
Reduce the heat to 350 °F (176 °C) and continue baking for 12-18 minutes or until the bottom of the crust has lightly browned.
If making the whole wheat / all-purpose flour version, then follow the instructions (Steps 1 -7) for preparing and baking the crust found on that recipe. Use a 9" or 9.5" pie plate.
If making the grain-free crust, bake the crust at 350 °F (176 ° C) for 8-12 minutes (without pie weights).

For the filling:

For all three types of crust, let the crust cool for at least 10 minutes while preparing the filling.
Beat the cream cheese until fluffy and then add the Greek yogurt, sugar, eggs, vanilla, salt and beat on low until well combined. Pour the cream cheese mixture over the bottom of the pre-baked crust and use a silicone spatula to make it as even as possible.
Bake for 20-25 minutes or until just the middle is jiggly when the pan is tapped and then remove the pie from the oven.
Once the pie is completely cool (about 2 hours), place it in the refrigerator to chill for at least 1 hour.

For the caramel.

Heat the sugar, cream, butter, vanilla and salt in a heavy bottom saucepan (do not use non-stick) over medium heat.
Stir until combined and then simmer for 8 minutes. Do not stir. If needed, tilt the pan to redistribute the mixture.
Remove from the heat. The caramel will be quite thin at this point. Let it cool for 20 minutes or until considerably thickened and just barely pourable. Stir in the nuts and then pour over the chilled pie. Place the pie in the refrigerator until the caramel has firmed up. The second picture was taken after the pie had chilled overnight. If you want that kind of firmer topping, refrigerate the pie (after the caramel has been added) for about 4 hours. If you want it less firm, like what you see in the first picture, then only refrigerate the pie (after adding the caramel) for about 1-2 hours.
Refrigerate for up to 2 days. Best served on the day of making or the next day.
Notes
If you live outside of North America and have the kind of cream cheese that's meant for toast (that comes in a little plastic tub) rather than American style brick cream cheese, then get 600 grams of cream cheese, place it in the center of a cheesecloth, and wring out the liquid until you have 450 grams of cream cheese left.
As an Amazon Associate, I earn from qualifying purchases. For more info, see my disclosure.