Lemon curd is sandwiched between soft and chewy paleo lemon cookies in this dairy-free treat!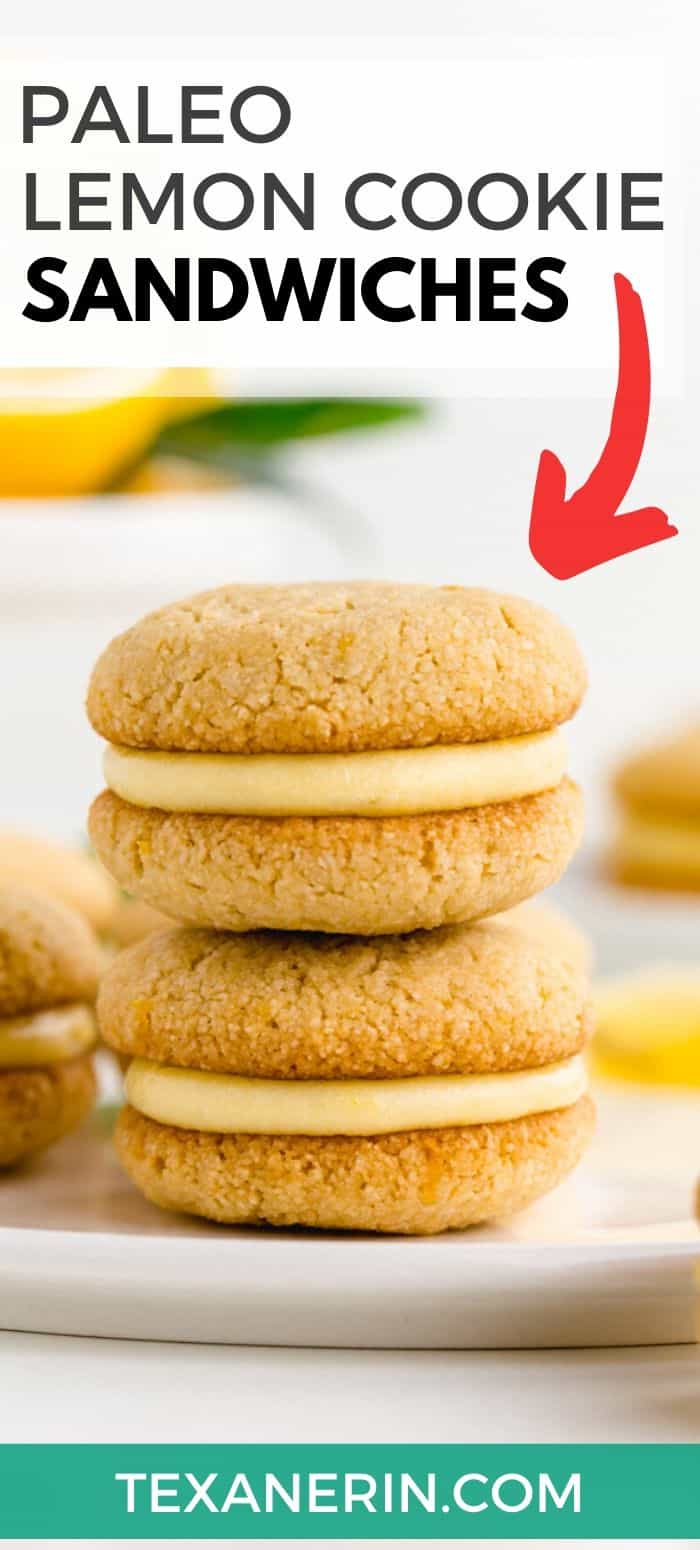 It's been awfully dreary and rainy lately. During times like these, I'm all for lemon goodies.
Some of my favorites are this Italian lemon almond flour cake (it has white chocolate in it but I'm working on a paleo version!) and these paleo lemon bars. Just a bite of either are enough to cheer me up.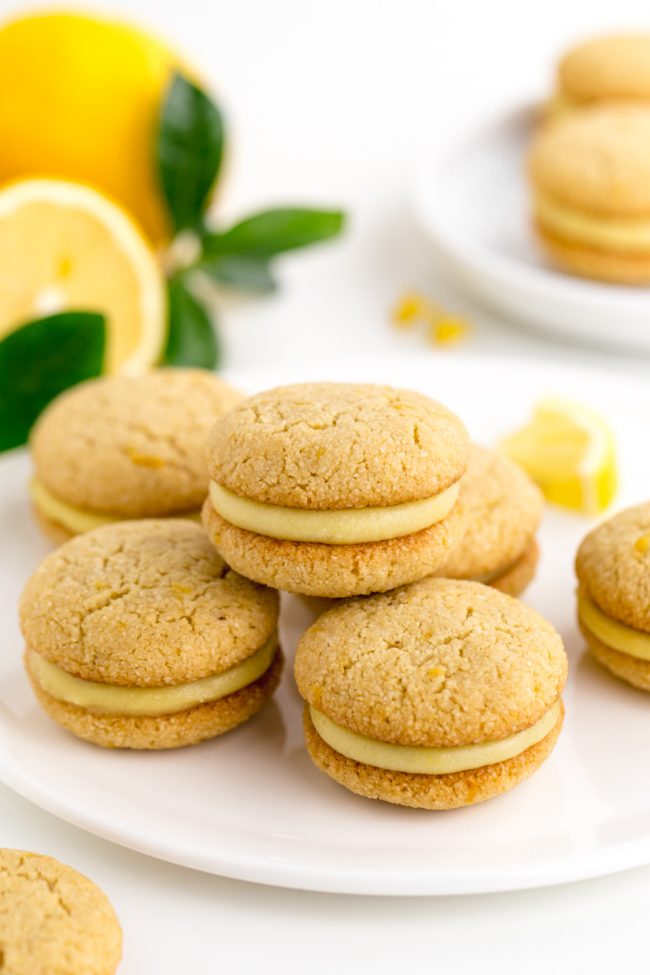 The lemon cookies in these cookie sandwiches are actually vegan, but because of the curd, the cookie sandwiches aren't. I tried to come up with an alternative vegan filling but couldn't make anything as delicious as the curd. Have any of you made any tasty vegan lemon curd?
So the cookies on their own are already soft and the curd softens the cookies even more. It makes them totally irresistible.
I used this honey sweetened lemon curd as the filling since I had to do something with it after making a huge batch and I don't especially like it on bread. Or by the spoonful.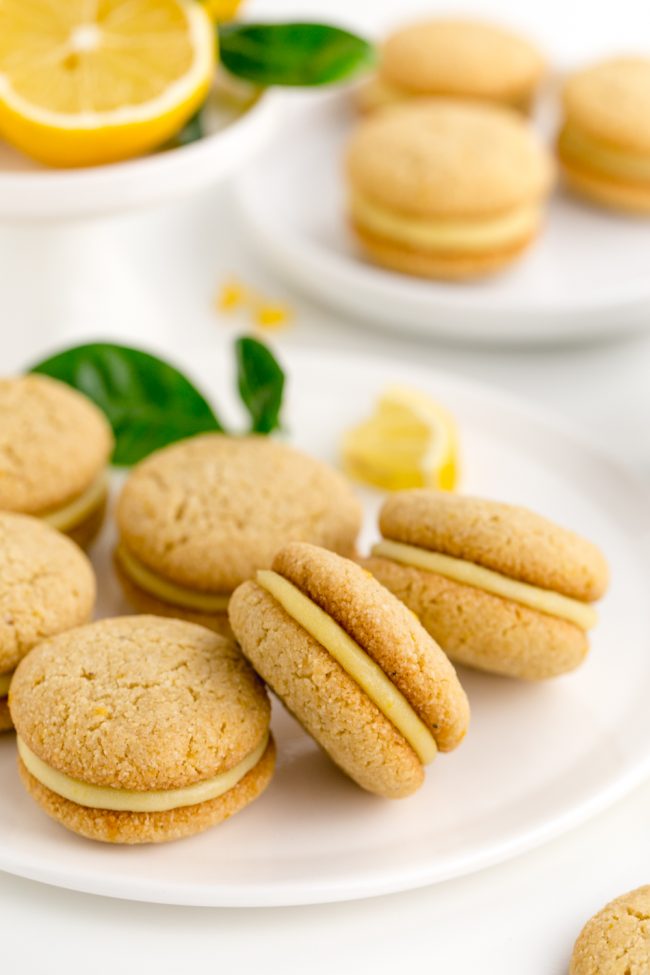 If you don't have any curd handy and don't want to make any, the cream cheese filling I used in my chewy ginger sandwich cookies with lemon filling would work well here but the lemon curd just adds so much zing!
Why make a regular lemon cookie sandwich when you could have little citrus explosions in your mouth? :D
This recipe has lemon extract, lemon zest, and lemon curd. Switch all of that out to lime or orange if that sounds better! After writing that, I think I need to try a key lime version ASAP.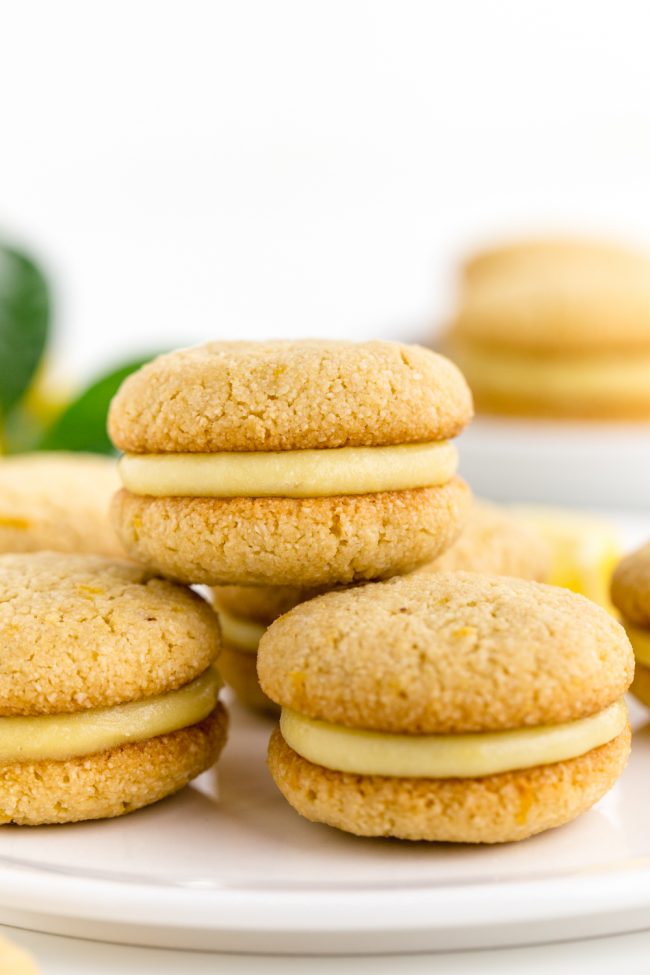 Another thing to note is that this recipe yields relatively few cookies. You know, portion control issues. So double it if you have a friend to share with. ;)
So, just like usual, it's been a long time since my last post. The babysitter I mentioned that would be starting the next day hasn't started yet and probably won't until the end of the month. She got sick on the day she was supposed to start.
We are having extraordinary luck with childcare. ;) So I can't really work but on the upside, Björn is tons of fun to play with. :D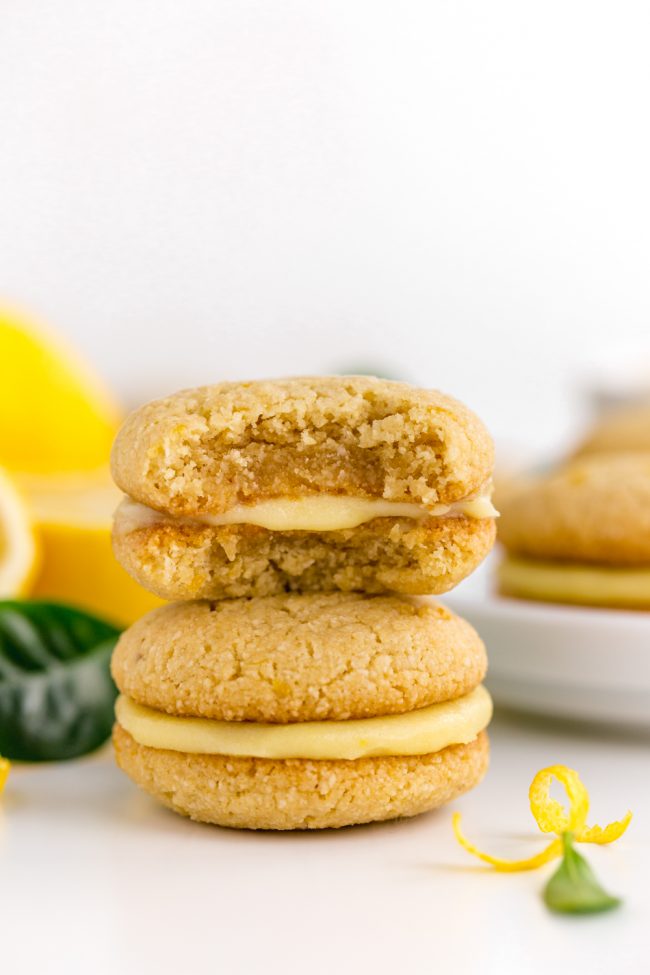 ❀
Paleo Lemon Cookie Sandwiches (grain-free, dairy-free)
Prep Time:
Cook Time:
Ready in:
Yield:

12 sandwich cookies
Ingredients
1/4 cup (56 grams) refined1 coconut oil, melted
1/3 cup (107 grams) maple syrup
1 tablespoon lemon zest
1 1/2 teaspoons lemon extract
1 1/3 cups (133 grams) almond flour
2 tablespoons (17 grams) coconut flour
1/2 teaspoon baking soda
1/8 teaspoon salt
1/3 - 1/2 cup lemon curd
Directions
In a large bowl, mix together the coconut oil, maple syrup, lemon zest and lemon extract.
Add the almond flour, sifted coconut flour, baking soda and salt.
If the dough is too soft to roll into balls, refrigerate for 30 minutes or until firm.
Preheat the oven to 350°F (176°C).
Line a baking sheet with a piece of parchment paper or a Silpat.
Roll the dough into twenty-four 3/4" balls and place 1" apart on the prepared baking sheet.
Press the balls down slightly and bake for 10 minutes. The cookies should crackle a little.
Let the cookies cool for 5 minutes on the baking sheet and then remove to a wire rack to cool completely.
Once the cookies are cool, assemble the cookie sandwiches by placing 2 teaspoons of curd between two cookies.
Place the cookies in an airtight container and refrigerate for up to 5 days.
Notes
Using unrefined coconut oil would yield cookies with some coconut flavor. If you want truly lemony cookies, you have to use refined coconut oil.