These keto peanut butter cups are easy to make, require just a few ingredients and can also be made paleo with maple syrup and cashew butter or sunflower seed butter. Only 4 net carbs per peanut butter cup!
First of all, if you don't want to make these keto or paleo, you don't have to! Just use regular chocolate and powdered sugar in place of the keto sweetener.
For me, there's no Halloween without Reese's peanut butter cups. They were always the first things to go post trick-or-treating!
Due to their ingredients, I haven't been able to eat them for years. I'm guessing it's the same for a lot of you reading this.
Homemade peanut butter cups aren't the quickest candy to make but they're worth it! And they're still way quicker to make than a cake or cookies.
They're just slower than other no-bake recipes like my paleo fudge or vegan fudge, where you just mix everything in a bowl or pot and pour it in a pan.
If you want something slightly quicker, you can try these healthy peanut butter balls, using the same amount of the xylitol, erythritol, stevia blend I list in this recipe instead of maple syrup.
Making these peanut butter cups together with your kids would make for a fun Halloween activity. What are you all planning to do at home for Halloween? So far, I have nothing planned. I'd love ideas!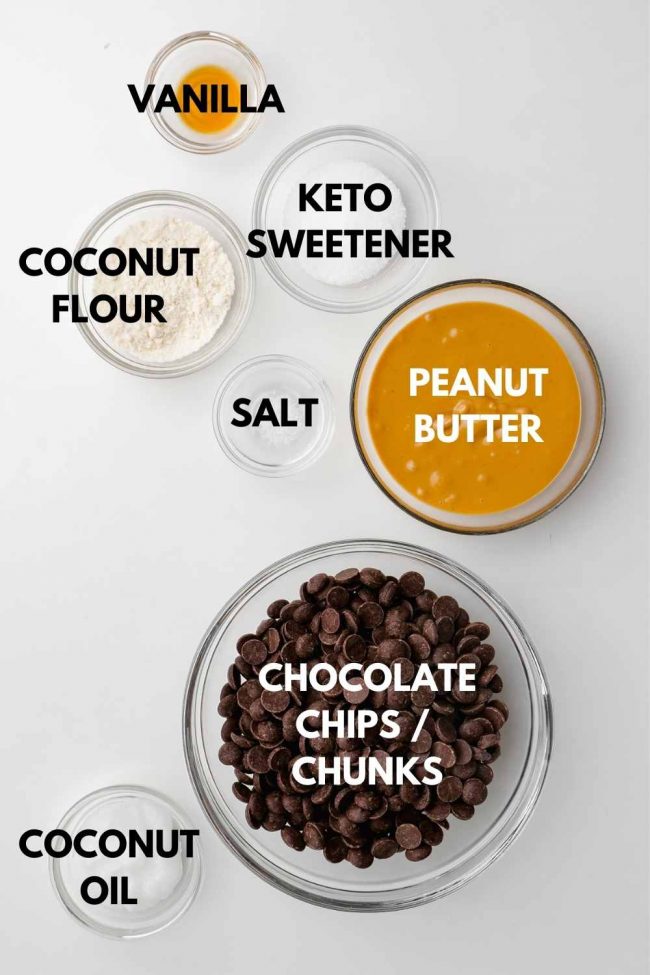 The texture
I thought these cups would be kind of grainy with the granulated keto sweetener but they weren't. There's a little crunch but not much.
They're also fine at room temperature. They don't melt, but of course, if you're out in the heat, they might get a little melty. Just like any chocolate product would.
If you store them in the freezer, they're just a bit too hard to eat. So let them sit for 5-10 minutes first.
I think they're best at room temperature and I think they'd be fine like that for up to about a week. Unless you use a nut butter that goes bad more quickly than most, like walnut butter.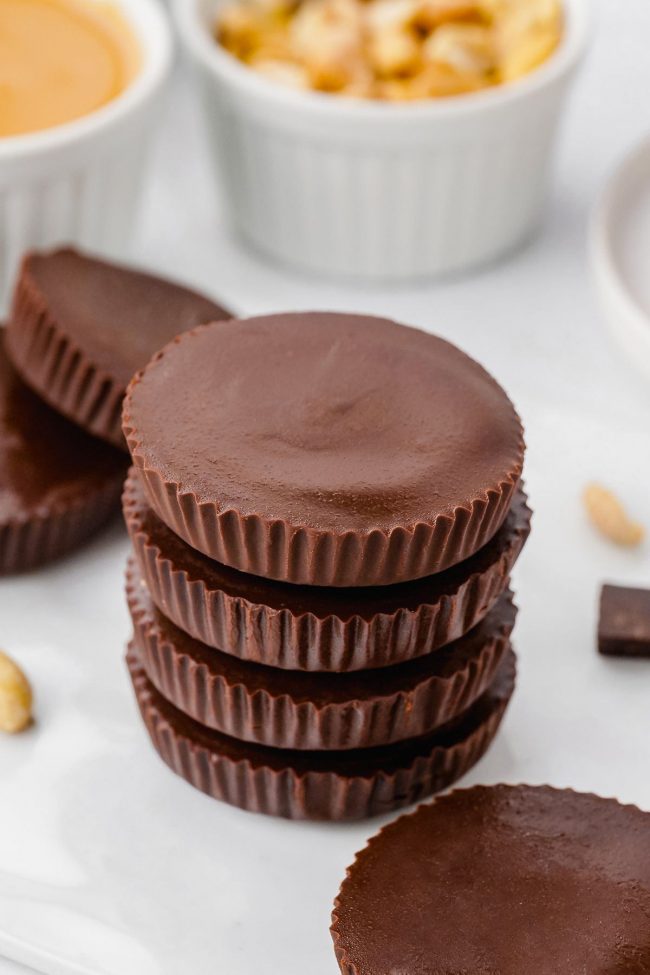 The sweetener
I used the same keto sweetener blend that I used in my keto macaroons and these almond flour chocolate chip cookies.
I'm really not a fan of keto sweeteners. I usually hate the taste and my stomach doesn't like them, either. But I do fine with this mix and I certainly don't hate the taste.
It's not as delicious as coconut sugar or maple syrup but if you can't have them, this is a great alternative!
I highly recommend using a scale for baking (or making candy) but if you don't have one, you can use measuring spoons.
They're some crazy amounts, though.
3 tablespoons + 3/16 teaspoon xylitol
2 tablespoons + 3/4 teaspoon + 1/16 teaspoon erythritol
3/16 teaspoon stevia
I use measurements like this all the time when recipe testing as I usually make fourth batches. I am a fractions wizard. 😂 So I'm used to these odd measurements.
But I know a lot of people will find them ridiculous. If that's you, get a scale for the next time you want to make these. ;)
If you don't have a 1/16 measuring spoon, check out this set! It even has a 1/32 teaspoon and other unusual but handy sizes, like 2 tablespoons, 2/3 cup, 3/4 cup and so on.
Paleo version
Maple syrup
I've tested this recipe with sunflower seed butter + maple syrup for a paleo + nut-free version. I've also used cashew butter + coconut sugar.
You need to add 50% more flour if making the sunflower seed version. So 3 tablespoons of coconut flour instead of 2.
If you use peanut butter + maple syrup (for a non-paleo, non-keto version), you almost definitely won't need to add an extra tablespoon of flour, as sunflower seed butter is runnier than peanut butter. My guess is you'd probably need to add more like 1 teaspoon instead of 1 tablespoon of flour.
The same probably goes for almond butter. But I think almond butter is too bland for this recipe.
Cashew butter is the least runny of all nut butters. At least the cashew butter I make and buy is. So you might only need 2 tablespoons of flour if using maple syrup.
But I highly recommend sunflower seed butter over cashew butter. I love cashew butter but thought these cups taste much better and more similar to real peanut butter cups when using sunflower seed butter.
These are all just guesses, so you'll have to experiment. The good thing is that it doesn't need to be super exact.
We're not baking anything so it really doesn't matter that much if you add too much or too little flour.
However, you definitely don't want to add too much and have your filling be super chewy.
Coconut sugar
For the paleo version, I prefer the taste and texture of maple syrup but you can also use coconut sugar. It doesn't dissolve and adds a bit of a crunch.
I personally don't like the crunch but if you want to use that instead of maple syrup, then you'll likely not need any extra flour. Except maybe a little, if using sunflower seed butter.
Use 1/2 cup of coconut sugar instead of the keto sweetener.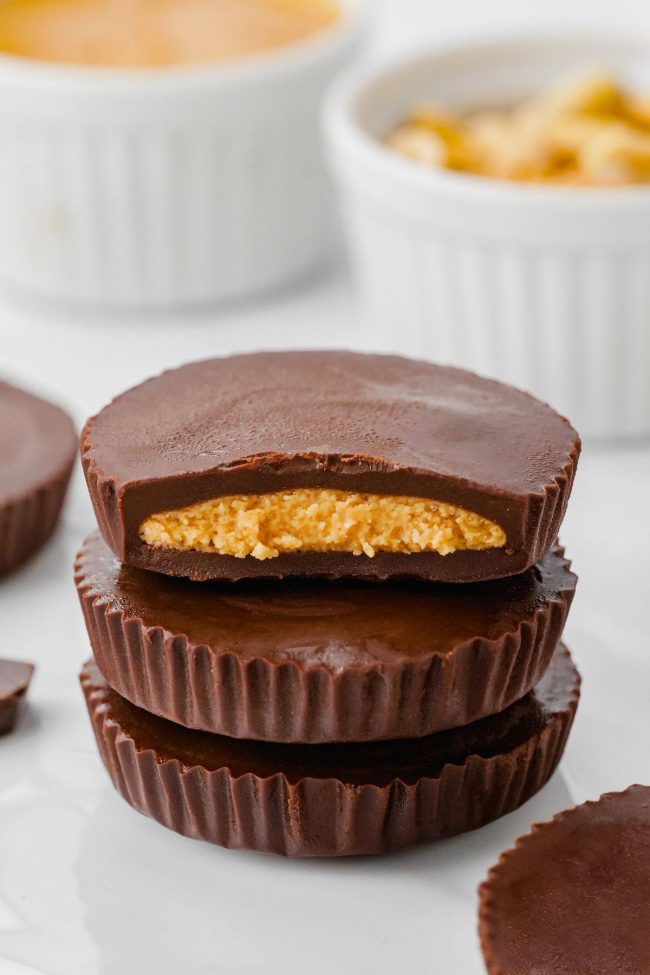 Pans
I'm sure you could use a mini muffin pan but that would hugely increase your prep time. I'm also not sure on the amounts of chocolate + filling you'd need.
And if you want to decrease your prep time, check out my paleo peanut butter bars. To make them keto, use 6 tablespoons of the keto sweetener mix instead of maple syrup and make sure to use keto chocolate.
Liners
Use whatever kind you'd like. I've tested them all.
Paper
Parchment paper
Silicone
Glassine
Foil
Straight from the freezer and fridge, each of these liners came straight off without issue.
At room temperature, as long as it's not especially warm in your kitchen, it also shouldn't be an issue. If it is, just pop them all in the fridge for 10 minutes.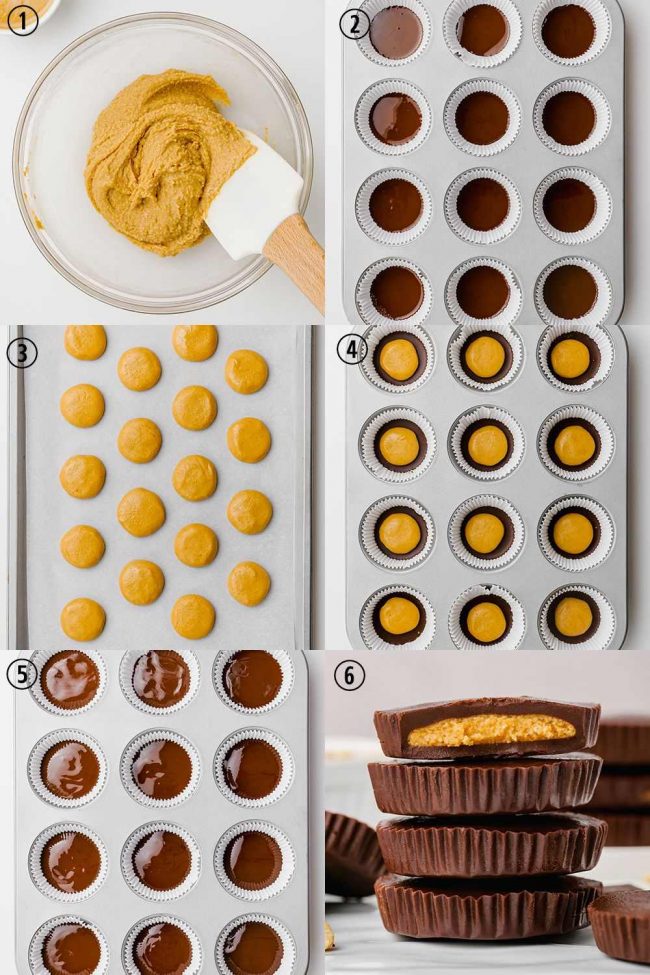 Want more keto recipes?
I posted these keto macaroons last month because people have been asking for keto recipes for years. Now that I've finally posted one, I haven't gotten any feedback on the recipe. So if you want more keto recipes, can you please give me feedback if you try the recipes? I would really appreciate it!
I much prefer non-keto sweeteners so I'll just go back to my usual business otherwise. :)
Questions about these keto peanut butter cups?
Can I use Lakanto Powdered Monkfruit Sweetener in place of the keto sweetener mix that you used?

We tried it and didn't like the taste but if you like the taste of that sweetener, it should work.

Try 6 tablespoons and if that's not enough, add more to taste.

Can I use Lakanto Maple Flavored Syrup?

I tried it and thought the cups tasted terrible. If you like the flavor of that product, I suppose you could use it.

Try 6 tablespoons and if that's not enough, add more to taste. I'm thinking you'll probably need 1/2 cup. You'll likely need to add a little more coconut flour.

Can I use X type of sweetener?

I've only tested this recipe with the keto sweetener mix and the other sweeteners mentioned above.

If you usually use some other sweetener and like the taste, it'd probably work here.

You want something that's equivalent to 1/2 cup granulated / powdered sugar or 1/2 cup liquid sweetener (but then you'll probably need to add a little extra flour).

The keto sweetener mix is a little sweeter than granulated sugar, which is why only 6 tablespoons is used instead of 8.

Can I use another type of nut butter?

Read the section above titled Paleo Verison.

Can I use a different flour?

No, as coconut flour absorbs so much more liquid than any other type of flour. If you need to use a different flour, I'd recommend finding a different recipe.

This recipe calls for too much chocolate! Can I use less?

If you want them to look like a classic peanut butter cup, that's the amount you need. If you don't care about looks, then you don't need as much. You'd probably just need 3 cups.

Make your peanut butter layer flatter, so that it spreads to the edges of the liner, and add a thin layer of chocolate on top.

What's the nutritional info?

The label is below the recipe. :)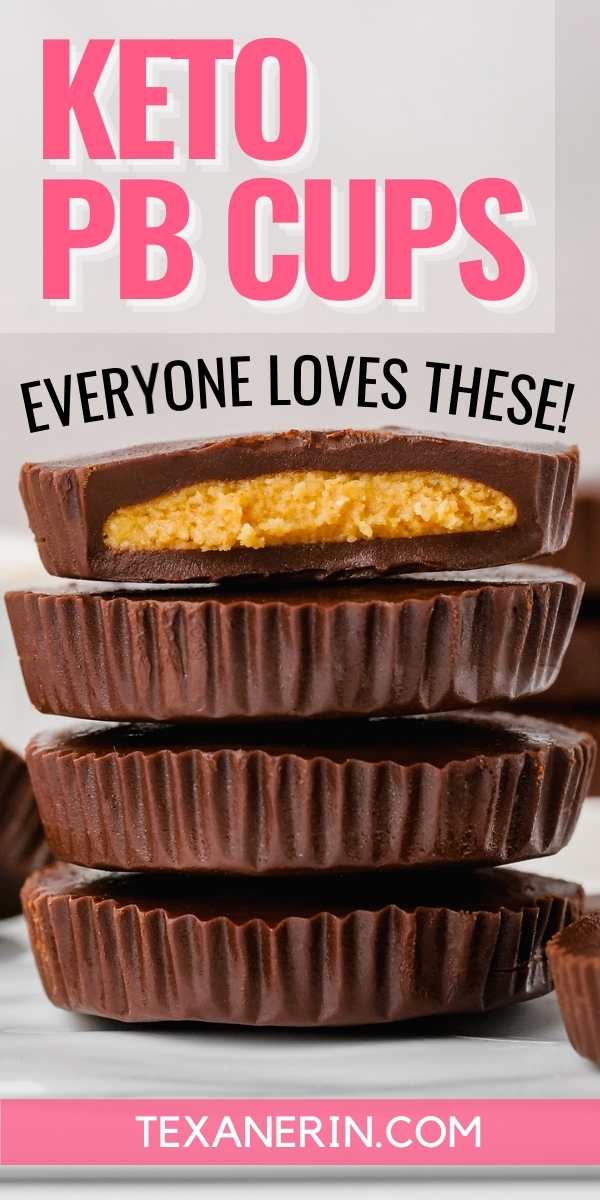 ❀
Keto Peanut Butter Cups (paleo option)
Prep Time:
Cook Time:
Ready in:
Yield:

36 cups
See the notes below for the paleo version!
Ingredients
For the peanut butter layer:

1 1/4 cups (320 grams) natural peanut butter (just peanuts or peanuts + salt - no added fat or sugar)
1.5 ounces (43 grams) xylitol1
1.125 ounces (31 grams) erythritol
3/16 teaspoon powdered stevia
1 teaspoon vanilla extract
1/4 teaspoon salt
1/4 cup (32 grams) coconut flour (you can add more, if needed - it may vary depending on your coconut flour)

For the chocolate:

4 cups (740 grams) keto semi-sweet chocolate2
1/4 cup (56 grams) coconut oil (I used refined for no coconut taste)
Directions
Line 2 regular-sized muffin pans with 36 liners.
Mix together all the filling ingredients. It should be firm enough to roll into balls.
Melt the chocolate and coconut oil in a small pot or microwave in a microwave-safe bowl.
Pour 1.5 teaspoons (8 grams) chocolate per cup on the bottom. Place in the freezer. It'll only take about 10 minutes for them to freeze.
Meanwhile, roll the peanut butter layer into eighteen 2-teaspoon (11-gram) balls. Flatten and place over the frozen chocolate layer. Don't make the balls so big that they go to the edges - you want the chocolate layer on top to completely cover the top of the peanut butter layer + the edges so that the chocolate layers come together.
Place in the freezer another 10 minutes. Once ready, rewarm the chocolate, if necessary (if it's thickened a little, it'll be more difficult to handle), and then add 2 teaspoons (11 grams) chocolate on top of the peanut butter layer.
Freeze until hardened. Then you can remove the liners. Keep in the fridge for a few weeks or in the freezer for several months. Can also sit at room temperature for about a week.
Notes
The sweeteners I used were 100% xylitol, 100% erythritol and 100% stevia. If you don't have a scale, here are the exact measurements you need:

– 3 tablespoons + 3/16 teaspoon xylitol
– 2 tablespoons + 3/4 teaspoon + 1/16 teaspoon erythritol
– 3/16 teaspoon stevia


For an easier to read version, use:

-1.5 teaspoons (8 grams) chocolate per cup on the bottom
-2 teaspoons (11 grams) peanut butter dough in the middle
-2 teaspoons (11 grams) chocolate on top of peanut butter layer
For the paleo version, please read the section of the post called Paleo Version. I recommend using sunflower seed butter, 1/2 cup maple syrup, 6 tablespoons of coconut flour and paleo chocolate.
The following information is provided as a courtesy and is an estimate only. I'm not a nutritionist nor a dietician. This information comes from online calculators. Although I do everything to attempt to provide accurate nutritional information, these figures are only estimates. Be aware that varying factors such as product types or brands used can change nutritional information in any recipe.
Here's the label for the keto version. Net carbs = 4 grams per cup. Net carbs = total carbs – fiber – sugar alcohols. There are 5.73 grams of sugar alcohol per cup and that's how I came up with that number.