This dairy-free cornbread is soft, sweet and easy to make. This recipe yields a 9″x13″ pan, perfect for Thanksgiving, but can easily be halved for an 8″x8″ pan or made as muffins. With vegan and gluten-free options.
Like I mentioned in my dairy-free banana bread post, every now and then, I'll be posting some dairy-free recipes using regular flour. This cornbread recipe is the same as my gluten-free cornbread, so if you need a gluten-free version, just go check out that recipe. The gluten-free option is also listed in the below recipe.
The texture
I love my cornbread soft and sweet. It even has vanilla in it! I'm sure some of you will find this recipe downright scandalous. ;)
This recipe has twice the amount of flour in it as it has cornmeal. The result is a wonderfully fluffy cornbread.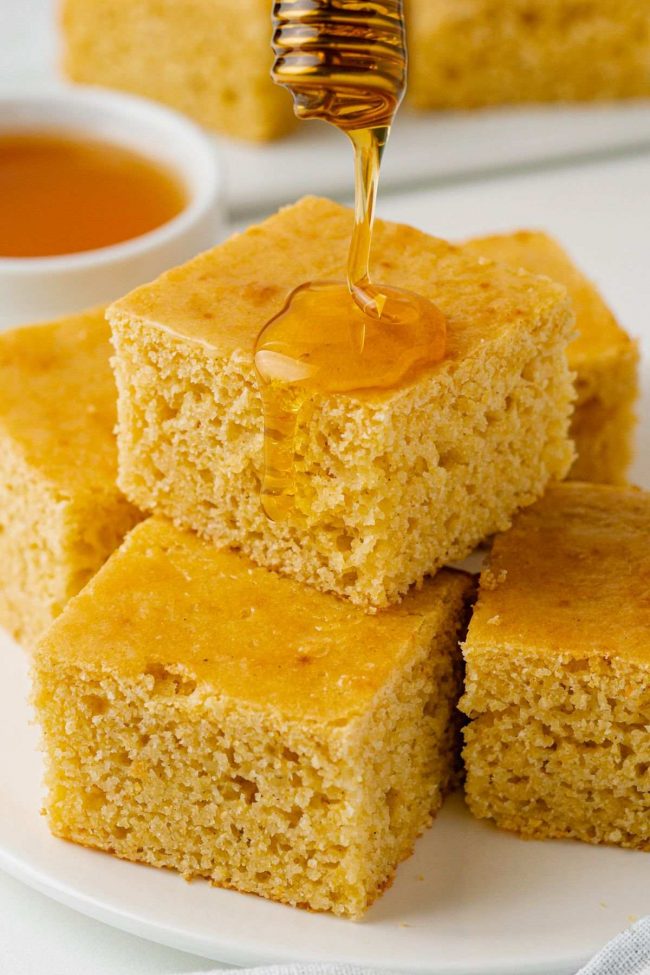 I don't recommend playing around with the proportions. If you want something that's less cakey, I'd have to suggest finding a different recipe.
You also just can't omit the 1/2 cup of sugar to make it less sweet. Sugar doesn't just sweeten recipes – it's also a binder.
If you remove the sugar, your cornbread is likely to fall apart. It'll probably also taste terrible as a result!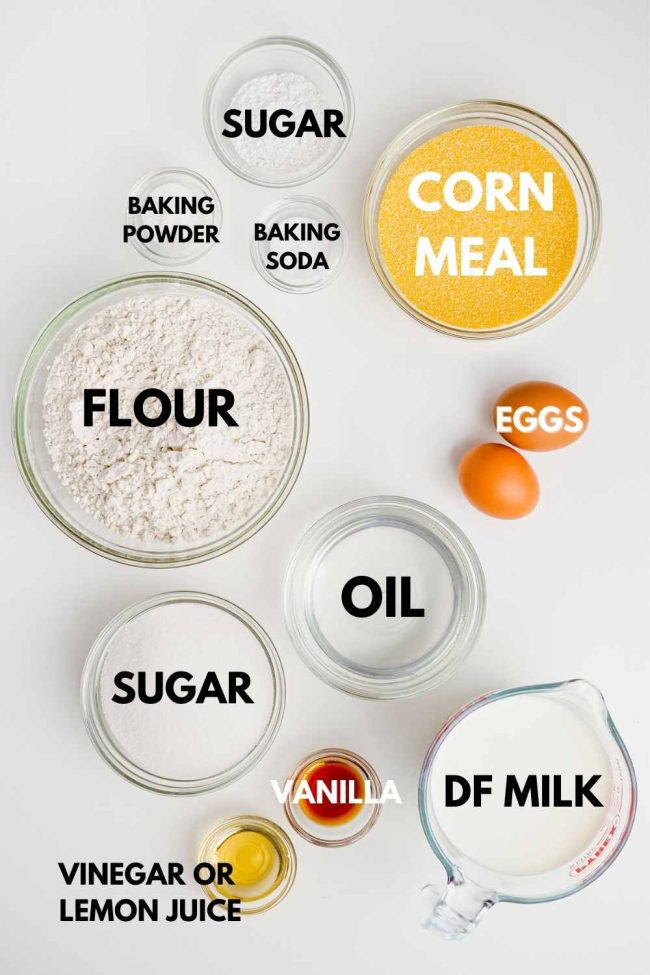 Pan size
This recipe is for a 9″x13″ pan. If you prefer to only make an 8″x8″, you can make half and bake for 20-25 minutes.
It's an easy recipe to halve as there aren't any difficult fractions to deal with, but if you don't want to do the math, go check out the gluten-free cornbread linked to at the top of the post. You can use regular flour in it.
If you prefer to make muffins, this dairy-free cornbread recipe yields 24 muffins.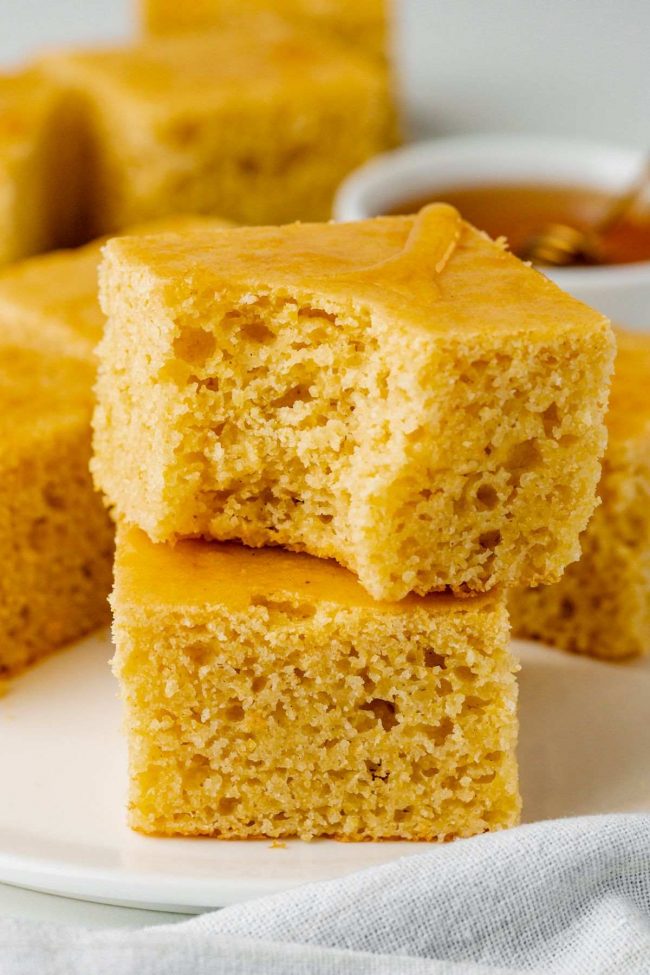 What's used in place of the dairy?
Oil
I prefer oil over butter in most quick bread and cake recipes and this recipe is no exception. The result is soft and moister.
So this recipe uses oil. You can use whatever type you'd like. I don't recommend olive oil as it'd have a strong taste.
If you like canola, grapeseed oil or vegetable oil, you can certainly use it.
I prefer coconut oil so that's what I used. And I was sure to use refined coconut oil as I really did not want any coconut taste!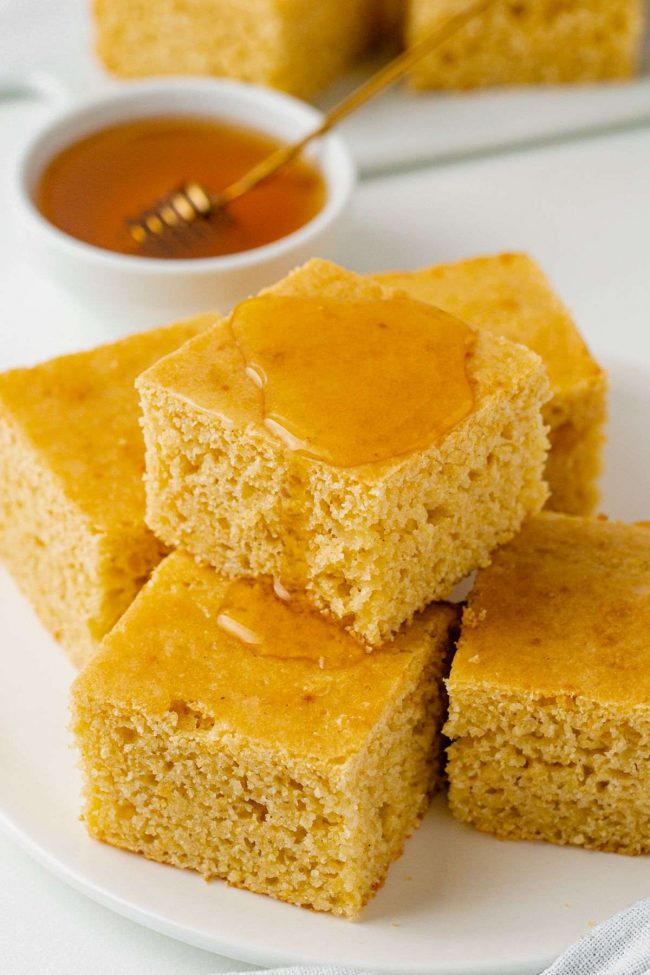 Dairy-free milk
Instead of milk, this recipe uses lemon juice, vinegar or apple cider vinegar + dairy-free milk to create dairy-free "buttermilk."
You can't taste the vinegar once the batter has been baked, so don't worry about that.
For the milk, use whatever dairy-free milk you'd like. I don't recommend using canned coconut milk as this is much thicker than regular milk. If you want to use canned coconut milk, I'd recommend using 50% canned coconut milk + 50% water to thin it down.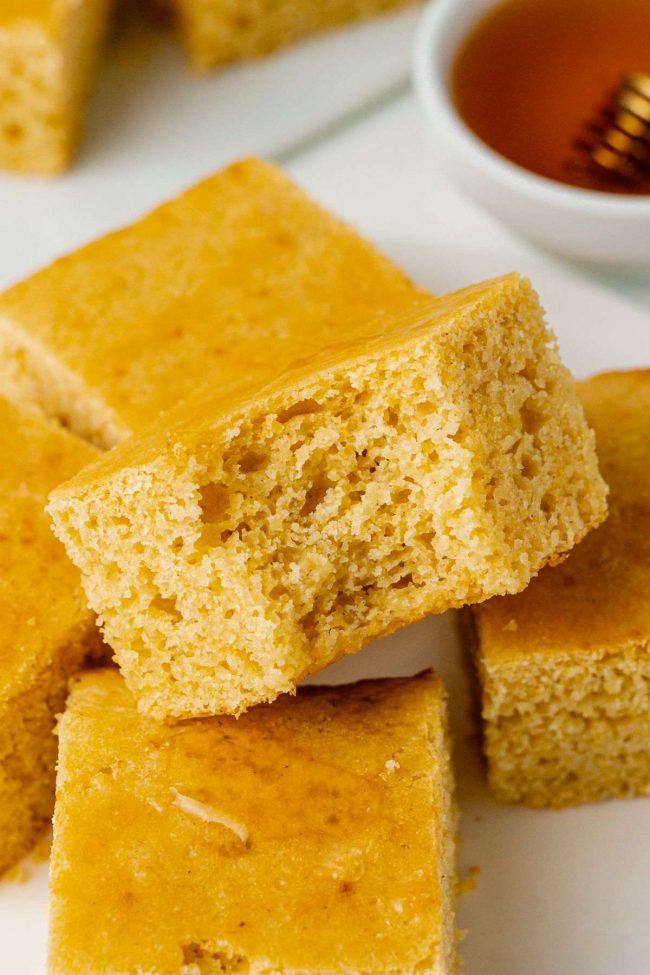 Vegan option
Because this cornbread is already dairy-free, you just need to replace the eggs for it to be vegan. I've tested this recipe with chia eggs and it worked great.
I don't like the taste of flax don't think it would taste very good in this "light flavored" recipe (as opposed to something "darker" like chocolate cake or gingerbread), but if you like the taste, you certainly can try it.
I think Bob's Red Mill Gluten-Free Vegan Egg Replacer would also work great in this recipe. I also used that in these vegan oatmeal cookies with awesome results.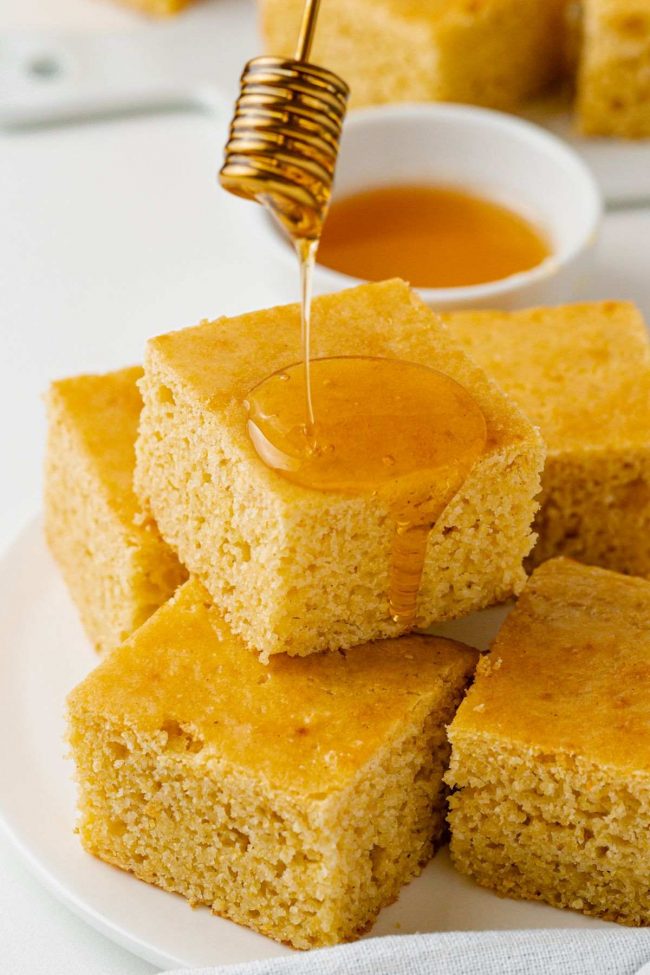 Questions about this recipe?
Do I have to use something acidic to make the homemade "buttermilk"?

By leaving out the buttermilk, you're omitting the acidity. That could have an effect on the baking soda and I'm not sure how you'd need to adjust the baking soda without trying it myself. I wouldn't recommend skipping the vinegar or lemon juice.

Can I use a different type of flour?

I've only tried this with all-purpose flour, white whole wheat flour and Bob's Red Mill Gluten-free 1:1: Gluten-free Baking Flour.

If you're wondering what else to make with that GF flour, try my gluten-free blueberry muffins, gluten-free brownies or gluten-free pumpkin muffins. Those recipes are all also dairy-free.

Almond flour, coconut flour or other flours won't work in this recipe. If you want to try something else, it should be a 1:1 sub for all-purpose flour.

Can I sub something for the cornmeal?

Unfortunately not. Plus, I have no idea why you'd want to make cornbread without cornmeal. ;) If it's because you're allergic to corn or can't eat it for whatever reason, I'd suggest looking for a paleo cornbread recipe.

Can I sub omit the sugar or use something other than granulated sugar?

I don't think coconut sugar would taste very good in this cornbread. Subbing honey or maple syrup wouldn't work unless you reduce the liquids a bit (and I have no idea by how much so I'm not going to recommend it).

You can't just omit all of the sugar but you could reduce it a little if you want. I wouldn't reduce it by more than 1/4 cup, though.

Can I add a can of corn?

I think if you drain it really well, it should be fine. But again, I haven't tried it so I can't guarantee it.

If you try this dairy-free cornbread, I'd love to hear how you like it!
❀
Dairy-free Cornbread - Soft, Fluffy (GF, vegan options)
Prep Time:
Cook Time:
Ready in:
Yield:

24 pieces or muffins
Ingredients
2 cups (480 milliliters) dairy-free milk of choice1
4 teaspoons apple cider vinegar, vinegar, or lemon juice
2/3 cup (150 grams) natural-tasting oil like canola, grapeseed, vegetable oil or refined coconut oil2
1 cup (200 grams) granulated sugar
2 large eggs (50 grams each, out of shell), room temperature or 2 chia eggs for vegan 3
2 teaspoons vanilla extract

Dry ingredients:

1 1/3 cup (176 grams) cornmeal (for GF, make sure your cornmeal is GF)
2 2/3 cups (368 grams) all-purpose flour, white whole wheat flour or for a GF version, use Bob's Red Mill Gluten-Free 1-to-1 Baking Flour
1 1/2 teaspoons salt
1 tablespoon + 2 teaspoons baking powder
1 teaspoon baking soda
Directions
Preheat the oven to 350 °F (175 °C) and line a 9"x13" pan with a piece of parchment paper. If making muffins, line pans with 24 muffin liners.
Pour the milk into a large mixing bowl, add the apple cider vinegar, and give it a few stirs. Let it sit for 5 minutes. This is to create homemade dairy-free buttermilk. It's okay if it curdles and it's also okay if it doesn't curdle.
To the milk mixture, add the melted and still warm coconut oil, sugar, room temperature egg, and vanilla and stir until well combined.
In a medium mixing bowl, stir together all the dry ingredients. Add the dry mixture to the wet and stir just until combined.
Pour into the prepared pan or muffin pans (fill them 2/3 full). Bake the bread for 23 minutes or muffins for 12-16 minutes. The edges should be very lightly browned and the top should feel firm. The toothpick test doesn't really work well with this bread. I recommend using a small fork to dig into the center just a bit to make sure it's fully done.
Let the bread cool completely in the pan. If making muffins, let sit for 5 minutes then turn out onto a wire rack to cool completely.
Cover the cooled bread / muffins. Can be kept at room temperature for 4 days or refrigerated for 6. They freeze great. I recommend reheating them a little before serving for the best, fluffy texture.
Notes
Use whatever dairy-free milk you'd like. I don't recommend using canned coconut milk as this is much thicker than regular milk. If you want to use that, I'd recommend using 50% canned coconut milk + 50% water to thin it down.
If using coconut oil, it should be melted and still warm so that it doesn't harden when it's added it to the rest of the ingredients. It's also better to warm up your milk, as well.
To make the 2 chia eggs for the recipe, mix 2 tablespoons ground chia seeds with 6 tablespoons of water. Mix for a few seconds until gloopy like an egg.