These gluten-free granola bars are easy to make, no-bake, vegan and can also be made nut-free.
Here's a rather late back-to-school recipe! Or back to learning-some-way-or-another.
Whether your kids are back at school or at home, they'll love these bars. For people without kids, you'll love these bars, too!
They're no-bake, meaning they don't transport as well as baked granola bars but the lunchbox shouldn't be a problem unless your kid is whacking around his lunchbox.
If your kid does enjoy swinging their lunchbox around, I posted these baked nut-free granola bars over on Food Doodles a few weeks ago and those pack perfectly. They're also gluten-free and have a vegan option.
I actually prefer the texture of the baked bars. But that's just because I prefer baked granola bars over no-bake ones. This a great no-bake granola bar recipe, as long as you follow the instructions and don't make subs. ;)
Today's recipe uses maple syrup instead of honey, which is what you usually use in granola bars. Honey is so often called for because it helps make everything stick together. If you'd like some baked honey-sweetened granola bars, try these healthy granola bars.
So these granola bars are naturally vegan! They're also easy to make nut-free. The same is true of my bliss balls recipe, paleo peanut butter bars and paleo peanut butter cookies.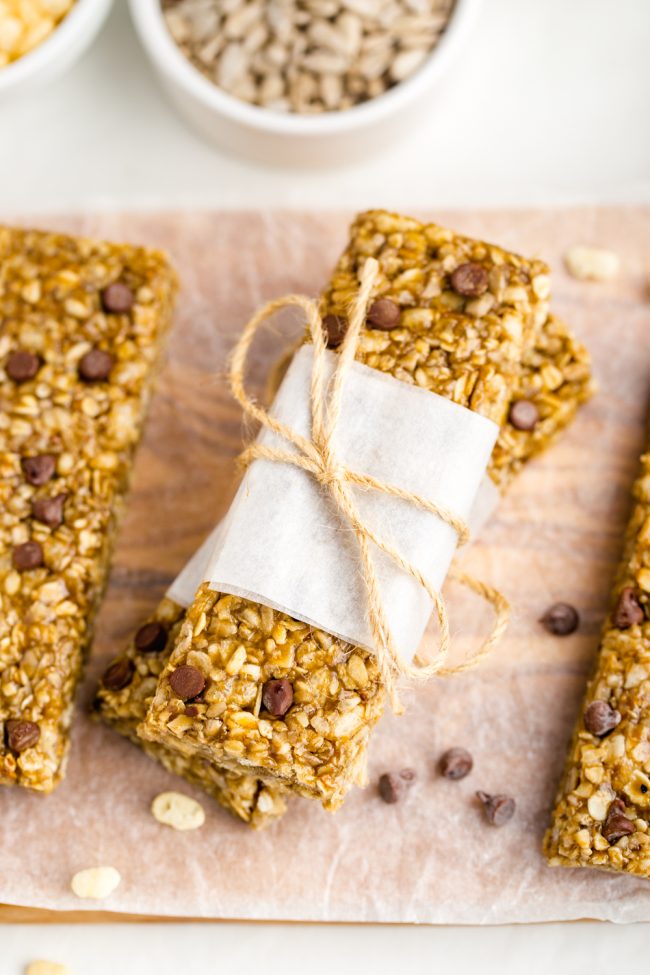 The granola bars pictured were made with sunflower seed butter and sunflower seeds. You can also use peanut butter. If you've never made your own, check out my recipe for homemade peanut butter.
Instead of letting the wet mixture bubble on the stove for 30 seconds, the peanut butter version should be removed from the heat right after it's started bubbling.
This short bubbling of the wet mixture prevents the granola bars from being sticky. Peanut butter needs less time to bubble because it's not as runny as sunflower seed butter.
When you put the granola mixture into the pan, it's sticky. Once they've cooled and sat for a few hours, they won't be sticky at all.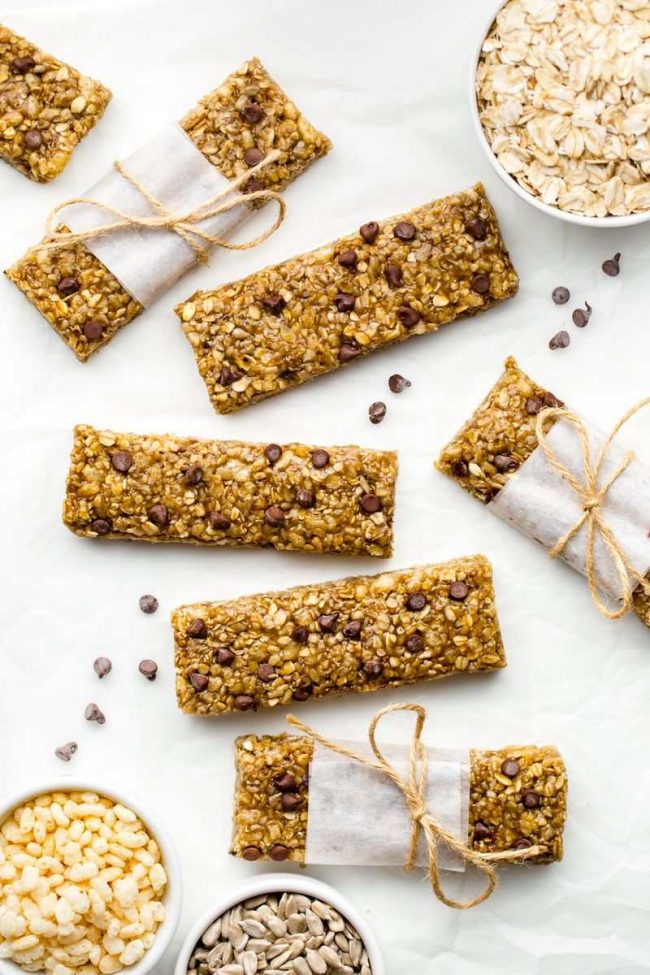 What I can't recommend is almond butter. I was about to post this recipe when I realized people would ask about using almond butter.
So I tried it out. And then spent the next week adjusting the amounts of oat flour and even adding oil to the recipe. After 9 tries, I'm done.
Done as in I couldn't get the perfect ratios so almond butter isn't listed as an option.
I didn't even like the taste with almond butter. The bars came out super bland. You get much more flavor with sunflower seed butter or peanut butter!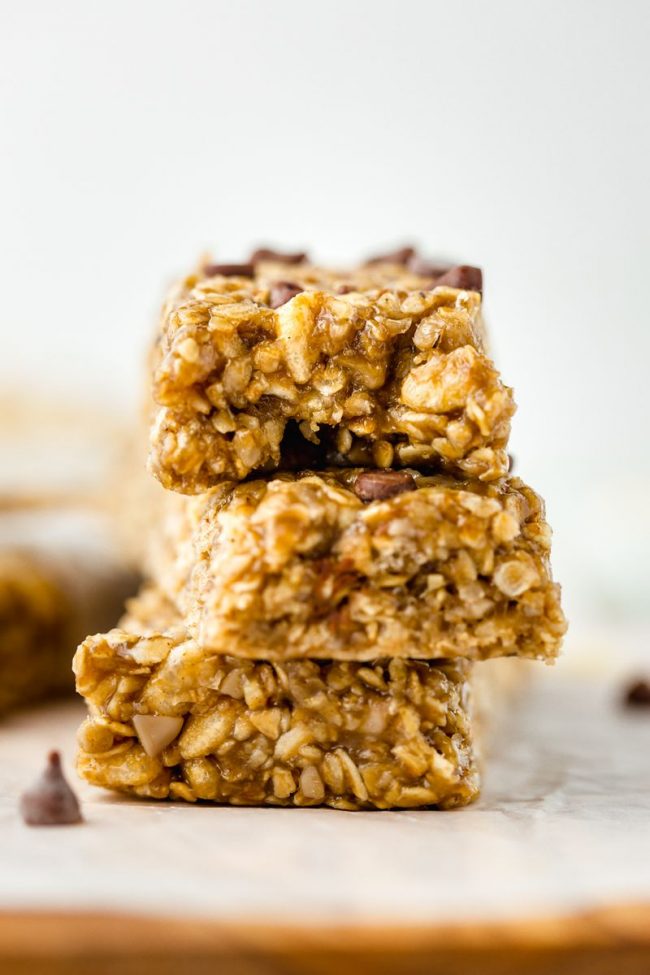 If you decide to use another type of nut butter, the granola bars will likely be hard to chew. I'm always preaching how nut butters aren't interchangeable and this is good proof.
To make sure that these granola bars are truly gluten-free, make sure to use gluten-free oats, which you should be able to find in most grocery stores. Your oat flour should also be gluten-free, but you can use your GF oats to make that. And of course, make sure your crisp rice cereal is gluten-free.
In the US, Rice Krispies are not gluten-free due to malt flavoring. I used Sprouted Brown Rice Crisps Cereal from One Degree Organic Foods. I also used them and loved them in these peanut butter rice krispie treats and peanut butter coconut rice krispie treats.
They're not processed in a facility that uses wheat and they only use gluten-free ingredients. But they're not certified gluten-free.
If you need the certification, Organic Crispy Brown Rice Cereal from Erewhon (which seems difficult to get at the moment) would work. And there are other naturally gluten-free crisp rice cereals, but many are processed in facilities that also process wheat. So be careful with those.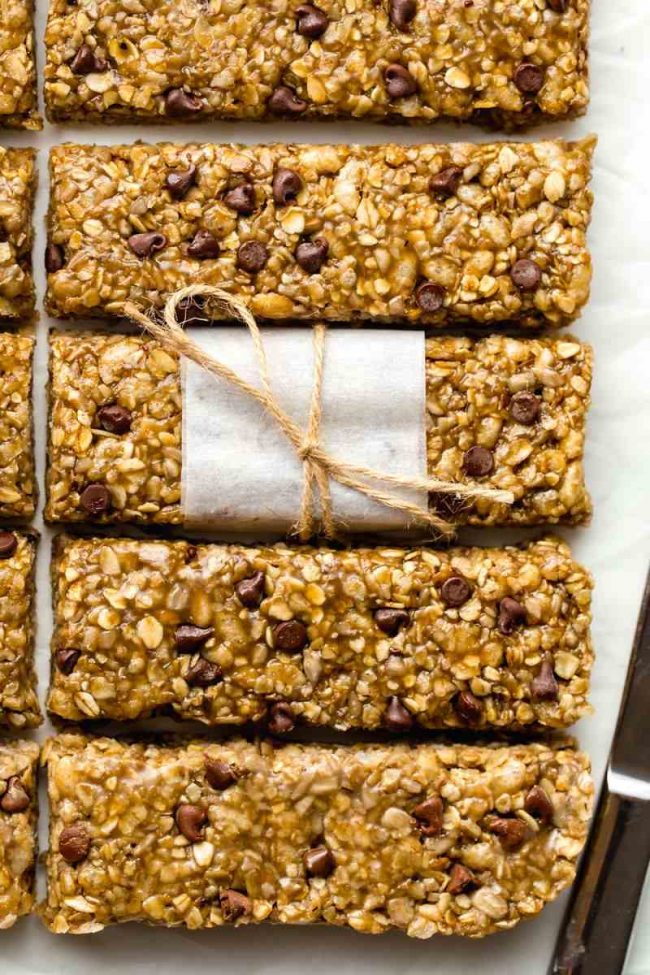 Substitution questions about this gluten-free granola bar recipe?
Can I use a different nut butter?

About a third of the post is why you can't use a different nut butter. ;)

Do I have to use natural peanut butter or sunflower seed butter?

Yes. It can't have any added fat or sugar. Just salt. It should be as runny as it gets. If your peanut butter is really old and has gotten a little firm, that'll also have an effect on the result (they'll come out hard to chew). It needs to be runny!

Can I use something other than maple syrup?

Honey is much thicker and using that would require adjusting the amount of oat flour. I don't recommend it. For this recipe, I really can't recommend anything without trying it myself.

Can I use something else instead of oat flour?

Once the recipe was almost perfect, I then tested it another 13 times, just to get the amount of oat flour correct. So no, I wouldn't recommend it.

If you try something else, anyway, the bars will likely be too chewy or not hold together well. By the way, I've now made these bars at least 30-40 times and am so sick of them. 😂

How do I make oat flour?

You put some quick or rolled oats (not instant nor steel cut) in a food processor, high-powered blender like a Blendtec or Vitamix, or an electric coffee grinder until you have something very fine and powdery.

My favorite method for small amounts is the coffee grinder. For this recipe, you'll probably need to do 2 batches. But it only takes about 5 seconds per batch.

The nut-butter jar of a high-powered blender is also great. Both the coffee grinder and then blender get the oat flour really fine.

If you have a large food processor and not a mini one, you'll probably need to grind a much larger amount of oats than you need for this recipe. That's because you have to make sure the oats cover the blade of the food processor. The oat flour won't be as fine as with the other two methods but it'll still work for this recipe!

If you have oat flour left over, try my gluten-free apple crisp or banana pancakes.

What can I use instead of oat flour?

I've never really found a direct sub for oat flour. Some say coconut flour sometimes works but without trying it myself, I can't recommend it.

I think that coconut flour absorbs a lot more liquid than oat flour, which would result in drier and more brittle granola bars.

Do I have to use quick oats?

I have to admit that I started working on this recipe 1 1/2 years ago and don't remember how they were with rolled oats. But I think that the result was better with quick oats.

So I don't recommend using a different kind of oats! Not rolled, instant or steel. Just quick oats. :)

Can I use something instead of oats to make these paleo?

I unfortunately haven't found a good sub for oats. I've tried using shredded coconut but the result is usually very oily.

Can I omit or use something in place of the crisp rice cereal?

I wouldn't recommend omitting it. Then you'd have too much of the wet mixture.

Anything you substitute won't be an exact sub. Whatever it is won't absorb liquid just the same, meaning how well the bars hold together would be affected.

If you want to use more oats, I have absolutely no idea of the right amount. Maybe 1/2 cup? Really… I have no idea!

Do I have to use nuts or seeds? Can I use something else?

Finally some flexibility! Omit them or use 1/2 cup of whatever you want. :)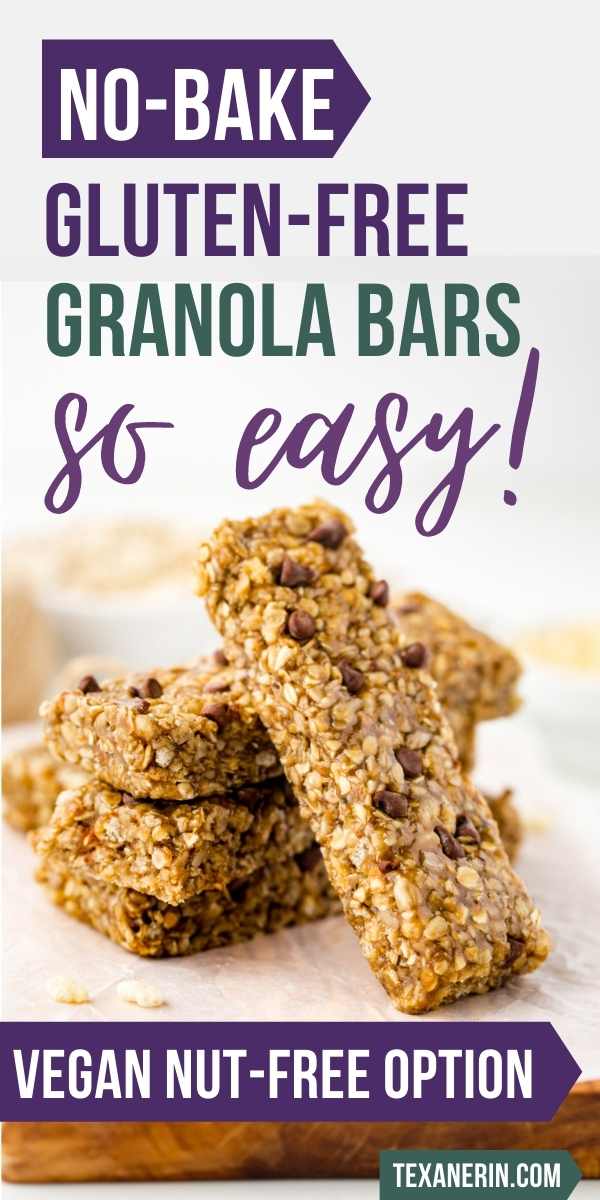 ❀
Gluten-free Granola Bars (vegan, nut-free option)
Prep Time:
Cook Time:
Ready in:
Yield:

16 bars
Ingredients
3/4 cup (192 grams) natural sunflower seed butter or natural peanut butter (no added sugar or fat)
3/4 cup (180 milliliters) maple syrup
3/4 teaspoon vanilla extract
1/4 teaspoon salt (I use unsalted nut / seed butter and use 1/2 teaspoon salt but I like things salty)
1/4 cup (32 grams) GF oat flour
2 cups (184 grams) GF quick oats
1 cup (32 gams) GF crisp rice cereal
1/2 cup chopped sunflower seeds or other nuts / seeds, optional
2-4 tablespoons mini chocolate chips to sprinkle on top
Directions
Line an 8"x8" pan with a piece of parchment paper.
In a medium pot over medium heat, mix together the nut butter, maple syrup, vanilla and salt.
Stir frequently until it starts bubbling all over. It doesn't need to be big bubbles. Once you see the bubbles starting to form at the edges of the pan, continue to the next step.
If using peanut butter - remove from the heat right away.
If using sunflower seed butter - continue stirring and let bubble for 30 seconds. Watch the clock!
Remove from the heat and stir in the oat flour, oats, cereal and nuts / seeds, if using, until well combined. Taste and add more salt, if needed. Don't be alarmed if the crisp rice cereal seems stale or if the mixture seems hard to chew. Once it's cooled, it'll all be good.
Pat onto the bottom of the prepared pan and press very firmly down to compact them. Once they've cooled almost completely, sprinkle the chocolate chips on top.
Once they've cooled and firmed up, cut into bars. Note that they need a few hours to settle. They're quite hard to chew right after making them.
Store in an airtight container at room temperature for 4-5 days. I haven't tried freezing them.