These gluten-free pumpkin muffins are the best I've ever had – gluten-free or not! They have the perfect texture and can easily be made dairy-free. If you don't need these to be gluten-free, you can use whole wheat flour.
First of all, if you need a vegan version, try my vegan pumpkin muffins. They also have a gluten-free option and the reviewers have been loving them for years.
I did try a vegan version of today's recipe with chia eggs, but they came out way too dense. 10/6/20 update: check out the questions section below for how someone made these vegan!
Today's muffins are lighter, fluffier and also… way less healthy than the pumpkin muffins I linked to above. Ah, the wonders of sugar!
Together with my gluten-free apple muffins, these are my favorite breakfast treats for fall. If you're in need of some gluten-free muffins and you want to share them with some non-GF people, totally go with one of these recipes!
Their minds will be blown that gluten-free recipes can be so delicious and taste 100% like traditional ones. Not to brag or anything but they are so, so good. ;)
Homemade versus canned pumpkin puree
I posted about how to make pumpkin puree over on Food Doodles today. But as I said in that post, I actually prefer canned pumpkin for baking.
The water content in my homemade pumpkin puree is not going to be exactly the same as yours. And like I mentioned in my post on almond flour banana muffins, I'm obsessed with precision in baking.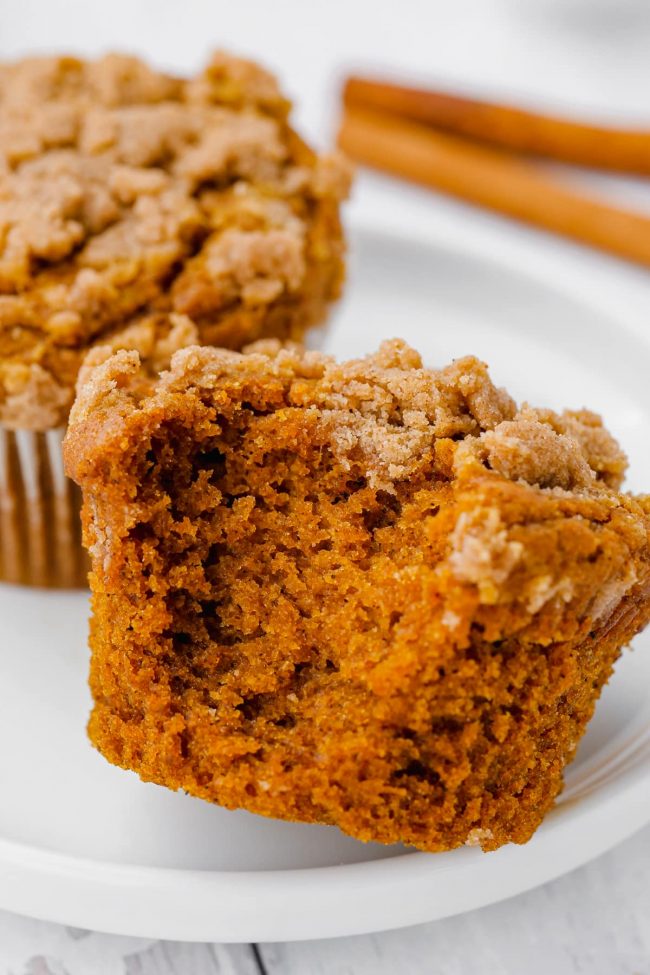 When just an extra teaspoon of water can mess up a recipe, you can be sure that I'm going to call for canned pumpkin. :) I almost didn't even post my gluten-free chocolate zucchini muffins because I hate the variation of water in zucchini. It makes me so nervous. 😂
This recipe uses a whole can of pumpkin puree. So at least there's that.
You won't be stuck with anything leftover that just goes bad in the fridge because… what are you going to do with 1/3 cup of pumpkin?
I wrote that then realized I do have a recipe you can make with just 5 tablespoons of pumpkin puree – this pumpkin chai latte.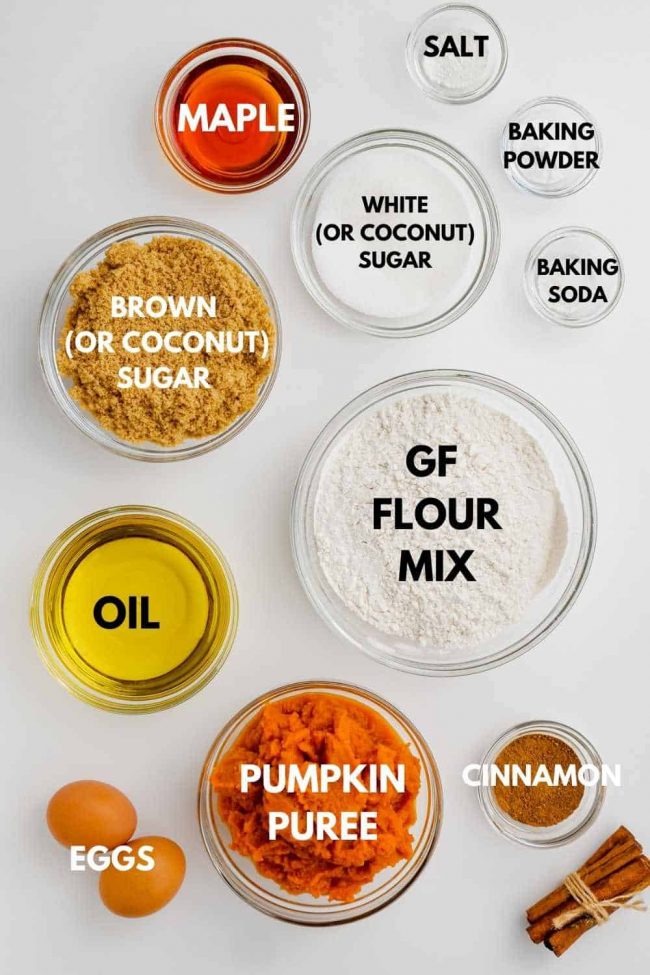 You can also freeze leftover pumpkin for several months. I like to use 1/2 cup, 1 cup or 15-ounce portions and then I can defrost just the amount needed.
Canned pumpkin arrived in Germany just last year (for my German readers, Rewe now has organic canned pumpkin puree!) so I had been bringing over canned pumpkin for years. I would freeze every last tiny precious bit that went unused.
I either lugged them over from the US or paid $4.70 for a can of imported Libby's, which could be found in expensive department stores. In the American foods section, of course.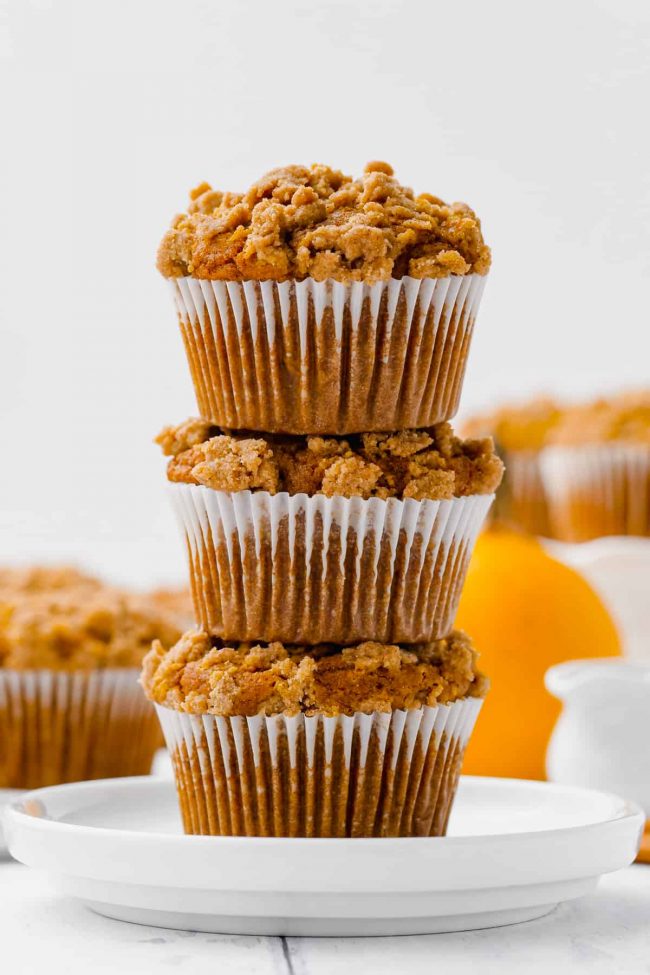 It's like the only good item in a sea of weird mac and cheese flavors, marshmallow fluff, and BBQ sauces.
I'm normally a "homemade is best" kind of person but not when it comes to canned pumpkin puree (as long as it's 100% pumpkin puree). It just save SO much time and always has the right consistency.
I would tell you to make sure to get a BPA-free can (even Libby's is BPA-free), but some say that the chemicals used in place of BPA are even worse. Pumpkin puree, along with coconut milk, are the only canned products I use so I try not to stress out about it too much.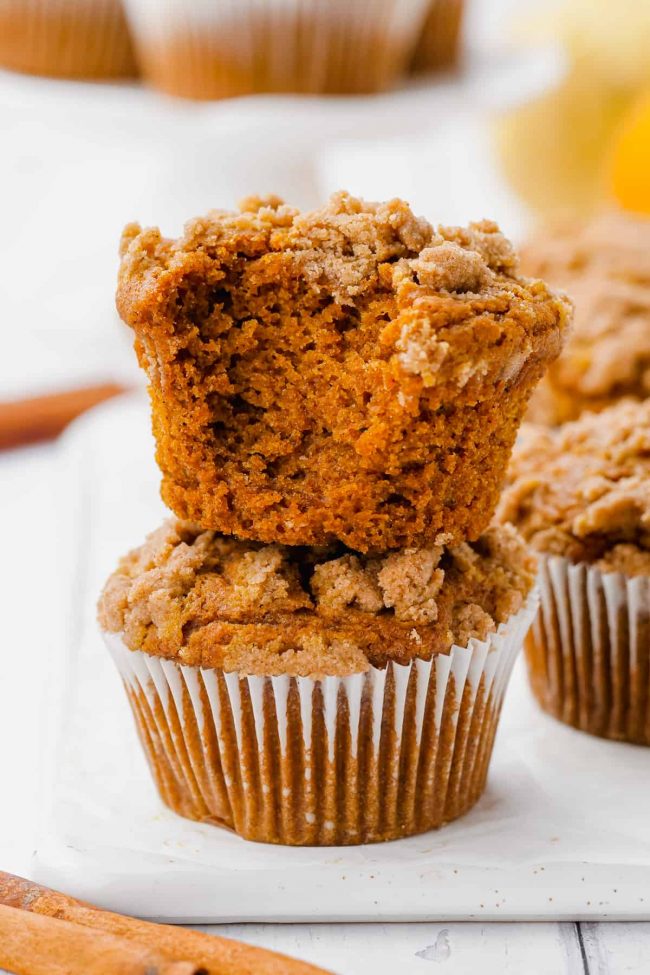 The ingredients
Now that my (most likely) useless rambling on canned vs. homemade pumpkin puree is over, on to the muffins.
You can use whatever oil you want in these muffins. If you use coconut oil, make sure that it's still quite warm when adding it to the other ingredients.
If it's not warm and your eggs are cold, your coconut oil is going to harden and it'll be a mess.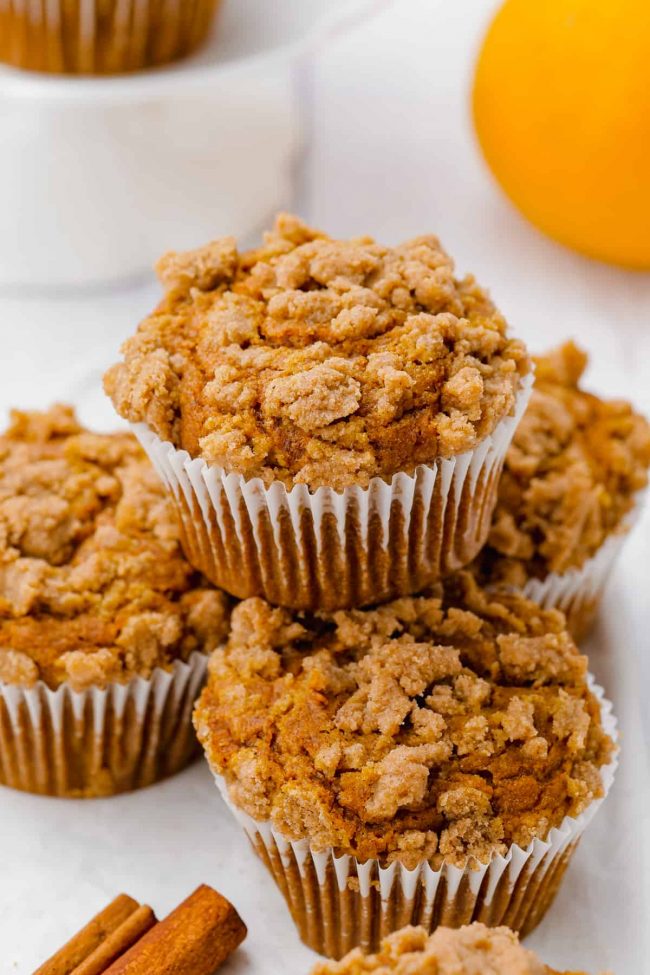 The recipe actually does call for room temperature eggs but I'm guessing almost nobody actually follows this recommendation.
I also recommend using refined coconut oil. If you use unrefined, you'll likely have some coconut taste. Though I would hope it's not much, due to the 4 teaspoons of pumpkin pie spice.
Don't have pumpkin pie spice? I list out the amount of cinnamon, ginger, nutmeg and cloves you need at the bottom of the recipe.
And if you don't like pumpkin pie spice, then just use the cinnamon or replace the full amount of pumpkin spice with cinnamon.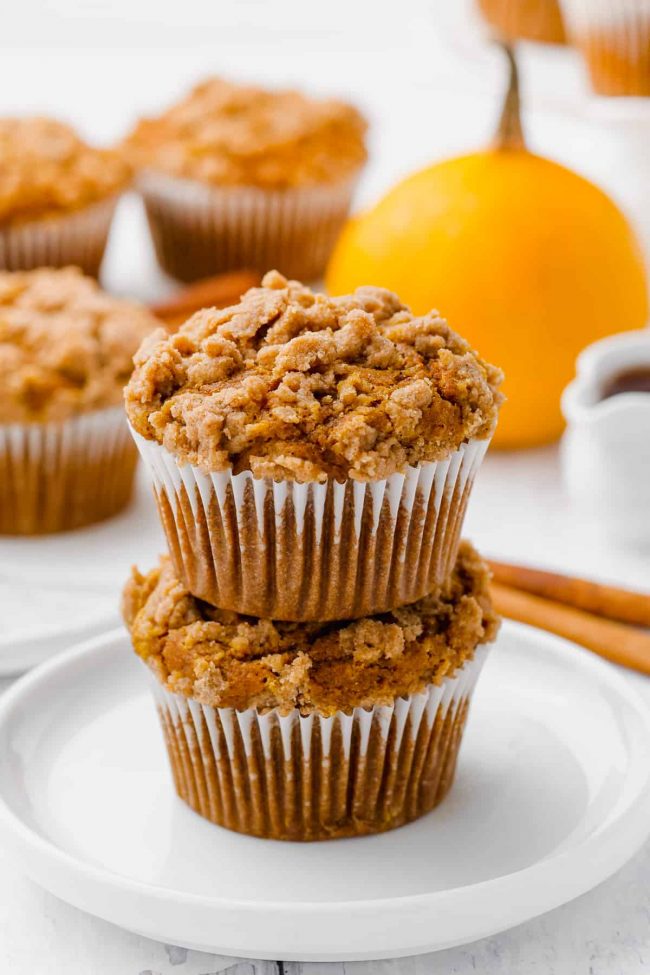 Note that if you use coconut oil, the muffins get quite firm in the fridge. Just a few seconds in the microwave turns them fluffy again!
Oil options
You can use whatever neutral oil you'd like. If using olive oil, you can taste it in the batter and while the muffins are still hot. The taste disappears once they've cooled.
That was using extra virgin olive oil. That might not be an issue with a lighter olive oil.
But whatever type of olive oil you use, definitely use the spices called for! They're needed to cover up the taste of the olive oil.
I hope you'll enjoy the muffins! I'd love to hear how they come out if you try them.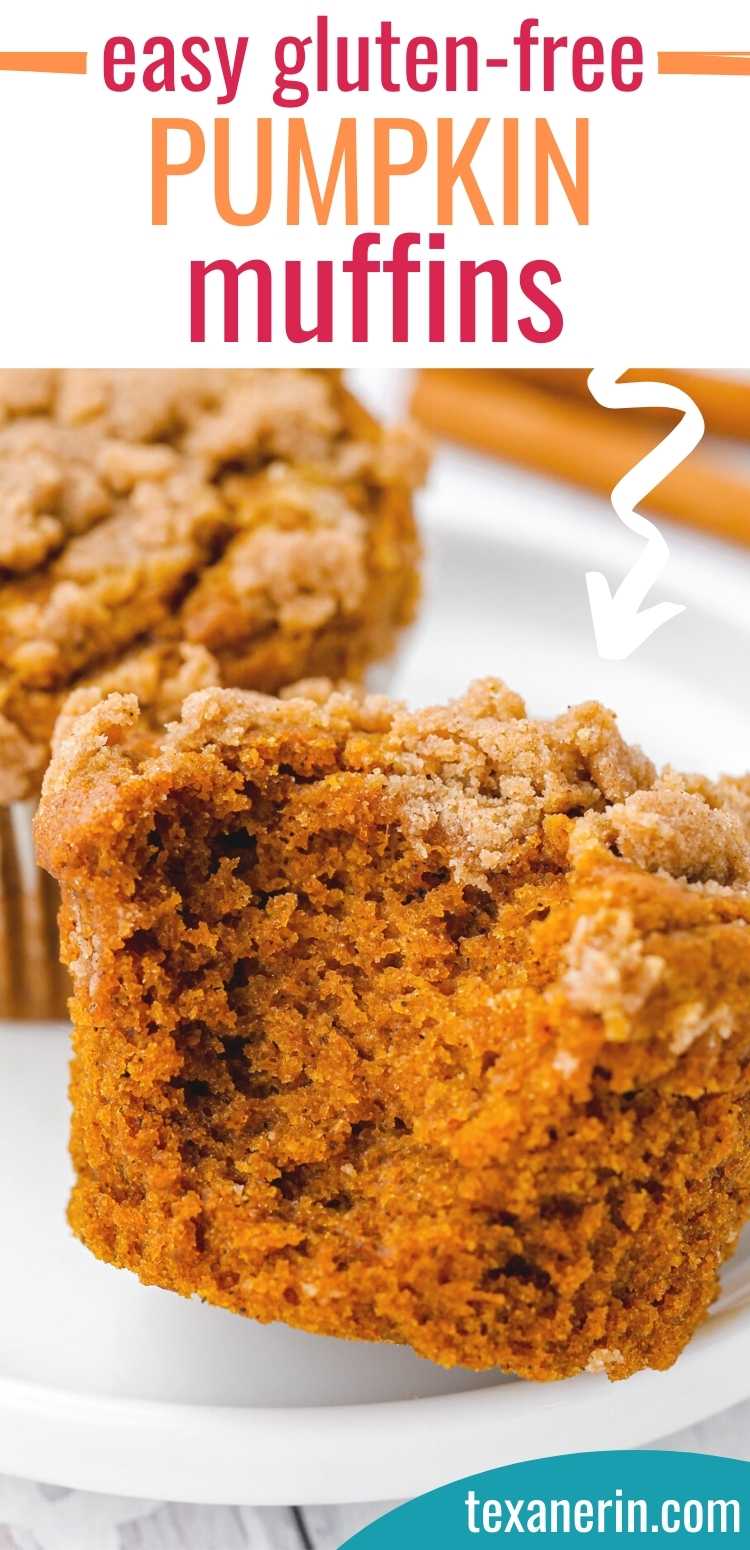 Questions about these muffins?
Can I use a different flour? You could probably use a different gluten-free baking blend that's meant as a 1-to-1 sub for all-purpose flour. They might not have such an awesome texture, though. With the one listed, they're not dense, gummy, gritty or anything weird. They're perfect!

There's unfortunately no way to make these paleo. I already have a paleo pumpkin muffin recipe, though. :)

Can I omit the spices? If you don't want to use pumpkin pie spice or the combination of cinnamon, nutmeg, ginger and cloves listed in the notes of the recipe, I'd really recommend using at least the cinnamon.

I think pumpkin without cinnamon just seems wrong. I made them once with 4 teaspoons of cinnamon in place of the pumpkin pie spice and liked them that way. But be warned they're super cinnamon-y!

How can I replace the eggs? I tried with a chia egg and the result was horrible. I don't recommend it!

But luckily, a commenter, Whitney, shared how she made these muffins vegan: I needed these to be egg-free for my daughter so I used 1/4 cup of Just Egg mung bean liquid egg mixture and a flax egg. I also made these with regular flour and eggs for everyone else and I could NOT tell the difference between the two. They were both delicious and fluffy! A must-have recipe.

We don't have Just Egg here in Germany so I can't try it out but since she made both versions, I feel confident in recommending this! Thanks, Whitney. :)

Can I use something other than maple syrup? Honey or agave would almost definitely work, though I haven't tried it. If you use a type of granulated sugar, you'd have to add a little more liquid. Without trying it myself, I can't say how much you'd need to add. So I recommend sticking to a liquid sweetener!

Can I reduce the sweetener? This recipe uses a total of 1 1/2 cups of granulated sugars. You can either use regular white granulated sugar + brown sugar or you can use all coconut sugar. Or a mix of coconut sugar + either white / brown sugars.

It also uses 1/4 cup of maple syrup.

I know it sounds like a lot (even though this recipe yields 20 muffins) so I tried it with 1 cup of coconut sugar, plus the 1/4 cup maple syrup.

Straight out of the oven, the texture was all wrong. They were dense and heading towards gummy. After they cooled, they were much better. But still quite dense.

I think it'd be safe to reduce it to 1 1/4 cups.

Can I use a different oil? I'm guessing any type of oil would work. I've used extra-virgin olive oil, canola oil and refined coconut oil. Butter would reduce the amount of fat in the recipe, as it's 80-82% fat versus 100%, so I don't recommend that unless you're okay with the muffins being a little drier.

Can you taste the olive oil? In the batter and while still hot, you can taste it. Once they've cooled, the taste disappears. But I used extra virgin olive oil.

If you use a lighter tasting olive oil, you not might have any olive oil taste straight from the oven.

Can I use something other than coconut oil in the streusel? That's the only way I've tried it. I'm guessing any type of oil would work. If you want to use butter, you'd probably need to use a little more. I'm guessing an extra teaspoon for a total of 51 grams of butter. But it's just a guess!
❀
Gluten-free Pumpkin Muffins (dairy-free)
Prep Time:
Cook Time:
Ready in:
Yield:

20 muffins
These gluten-free pumpkin muffins are easy to make, fluffy and flavorful. Great with streusel or without.
Ingredients
For the batter:

2 cups (268 grams) Bob's Red Mill 1:1 Gluten-free Baking Flour (for a non-GF version, you can use 2 cups (250 grams) of whole wheat or white whole wheat flour)
1 1/2 teaspoons baking soda
3/4 teaspoon baking powder
4 teaspoons pumpkin pie spice1
1/2 teaspoon salt
2 large eggs (50 grams each, out of shell), room temperature
1 cup (200 grams) brown sugar or coconut sugar
1/2 cup (100 grams) granulated sugar or more coconut sugar
1/4 cup (60 milliliters) maple syrup
3/4 cup (177 milliliters) oil (you can use olive oil or refined, melted and still warm coconut oil or any oil you like)
1 15-ounce (425-gram) can pumpkin puree

For the streusel:

1/2 cup (69 grams) Bob's Red Mill Gluten-free 1-to-1 Baking Flour (for a non-GF version, you can use 1/2 cup (62 grams) of whole wheat or white whole wheat flour)
7 tablespoons (88 grams) brown sugar or coconut sugar
3 tablespoons + 1 teaspoon (47 grams) melted coconut oil
2 teaspoons cinnamon
1/8 teaspoon salt
Directions
Preheat the oven to 325°F (163°C). Line two muffin pans with 20 paper or silicone liners. I used the parchment paper kind and they came out very easily.
Prepare the streusel. Mix the streusel ingredients in a small bowl until well combined. Set aside.
Prepare the batter. In a large mixing bowl, mix together the dry ingredients (flour through salt). In another large bowl, mix together the eggs, and then add the rest of the ingredients (sugars through pumpkin puree). Stir until combined. Add the dry mixture to the wet mixture and mix just until combined (do not over mix!).
Top each muffin with 1 tablespoon (20 grams) streusel.
Bake for 25 minutes or until a toothpick inserted in the side comes out clean. Remove from the oven and let the muffins cool in the pan for 5 minutes and then very carefully remove them to a wire rack to cool completely, about 1 hour. If you made them with olive oil, they may taste olive oily while still warm.
Store in an airtight container for up to 3-4 days or refrigerate for 5-6 days or freeze for a few months. Note that if you use coconut oil, they get quite firm in the fridge. Just a few seconds in the microwave turns them fluffy again!
Notes
If you don't have pumpkin pie spice, you can use: 1 1/2 teaspoons ground cinnamon + 1 teaspoon ground ginger + 1 teaspoon ground nutmeg + 1/2 teaspoon ground cloves