This limoncello martini is sweet, zingy, and perfect for celebrating with friends on hot summer days. It's made with only 4 ingredients, chilled to perfection, and ready in just a few minutes. It's also naturally gluten-free and vegan.
This limoncello martini is like a lemon drop but made with limoncello instead of lemonade. It gives you that zippy lemon flavor with a little extra punch.
I've been enjoying refreshing summertime drinks like this Strawberry Frose and this Georgia Peach Cocktail.
Last spring, I posted this Limoncello Spritz. It's bright and effervescent and has less alcohol content than the drink today. It's made with sparkling wine instead of vodka and topped off with a dash of bubbly water.
Today's limoncello martini has more alcohol per volume, so take note because it's so good you might want more than just one.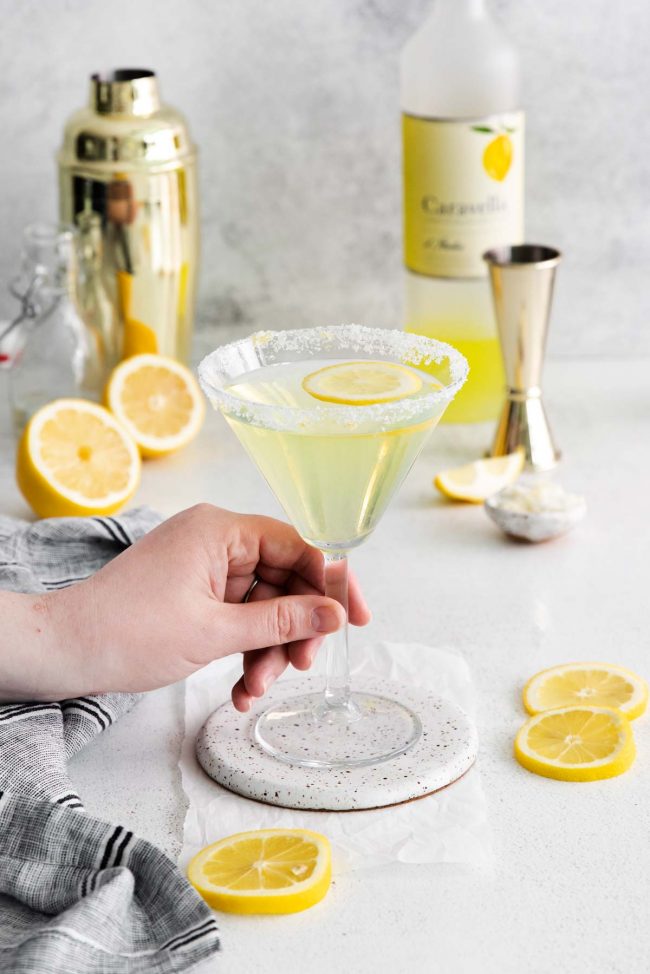 Tips
Make sure to measure the ingredients rather than winging it, as it will make a difference in how the cocktail tastes.


Definitely use chilled ingredients.


Want it frosty? Before rimming the glass, wet it under cold water and place the glass in the freezer for 30 minutes. It will come out nice and frosty.


Be sure you're getting the right limoncello! There are two types: one with a bright yellow color (the one you want) and another with a cream color. The creamy one has added dairy, which won't work well in this martini.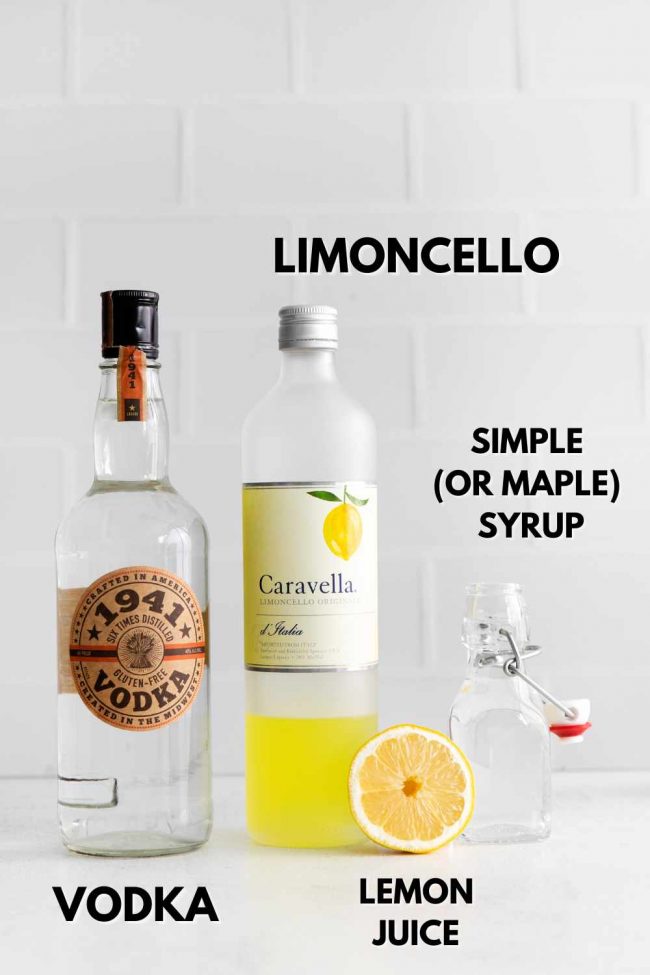 What is limoncello?
Limoncello is a lemon liqueur traditionally made in southern Italy. It's steeped in lemon zest, sugar and grain alcohol for at least two weeks.
It's easy to make your own limoncello if you happen to have a surplus of lemons. And it makes great gifts for birthdays and holidays, too.
Limoncello is a digestif, so it can be chilled and served after eating copious amounts of pasta or other main dishes. It's best served neat and chilled, not diluted over ice.
Because the alcohol content of limoncello is high, it won't freeze, so I like to keep it in the freezer and have it ready to pour.
The alcohol content ranges from 20 to 40% per volume, plus the added vodka in this drink makes it a pretty strong drink. It goes down so smoothly you might not realize just how much alcohol is in the drink, so drink and share responsibly. 🙂
Can I use a different type of alcohol?
Yes, but I haven't tried it, so if you do, let me know how it tastes!
Like most martinis, you can use gin or vodka interchangeably. Using gin might work well in this cocktail. Just note that you should only stir gin and not shake it, as it will bruise and lose its effervescence.
If I were to do this, I would ensure the limoncello and the gin were well chilled before assembling it.
I also think a white tequila would work. Tequila works well with citrusy things, so I imagine it tastes good. I haven't tried it, but I'd love to hear if you like it.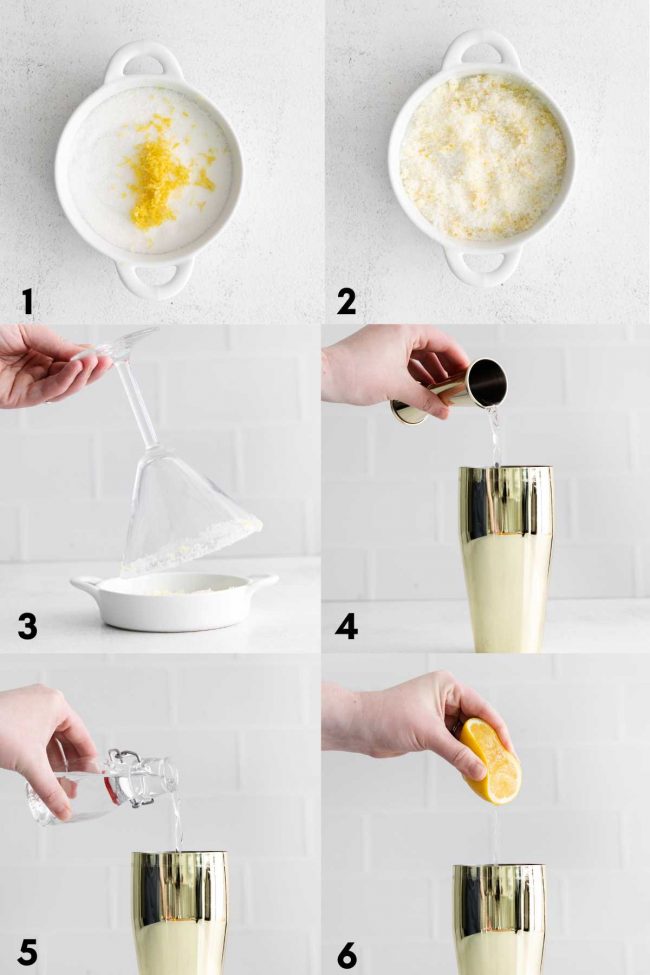 How to make simple syrup
It's simple! The ratio is 1:1, so one part sugar and one part water.
Pour sugar and water into a small saucepan, stir to combine and bring to a boil over medium heat.


Simmer and reduce the heat, occasionally stirring until the sugar is dissolved.


Once it is clear, let it cool.
Store it in a container with a lid and use it to sweeten cold drinks like this French Press Cold Brew.
How to garnish
Simply place a lemon wedge in the glass and call it good! The zesty sugar rim will do wonders for the cocktail's flavor and look.
If you must go fancy, try some edible flowers. I remember the first time I had a flower floating in my drink, which made my day.
It makes an amazing garnish that works great for special occasions.
You could also use raspberries or blueberries for a pop of color.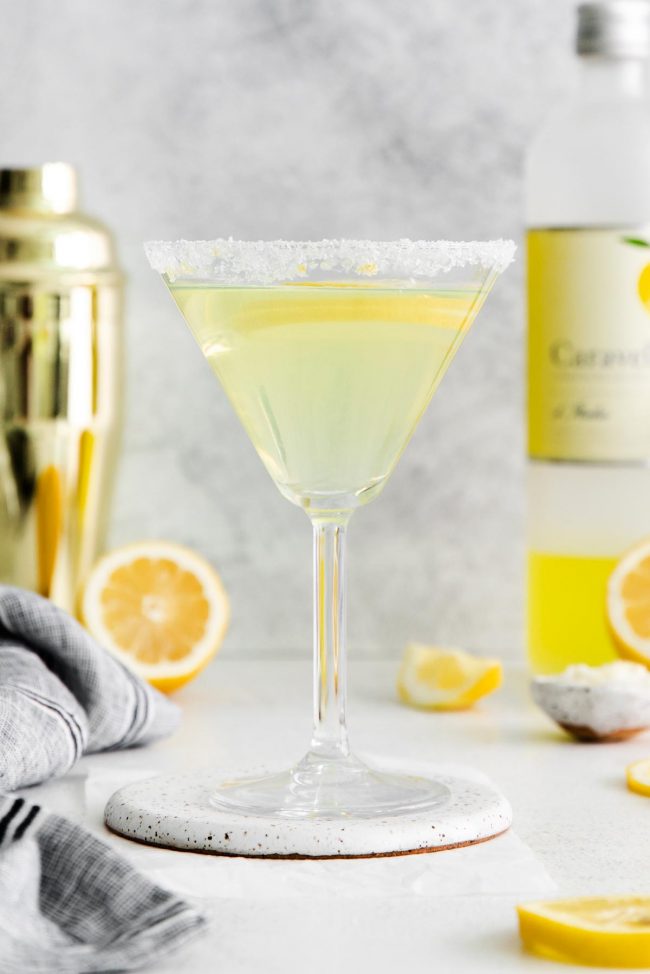 Is this cocktail gluten-free and vegan?
Yes, it can be! I extensively searched for a brand of gluten-free limoncello that is widely available in the US, and there are a variety of brands out there.
Limoncè is one of the most common brands in Italy, and their website says, "The entire range of Limoncè products are gluten-free thanks to the distillation process during production."
If you need it tested and labeled gluten-free, try Pallini Limoncello!
As for the vodka, due to the distillation process, vodka is gluten-free unless some flavorings or additives contain gluten.
For some, cross-contamination can be an issue because the distillery makes other gluten-containing products that may contaminate other products. So I found a list of the top gluten-free vodka brands to help you get what is right for you.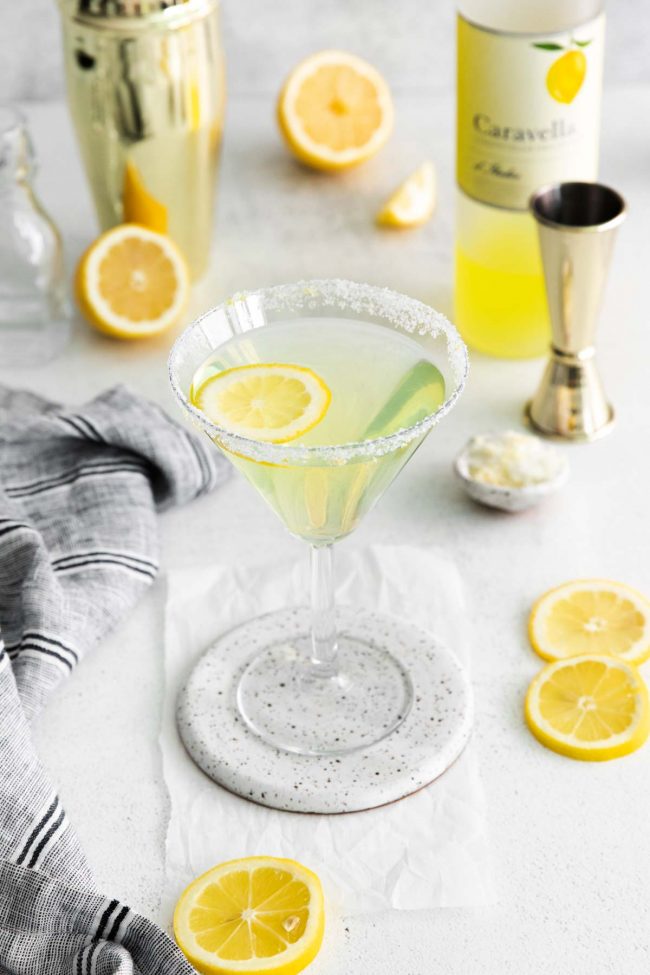 Other refreshing drinks
That's it! I hope you'll enjoy this limoncello martini. If you try it, please let me know how in the comments how you like it. Thanks! :)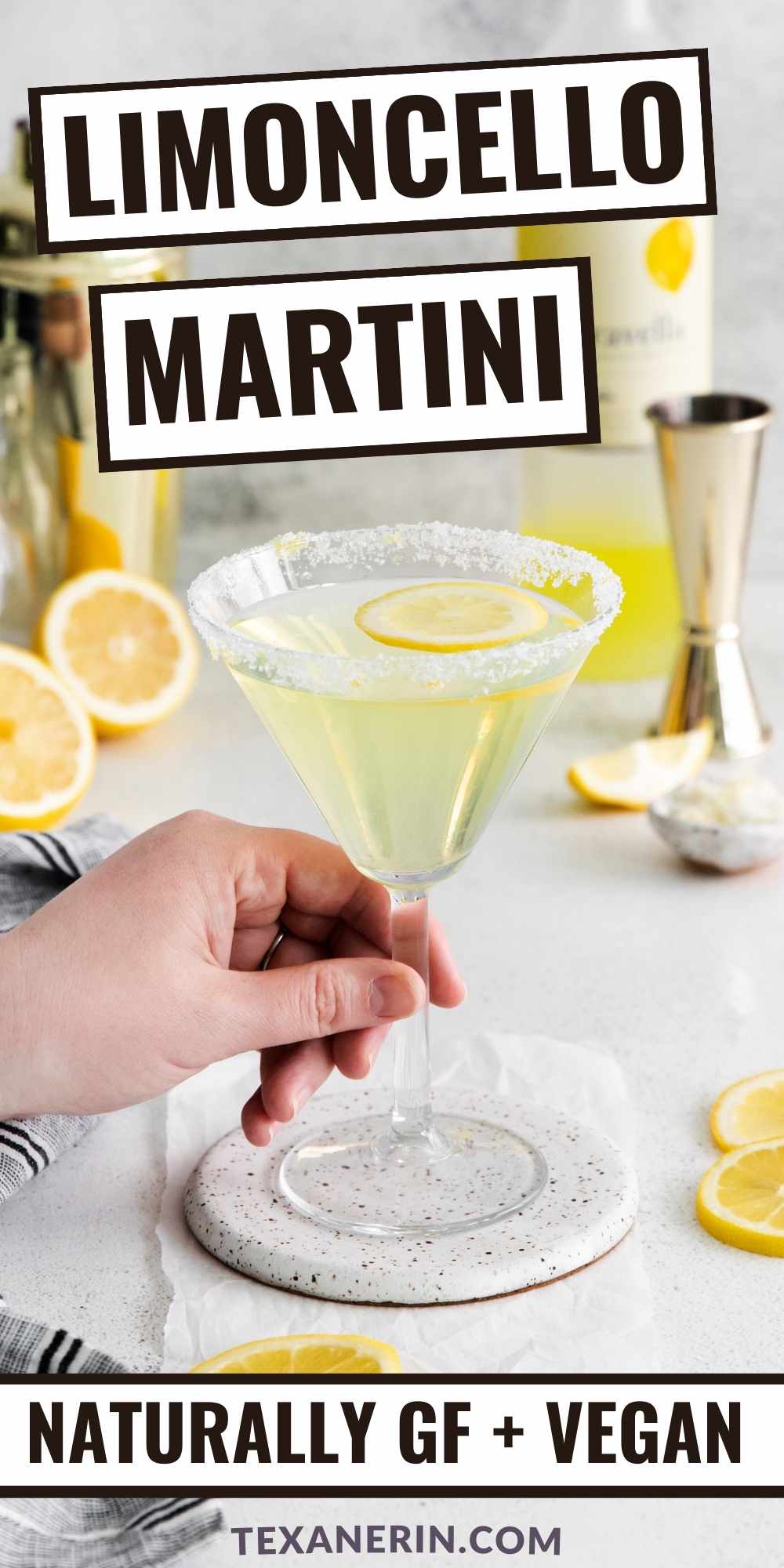 ❀
Limoncello Martini
Prep Time:
Cook Time:
Ready in:
Yield:

1
Ingredients
For the rim:

1 tablespoon granulated sugar
Lemon wedge + zest

For the martini:

1 ounce (2 tablespoons) limoncello
1 ounce (2 tablespoons) vodka
3/4 ounce (1.5 tablespoons) fresh lemon juice
1/2 ounce (1 tablespoon) simple syrup or Grade A maple syrup
ice
Directions
For the rim:

Finely zest one teaspoon of lemon zest over a small shallow plate.
Add a tablespoon of sugar to the plate and use your fingers to rub it together with the zest.
Cut out a wedge from the lemon and use that to moisten the rim of the glass.
Turn the glass over and coat the rim in the lemon sugar.

For the martini:

Add everything but the ice to a cocktail shaker.
Fill the cocktail shaker 2/3 full with ice.
Shake until the drink is very cold.
Strain into a martini glass and add a slice of lemon, if desired.