This hazelnut coffee syrup requires just hazelnuts, sugar and water and only takes 5 minutes of active prep! It's also naturally vegan and gluten-free.
I posted a recipe for Starbucks Oleato Copycat Iced Shaken Espresso yesterday which calls for hazelnut syrup.
It's easy enough to buy it, and the ingredients in Starbucks Naturally Flavored Hazelnut Coffee Syrup aren't all that bad (in my opinion). It's just potassium sorbate, natural flavor, citric acid, water and sugar.
But if you do have an issue with those ingredients or simply don't have access to it, here's an easy recipe to make your own hazelnut coffee syrup.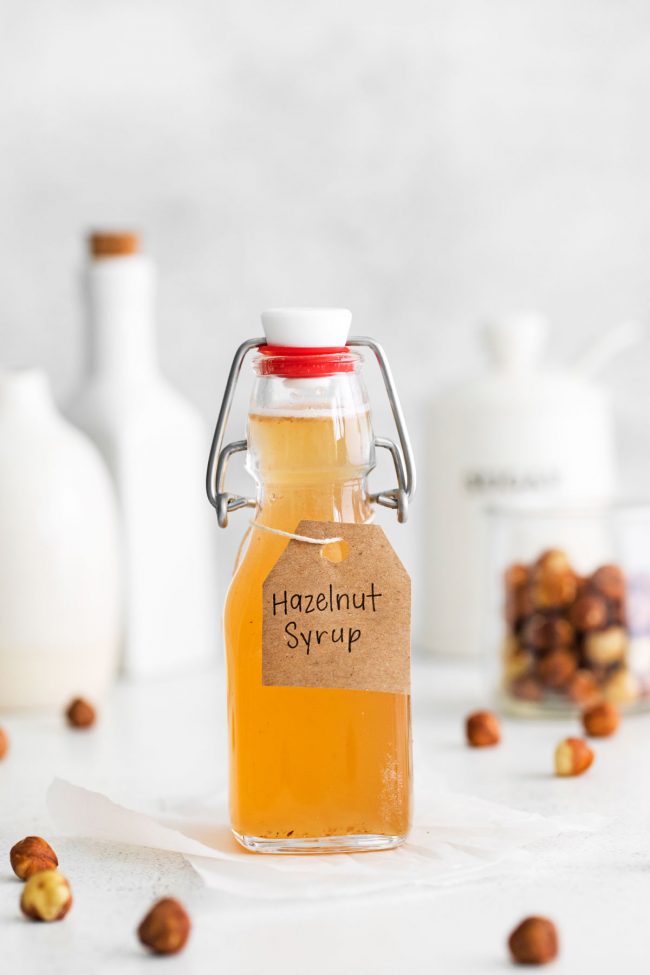 Ingredients
This is all you need. I go into detail below about why maple syrup isn't a good choice. It's sad, I know, but using maple would be a big waste.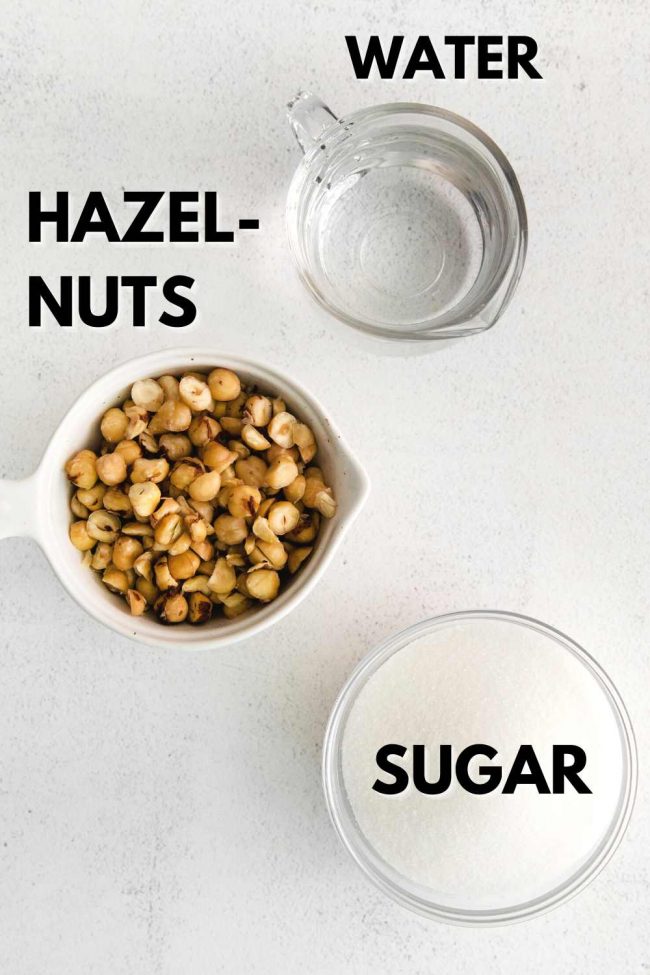 What type of hazelnuts to use
The quickest and easiest option is to use blanched and roasted hazelnuts. If you can't find those or they're too expensive (because they're certainly not cheap!), then you can get raw hazelnuts and roast and remove the skins yourself.
How to roast hazelnuts and remove the skin
Preheat the oven to 350 °F (175 °C) and get out a rimmed baking sheet.
Bake for 10-15 minutes, shaking the pan after every 5 minutes, or until nice and fragrant.
Remove the pan from the oven and place the hazelnuts in the middle of a clean kitchen towel. Wrap them up in the towel, and let them sit for 1 minute. This will steam them a bit, making it easier to remove the skins.
With the nuts still wrapped up, rub the nuts together to remove the skins. You won't be able to get them all off. Don't go crazy trying to do so!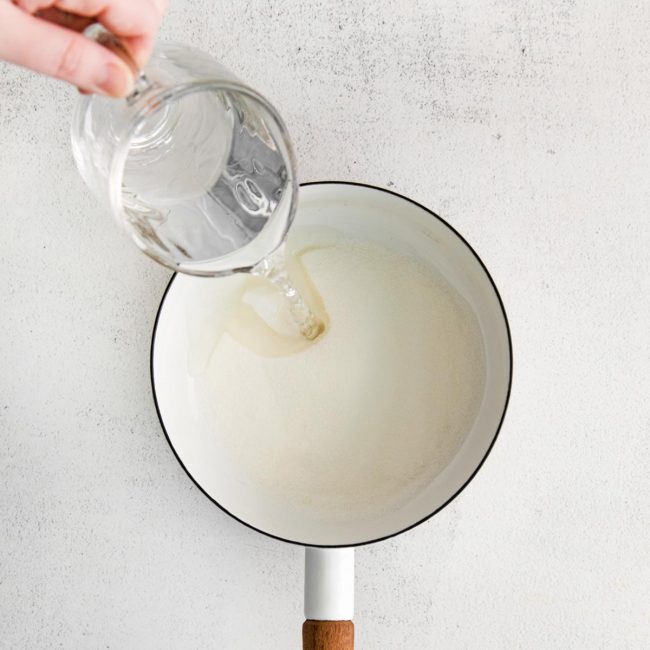 You can also toast them in a skillet on the stovetop over medium heat for about 5-8 minutes, but the oven does a better job because it roasts the hazelnuts very evenly. If using a pan, make sure to stir frequently so the hazelnuts don't burn.
An air fryer also works! You'll need about 5 minutes at 350 °F (175 °C).
Do I have to use roasted hazelnuts?
Yes. If you use raw hazelnuts, your syrup won't have much flavor.
Please don't waste your time and money with raw hazelnuts!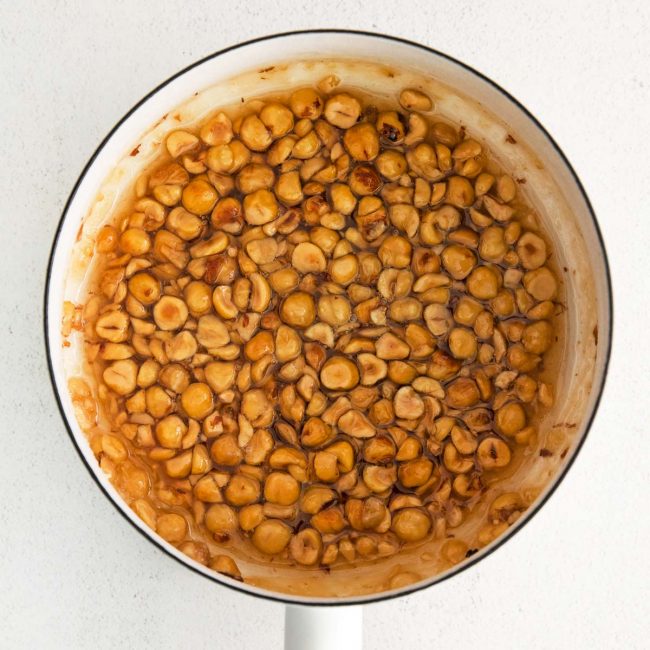 Can I just keep the skins on?
No, you really need to remove them. You will not get the right flavor if you leave the skins on!
You're left with candied hazelnuts!
The cool thing about this recipe is that you're not left with any waste. When you strain the syrup, you're left with some sugar-coated hazelnuts.
Place them on a piece of parchment paper, sprinkle with some salt, and let harden. They can be kept at room temperature for a week or so, but we eat ours within a few hours. 😬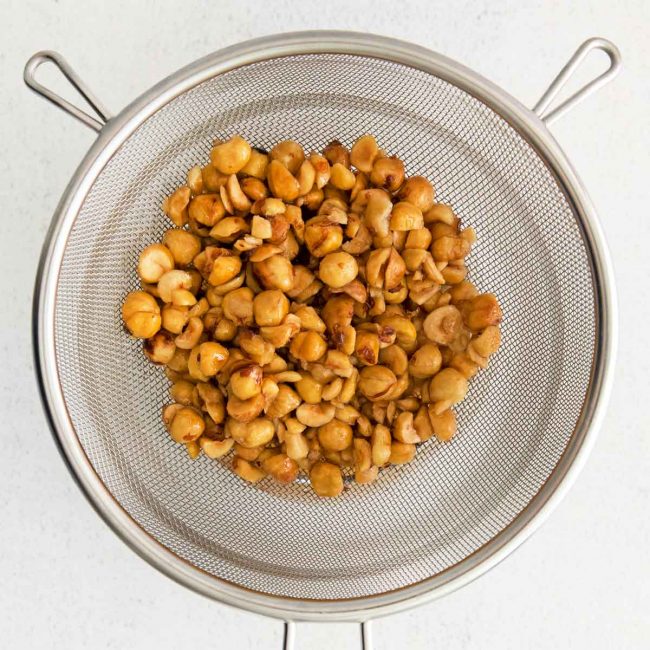 Can I double or halve the recipe?
Yes. I've made as little as 1/4 the recipe. I've also doubled it.
But know that you may need to adjust the cooking time.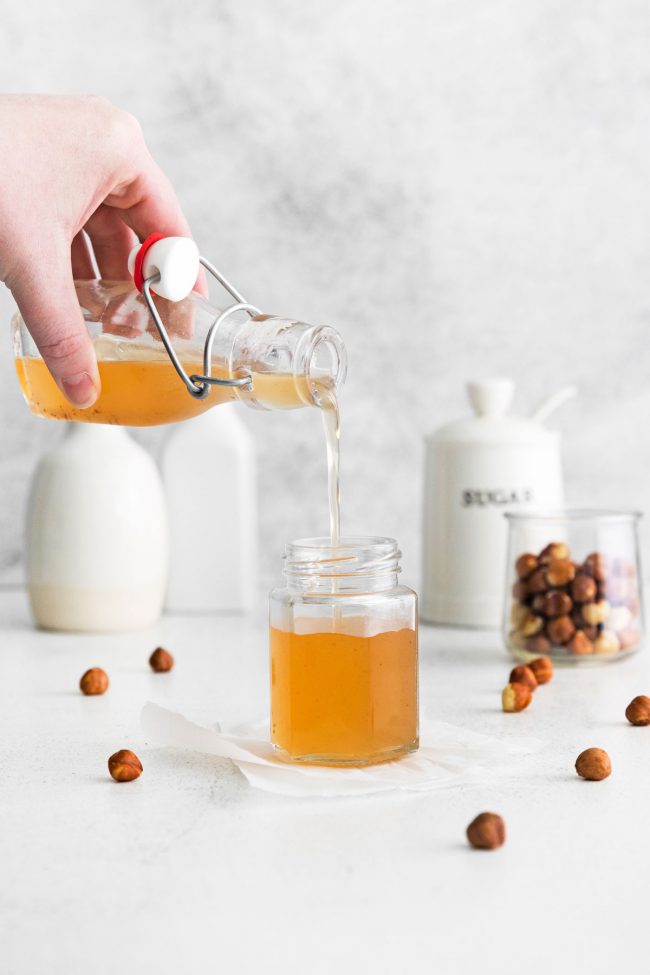 Can I use maple syrup?
The whole reason I wanted to post a hazelnut syrup recipe was to offer a maple-sweetened recipe for the people who don't want to use white sugar.
I first tried the recipe with sugar, and it worked great. So I sent the recipe off to the photographer.
I figured it'd be easy to just use maple in place of the sugar. And maple syrup + hazelnut sounds lovely!
So I used maple syrup in place of the sugar, using the same amount, and can't really recommend it. The maple flavor was too strong, leaving just a hint of hazelnut.
It's also super expensive! Using 1 1/4 cups of maple syrup and then only getting a hint of hazelnut? Definitely not worth it.
If you wanted to use hazelnut extract instead of or in addition to the hazelnuts, that'd probably be fine.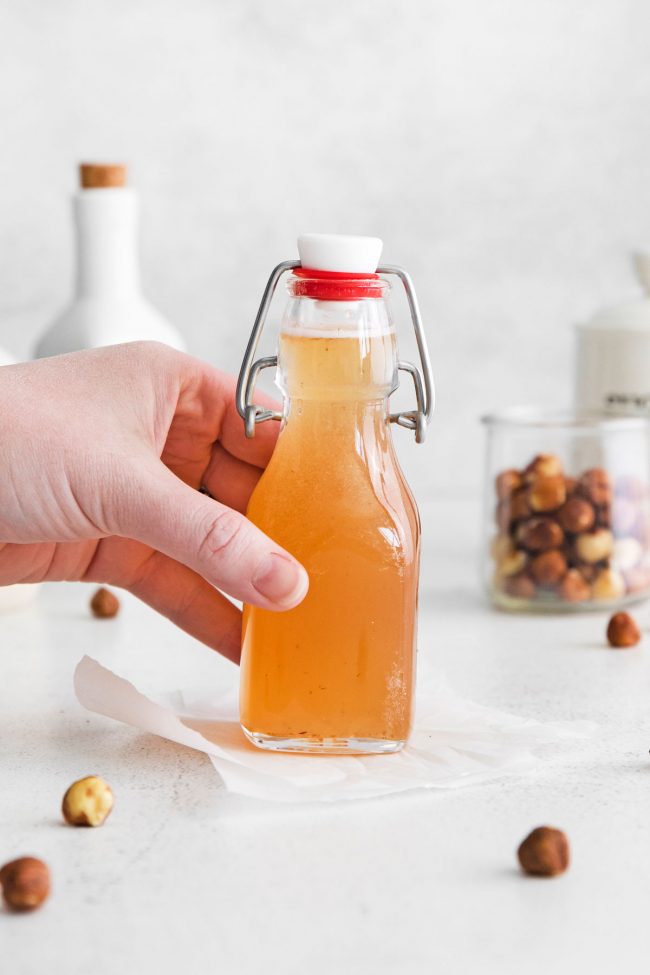 Can I use hazelnut extract instead of hazelnuts?
I've seen some recipes say that you can use hazelnut extract. We don't have this where I live, so I haven't tried it.
If you want to try it, you can use 1 1/2 to 2 teaspoons in place of the hazelnuts. Add it to the saucepan at the same time as the other ingredients.
I've looked at Amazon and Walmart and there doesn't seem to be any highly-reviewed pure hazelnut extract. And some are extremely expensive!
So it might even be cheaper to use real hazelnuts rather than buying an extract.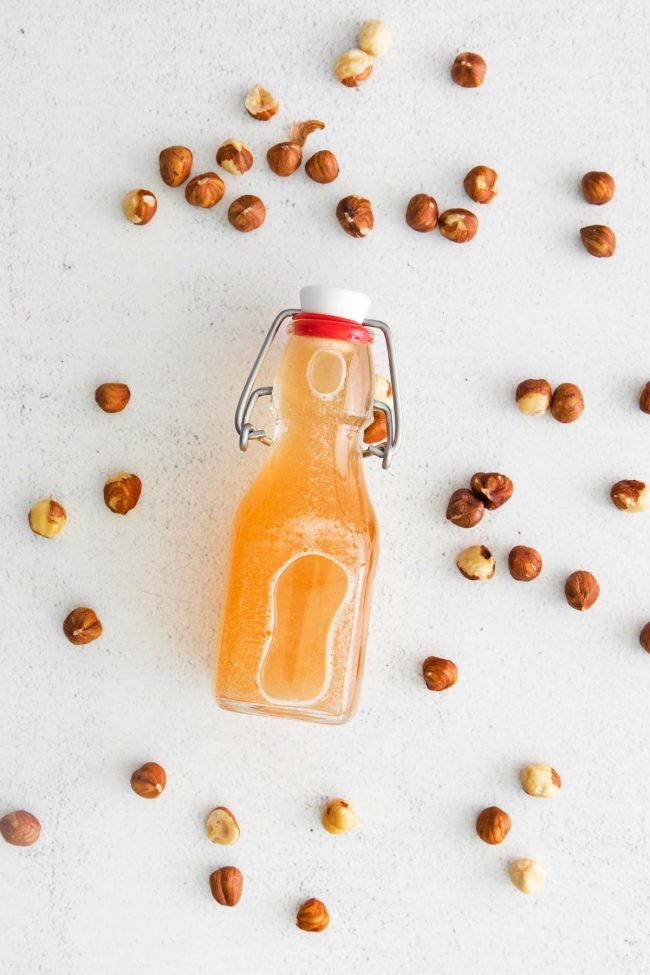 What to use it in
It's great in coffee! I'll be sharing a hazelnut coffee drink soon.
I'm sure it'd also be great in this Starbucks Chocolate Cold Cream Cold Brew in place of the vanilla syrup.
You could also use it in cocktails. It's super tasty in this Frangelico Espresso Martini for a bit of added sweetness.
Vanilla sauce is typically used on Kladdkaka (Swedish sticky chocolate cake), but this hazelnut coffee syrup would be nice drizzled on top. Same with this Gluten-free Apple Crisp!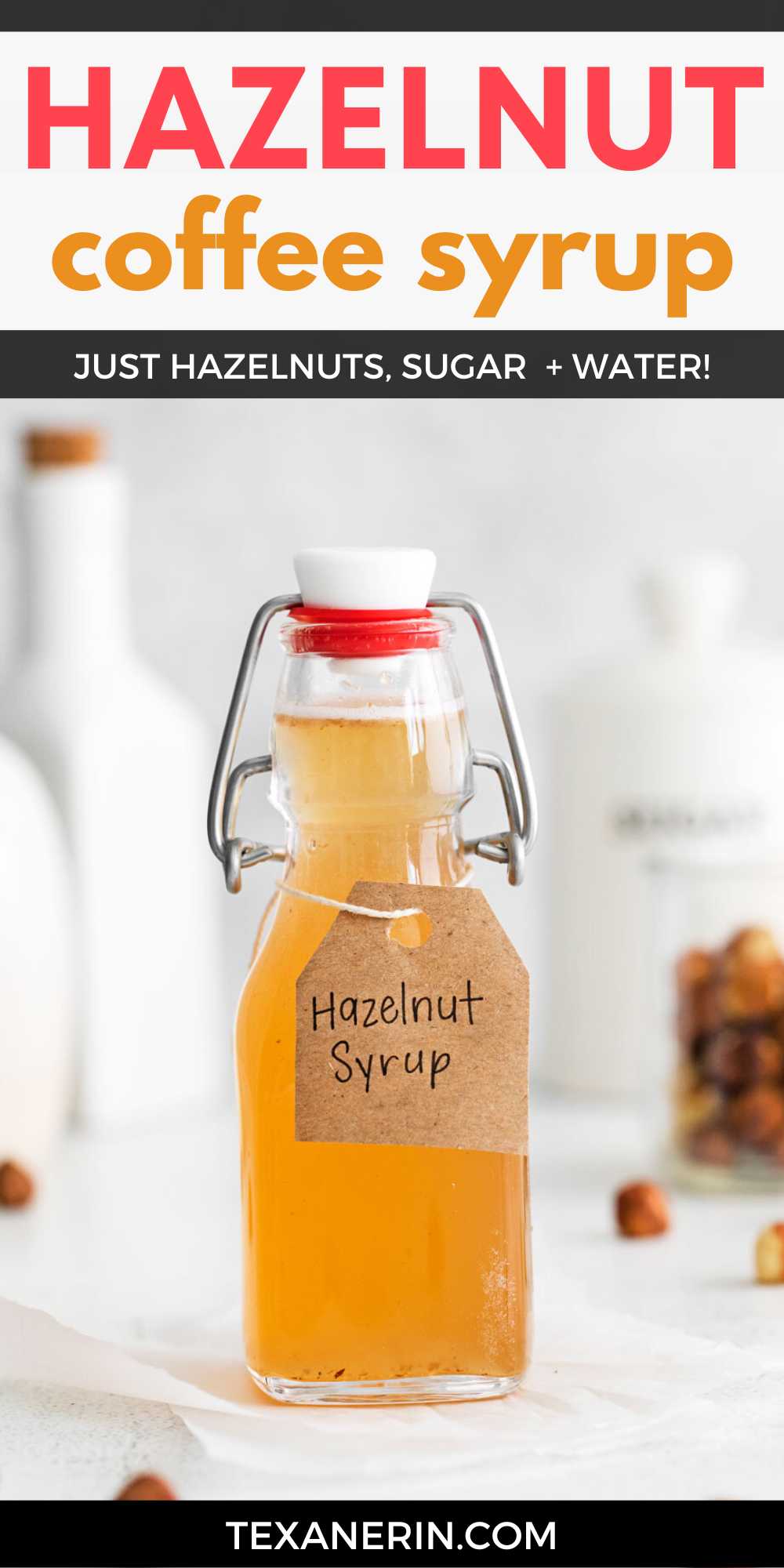 That's it! If you try it out, I'd love for you to leave some feedback below. Thanks! And I'll be back in a few days with some brownies for St. Patrick's Day.
❀
Hazelnut Coffee Syrup
Prep Time:
Cook Time:
Ready in:
Yield:

1 cup
Ingredients
1 1/4 cups (250 grams) granulated sugar
1 cup (240 ml) water
1 cup (130 grams) roasted and blanched hazelnuts
Directions
Chop the hazelnuts coarsely or pulse them a few times in a food processor/high-speed blender nut butter jar.
In a medium or large saucepan, combine the sugar and water.
Bring it to a simmer over medium heat, reduce the heat to low (I used 2 out of 9), and then add the chopped hazelnuts.
Let simmer, occasionally stirring, for 10-20 minutes until it's thickened a bit. Remember that it'll continue to thicken as it cools. Don't let it simmer so long that it's like toffee or caramel. It should still be very pourable, but thicker than water. Keep the pot on the stove, with the heat off, for another 20 minutes for maximum hazelnut flavor.
Strain the syrup into a heat-proof bowl (preferably with a lip that allows for easy pouring). Then pour it into a jar or a bottle.
Place the hazelnuts on a piece of parchment paper, sprinkle with salt, and let them firm up to become candied hazelnuts.
Let your syrup cool completely before putting the lid on.
Refrigerate in an airtight container for up to one month.