This Starbucks Oleato copycat is an iced shaken espresso that's smooth and creamy with a subtle sweetness, a hint of hazelnut, and notes of warm, toasted coffee. You only need 4 ingredients and 5 minutes to make this at home before it hits the market. It's also naturally gluten-free and vegan.
Last week, I posted this Olive Oil Coffee recipe with a nod to the new Starbucks Oleato line. Today we're taking it up a notch by adding hazelnut syrup with a lightly shaken espresso drink that's refreshing and relatively healthy.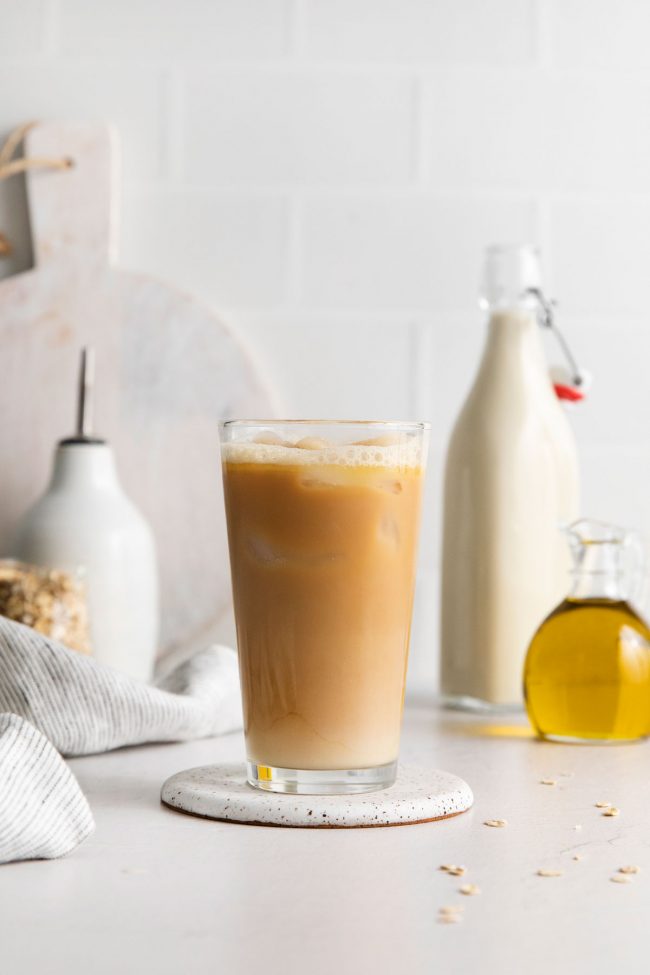 Ingredients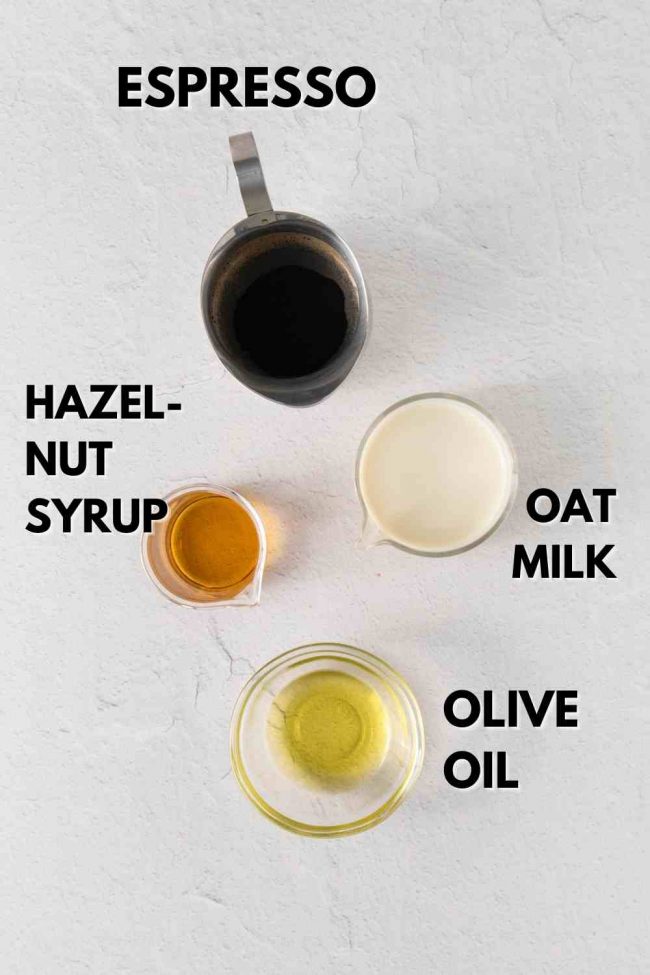 What kind of olive oil?
The Oleato line uses Partanna Cold-pressed Extra Virgin Olive Oil. Although the specific blend is not yet available in stores, you can find Partanna Olive Oil at World Market and on Amazon.
You need a high-quality extra virgin olive oil that is a finishing oil; not an all-around cooking oil.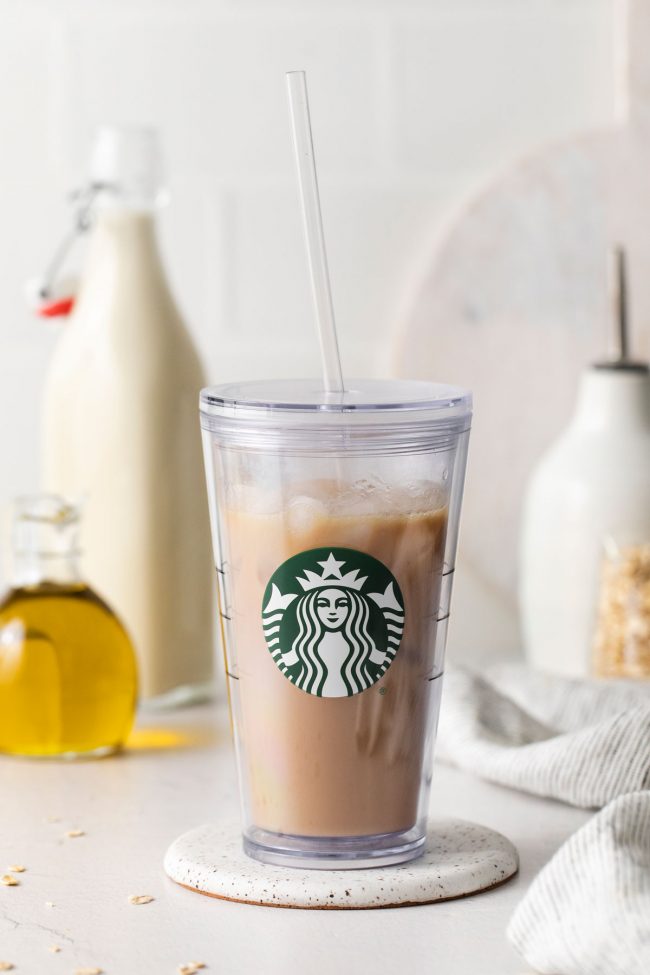 A reader, Laurie, commented on my olive oil coffee recipe, saying that she used avocado oil because her olive oil was a bit dated. Here's what she said, "Super creamy, silky! Reminds of my first buttered espresso years ago at MOMA. Great recipe!"
So if you have avocado oil, you can also give that a try.
For those that can have dairy, melted butter is also an option.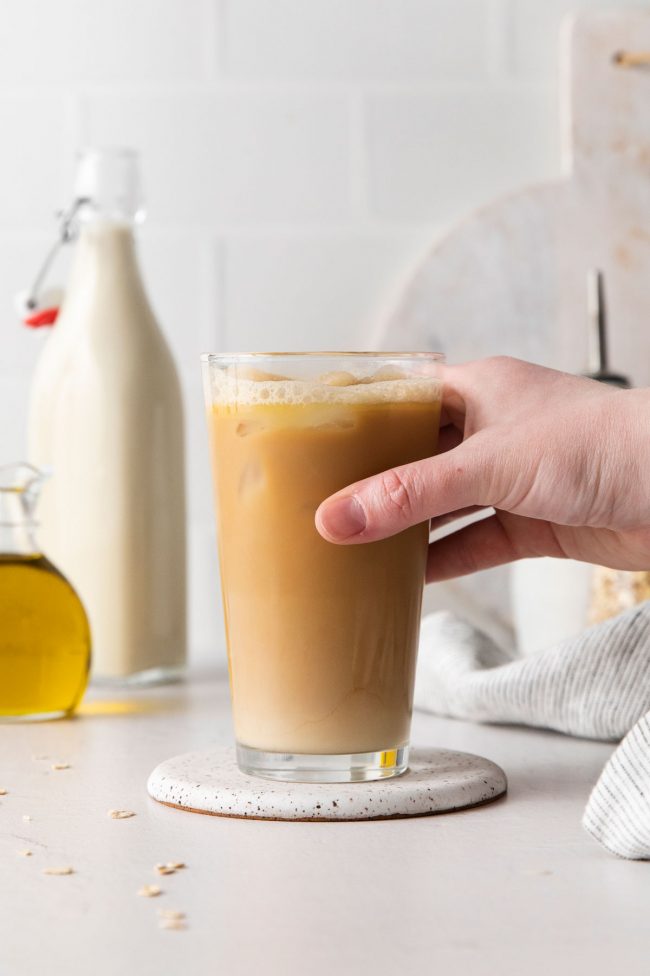 Why add olive oil to coffee?
Besides turning coffee into a velvety drink, there are many health benefits.
Fat added to coffee gives you sustained energy because the fat slows down the absorption of caffeine, prolongs the effects, and helps prevent insulin spikes and sugar crashes. It also makes coffee less bitter and acidic, which is better for your gut and the taste of the coffee.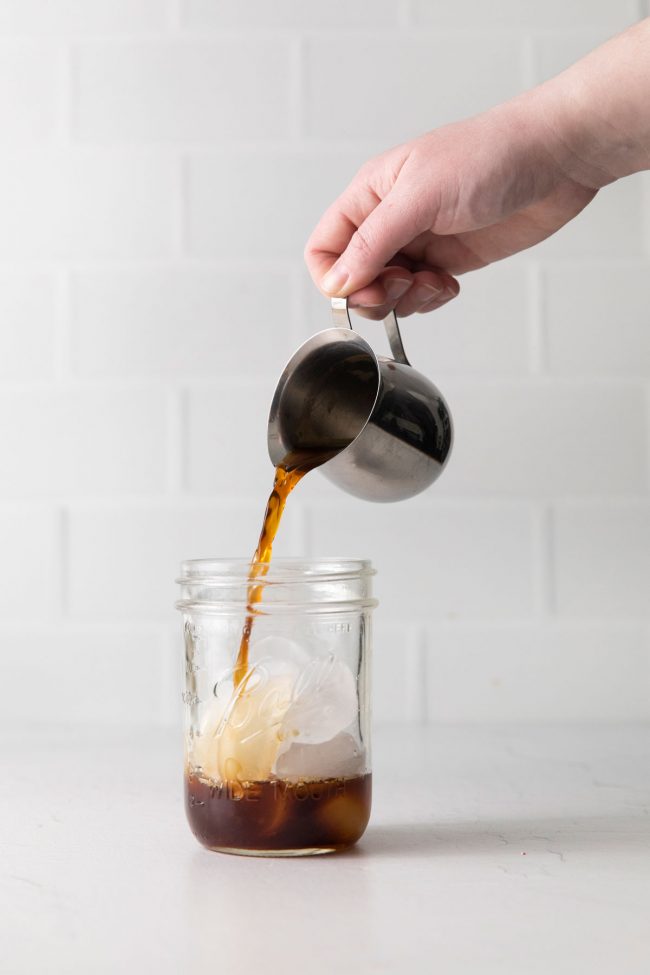 Extra virgin olive oil has omega-9 fatty acids that are known to balance cholesterol and help reduce the risk of degenerative diseases. Plus, it's loaded with antioxidant content and polyphenols, which have anti-inflammatory, antimicrobial, and antiviral properties.
You also get a good dose of vitamins E and K and some iron.
The most noticeable thing I encountered after drinking coffee with olive oil was how smooth it was and not disruptive to my digestive system. I no longer need two cups of coffee because I'm satisfied with the first cup.
It's amazing how adding olive oil to coffee can have significant effects.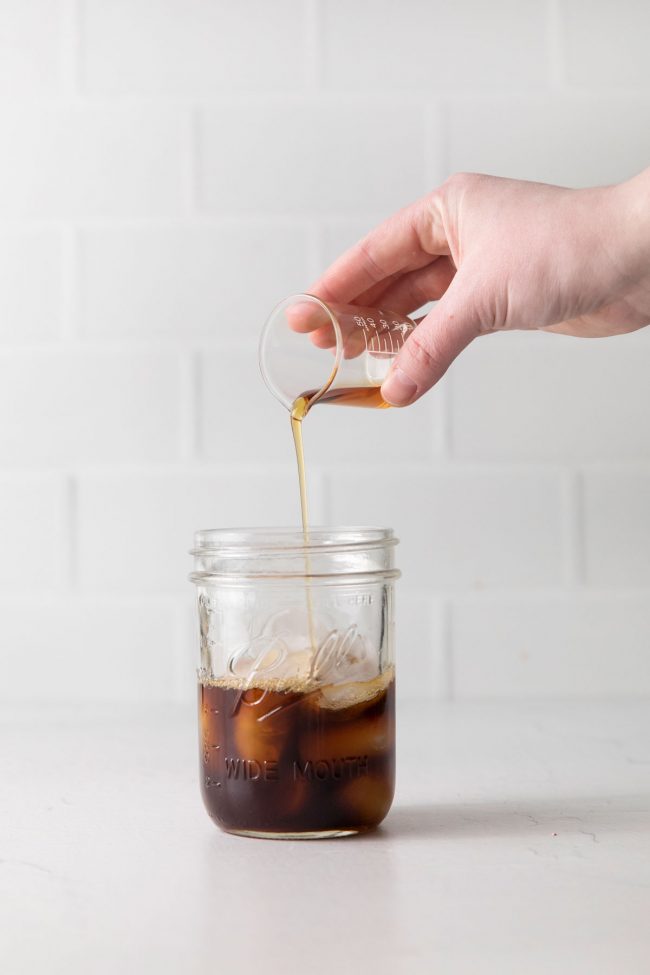 How to make espresso without a machine
If you don't have an espresso machine, no worries. There are several ways to make robust espresso-like coffee at home.
Since this is an iced latte, I recommend planning ahead and making Cold Brew Espresso. Or you can make Mason Jar Cold Brew or French Press Cold Brew.
If you can't wait to try this drink and don't want to wait 24 hours for the cold brew, you can make French Press Espresso. This is the method I usually use because I'm not good at planning and waiting.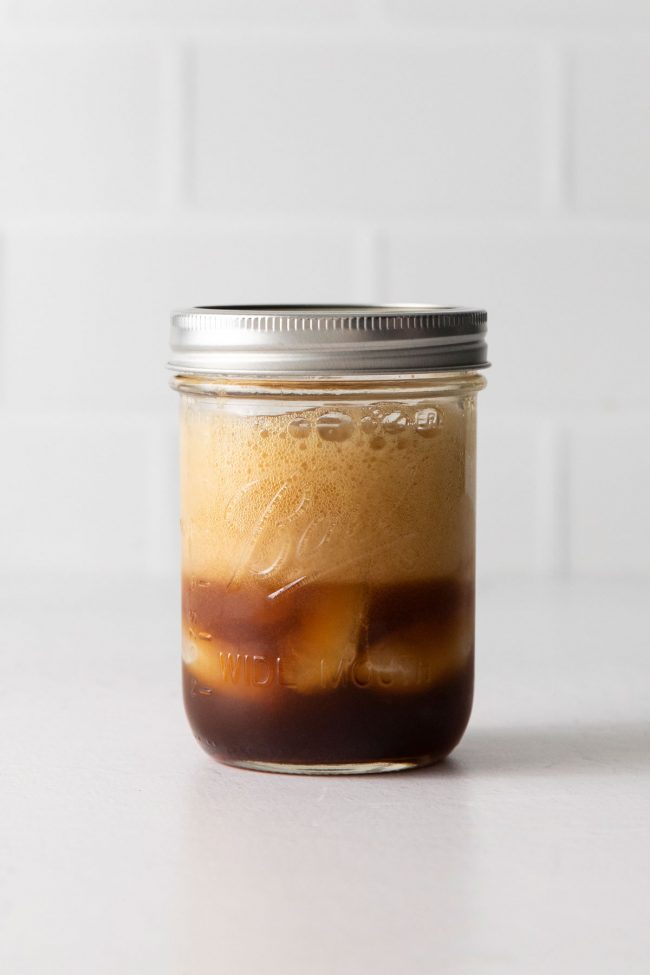 Which espresso to use
If you want it to taste as close to Starbucks as possible, then you'll want to use the Starbucks original espresso pods. But any full-bodied espresso will work.
Regarding the type of beans and grind, check out this Espresso Beans vs Coffee Beans post.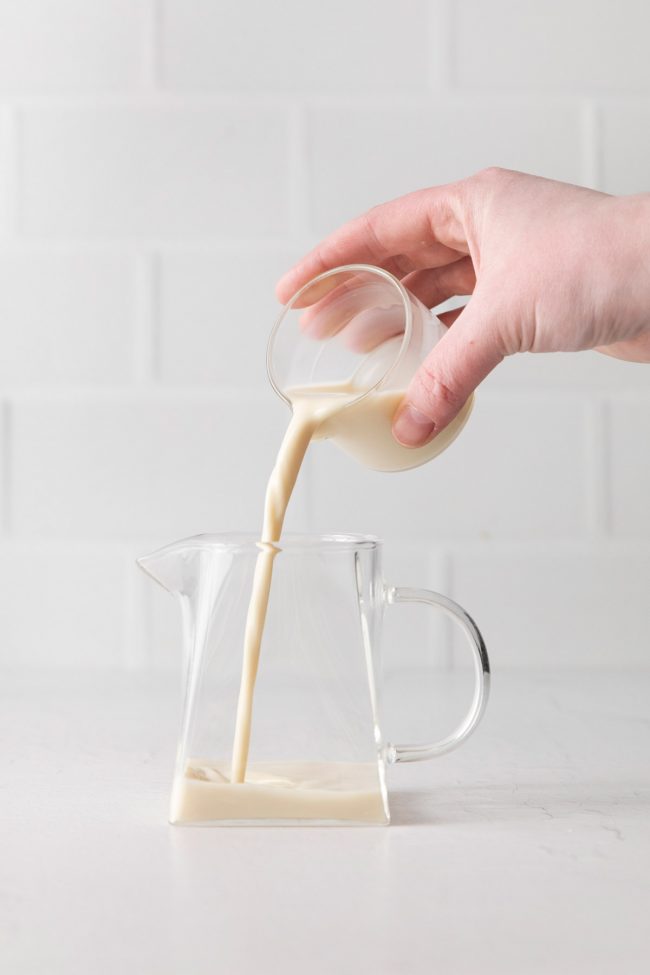 Milk type
Starbucks uses Oatly Barista Edition, but you can use any brand of oat milk. Or any type of milk!
I think hazelnut milk would be a super creamy, delicious option here.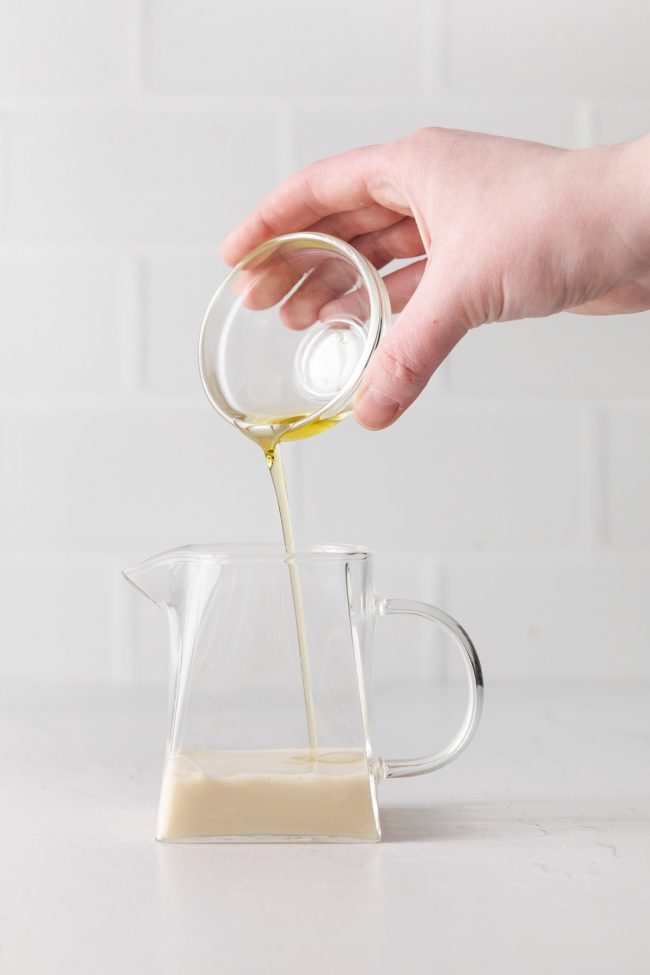 Hazelnut coffee syrup
To be as close to Starbucks as possible, you'll want to use Starbucks Naturally Flavored Hazelnut Coffee Syrup. The ingredients are potassium sorbate, natural flavor, citric acid, water and sugar.
For a sugar-free option, both Torani and Monin make sugar-free hazelnut syrup! Then your drink would be sugar-free.
Monin's ingredients are: water, erythritol, natural and artificial flavors, cellulose gum, sucralose, citric acid, sea salt, potassium sorbate (preservative).
Torani's ingredients are: water, natural and artificial flavors, citric acid, acesulfame potassium, potassium sorbate (to preserve freshness), sodium benzoate (to preserve freshness), xanthan gum, sucralose, caramel color.
I'm not too wild about those ingredients, so I made my own, this Hazelnut Coffee Syrup.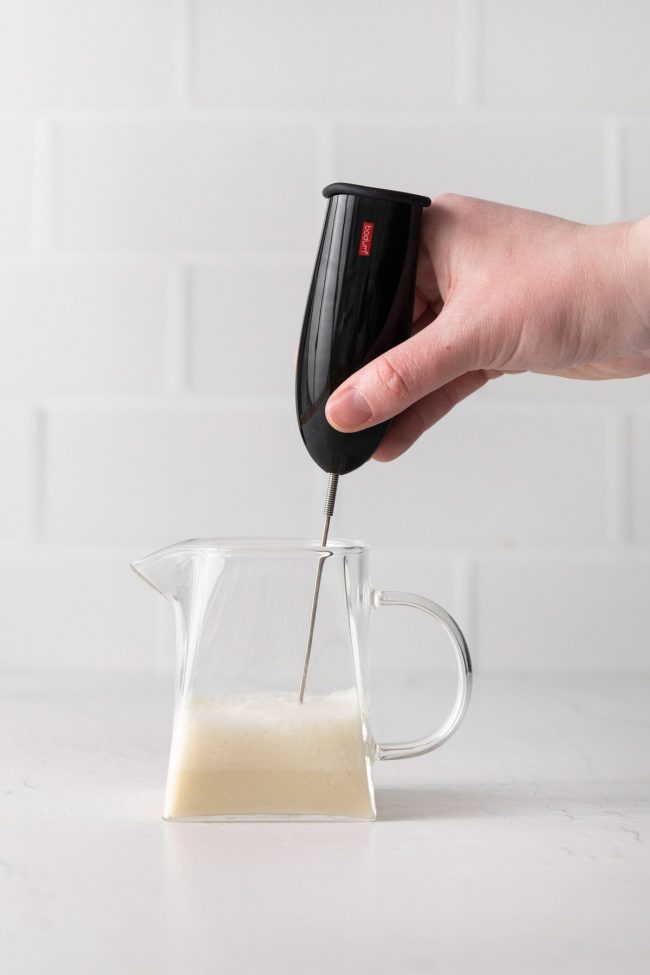 Notes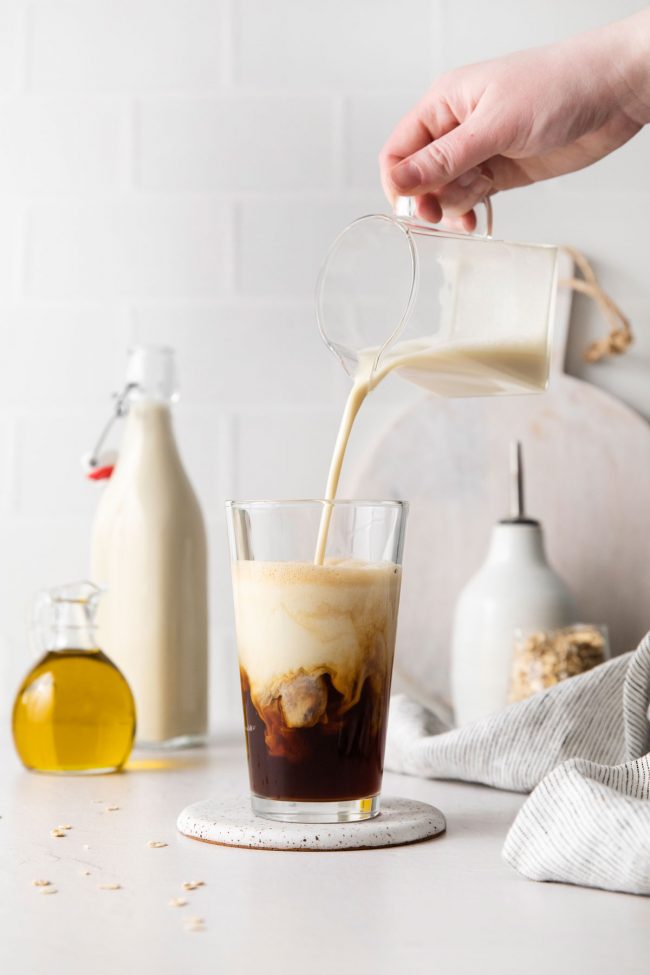 Other cool drinks to try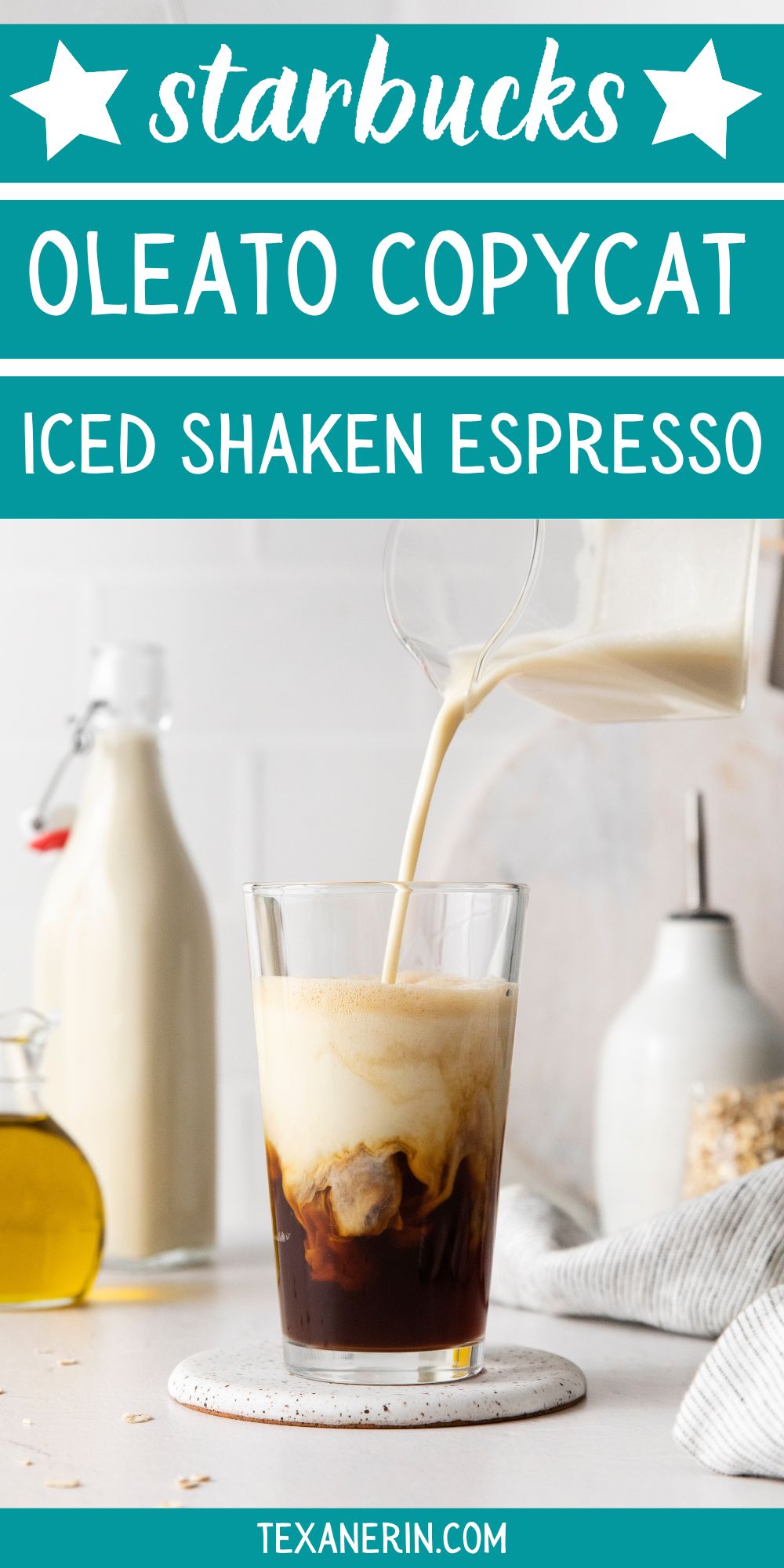 If you try this drink, I would love to hear your thoughts! Please leave a comment below, or if you share it on social media, tag #texanerin so I can be sure to see it. Thanks!
Sources:
❀
Starbucks Oleato Copycat (Iced Shaken Espresso)
Prep Time:
Cook Time:
Ready in:
Yield:

1
See notes if you're gluten-free/vegan!
Ingredients
2 shots espresso, cooled slightly
2 teaspoons hazelnut coffee syrup
1/3 cup (80ml) oat milk or milk of choice
1 tablespoon cold -pressed extra virgin olive oil
Directions
Add the espresso and hazelnut syrup to a mason jar filled with ice. Shake vigorously for 30 seconds or until foamy. Strain into your glass.
Stir together the oat milk and olive oil and whisk or froth them quickly to combine. Pour into your glass and top with ice. Enjoy immediately.
Notes
If you're gluten-free, make sure to use gluten-free oat milk (it needs to be labeled as gluten-free) and hazelnut syrup (most brands are gluten-free).
If you're vegan, use plant-based milk and vegan hazelnut syrup (most brands are).