This Frangelico espresso martini is a hazelnut twist on a classic espresso martini. It's aromatic and delicately sweet, made with espresso, Kahlua, and hazelnut liqueur with hints of cocoa and vanilla. Can easily be made vegan and it's also naturally gluten-free.
This creamy hazelnut espresso martini is a festive dessert cocktail you can serve any time of year. It sounds fancy and looks quite elegant, but this martini is really simple to make.
What is Frangelico?
Frangelico is a premium Italian hazelnut liqueur that adds a fragrant, nutty flavor to cocktails and desserts. It's made by infusing toasted hazelnuts with alcohol and water with additional flavors like cocoa and vanilla to add to the complexity and taste.
It dates back over 300 years to the monks who inhabited the Piedmont area of Italy. The name comes from Fra. Angelico, a monk, better known for being an iconic Early Renaissance painter.
The bottle reflects this monastic heritage as it looks like a monk with a rope belt. It's hard to miss when shopping for it.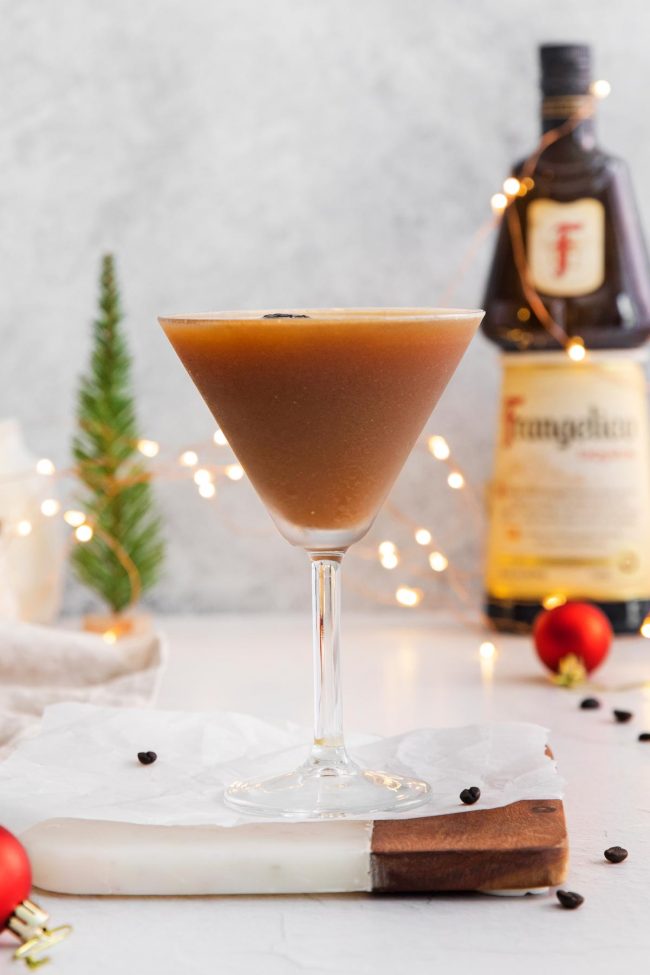 Frangelico vs Amaretto
Frangelico and Amaretto are popular nut liqueurs. They are similar in application and are interchangeable, but there are differences.
Amaretto is an almond liqueur with a subtler taste than Frangelico. When opening a bottle of Frangelico, you're hit with a bold nutty aroma that follows through in cocktails.
Amaretto is less noticeable in aroma and taste and offers a subtle sweetness to drinks.
That's why Frangelico is my pick for this espresso martini! It brings a bold hazelnut flavor that compliments and elevates a traditional espresso martini.
What is Kahula?
Kahula is a 100% coffee liqueur that uses rum as an alcohol base. It originates from Veracruz, Mexico dates back to 1936.
Can you believe it takes 7 years to make Kahlua? From growing shade-grown coffee beans to harvesting, drying, roasting and distilling, it takes seven years to produce a full-bodied coffee and sweet rum liqueur. Amazing!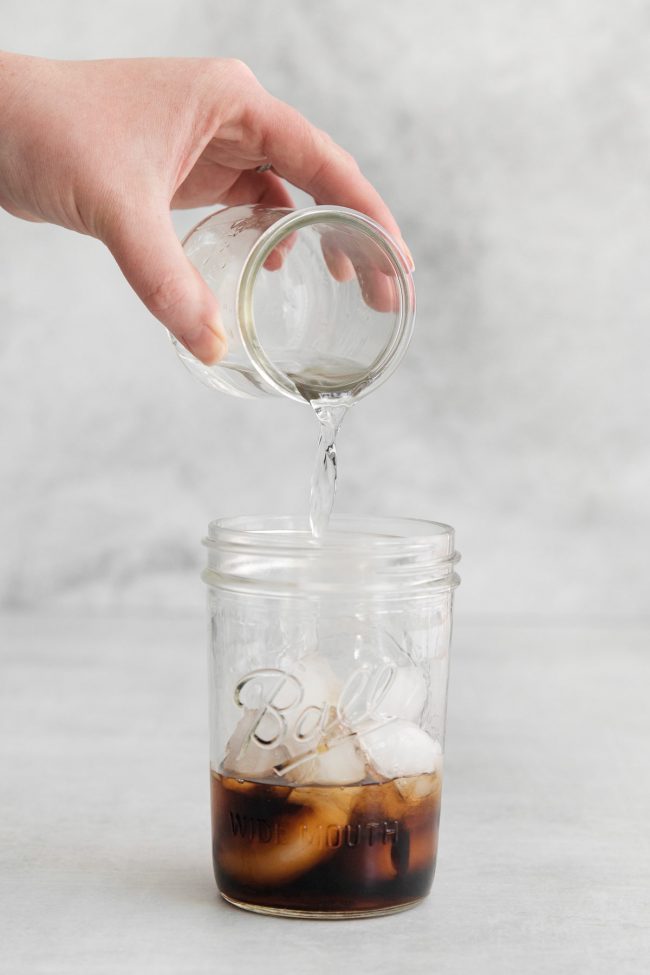 What type of vodka?
I use medium-priced vodka. Typically, I don't use the most expensive liquors to mix with intense flavors like coffee, Kahula and Frangelico. If I were sipping the vodka straight, I would step up to a premium vodka.
I wouldn't use a premium bottle of vodka for this cocktail, but I wouldn't get the cheapest vodka either. I like a smooth drink, and a mid-range vodka will add to the martini without overpowering the drink.
Milk options
I used cashew milk. It has a creaminess I like, and the flavor is mild. It doesn't overpower the other flavors in this martini, so it's a good neutral, creamy addition.
You can use whatever milk you'd like. If you're not vegan, you can use half-and-half or heavy cream to make it super velvety.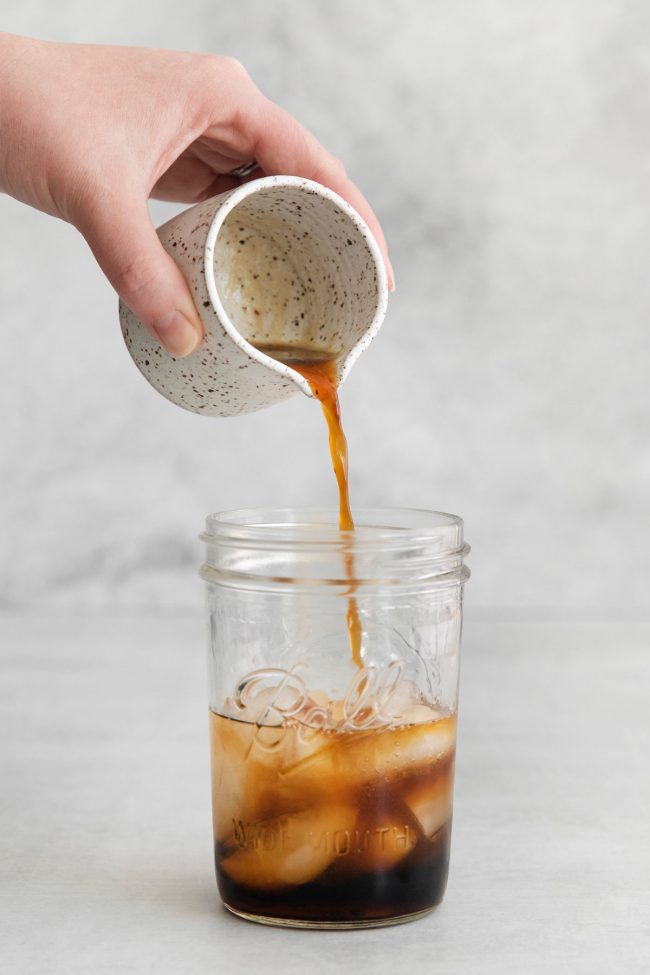 Vegan option?
If you're wondering if this martini is vegan, you have to ask: is Kahlua vegan, is Frangelico vegan, and is vodka vegan, and the answer is — almost.
All of the ingredients in this espresso martini are vegan-friendly, except Kahlua, but don't despair; Tia Maria is a great vegan substitute. Both are considered the most popular coffee liqueurs on the market, but Tia Maria is the only vegan option.
Frangelico and vodka are also vegan-friendly.
So by making just one substitution – using Tia Maria instead of Kahula, you've got a vegan Frangelico espresso martini!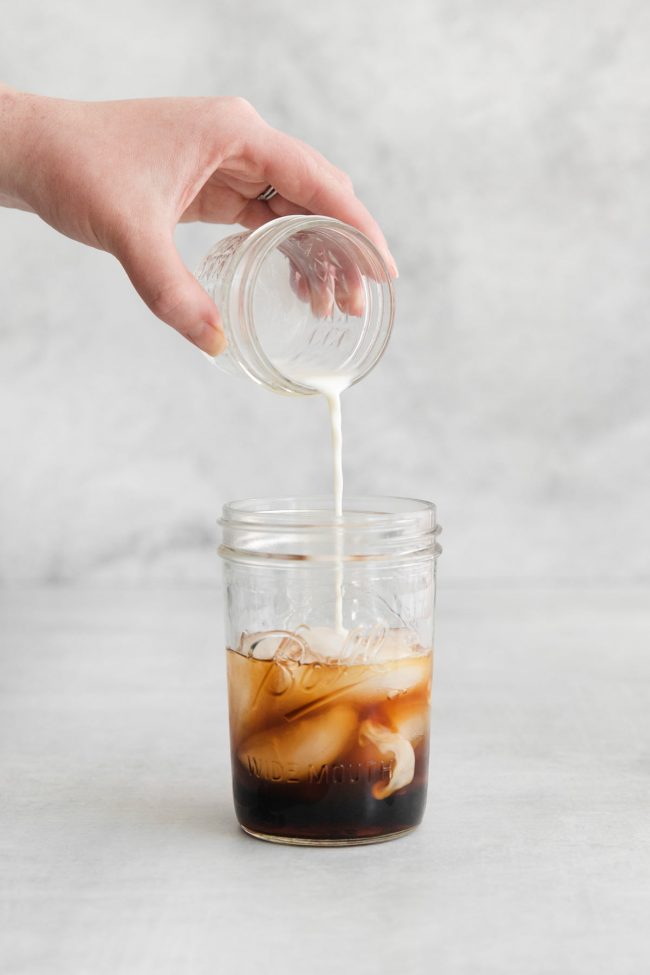 How to make espresso without a machine
It's easy to make strong coffee like an espresso without a machine. I have two recipes – Cold Brew Espresso made in a mason jar and a recipe for French Press Espresso.
Since you need chilled espresso in this cocktail, using cold brew espresso would be ideal, but it takes some planning as it brews overnight.
Both methods work great if you're serving a crowd because you will have plenty of espresso for your guests. Or you can use leftovers in this Baileys Iced Coffee.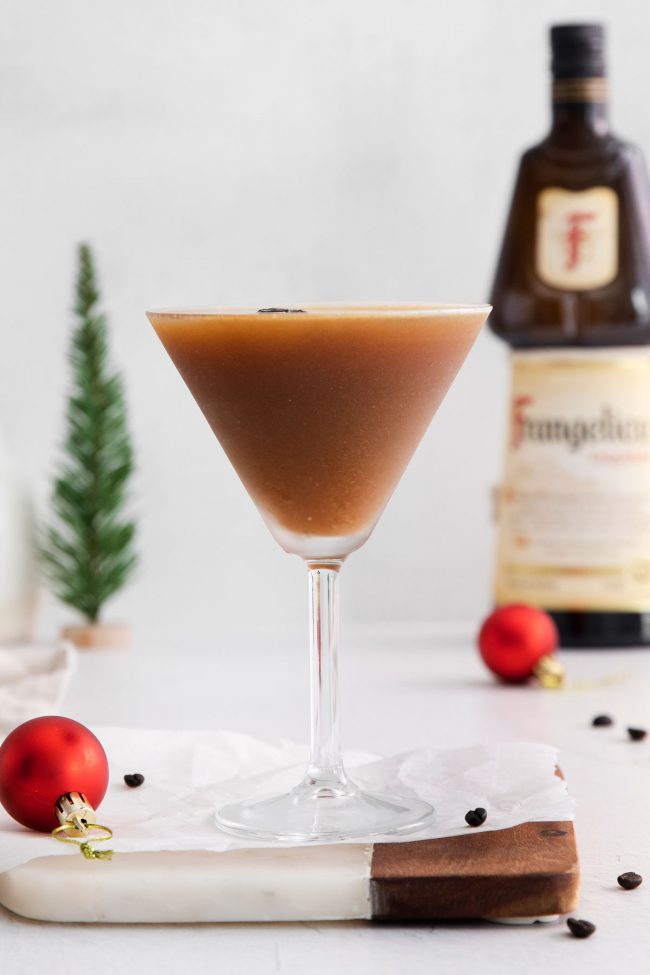 Regardless of which recipe you use, be sure to check out Espresso Beans vs Coffee Beans so you can make the best choice on the type of coffee and grind size you need for the French press or jar.
What household items to use if you don't have a cocktail shaker
I use a cocktail shaker because it mixes the ingredients quickly and chills the drink in a matter of seconds.
If you don't have a cocktail shaker, you can use some household items to get the trick done.
A travel cup will work well, protein shakers are good mixers, blender bottles work quickly, and a mason jar with a tight lid will do.
Garnish options
Traditionally, an espresso martini will have three coffee beans as a trademark garnish. With each bean, there is significance: health, wealth and happiness. So cheers to that!
Chocolate covered espresso beans make it even more tasty and festive.
Or leave out the coffee beans and dust the martini with a bit of cocoa, or rim the glass with ground coffee if you prefer.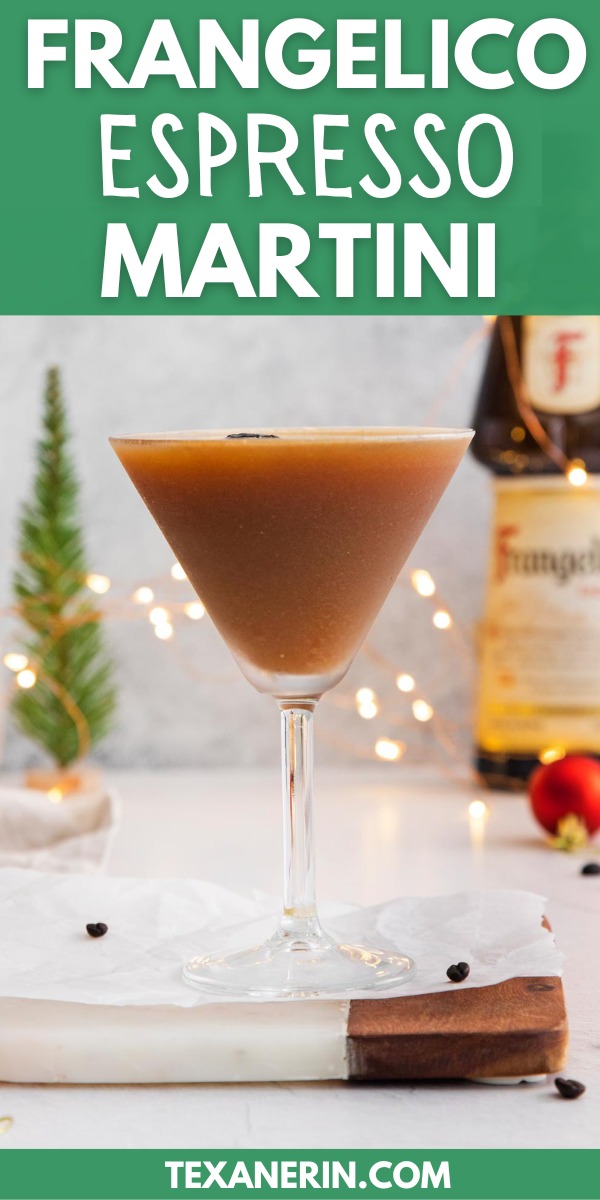 Other seasonal drinks
I've got drinks for all tastes, and here are a few of my favorite cocktails for the season.
I hope you enjoy this Frangelico espresso martini! If you make it, please comment and let us know your thoughts. You can also share your creations and mention @texanerin or tag #texanerin so I can be sure to see them! Thanks. :)
❀
Frangelico Espresso Martini
Prep Time:
Cook Time:
Ready in:
Yield:

1
Ingredients
Martini:

ice
1 oz (2 tablespoons) cold espresso or strong coffee
1 oz (2 tablespoons) vodka
1/2 oz (1 tablespoon) Kahlua or Tia Maria
1 1/2 oz (3 tablespoons) Frangelico
2 teaspoons half-and-half, cream or milk of choice1

Garnish:

coffee beans or grated coffee beans, optional
Directions
Fill the cocktail shaker about halfway full with ice.
Add the espresso, vodka, Kahlua, Frangelico and half-and-half or milk to a cocktail shaker.
Shake well and strain into the glass.
Top with 3 coffee beans and/or grated coffee beans if desired.
Notes
If vegan, use unsweetened cashew milk and Tia Maria instead of Kahlua.