This rich and creamy mint chocolate pudding only uses fruit, cocoa powder and a little yogurt, making it a healthy alternative! Naturally gluten-free with vegan and paleo options.
I actually made this pudding last January and figured nobody'd be into it so I had to wait all this time to share it. Are y'all ready for some mint chocolate stuff now that we're well into December? :)
I adapted this recipe from my chocolate avocado smoothie. That smoothie is already so thick all you have to do is leave out the 2 tablespoons of milk and you have pudding!
What I really, really love about this mint chocolate pudding is the ingredient list. Avocado and banana (both of which you can't taste), cocoa powder, mint, and Greek yogurt. It's so darn healthy. I love zero guilt desserts! The avocado makes it so lusciously creamy and the banana adds all the sweetness you need.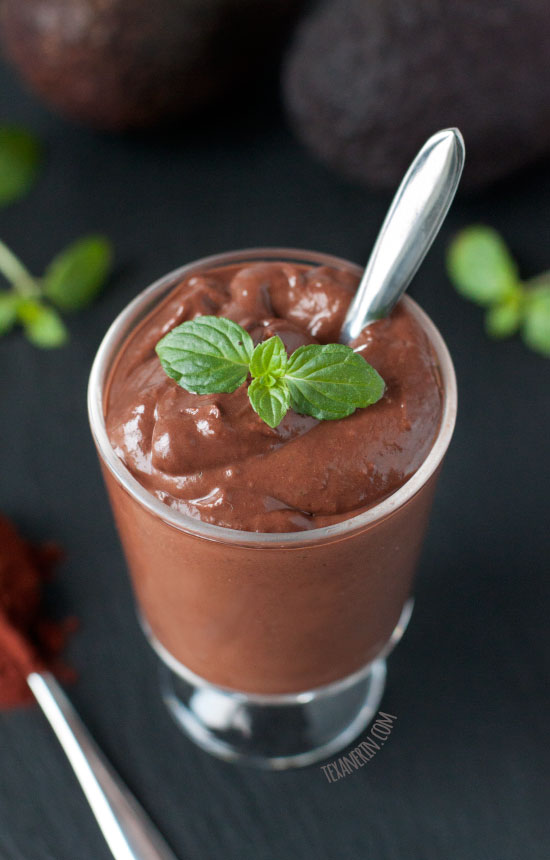 I highly recommend using Dutch-process cocoa powder in this pudding, or at least Hershey's Special Dark Cocoa. If you use the regular kind, this won't be nearly as dark and I'm afraid you'd be able to taste the banana and avocado.
And please be sure to use peppermint and not mint extract! I've never tried mint extract, but I've looked into the difference between peppermint and mint extracts and supposedly, mint extract tastes more spearmint-y and doesn't go well at all with chocolate. Then you can also make these Gluten Free Peppermint Snickerdoodles!
To make the pudding vegan and paleo, you obviously can't use regular Greek yogurt but need to use dairy-free yogurt, like this homemade almond milk yogurt.
If you want some more mint chocolaty goodness, this time with lots of sugar, try these. :D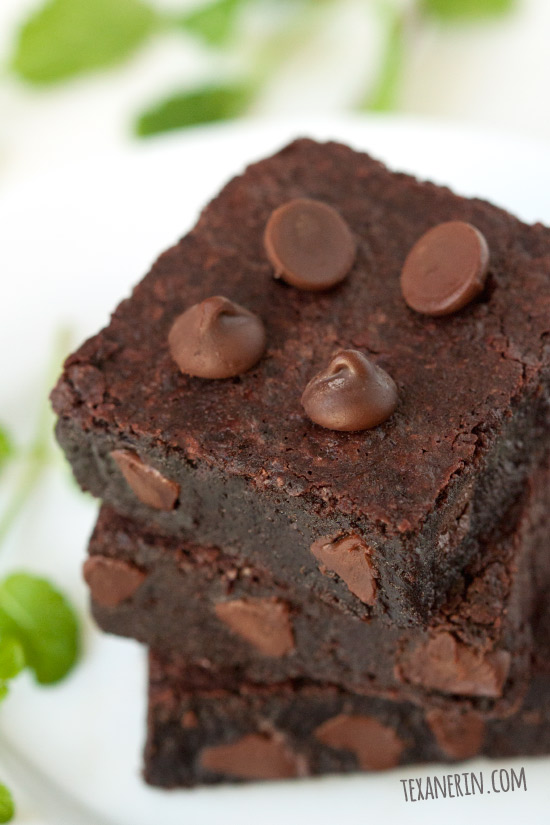 I thought I could do this whole blogging thing while on vacation but I'm always beat at the end of the day and just plop into bed. Luckily, I had this post all ready to go before I left. I hope everyone has a great Christmas!
And for another great healthy pudding recipe, check out this Basic Chia Pudding Recipe!

❀
Healthy Chocolate Mint Pudding (gluten-free, vegan, paleo options)
Prep Time:
Cook Time:
Ready in:
Yield:

1 large or 2 medium / smallish servings
Ingredients
85 grams cold avocado flesh (~ 1/2 avocado)
2 tablespoons Dutch-process cocoa powder
1 medium very ripe cold banana (mine was 120 grams without the peel)
1/4 cup (60 grams) plain Greek yogurt (make sure to use a vegan / paleo yogurt, if necessary)
mint extract, to taste (a few drops should do)
Directions
Blend everything together, except the mint leaves / extract, with an immersion blender or a small food processor until it's very creamy. You can also use a blender if you have a very good one like a Blendtec (my regular blender requires too much liquid for a pudding like this).
Add mint extract, to taste.
Serve immediately. Can be refrigerated for about 4 hours before it starts to taste a little funny.