This Vietnamese Avocado Smoothie is simple, sweet, and creamy. This recipe includes options to make it the traditional way with sweetened condensed milk or the healthier paleo and vegan way with maple syrup and coconut milk.
Vietnamese Avocado Smoothie, Sinh To Bo, is a sweet treat perfect for hot days. Sinh to bo means "butter fruit smoothie" and it perfectly describes this velvety, invigorating drink.
Adding avocados may deter some from trying this amazing smoothie, but rest assured, it's what gives this smoothie a robust creaminess and thickness that you just can't get without it.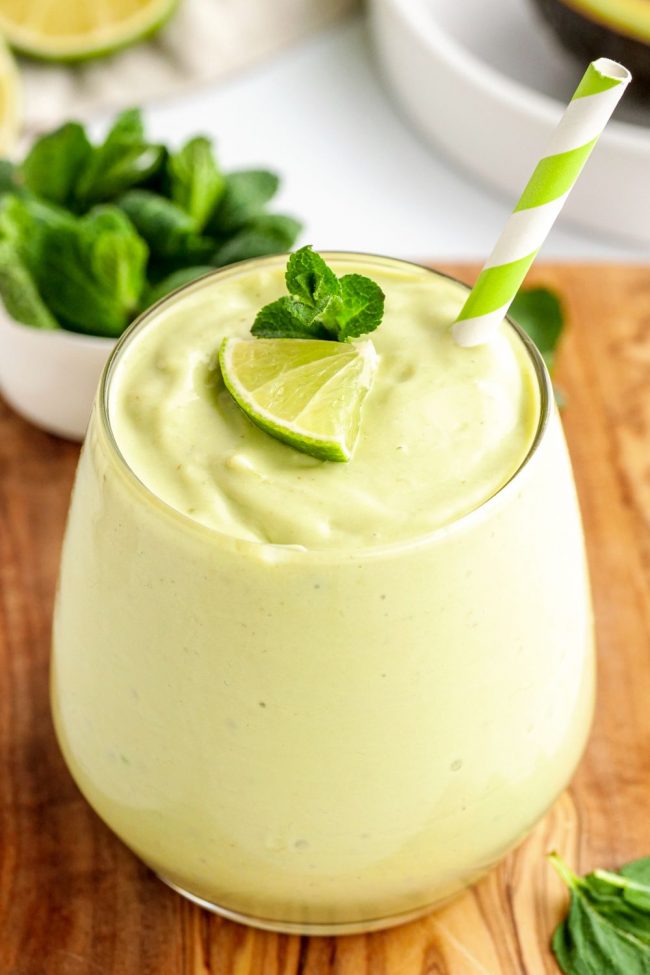 Plus, it adds tons of nutrition and blends so well with the other ingredients that it makes this smoothie quite a dreamy delight.
This isn't a heavy drink – it's rather light, yet filling with a luxurious texture and a rich smooth finish.
Whether you choose to make this avocado smoothie the traditional or healthy way, it'll be thick, creamy and fabulous!
Ingredients
For the healthy vegan, paleo, or keto version:
1 large ripe avocado (I've used as little as half an avocado and also love it that way)
Coconut milk
Ice cubes
Maple syrup or keto sweetener
Pinch of lime zest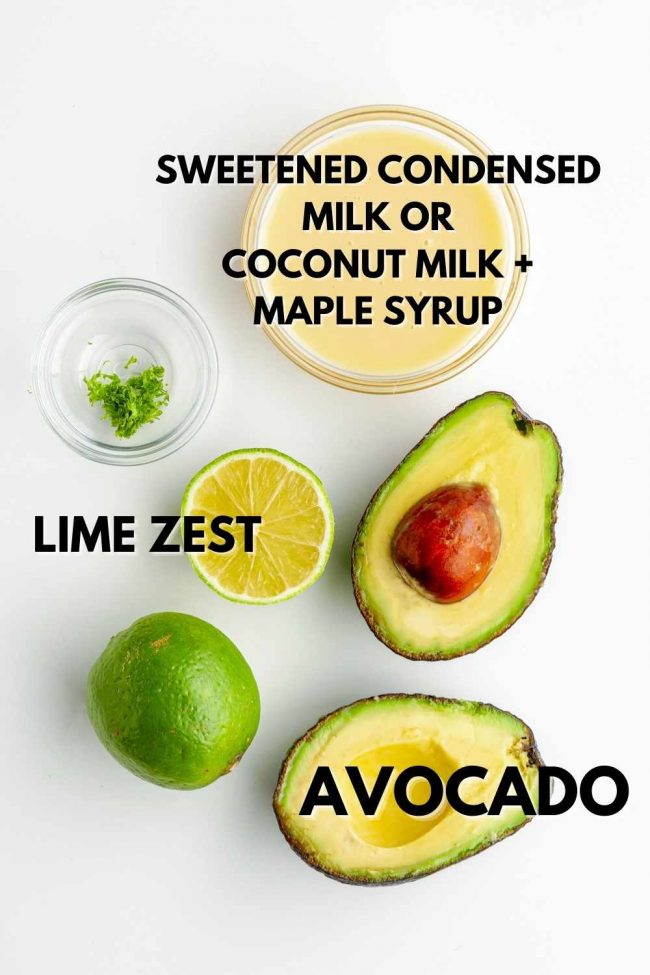 For the traditional version:
1 large ripe avocado
Ice cubes
Sweetened condensed milk
Pinch of lime zest
Milk, if needed, to thin out the smoothie (it's supposed to be super thick, though)
With each version, you can be sipping on this light and refreshing drink in less than 5 minutes.
How to make this smoothie:
Just scoop the avocado flesh into the high-speed blender and add remaining ingredients.
Pulse at the beginning and then blend until smooth.
Pour into a glass and serve cold.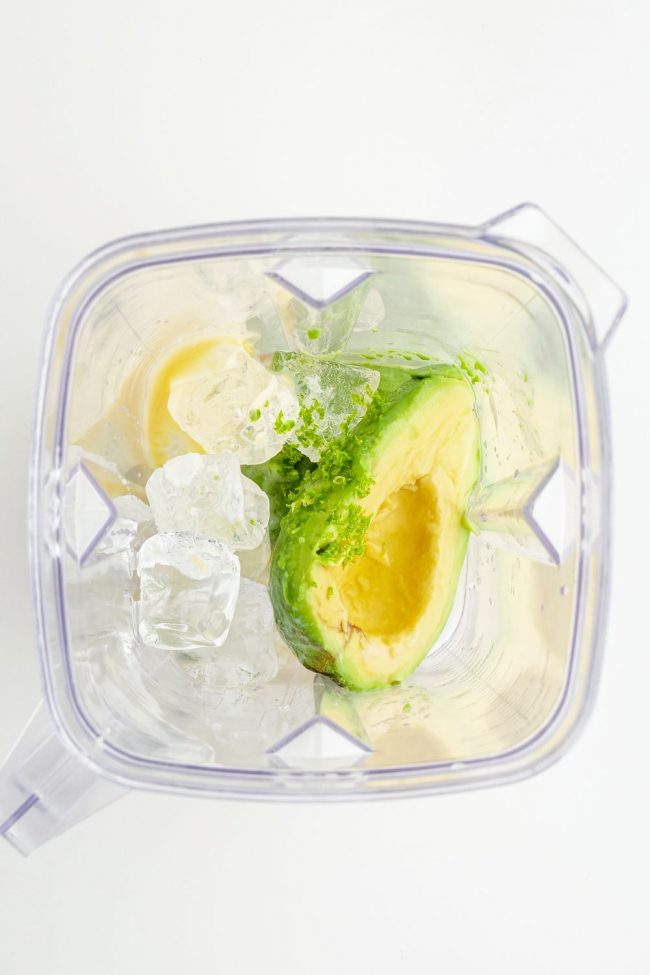 Traditional vs. healthy version
I think the traditional version is more delicious, but I feel like… how could it not be with all that sweetened condensed milk?
Sweetened condensed milk adds a buttery sweet flavor and an extra full-flavored texture. It's not really a fair competition with coconut milk + maple syrup.
Though I have to say that coconut milk + maple is a perfect sub in these Vegan Key Lime Pies – but they're also filled with cashews, which helps make them so creamy.
Can you taste the avocado?
Avocado has a creamy, slightly nutty super mild sweet flavor. The smoothie tastes primarily of avocado, so if you don't like avocado, this recipe's not for you!
I have several other smoothies with "hidden" avocados, though. You can't taste it at all in my Chocolate Avocado Smoothie or any of the other recipes listed below.
By the way, you see both versions in these photos. The healthy version is the one with the darker green straw. They really are identical in appearance!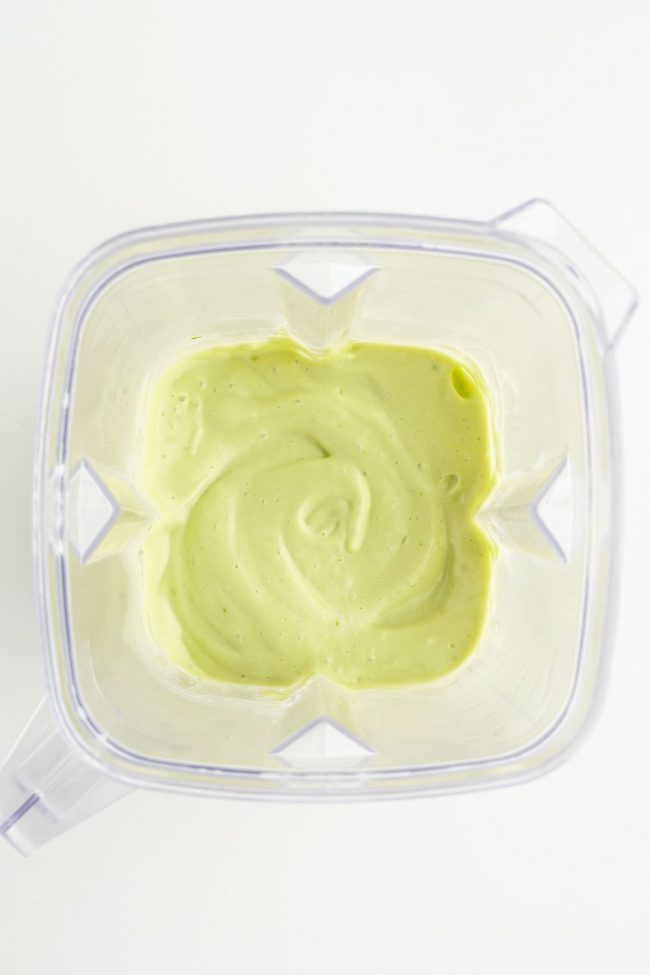 Sweetened condensed milk or canned coconut milk?
If you are going for the traditional version, use sweetened condensed milk.
For the healthy version, the maple syrup with the coconut milk should be sweet enough. If you like, you can add a tad more depending on your taste.
If you're making this smoothie keto-friendly, keep reading – I have extra tips for you below.
Adding milk or a non-dairy alternative will make this smoothie less thick if you prefer it that way.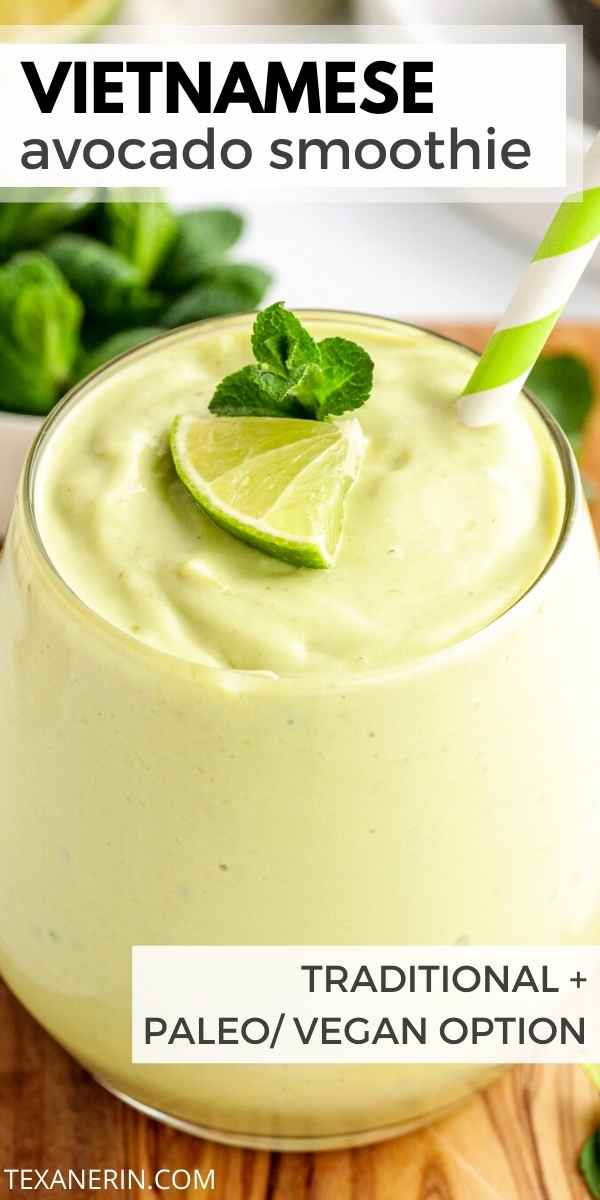 Do I need to use the lime zest?
In my opinion, it's absolutely essential. The smoothie is a bit boring without it.
For more lime flavor, add some lime juice + a bit more sweetener!
Do I really need ice?
I never use ice in my smoothies – except for this one! I think the smoothie is too thick without the ice and it really makes it a more refreshing drink.
Can I use frozen avocado?
Yes, then you're sure to have an extra cool drink! Frozen or fresh avocado works equally well.
If you use a frozen avocado, then it's best to peel and dice before freezing. You should also have a high-speed blender to get this smoothie just right.
You can also freeze the milk of choice in an ice cube tray if you're thinking in advance. Then you can use the milk cubes in place of the regular refrigerated milk. It works just as well with coconut milk but requires a high-speed blender to blend smoothly.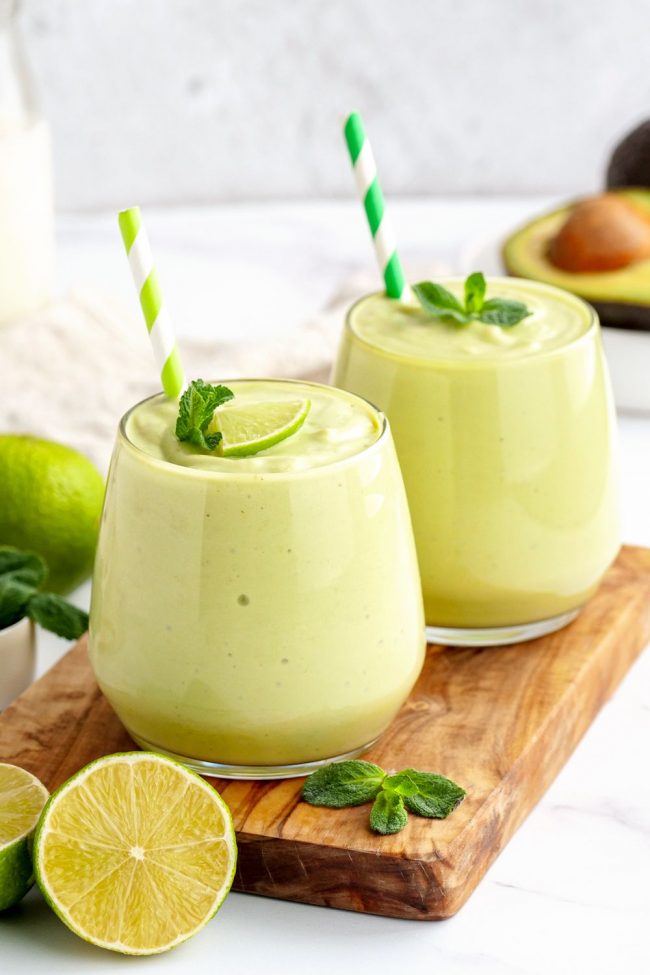 Do I have to use coconut milk for the vegan version?
Although coconut milk is my preference because it adds extra creaminess (like in this Che Thai, another delicious Vietnamese drink), you can use any non-dairy milk of your choice. Almond milk, soy milk, oat milk or cashew milk would work, but know that there might be slight taste differences.
Keep in mind that you need to use paleo-friendly milk if you need your smoothie to be paleo!
For the keto readers:
Maple syrup isn't keto-friendly because it is high in sugar and carbs.
To make a smoothie that is low in carbs, you can use stevia or a sugar alternative sweetener instead of maple syrup.
I used about 1 1/2 tablespoons of the keto sweetener mix I use in all my keto recipes.
To make a big batch of that sweetener
Just mix together:
1 pound (453 grams) xylitol = 2 1/4 cups
12 ounces (340 grams) erythritol = 1 1/2 cups + 3 tablespoons
2 teaspoons pure stevia powder
Once you have it mixed up, then you can make these other delicious low-carb recipes (you can also make them without first making a large batch of the sweetener, but then you have to deal with crazy small measurements):
Other options
I've tried this smoothie with Lakanto Sugar-free Maple Syrup and didn't like it. But I have not liked that product in any of the dozen recipes I've tried it in. If you like that sweetener, it should be great in this smoothie!
ChocZero also has Sugar-free Maple Syrup that is also keto. If you give that one a try, please let me know how it works out!
If you're new to keto, here's a list of the best keto sweeteners and those you want to avoid in case you're interested.
Also, make sure to use keto-friendly milk. Full fat, unsweetened coconut milk adds lots of good fats and creaminess with minimal carbs, so it's your best choice for this smoothie.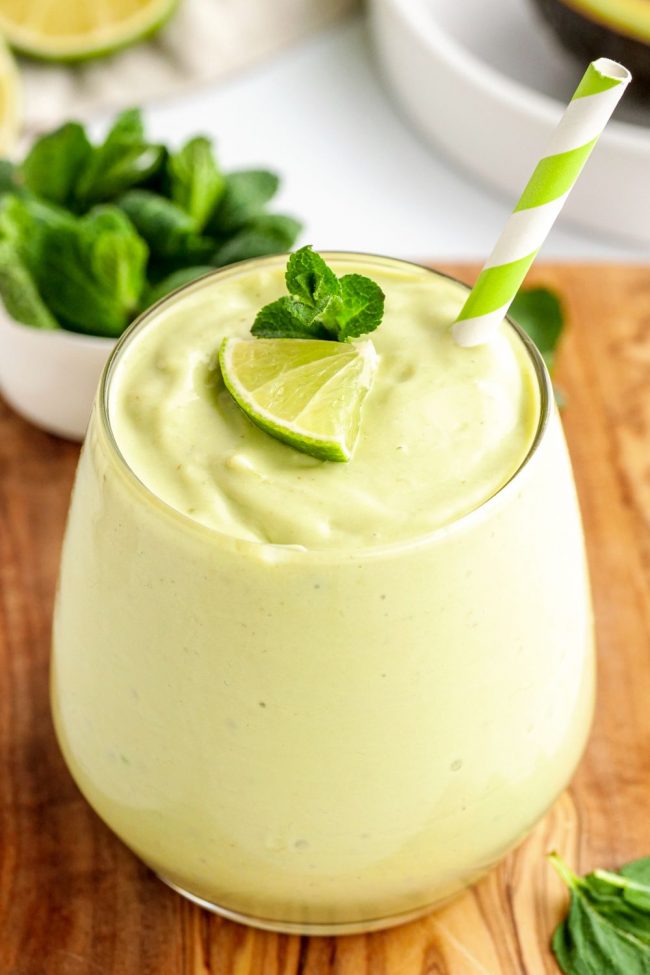 How to store:
Like any avocado smoothie, it's best to drink this immediately.
Avocados will turn brown once oxidized, but if you're rushed in the mornings, you can make this the night before and store it in an airtight container in the fridge for up to 24 hours.
Just stir it well before you serve. The oxidized parts will blend beautifully into green, like magic.
Do I have to have a high-speed blender?
It's preferred because you are blending ice cubes or frozen avocados and the smoothie is really quite thick. If your regular blender can handle really thick smoothies, then you can use it.
Tips:
The key to any avocado smoothie is a ripe avocado, and it can be tricky to buy the perfect one. So I have this Ultimate Guide to Avocados that will answer all your questions.


Don't over ice the smoothie, it will dilute the drink and it won't be as tasty as you would like.


Not sweet enough? You can add sweetener or a dash more of condensed milk to sweeten it further.


If you want to make this smoothie even more fun, put the blended contents into a popsicle mold and freeze.


Benefits of avocados:
Avocados are a superfood with amazing health benefits. They're loaded with essential nutrients, are naturally cholesterol-free, sugar-free, gluten-free, low in sugar. They're also high in fiber. And I'm just getting started.
One large avocado (150 grams) has 240 calories, 22 grams of fat, 13 grams of carbohydrates, 3 grams of protein, 10 grams of fiber, and is low in sodium.
They're also a good source of 20 vitamins and minerals like vitamin C, vitamin K, vitamin E, folate and potassium. Which is great for a healthy immune system, healthy bones, and lowering blood pressure.
Plus, they're great for healthy skin and hair, good for lowering the risk of depression and help to fight cancer.
If you're worried about the 22 grams of fat – don't be. It's a healthy fat! It helps improve insulin sensitivity and the fiber content helps lower blood sugar.
They're also great for weight loss because they keep you satisfied longer. So don't worry, the fat in avocados adds many healthy benefits.
Adding avocados to your diet is not only a delicious choice but a healthy one!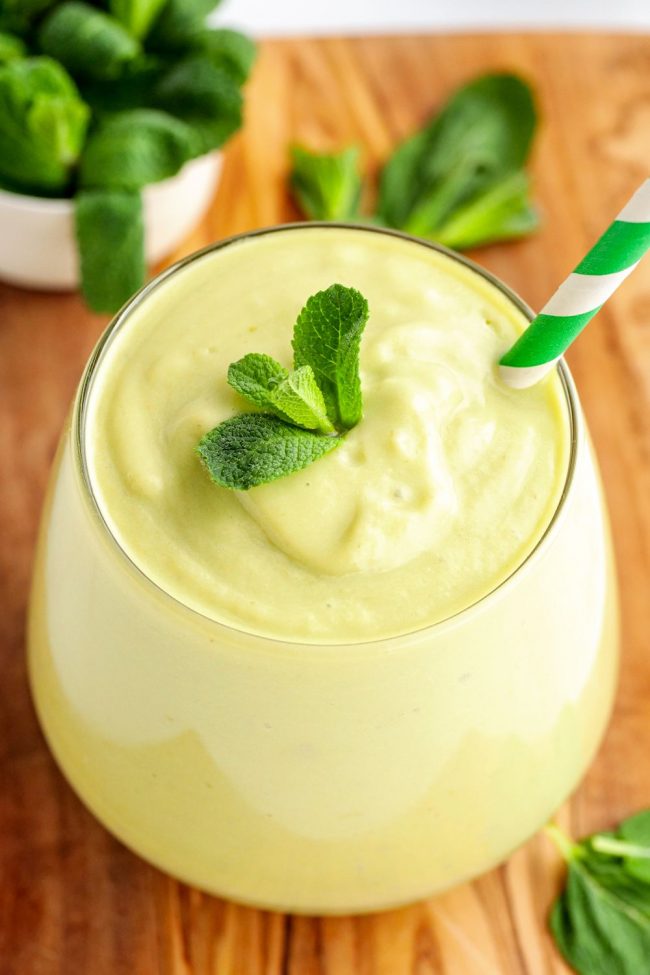 Other avocado recipes:
Make use of the summer season and serve up these creamy avocado treats, and cool down on hot sultry days.
That's it! I hope you'll love this Vietnamese avocado smoothie, and if you decide to make it or any recipe you find here, I'd love to hear about it. Thanks!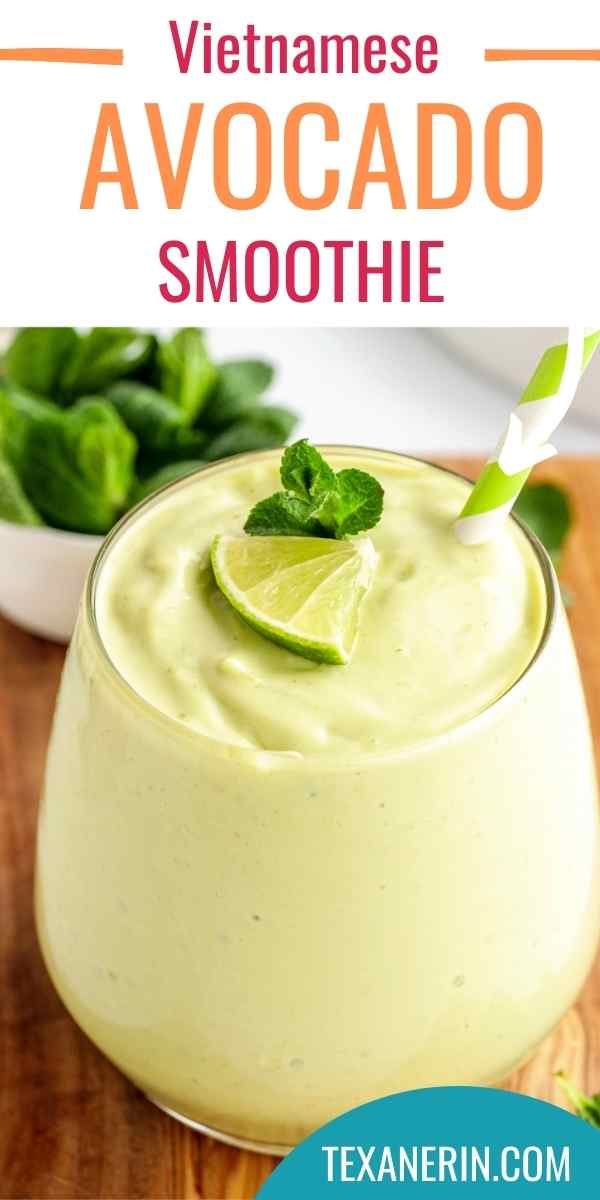 ❀
Vietnamese Avocado Smoothie
Prep Time:
Cook Time:
Ready in:
Yield:

2 smoothies
Ingredients
For the healthy, vegan, keto + paleo version:

1 large ripe avocado (mine was 150 grams of flesh)1
1/2 cup (120 ml) canned coconut milk
1/2 cup ice cubes
2-3 tablespoons maple syrup (or a keto sweetener)
pinch (or more) lime zest – I prefer about a teaspoon

For the traditional version:

1 large ripe avocado
1 cup ice cubes
1/4 cup (60 ml) sweetened condensed milk
pinch (or more) lime zest – I prefer about a teaspoon
1/4 cup (60 ml) milk, if needed, to thin out the smoothie if you don't want it super thick
Directions
Scoop the avocado flesh into the high-speed blender and add remaining ingredients. Pulse at the beginning and then blend until smooth. Pour into a glass and serve cold.
Notes
I've used as little as half an avocado and also love it that way. If you do that, you'll likely want to decrease the sweetener a little bit.