Is vanilla extract gluten-free? Pure vanilla extract is naturally gluten-free, but if you're extremely sensitive to gluten, you may want to find one that's tested and labeled as gluten-free. I've included a list of brands below!
What is vanilla extract?
Vanilla extract is a popular ingredient in baking. It is extracted from vanilla beans as a liquid and comes with a very unique taste and aroma.
Vanilla extract not only gives pastries and sweets a robust flavor but also brings out the flavors of the other ingredients. Normally, this extract comes in different qualities.
While some low-quality brands are cheap and readily available, the best quality brands can be quite costly.
As we stated earlier, vanilla extract is made from vanilla beans which are naturally gluten-free. In the manufacturing process, vanilla beans are added to water and alcohol to produce the vanilla extract. By the way, if you're vegan, you might want to check out my post on Is Vanilla Extract Vegan?
As such, some people might worry that some gluten may find its way to the extract if gluten-grain-containing alcohol is used.
However, most manufacturers argue that any alcohol produced through the distillation process contains no gluten and is safe for celiacs. Some companies go the extra mile by using alcohol produced from non-gluten ingredients. That way, they eliminate the chances of your vanilla extract containing gluten.
If you're still worried about it, there are brands of vanilla extract that are produced without alcohol.
That said, to ensure that the vanilla extract you bought has no gluten, it is always safe to read the labels.
What kind of vanilla to avoid
I'd recommend only using high-quality vanilla extract.
Pure vanilla extract, though expensive, shouldn't contain traces of gluten. On the other hand, other cheap imitations are probably made from alcohol that is not distilled. To make matters worse, some low-budget manufacturers even use flavors and additives which contain gluten.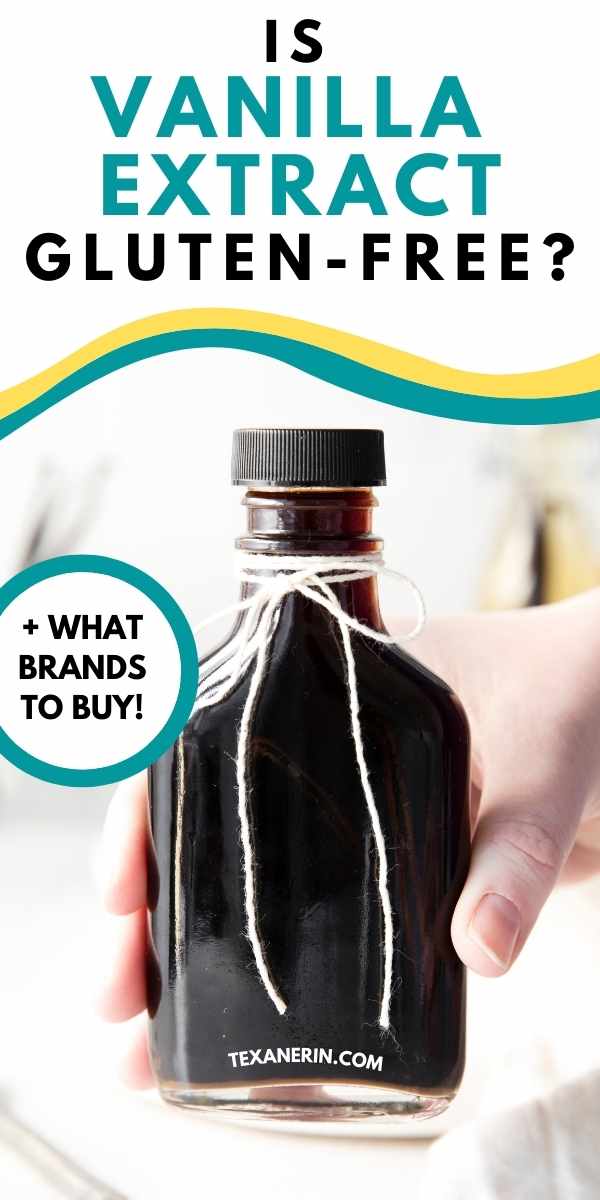 Gluten-free Vanilla Extract Brands
Let's look at top vanilla extract brands that are labeled as gluten-free right on their packaging! The following information is accurate as of 4/21/2022.
Companies can change their recipes and production methods at any time, so always check the bottle. Also, note that I'm referring to products here that are pure vanilla extract – not flavoring.
Now if you find yourself having a craving, be sure to check out one of these gluten-free treats that contain vanilla!
Since I listed some recipes with oats, you might be asking Are Oats Gluten-free? If so, hop on over and check it out.
I hope this helped answer your question! Have any others? Leave them below and I'd be happy to answer them for you!