This puckery and moist lemon pound cake is easy to make and a guaranteed crowd pleaser! With gluten-free and all-purpose flour options.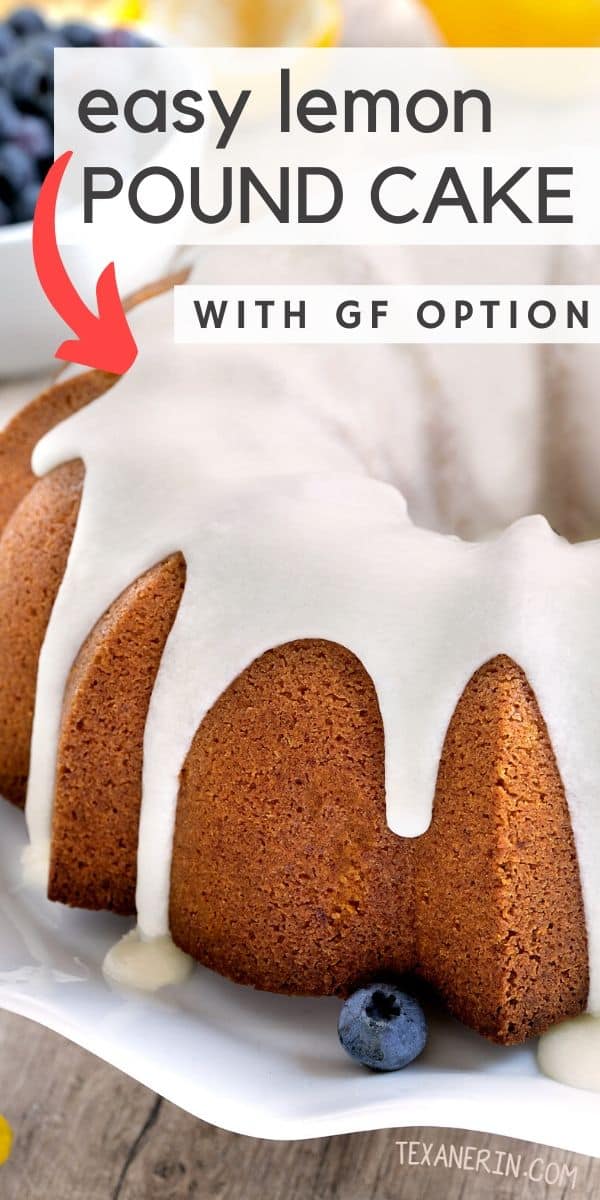 This recipe comes straight from The Weeknight Cookbook: Simple Family-Friendly Recipes for Everyday Home Cooking, which was released just last week and written by Mary Younkin of Barefeet in the Kitchen.
When I saw that Mary was looking for recipe testers last year, I immediately signed up. I remembered the chaos of the recipe testing process when I was writing my book (mainly people signing up to test recipes and then disappearing) and since I needed to prepare dinner anyway, I made as many recipes as I could!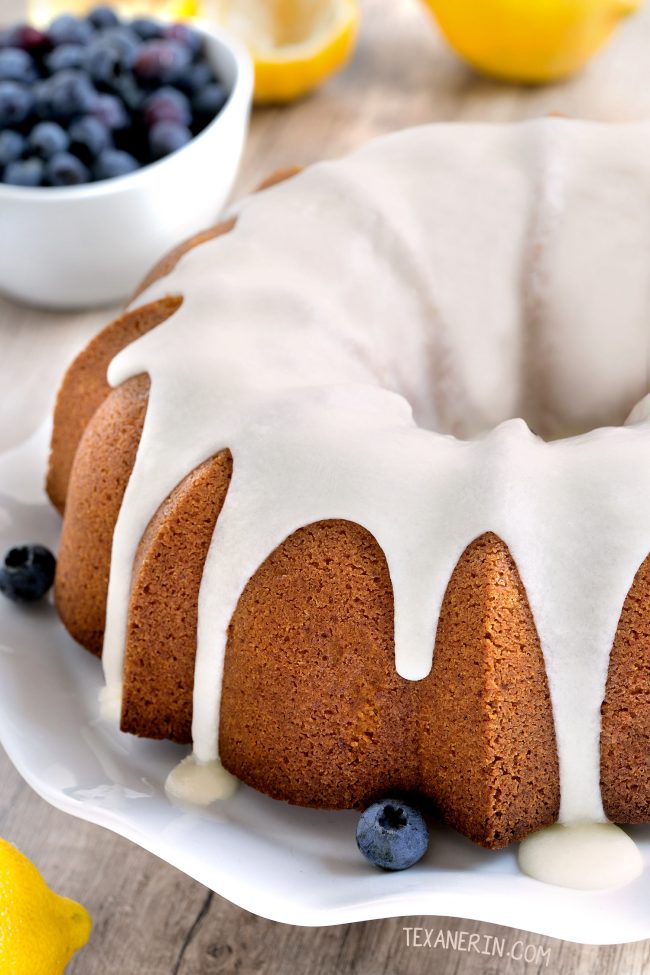 This lemon pound cake is the fifteenth recipe I've made from this book! And seriously, I've loved them all. I'm a super picky eater. I'd be happy eating chicken fingers, pizza and hamburgers every day for the rest of my life. I just don't like much savory food. So I was surprised when I found so many recipes that I actually wanted to try in this book. And most of them are in the regular rotation now!
When I first started testing the recipes, it was a little hard because I never make savory recipes without changing things up. It's just how I cook. But after the first few recipes, I didn't have that urge because everything was perfect as written. There were even a few where I thought, "Is this going to taste like much…?" and then we were blown away by how flavorful it was. And then I made it again and again.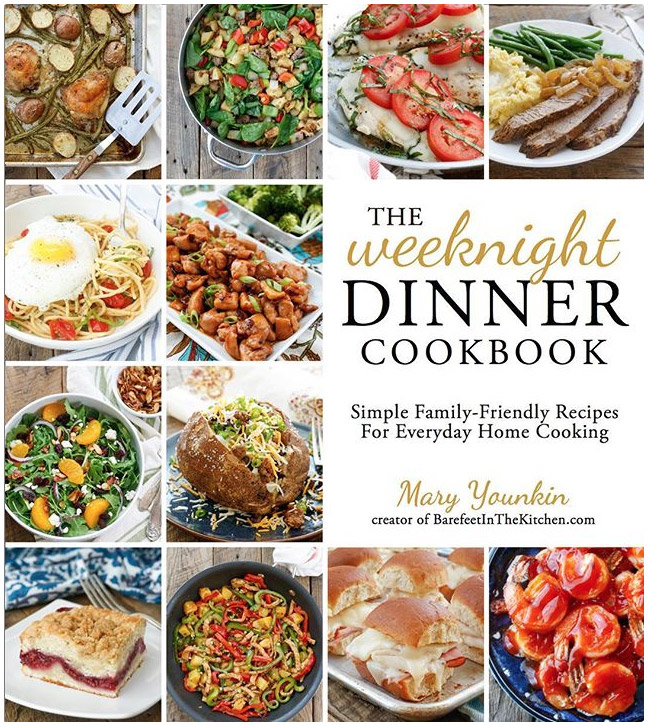 What I've Tried So Far:
Pan-Fried Pork Medallions with Creamy Wine Sauce
Korean Beef with Quick Asian Pickles
Lemon Butter Pasta with Tomatoes
Italian Herb Chicken Bites
Honey Soy Broiled Salmon
Philly Cheesesteak Potato Skillet
Cheesy Ranch Chicken with Potato Wedges
Rosemary Garlic Roasted Sausage with Onions and Peppers
Banana Nut Pancakes
Slow Cooker Rosemary Potato Soup with Ham
Crispy Garlic Paprika Chicken
Maple Herb Roasted Carrots
Cajun Roasted Potatoes
Raspberry Almond Coffee Cake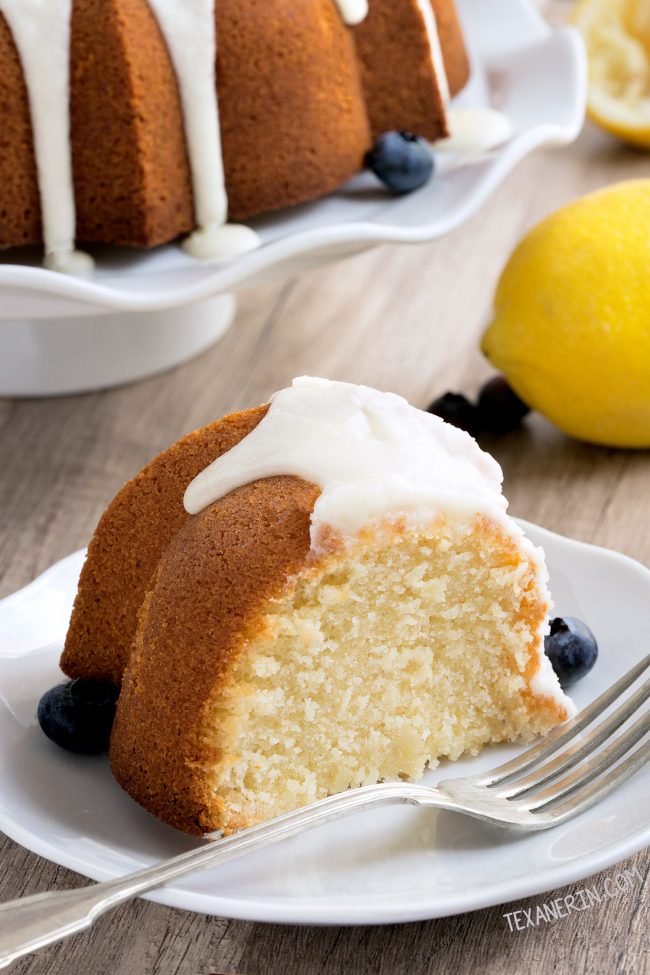 By the way, all of the recipes can be made gluten-free. For the recipes that call for flour, a gluten-free alternative is given. Some recipes call for pasta, breadcrumbs and things like that where you can just use a gluten-free brand.
For my non-US readers (or just people who like precision!) – all of the recipes have gram measurements! Recipes that call for things like "2 apples" and the like drive me bonkers because I have no idea how large the author's apples were. All of the measurements and directions in this book are very clear and easy to follow.
The focus is on main dishes, with some simple side dishes, condiments / seasoning mixes and desserts. There are "only" 10 desserts in this cookbook but I chose to share a dessert to get your attention. :D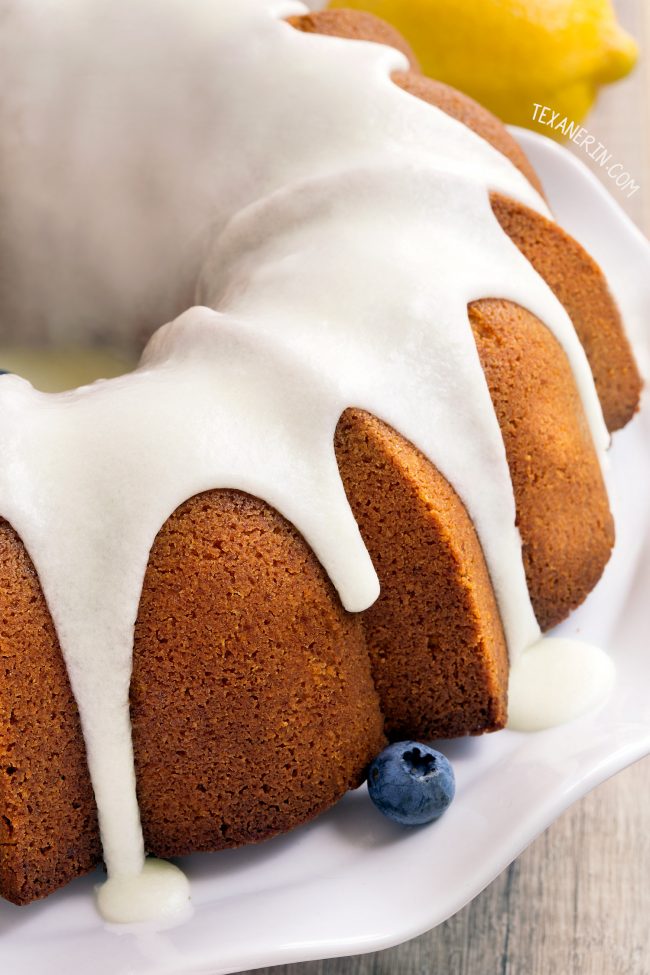 I thought I didn't like pound cake before making this recipe. They always seemed a bit too dry and dense for my taste. This lemon pound cake is dense, but in a nice way – and wonderfully moist. And it's exploding with lemon flavor with 2/3 cup lemon juice and 1/4 cup of lemon zest! Definitely my kind of cake as I don't like subtle.
If you're used to my recipes, which are usually a little less sweet than their traditional counterparts, you may want to skip the glaze or only use half like I did. You could even omit it – the cake is great on its own! And you'll probably want to cut the slices thinner than I did.
And if lemon isn't your thing, try this Gluten-free Pound Cake Recipe!
I haven't tried this lemon pound cake cake with white whole wheat flour but I'm pretty sure it'd work! I wouldn't recommend regular whole wheat or whole spelt, though. The cake pictured here is the gluten-free version and it really had a great, velvety texture!
And if you want to add berries, try this amazing looking Lemon Blueberry Bundt Cake!
I hope you'll check out The Weeknight Cookbook! It's honestly already my most used cookbook and I can't recommend it enough.
If you're looking for another gluten-free cake, try this Kladdkaka (Swedish sticky chocolate cake). I'm also intrigued by this Gluten-free Bundt Cake!
If you try this lemon pound cake, I'd love to hear how it came out! Thanks. :)
❀
Lemon Pound Cake (gluten-free option)
Prep Time:
Cook Time:
Ready in:
Yield:

12-16 slices
Ingredients
Cake:

3⁄4 cup (168 grams) unsalted butter, room temperature
2 1⁄2 cups (500 grams) granulated sugar
4 large eggs
2 teaspoons (10 ml) almond extract
2/3 cup (160 ml) fresh lemon juice, from about 5 large lemons
1⁄4 cup (24 grams) lemon zest, from about 4 large lemons
2 1⁄4 cups (270 grams) all-purpose flour or gluten-free flour mix1
1 teaspoon (3 grams) baking powder
1⁄2 teaspoon kosher salt

Glaze: (I only used half of this)

2 tablespoons (28 grams) unsalted butter
1 1⁄2 cups (180 grams) powdered sugar
2 tablespoons (30 ml) fresh lemon juice
1⁄2 teaspoon almond extract
Directions
To make the cake, preheat the oven to 325°F (170°C, or gas mark 3). Arrange an oven rack in the center of the oven. Thoroughly grease and lightly flour an 8- or 10-cup (1900- or 2400-ml) Bundt pan.
In a large bowl, beat the butter and sugar together on medium speed until fluffy crumbs form. Add the eggs and almond extract, and beat again until smooth. Add the lemon juice and zest, and beat on low speed to combine. Add the flour, baking powder and salt. Beat again, just until combined.
Pour the batter into the prepared pan. Bake for 60 to 65 minutes, until golden on top and light brown on the edges. Cool in the pan on a wire rack for 15 minutes. After 15 minutes, place the cooling rack on top of the cake, hold the sides firmly and invert the pan over the rack. The cake should drop smoothly out of the pan. Tap firmly on the pan with a wooden spoon, if necessary, to free the cake from the pan. Let the cake cool completely before glazing.
To make the glaze, melt the butter in a small glass bowl. Add the powdered sugar, lemon juice and almond extract. Whisk together until smooth. The glaze should pour off the spoon in a white stream. Add a teaspoon (5 ml) more juice to thin it or 1 to 2 tablespoons (8 to 16 g) more powdered sugar to thicken it, if necessary. Drizzle the glaze over the cake. Store at room temperature, loosely covered, preferably not airtight. This cake will keep nicely and stay very moist for 3 or 4 days.
Notes
For the gluten-free version, use:

1 1⁄2 cups (222 grams) brown rice flour
2/3 cup (85 grams) tapioca starch
1⁄3 cup (59 grams) potato starch
1 1⁄2 teaspoons (7 grams) xanthan gum
Recipe from The Weeknight Cookbook by Mary Younkin
As an Amazon Associate, I earn from qualifying purchases. For more info, see my disclosure.