This mangorita is refreshingly sweet, tangy, and ideal to reel in warm weather. It's made with juicy mango, a squeeze of citrus, and is maple-sweetened. It's also naturally gluten-free and vegan.
It's delightfully smooth, bright, and just sweet enough. I posted this Raspberry Margarita last year, which has a bit more pucker but is also great for cooling off.
I accidentally ordered too much frozen mango recently, so I thought it'd be fun to make a mango version.
And many other mango recipes that are coming your way soon. :)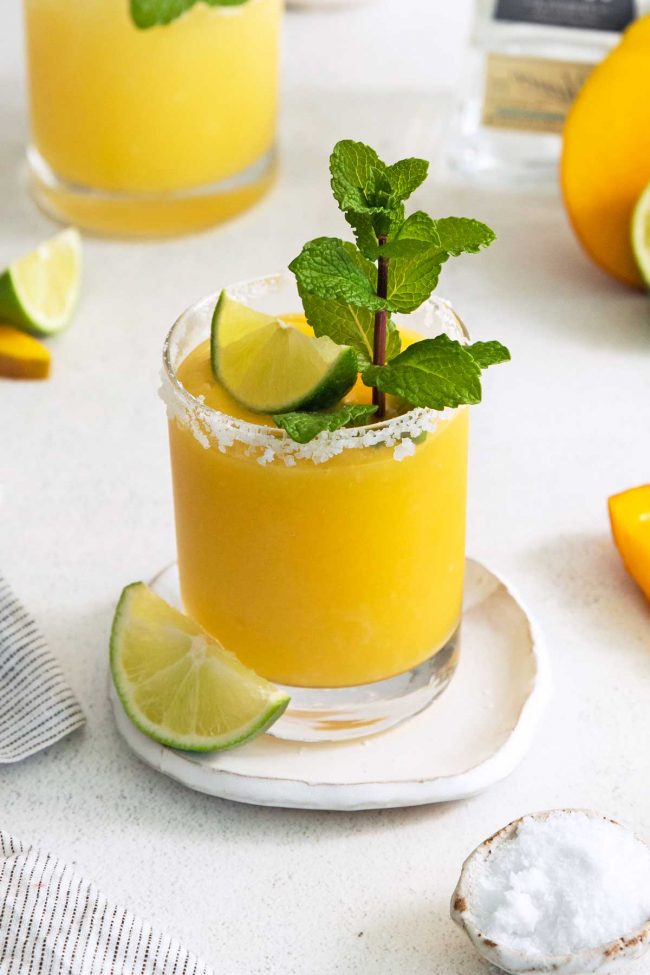 Tips
I use frozen mango, but you can use fresh if you prefer.


Add frozen mango to the bottom of the blender so you can get it as smooth as possible.


When you blend the margarita, it will be thick like a sorbet. If it's difficult on your blender, step away and let the mango thaw a little to make it easier to blend.


Salting the rim of the glass is optional, but salt helps bring out the sweet notes and enhances the flavor.


Add more maple syrup if it's not sweet enough.


Prefer your margaritas on the rocks? Using fresh mango is better, just blend the mango until smooth with the other ingredients and pour over ice.


If you don't have maple syrup, you can use simple syrup or honey if you're not vegan.


If you use honey for a non-vegan option, I recommend blending fresh mango and the other ingredients before adding the ice and mixing until combined.


If you like your margaritas on the puckery side, add more lime juice to taste.


Don't add more ice than the recipe calls for, or you'll get an icy mixture.


Garnishing with mint and a lime wedge is all you need for a pop of color to make this mango margarita look extraordinary.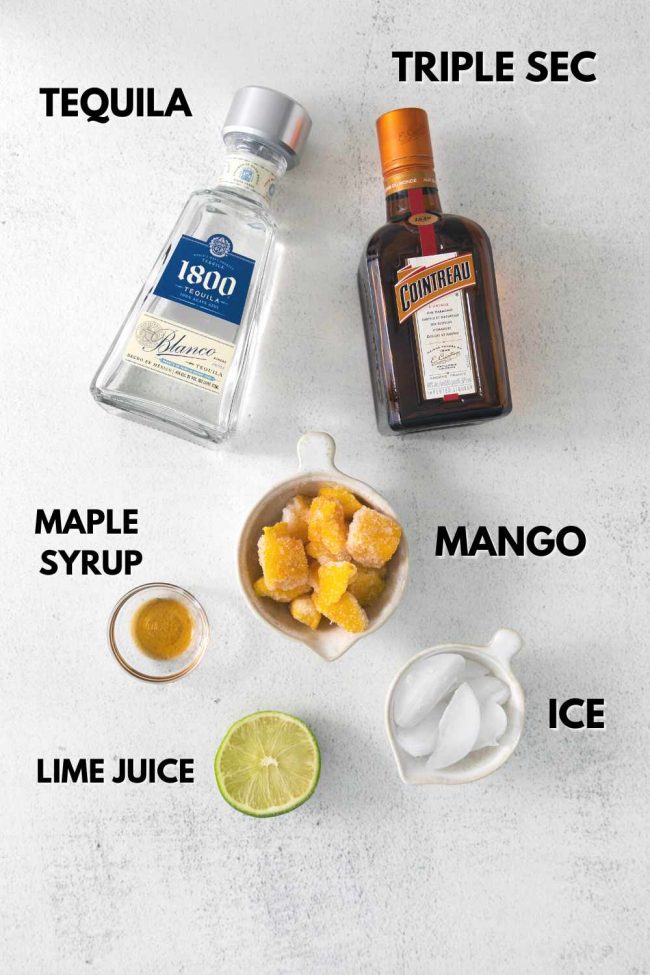 What tequila to use?
I would stick with whatever tequila that you like.
I like to use good-quality white tequila. This type is young and only aged a couple of months, and because it's aged in stainless steel containers, it's not as oaky as gold tequila. White tequila is crisper and clearer in appearance, so it mixes well in cocktails.
White tequila also balances well with fruit and sweeter flavors.
Aged gold tequila has a distinct taste because it's aged in oak, and that strong, woody flavor makes for a great sipping drink.
Caramel coloring is usually added to gold tequila before fermentation, so if the tequila doesn't say 100% agave, then coloring has been added to obtain that gold color. If you're going for a gold tequila, I recommend 100% agave.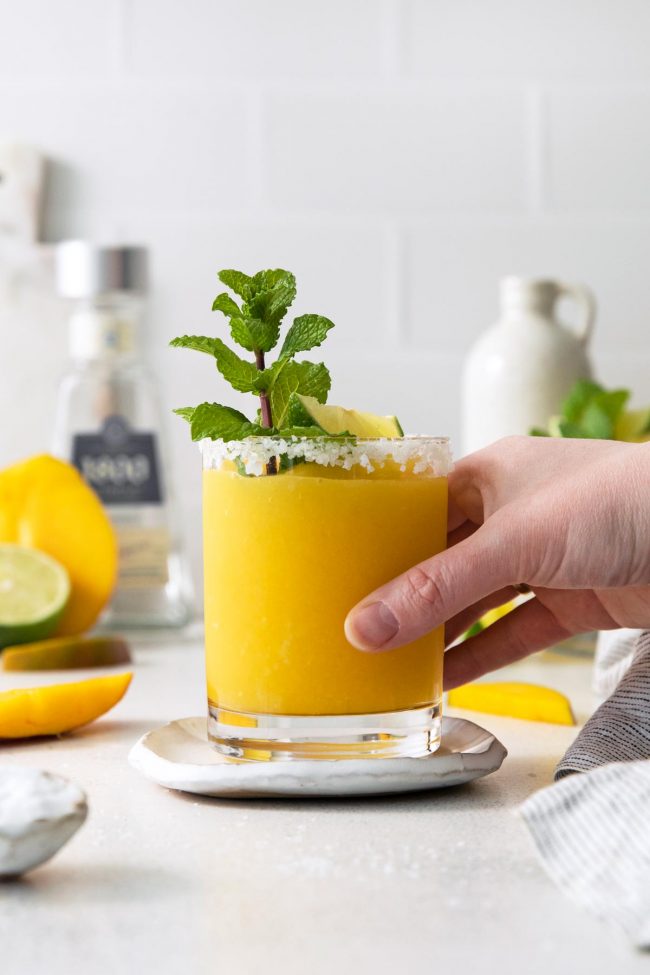 Is triple sec the same as Cointreau?
Not exactly. Both are a type of orange liqueur, and Cointreau is a type of triple sec, but there are differences.
If a recipe calls for triple sec, then you can use Cointreau, but if a recipe calls for Cointreau, then it's recommended that you use Cointreau, and not any random type of triple sec, to get the flavors intended in the recipe.
Triple sec is less expensive than Cointreau but is also lower quality. Cointreau is complex and has a stronger yet smoother flavor than triple sec.
Because of the strong mango flavor in this cocktail, the orange liqueur isn't as important, so you can use whichever you prefer.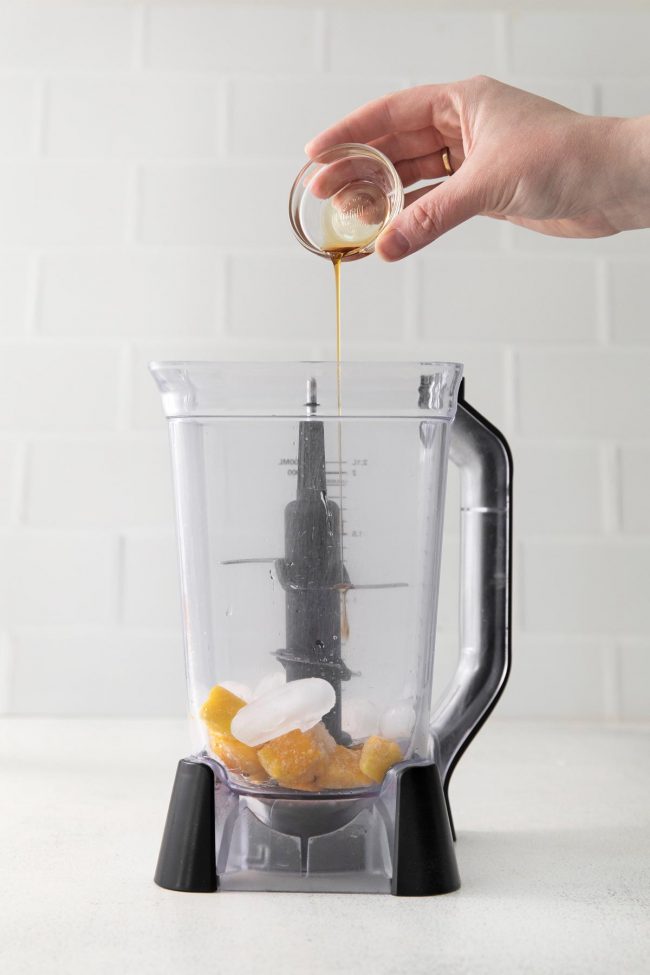 Must I use tequila?
The signature ingredients in margaritas are tequila, triple sec and lime juice.
But there's always room to play around with the ingredients. This citrusy Gin Margarita was made especially for those who don't care for tequila.
Rum goes well with mango, so you could give it a try. I haven't tasted it, but I'd love to hear how it turns out if you do.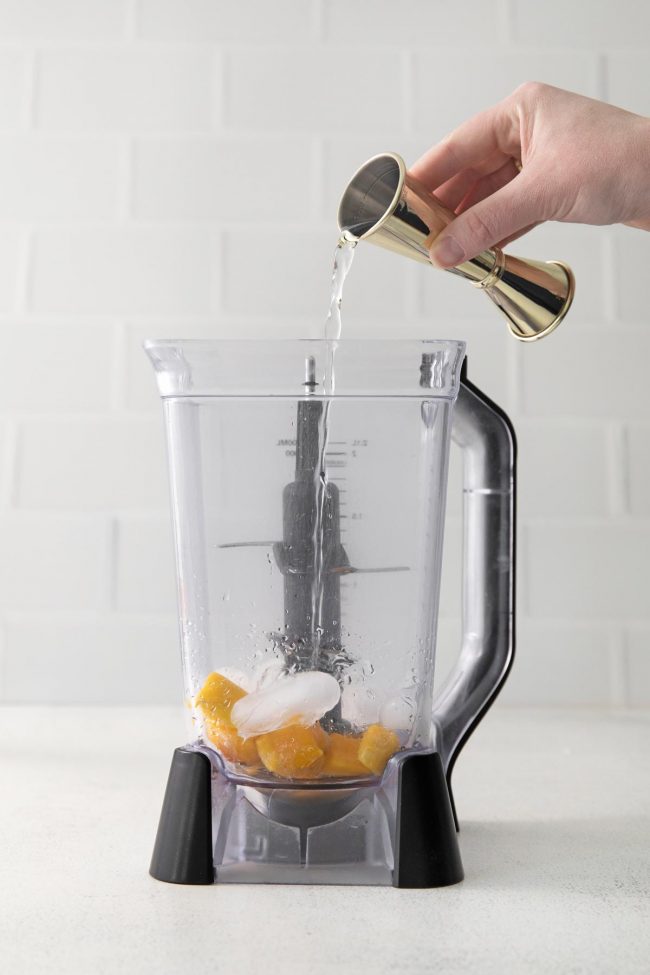 Maple syrup in a margarita?
Yes, that may sound unusual, but it perfectly sweetens this cocktail and pairs well with mango.
It doesn't have a strong maple taste if you don't use one of the more intense maple grades. Even if you use a dark-grade maple syrup, I doubt you'd be able to taste the maple (though I haven't tried it, so I can't say for sure!).
I love using natural sweeteners in my cocktail recipes. You can even use coconut sugar in some recipes, like this Dawa Drink.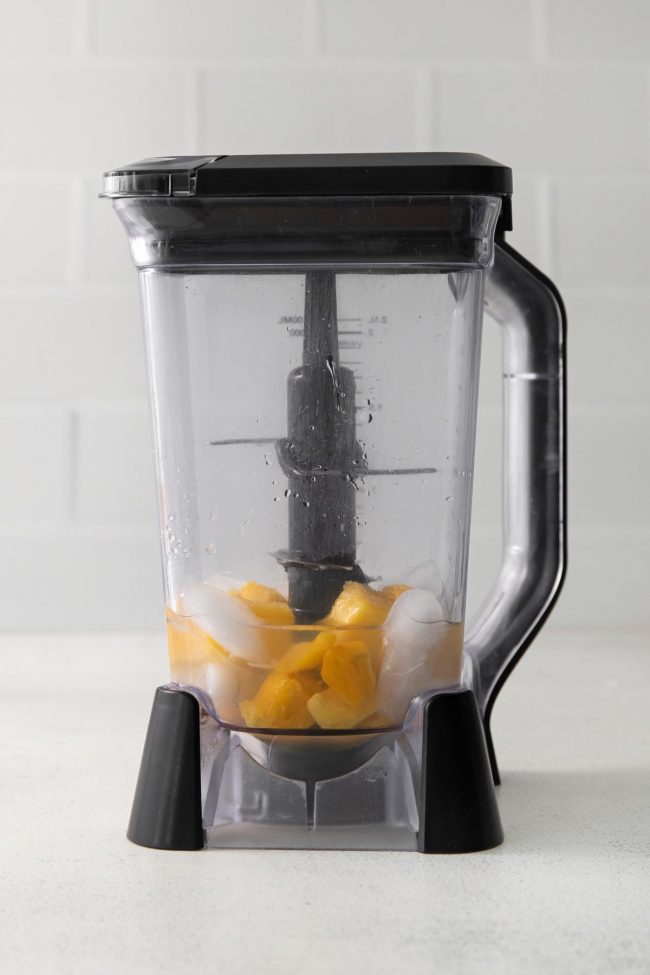 Gluten-free and vegan
According to Barnivore, only 4% of tequila brands aren't vegan.
To ensure you're buying the right brand, read the manufacturer's website to ensure there aren't any ingredients objectionable to your vegan lifestyle.
Most triple sec brands are vegan-friendly, meaning they have not been made with animal products, and using the Barnivore guide above, we see that Marie and Brizard Triple Sec Liqueurs are not vegan.
Cointreau is vegan and gluten-free, and most brands of triple sec are as well. But always google whatever brand before buying, just to make sure.
Also, all of the ingredients in this margarita are gluten-free due to the distillation process.
Pure, distilled tequila made from blue agave is considered gluten-free. Even if it's mixed with other sugar, it's safe for people with celiac disease.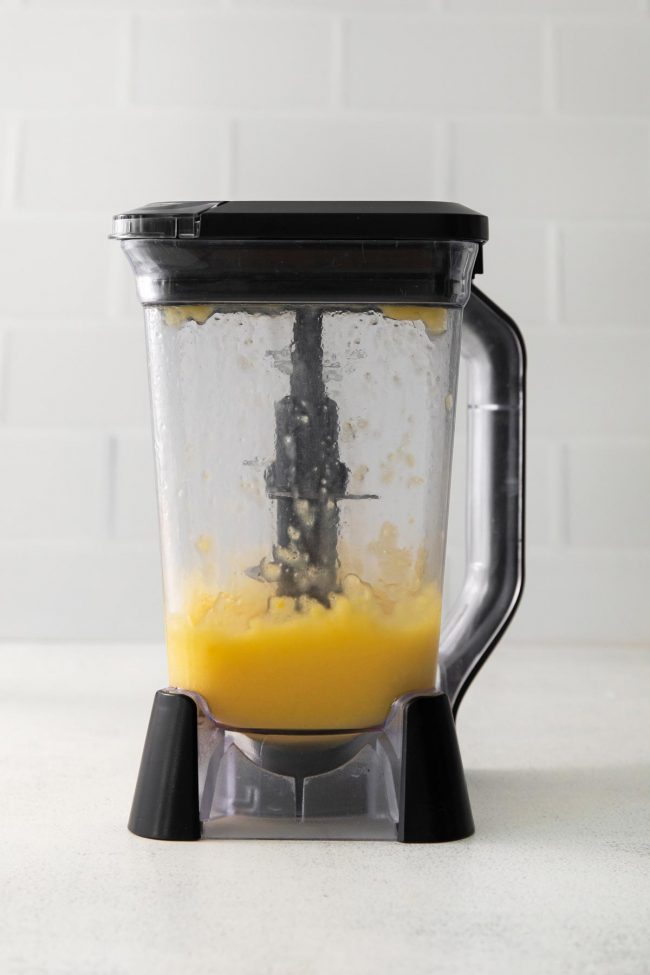 Sweetener
You can easily make simple syrup if you'd rather not use maple syrup. You just need 1/2 cup of water and 1/2 cup of sugar. Dissolve the sugar in boiling water until it's clear. Let it cool and put it in a sealed container and refrigerate.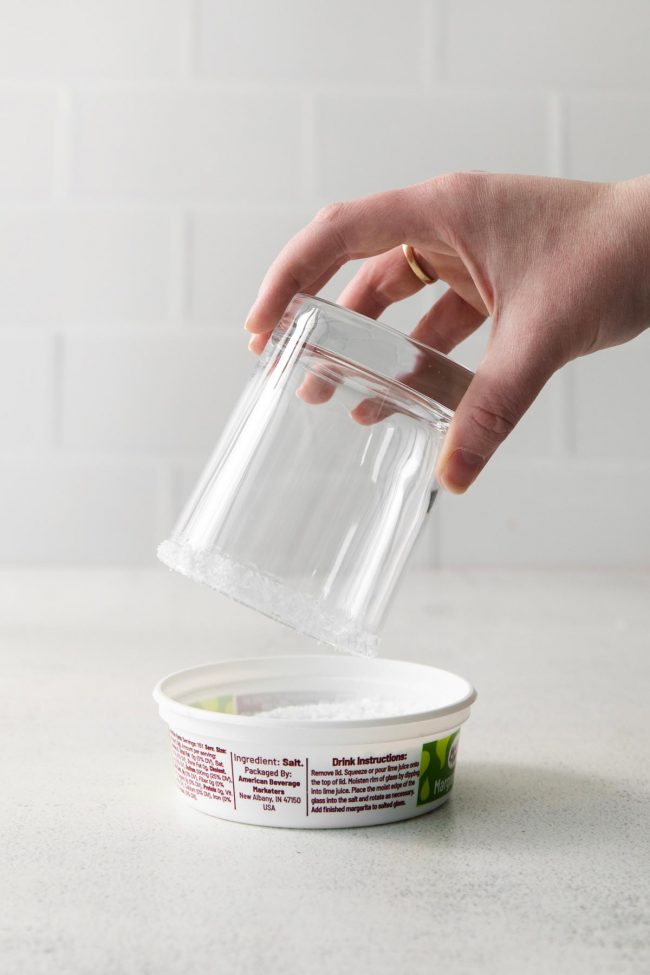 More refreshing drinks
If it's warming up in your neck of the woods, any one of these drinks will help you cool down!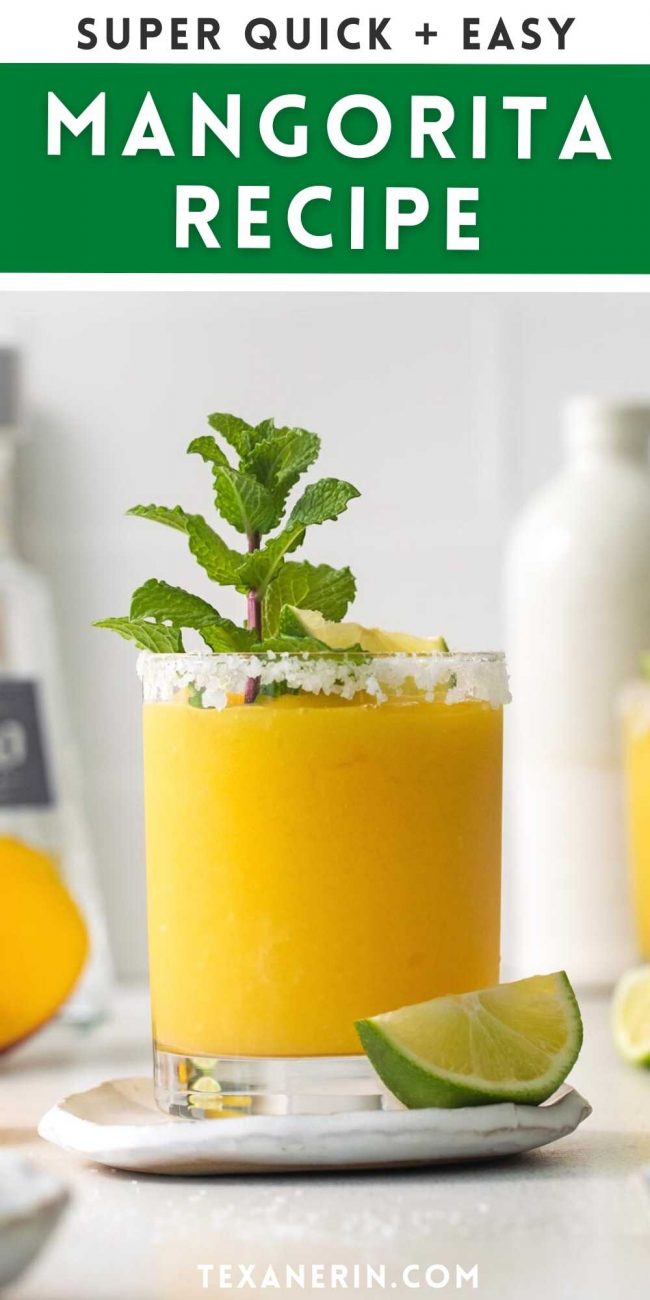 Non-alcoholic drinks
I hope you'll love this mango margarita as much as we do! If you try it, please comment below so we can hear how it went. Thanks. :)
❀
Mangorita
Prep Time:
Cook Time:
Ready in:
Yield:

1
Ingredients
Rim:

Sea salt
Lime wedge

Mangorita:

.5 oz (1 tablespoon) triple sec or Cointreau
2 oz (1/4 cup) tequila
.75 oz (1 ½ tablespoons) lime juice
2 oz (56 grams) frozen mango
1 teaspoon maple syrup or simple syrup
1/4 cup ice

Garnish:

Mint
Lime wedge
Directions
Rim the glass:

The recipe yields ½ cup (excluding the ice). So pick a glass on the smaller side. Place some sea salt in a shallow dish.
Take a lime wedge and use it to run all around the rim of the glass. Make sure it's wet all the way around the rim.
Dip the wet rim of the glass into the salt to coat the glass in salt.

Make the mangorita:

Add all the margarita ingredients but the ice to a blender. Blend on high until well combined and no chunks of mango remain.
Add the ice and blend.
Garnish with mint and a lime wedge, if desired.