This easy pumpkin cheesecake recipe is failproof and made in a muffin pan! They have a delicious and easy homemade chocolate cookie crust and can be made gluten-free, whole wheat or with all-purpose flour.
First of all, if you need a vegan version, try my vegan pumpkin cheesecake! It's also paleo and so, so delicious.
Does everyone already have their Thanksgiving menu planned? I haven't planned a thing.
I don't even know of anyone hosting a Thanksgiving dinner this year (if that sounds strange, it's because I live in Germany!). I suppose I could host one myself but I did that one year and that was enough.
That means that I'm not making anything huge. No full-sized cheesecakes or anything else for that matter. Probably some sweet potato mac and cheese, turkey, gluten-free cornbread and half the recipe below! 6 mini cheesecakes sounds good for the two of us. :D This Thanksgiving punch also sounds great.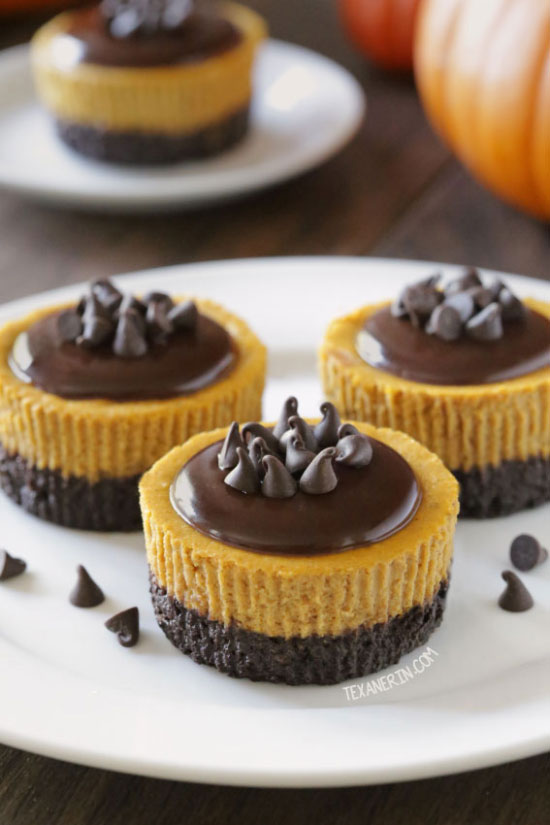 So what makes this recipe so easy? Full-sized cheesecakes often require a water bath or cooling in a special way to prevent cracks.
Sometimes you take all those extra steps and the cheesecake still cracks! Not these.
They don't need the chocolate ganache on top but I thought they looked so pretty that way. Plus it went really well with the crust.
The crust in this easy pumpkin cheesecake recipe is the same one I used in my mini Irish cream cheesecakes. I've made that crust so many times over the last year!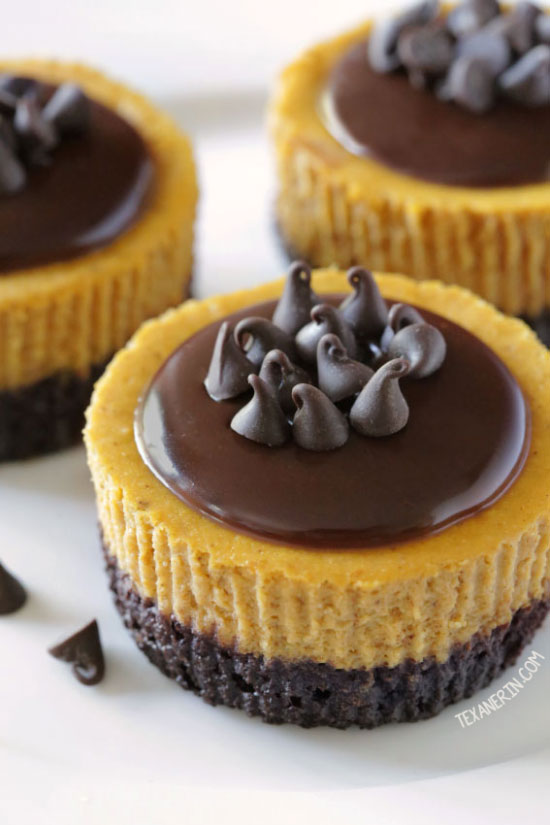 You can use all-purpose flour, whole wheat flour or for a gluten-free version, you can use buckwheat flour. A 1-to-1 gluten-free baking flour would probably work, but I haven't tried it.
Buckwheat flour keeps this easy pumpkin cheesecake recipe whole grain and the buckwheat doesn't have a strange taste at all. There's so much cocoa powder and sugar that covers up the taste!
I haven't tried replacing the butter in the crust for anything else. I figured there's already cream cheese in there so no need to try out a coconut oil version. I'm almost certain it would not work!
You'd likely need to decrease the amount of fat to make that work. But the butter version is really delicious so I recommend sticking with that!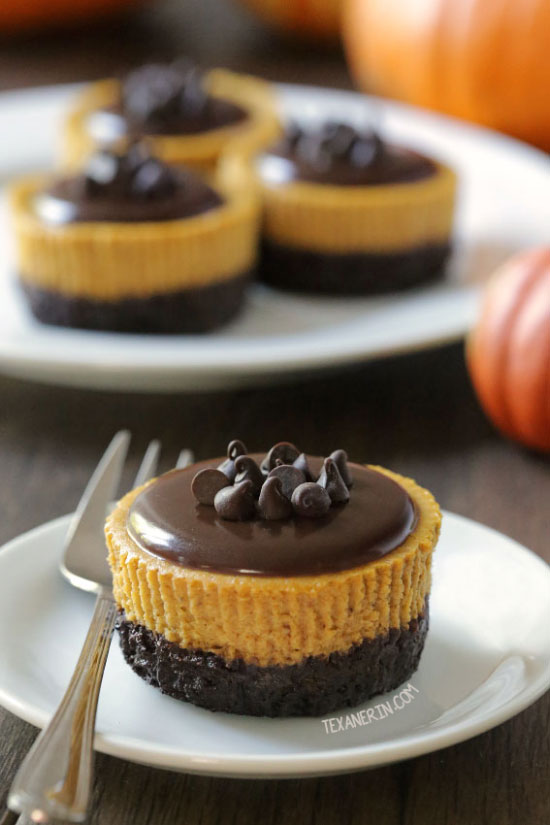 If you try out this easy pumpkin cheesecake recipe, I'd love to hear how you like it!
❀
Easy Pumpkin Cheesecake (gluten-free, whole grain options)
Prep Time:
Cook Time:
Ready in:
Yield:

12 cheesecakes
Ingredients
For the crust:

6 tablespoons (75 grams) raw sugar, granulated sugar or coconut sugar
6 tablespoons (49 grams) whole wheat flour, all-purpose flour or use buckwheat flour for a gluten-free version
6 tablespoons (43 grams) Dutch-process cocoa powder
4 1/2 tablespoons (63 grams) unsalted butter, softened
pinch of salt

For the filling:

1 8-ounce package (225 grams) cream cheese, room temperature
1/2 cup (100 grams) light brown sugar or coconut sugar (that will make the cheesecakes darker)
1 tablespoon molasses
1 cup (240 grams) canned pumpkin puree (not pumpkin pie filling)
1 teaspoon vanilla extract
pinch of salt
2 1/2 teaspoons pumpkin pie spice
3 large (50 grams each, out of shell) eggs

For the ganache:

1/2 cup (120 milliliters) whipping cream or heavy cream
1 cup (170 grams) semi-sweet chocolate chips
Directions
For the crust:

Preheat the oven to 350 °F (175 °C) and line a pan with 12 muffin liners. Note that this crust recipe does not work in regular pie pans and only as mini cheesecakes.
In a large mixing bowl, mix together the sugar, flour, cocoa powder, and salt. Using an electric hand mixer, beat in the butter at low speed until thoroughly combined and a dough forms. If you have trouble incorporating it, use your hands. It'll be sticky.
Divide the dough between the muffin liners (I used 19 grams of dough per liner).
Press the dough down with the bottom of a shot glass. If using whole wheat flour, gluten-free 1-to-1 baking flour or all-purpose flour, bake for 11-13 minutes or until the surface of the crust no longer appears wet. Move on to the next step. If using buckwheat, bake for 14 minutes. The crusts will appear very bubbly and liquid. Remove from the oven, let cool for a minute, and then use the shot glass again to lightly press down (which will remove the holes).
After baking, the crust will still be soft but will firm slightly as it cools. Let cool for 10 minutes while you prepare the cheesecake.

For the cheesecake:

Turn the oven down to to 325°F (162 °C).
With an electric hand mixer, beat the cream cheese at medium speed until light and fluffy.
Add the brown sugar, molasses, pumpkin puree, vanilla extract, salt and pumpkin pie spice and beat on low until well combined.
Add the eggs one at a time, beating on low after every addition until thoroughly incorporated. Do not over mix!
Fill each muffin liner to the top with cheesecake batter and bake for 20 minutes or until the middles of the cheesecakes are set and don't jiggle when the pan is tapped.
Remove from the oven and let the cheesecakes cool in the pan.
Once completely cool (about 1 hour), remove the cheesecakes from the pan and refrigerate for at least 2 hours or until ready to serve. The wrappers come off neatly before and after refrigeration.
Refrigerate the cheesecakes in an airtight container for up to 3 days.

For the ganache:

In a small saucepan over medium-low heat, warm the cream just until hot, steamy and on the verge of simmering. Remove from the heat.
Pour this over the chocolate chips and stir until all the chocolate chips are completely melted.
Let cool for about 20-30 minutes or until room temperature before pouring over the chilled cheesecakes.
Source: My post on My Baking Addiction - Mini Pumpkin Cheesecakes