This vegan hot chocolate is thick, rich and can be naturally sweetened! It's super easy to make and is sure to please your non-vegan friends and family. With a paleo option.
I think I like my hot chocolate to be a lot more flavorful and rich than other people. I googled vegan hot chocolate recipes and tried out the first three recipes listed.
I had to fiddle around with them a lot to get them tasty. By the way, what you see as the top 3 results on Google likely isn't what I see – so I'm not bad-mouthing anyone. ;)
The thing is – all the recipes were highly rated. So other people indeed liked them! Which makes me wonder if I'm the odd one out.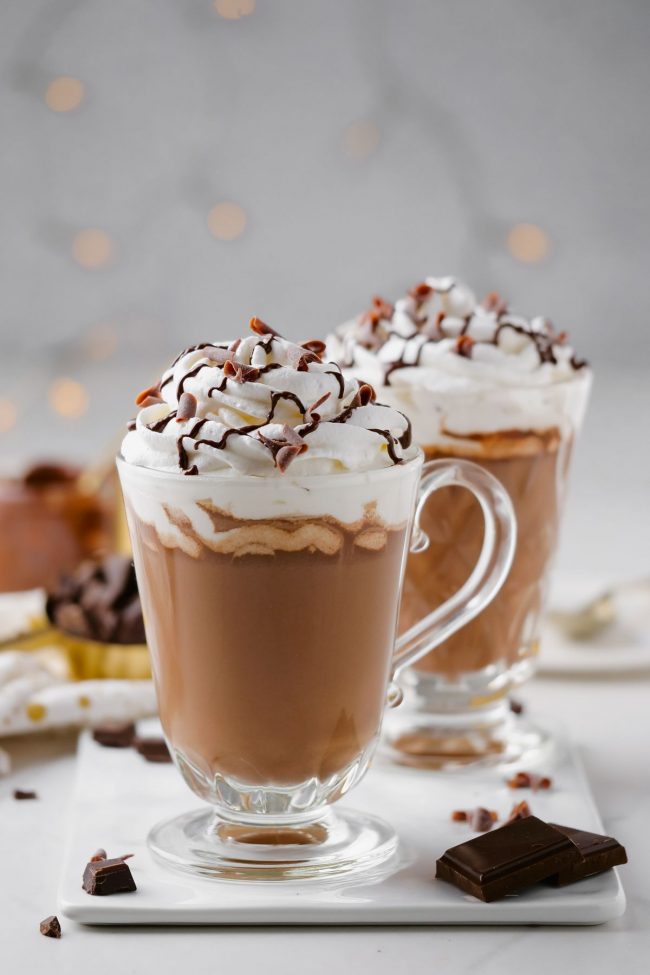 I will also say that the other recipes are healthier. They have less sugar because they use less cocoa powder.
The stronger the chocolate flavor, the more cocoa powder and the more sugar you need.
My recipe is very chocolaty, and therefore, also heavier on the sugar than the other recipes I've seen.
So! If you want a thin drink with not a ton of chocolate flavor – this recipe isn't for you!
If you make this recipe and think it's too rich, you can certainly fix that by just adding more milk.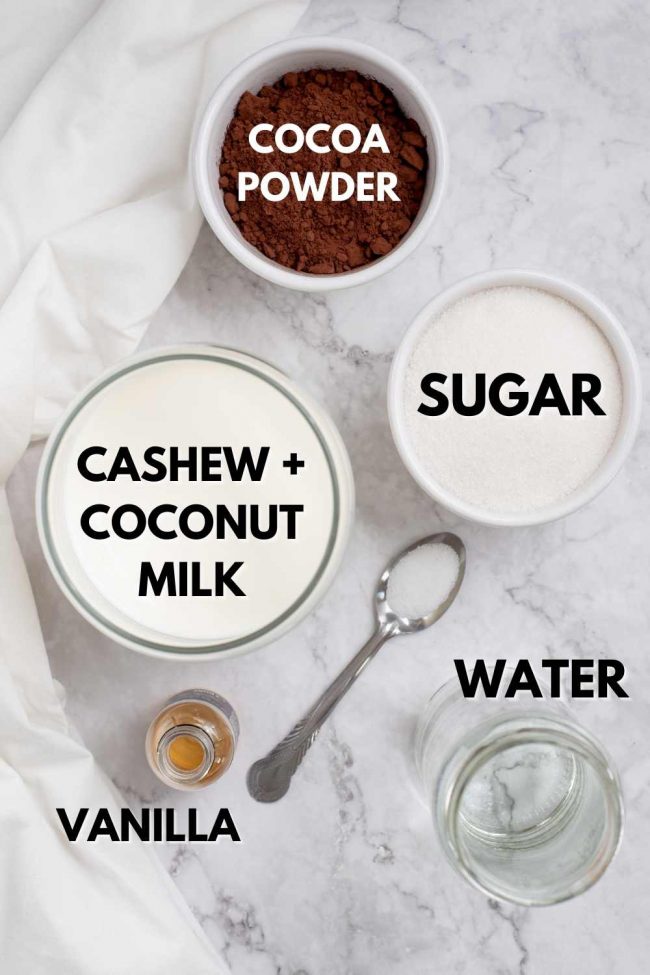 Another vegan hot chocolate recipe
And if you like things insanely rich and chocolaty, you must try my Paleo Vegan Hot Chocolate, which uses all canned coconut milk and is entirely date-sweetened.
That description probably doesn't sound very appetizing, but it's my favorite hot chocolate recipe, and it does not taste like coconut or dates!
I wouldn't even bother with posting another vegan hot chocolate recipe if it weren't for the fact that the above recipe requires a high-speed blender. I know not everybody has one and I'm trying to make hot chocolate possible for everyone. :)
And if you're not vegan and you want the richest hot chocolate possible, try my Ultimate Hot Chocolate recipe. It's basically just melted semi-sweet chocolate and evaporated milk. Insane! But I consider it okay as a once-a-year treat.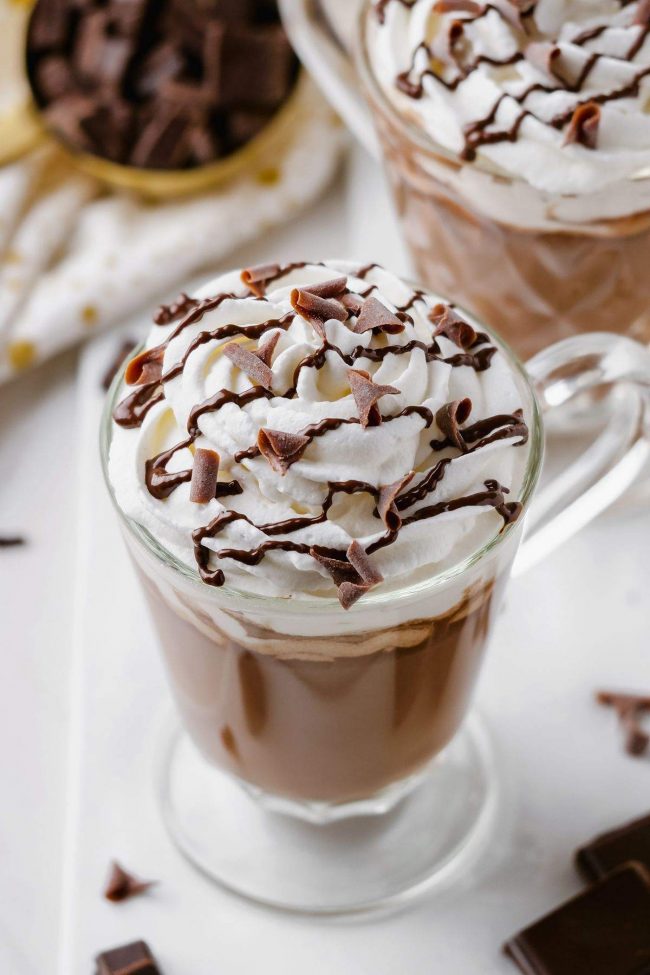 Adapted from my traditional recipe
I posted Instant Pot Hot Chocolate over on Food Doodles today. It's a traditional hot chocolate recipe but made in the Instant Pot, and it makes a big batch.
I wanted to include dairy-free and paleo options on that recipe, but I found that if you just replace the dairy milk + cream with plant-based milk, it's not as tasty.
I'm posting the vegan recipe separately because there are a few changes you need to make for the paleo and vegan versions. I've also scaled it down so that it yields just two small servings (or one quite large cup) of hot chocolate!
First, I used half cashew milk and half canned coconut milk in place of the dairy milk.
You can definitely use all cashew milk, or whatever milk you'd like, in place of the dairy milk. But like I said, I prefer my hot chocolate recipes to be on the rich side.
That's why I used half canned coconut milk. I also tried it with all canned coconut milk, but the result was weird.
I liked how thick it was, but the taste was just strange. It didn't even taste coconutty – just odd.
It still tasted a bit weird using 50% coconut milk and 50% cashew milk, which is why I added more cocoa powder, sugar, vanilla and a bit more salt.
That took care of the funky taste!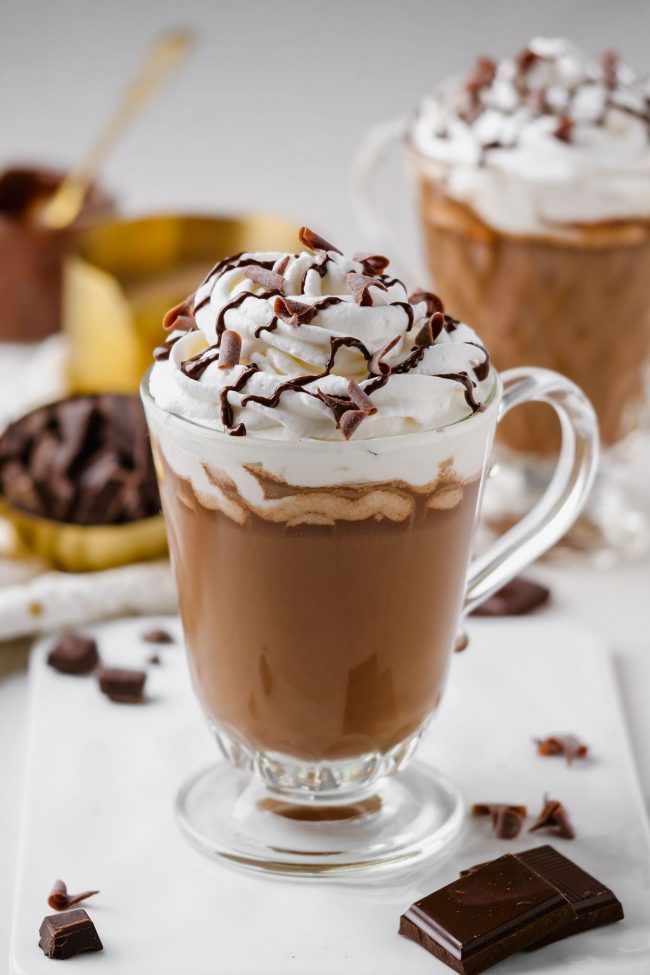 A key step
Once you read the recipe, you might wonder – why mix the first few ingredients together before adding the milk?
If you've ever mixed cocoa powder together with a large amount of milk, then you know that it takes a bit of time to get the cocoa powder dissolved. It's kind of annoying.
But when you use the method in the recipe below, it creates a thin paste, and the cocoa powder is quickly dissolved. Then add your milk.
Let the stove warm it up and your hot chocolate is ready. No whisking is needed!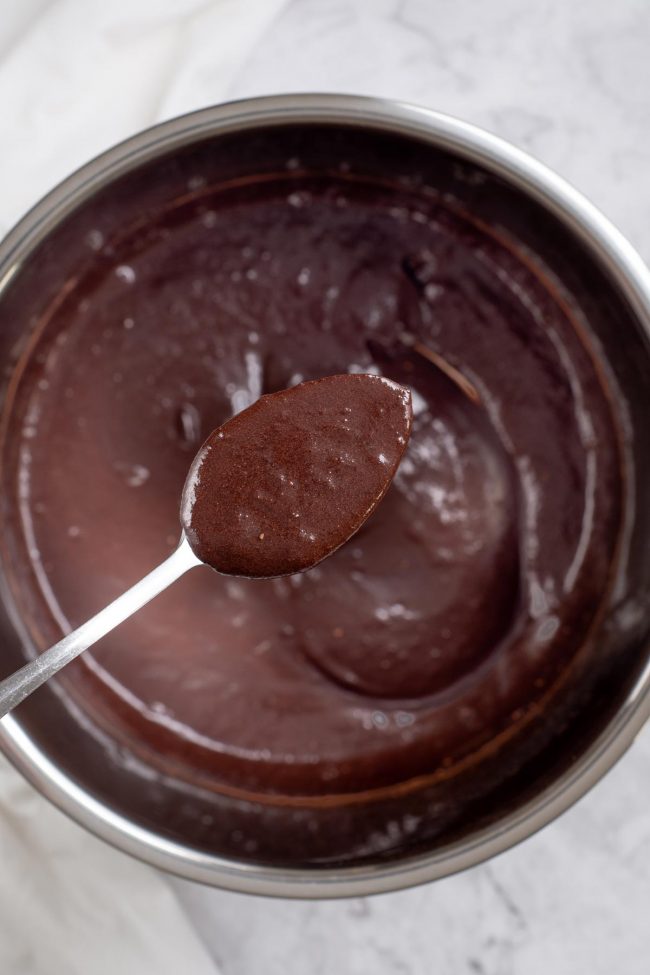 What about different sweeteners?
I've tried granulated sugar, coconut sugar and maple syrup.
Maple syrup… I wouldn't recommend. There's a weird aftertaste.
I can't quite understand it because I often use maple syrup in chocolate treats and it never creates a weird aftertaste. It's amazing in this Chocolate Chia Pudding, Cocoa Balls, Chocolate Almond Butter and Vegan Fudge.
But I've tried it multiple times in this hot chocolate, and I much preferred it with regular coconut and coconut sugar.
If you have another sweetener that you like that works as a 1:1 sub for granulated sugar, then you can always make a half batch to give it a try!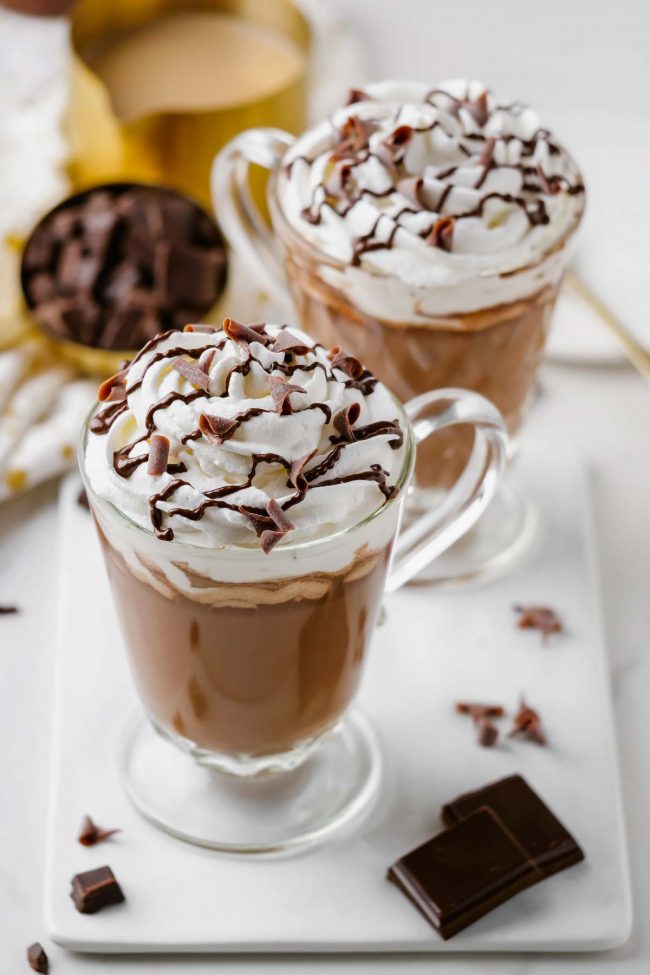 Different hot chocolate flavors
On these wintry days, I like to add 1/8 teaspoon of peppermint extract to my hot chocolate. When buying extract, make sure to buy peppermint and not mint extract, which has more of a spearmint taste. That's not what you want for your hot chocolate!
Also, each brand is different, so you may want to use even less than 1/8 teaspoon, taste and then add more.
The same is also true if you use other types of extracts. I think almond or orange extracts would also be amazing, but to be on the safe side, add just a drop and then add more to taste.
Grown-up version
For the adults, you could add a bit of booze. It's always quite nice in hot chocolate!
My favorite is Baileys. I've even got a Baileys Hot Chocolate recipe that's quite naughty (it's unfortunately not vegan, though!).
I recommend adding about 1/2 to 1 tablespoon of whatever you like once the hot chocolate is ready.
My other favorite types of alcohol to add to hot chocolate are rum, amaretto and Kahlua.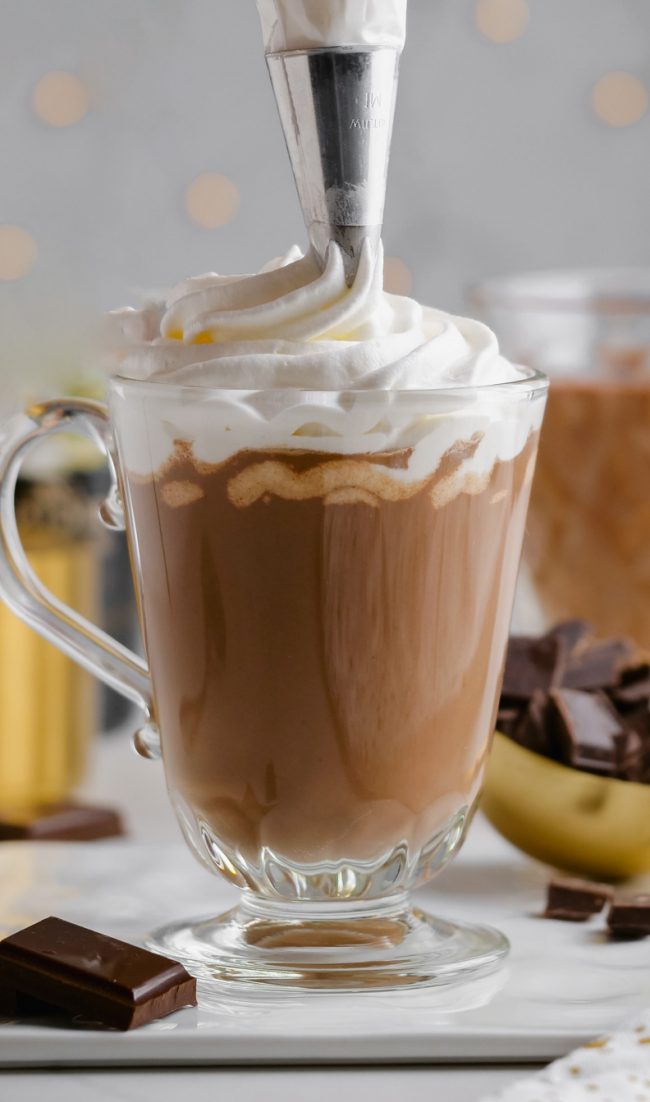 Big batch hot chocolate
I never bother with just making a single cup of hot chocolate. I always at least double it but having a quadruple batch in the fridge isn't a bad thing.
It can be refrigerated for several days, so – why not?!
Here are the measurements if you want a quadruple batch:
1/2 cup (120ml) water
10 tablespoons (84 grams) cocoa powder
2/3-3/4 cup (133-150 grams) granulated sugar or coconut sugar
1/2 teaspoon salt
4 teaspoons vanilla extract
2 cups (120ml) full-fat canned coconut milk
2 cups (120ml) unsweetened cashew milk
You can even make it now, freeze it for Christmas and defrost it overnight in the fridge. I use emptied cashew milk containers to do that.
To top it off
I admit that I went over the top for the photos. You absolutely don't need the coconut whipped cream, chocolate drizzle and shaved chocolate.
It was meant to catch your eye. ;) It is so rich and tasty without anything on top!
But these Vegan Marshmallows would also be a fantastic addition.
Other vegan sweets
I hope you enjoy this Vegan Hot Chocolate! I would love to hear your feedback, so if you make it, be sure to leave a comment below and tell me what you think. If you want to share it to the world, snap a pic and tag #texanerin so I can easily find it! Enjoy!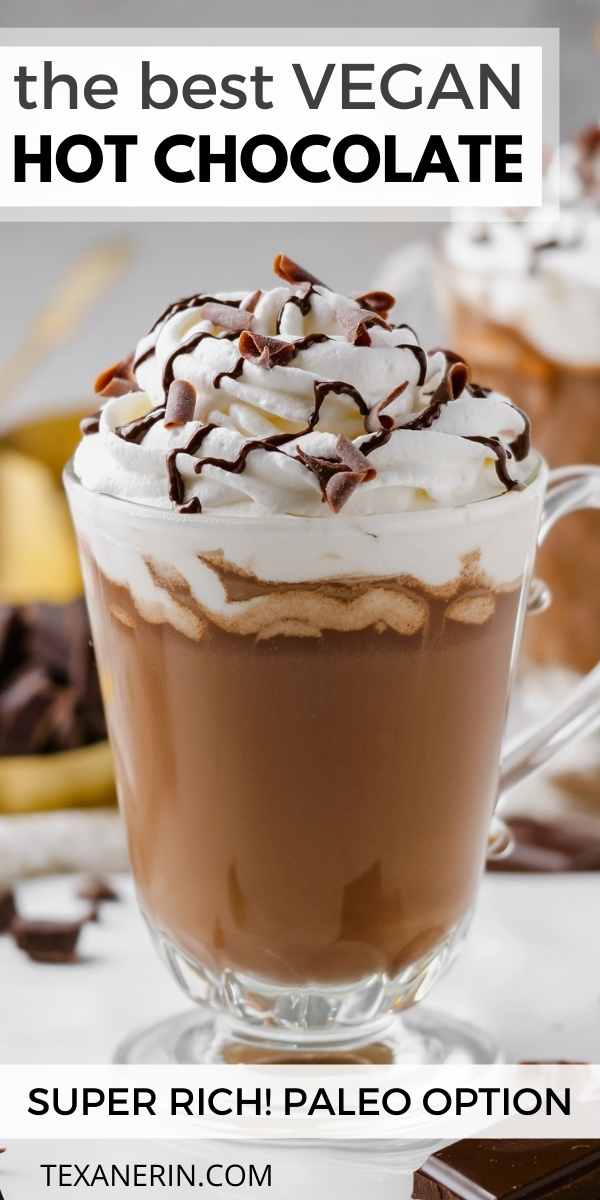 ❀
Vegan Hot Chocolate
Prep Time:
Cook Time:
Ready in:
Yield:

1 large or 2 small servings
Ingredients
2 tablespoons water
2 1/2 tablespoons (21 grams) unsweetened Dutch-process cocoa powder
2 1/2 - 3 tablespoons (I use 3) granulated sugar or coconut sugar for paleo
1/8 teaspoon salt (I use a tad bit more)
1 teaspoon vanilla extract
1/2 cup (120ml) full-fat canned coconut milk
1/2 cup (120ml) unsweetened cashew milk (or another plant-based)
Directions
In a saucepan large enough for all the ingredients, mix together the water, cocoa powder, 2.5 tablespoons of sugar, salt and vanilla. This will create a paste.
Then stir in the coconut and cashew milk.
Turn the heat to medium-high and heat, stirring occasionally, until warm enough for your liking. Add more sugar, if desired.
If you have leftovers, cool completely, cover and refrigerate for up to 4 days.