This paleo eggnog is rich, thick and creamy! It's cashew- and date-based but somehow tastes even better than traditional eggnog.
I'm super excited to be sharing this paleo eggnog recipe today! I do not like eggnog. At all.
It never seems very flavorful, and the eggs just weird me out. And I know there are recipes in which the eggs are heated to a safe temperature, but it's too much fuss for something I personally don't find very tasty.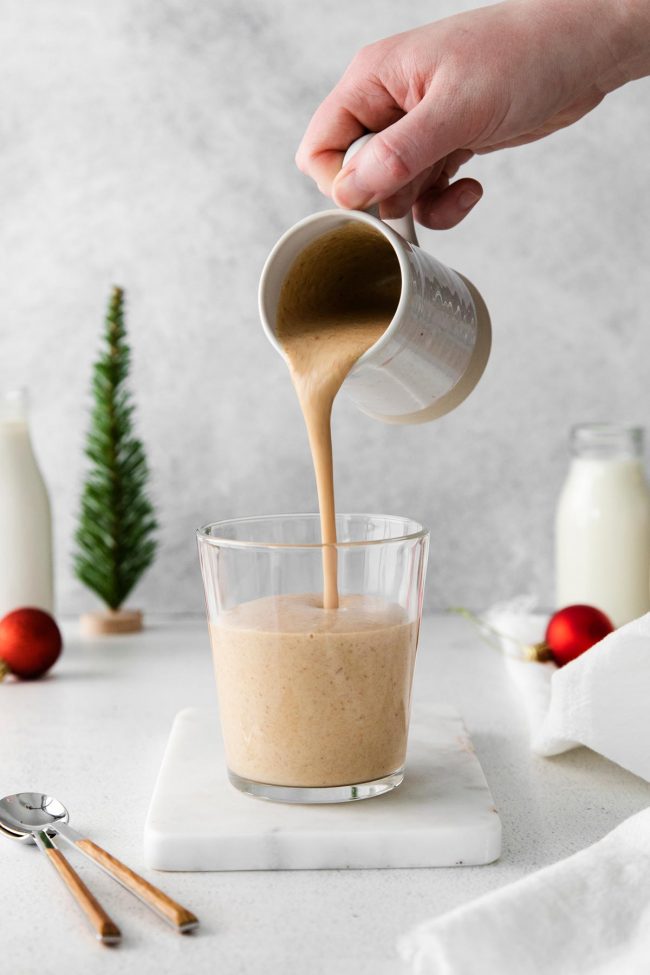 But I love this. It's so luscious and full of flavor!
I am an Eierlikör devotee. It's German egg liqueur which is, I think, a huge improvement over regular eggnog.
However, I don't like the ingredients in it (a ton of powdered sugar and evaporated milk), so I only make it to give out as gifts.
This paleo eggnog, though?! I will happily make this for my family every year from here on out.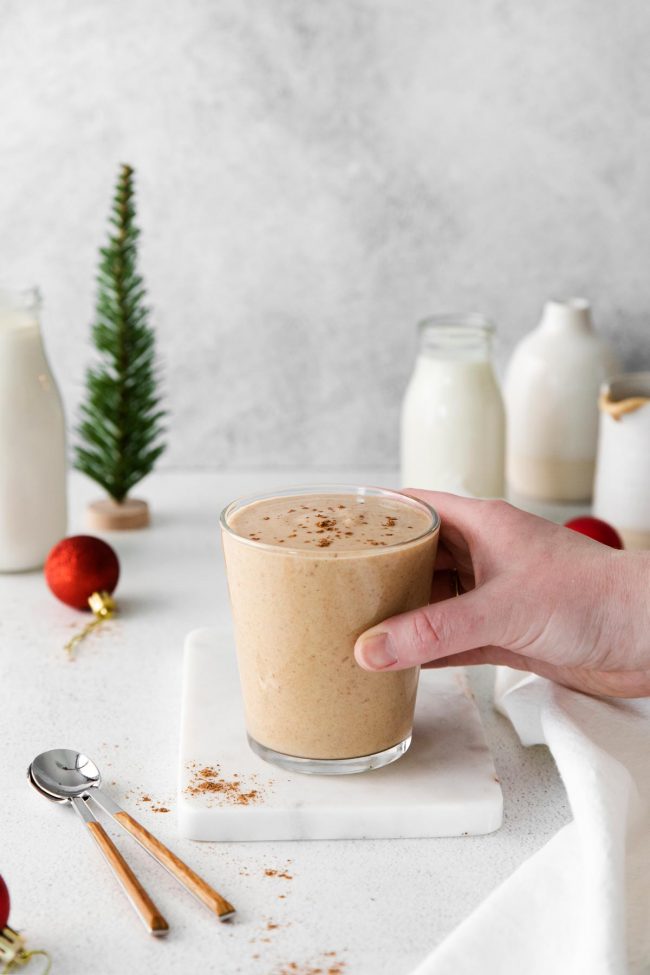 Cashews + dates?!
This recipe only calls for wholesome ingredients and is 100% date-sweetened. I love how dates thicken drinks like this Paleo Vegan Hot Chocolate, and they don't add any funky taste, either.
If you've never made any vegan cashew-based treats, and you think this sounds bizarre, I get it. The first time I had a vegan cheesecake, I thought it was nasty.
But this was the fault of the recipe and the person who made the recipe, who didn't process the cashews long enough. Vegan cheesecakes are not inherently bad.
So if you've ever had a similar experience, please give this eggnog a try! And also check out my Vegan Cheesecake recipe. :)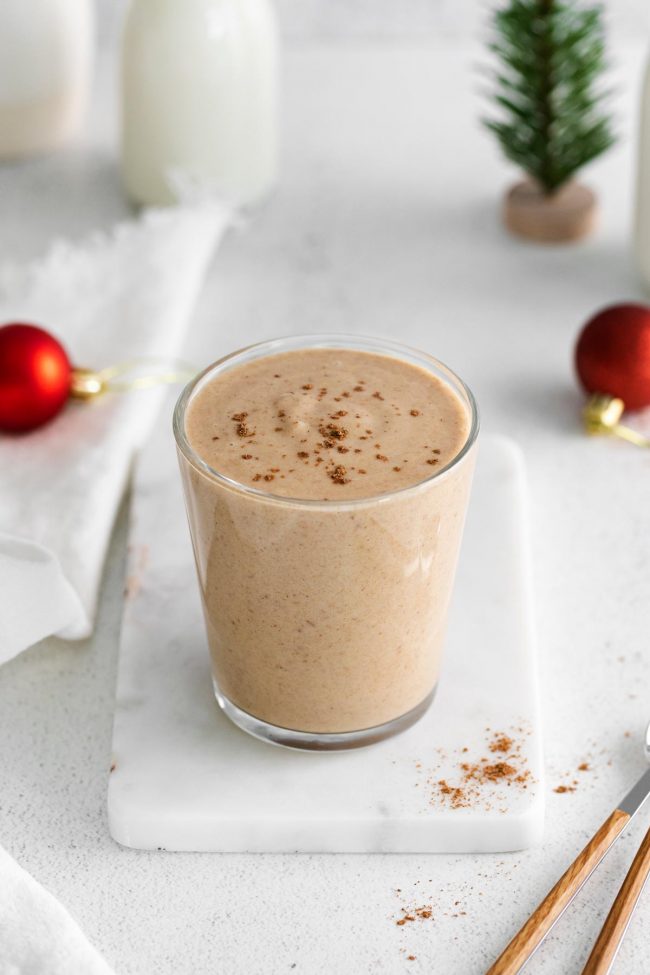 Ingredients:
Cashews – I usually use raw cashews but roasted and salted cashews work, too. If using salted, you'd likely need to omit the salt from the recipe. I do not think any other type of nut would work.

A lot of vegan and paleo eggnog recipes call for tapioca or arrowroot starch to thicken the eggnog, but I prefer to avoid starch if I can (although I use it quite often), and with this method, there's zero risk of grittiness that you sometimes get from starches.


Pitted dates – I just used regular pitted dates. If you want to use Medjool dates, that shouldn't be an issue.


Cashew milk – Lately, I've been using cashew milk in my vegan recipes that need a sub for regular milk. I love how creamy it is, and I much prefer the taste over almond milk.

You can, of course, use almond milk or whatever milk you'd like! But it will change the taste of the eggnog.

The only type of milk you shouldn't use is canned coconut milk. That is way too thick for this already thick drink.


Vanilla extract – you can use whatever form of vanilla that you like. But don't omit it! It adds a lot of flavor.


Cinnamon, nutmeg, salt – you can omit the cinnamon if you must, but not the nutmeg, as it's what gives this drink its eggnog taste. And make sure to add the salt or the drink will be a bit flat.

If you take a sip and think something might be missing, it's probably salt! Just add a pinch more.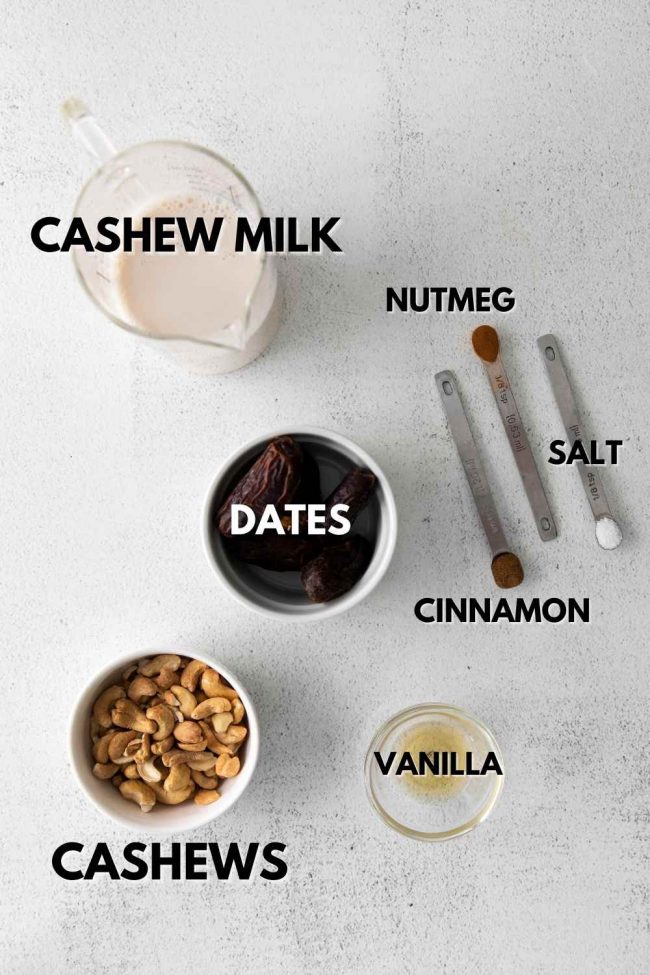 How to make it
First, you need to soak the cashews and dates. Place the cashews and dates in a tiny pot, large mug, or some kind of dish into which you can pour boiling water.
Pour the boiling water over the top. If you're in a hurry, you can just let them sit for about 5 minutes before draining. But then you need another minute or two of blending.
I prefer to let them sit for about 20-30 minutes so that blending is much quicker. I live in an apartment and processing nuts in a Blendtec is very noisy business that gets one of our neighbors very upset.
So you can choose either the apartment or house version of this recipe. 😆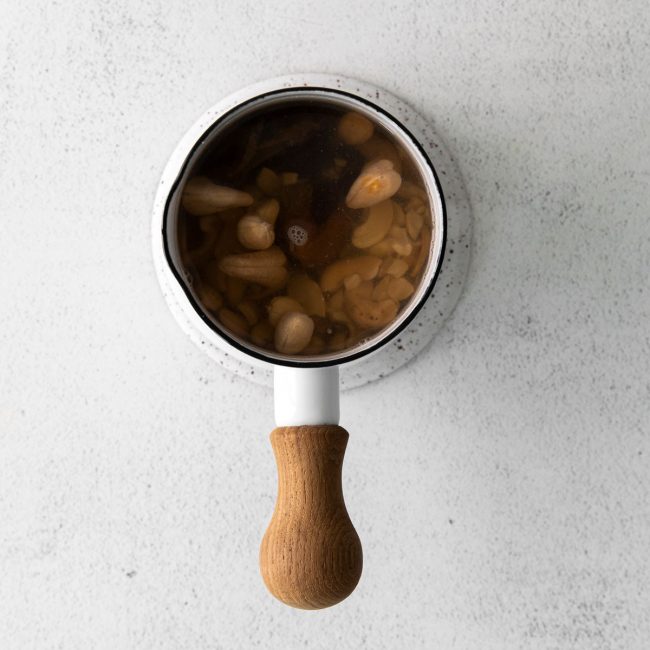 While the nuts and dates are soaking, add the remaining ingredients (but using only half the milk) to the high-speed blender. And unfortunately, I think you really need a high-speed blender for this, like a Blendtec or Vitamix.
I don't think a regular blender would work, but I haven't tried it so I'm not 100% sure. I just would hate for anyone to destroy their blender or waste a bunch of ingredients!
Sadly, I don't have space for a normal blender (again – apartment life ;)) or I'd try it out for you! If anyone tries, please let us know in the comments how it goes.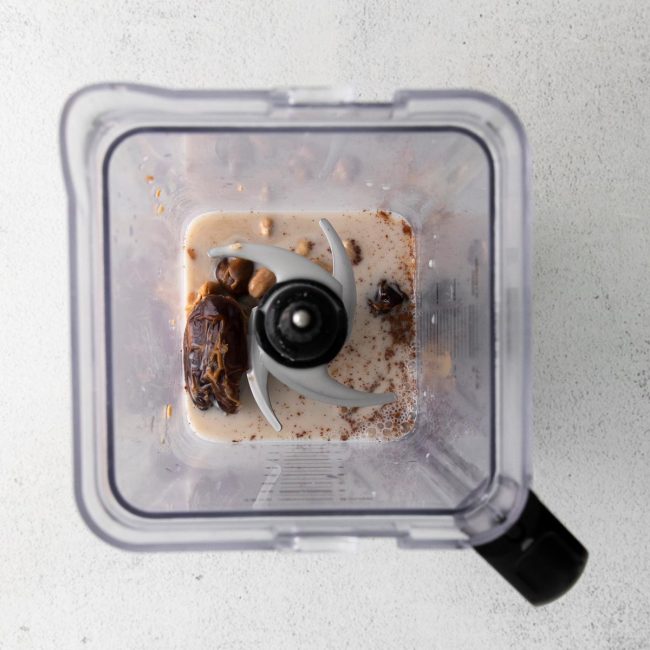 And you just blend until it's totally smooth. There shouldn't be any lumps at all. The result should be 100% silky smooth. It takes 1-3 minutes.
If you went with the short soaking option, your blender might get quite warm. Take a short break or two, if necessary.
You can serve it now or if you like, chill it. I think it's much better cold. Then garnish with some nutmeg.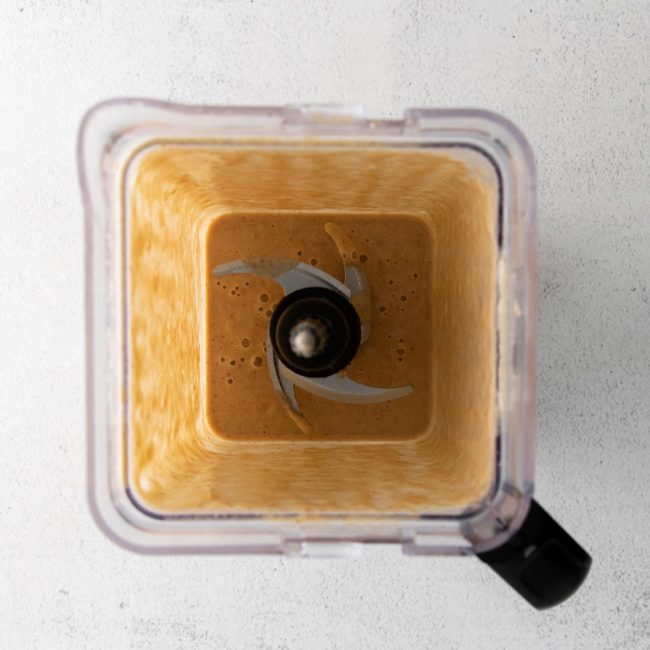 Can I use this in place of eggnog in recipes?
I definitely wouldn't use this in place of eggnog in baked recipes. This is cashew- and date-based. I'm guessing that'll do some weird stuff in the oven!
If you want to use it in a glaze or something no-bake, I think it'd work fine.
How do I sub the cashews or dates?
I'm sorry to say that they're necessary for this recipe. They're the base of the recipe. If you can't have cashews or dates, I'd suggest finding a different eggnog recipe.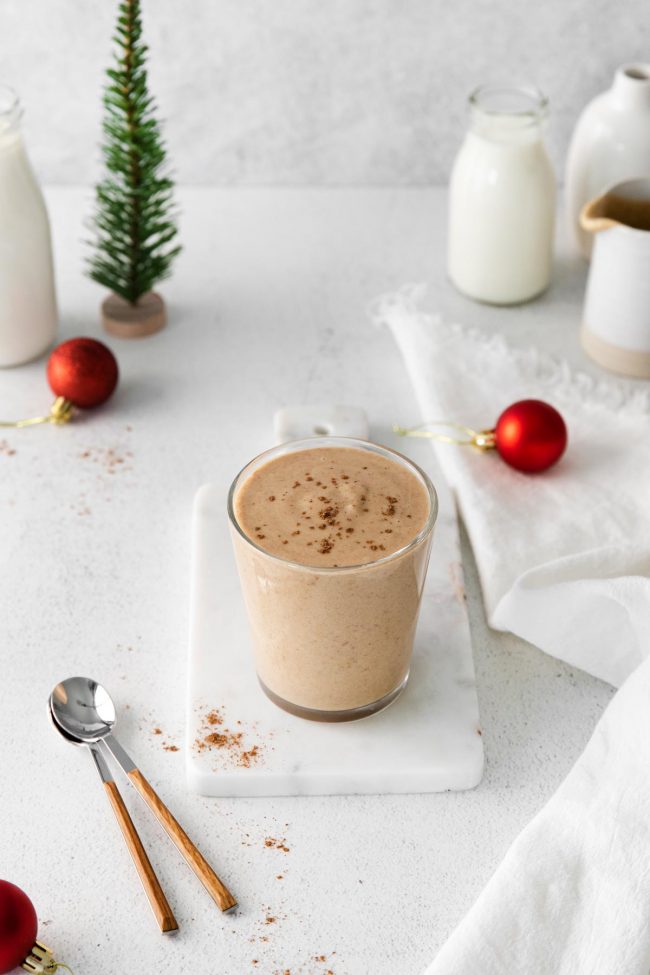 Want to add alcohol?
Just wait until tomorrow! I'll post my alcoholic version of this recipe.
I'm posting it separately because I didn't want the paleo police coming after me for listing an alcoholic option at the bottom of the recipe. Also because you have to add some maple syrup to the recipe and use less milk, and I thought the recipe might be too confusing.
If you try this paleo eggnog, let me know how it turned out! Just drop a comment below or update your social media with a photo and tag #texanerin so I can be sure to see it! Enjoy your holidays!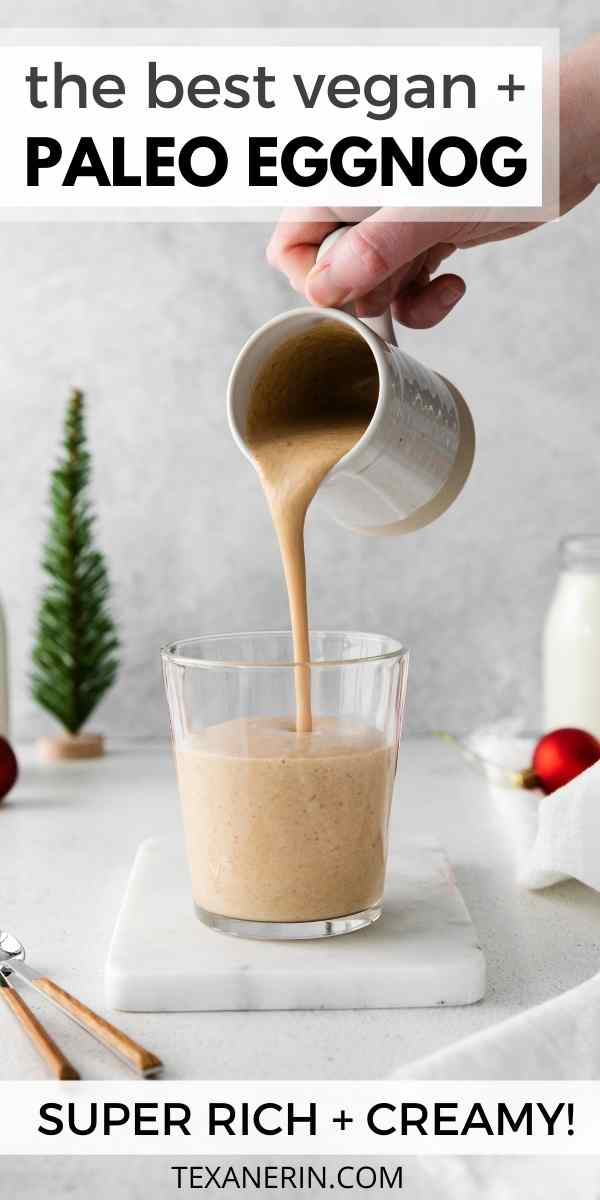 ❀
Paleo Eggnog - Vegan and Super Thick, Creamy and Rich!
Prep Time:
Cook Time:
Ready in:
Yield:

2 1/3 cups
Ingredients
1/2 cup (65 grams) cashews1
3/4 cup + 2 tablespoons (145 grams) pitted dates
1 2/3 cups (395ml) unsweetened cashew milk
1 1/2 teaspoons vanilla extract
1/4 to 3/8 teaspoon nutmeg
1/8 teaspoon cinnamon
1/8 teaspoon salt + more to taste

Garnish:

grated nutmeg
Directions
Place the cashew and dates in a tiny pot, large mug, or some kind of dish into which you can pour boiling water.
Boil water (I used about 1 cup) and pour enough that the cashews and dates are covered by about 1/4".
Let sit for 20 minutes, rinse and drain the water, and pour the cashews and dates into the container of a high-speed blender (like Blendtec or Vitamix, not a normal blender).
Add just 1 cup of cashew milk, the vanilla, 1/4 teaspoon nutmeg, cinnamon and salt.
Process at high speed for about 1-2 minutes or until totally smooth.
Once the dates are completely broken down (there should be no lumps at all), add the remaining 2/3 cup of cashew milk.
Process another few seconds until combined. Taste and add another 1/8 teaspoon nutmeg, if desired (I add it).
Serve warm or chill for about 2 hours until cold. I think this is tastier cold, but that's just personal preference.
Pour into glasses and garnish with nutmeg.
Cover and refrigerate for up to 4 days. It will thicken a little once chilled.
Notes
You can use raw or roasted cashews. If using salted cashews, omit the salt in the recipe and then add to taste.