These paleo hazelnut cookies are soft, chewy and full of hazelnut flavor! They're also vegan, gluten-free and dairy-free.
I'm super excited to be working with Bob's Red Mill today to bring you these delightful little paleo hazelnut cookies. They recently sent me a big box of flour and as soon as I got it, I ripped into the hazelnut flour and went to work on these cookies. I've tried making hazelnut flour in my food processor but it goes from being too coarse to immediately releasing its oils and heading the way of nut butter. I can never get it fine enough! So I was beyond thrilled to get my hands on something that's more finely ground than what I could make.
Wondering what else you can make with hazelnut flour other than these cookies? These hazelnut muffins are a must-make! They're almost like angel food-like in texture and so, so good!
These chocolate hazelnut cupcakes are also amazing with hazelnut flour. Actually, anything I've tried with hazelnut flour has been awesome. It's great stuff!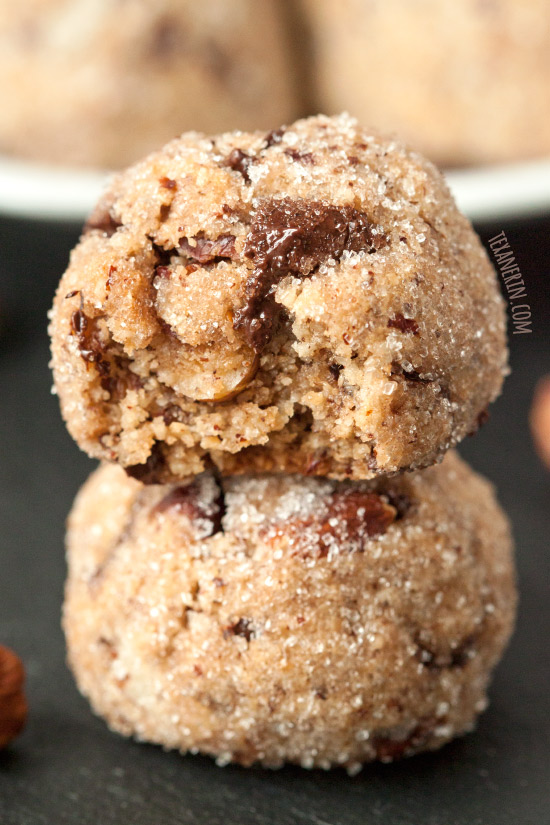 The first few times I made these paleo hazelnut flour cookies, I didn't use any nut butter and while delicious, they were kind of hard to handle. As soon as you picked them up and bit into them, they started falling apart. I wanted to keep these vegan so instead of adding an egg, I added 1/4 cup hazelnut butter to the dough. Now they're sturdy enough to be stacked, which is really helpful if you want to give these out during the holidays, which is what I've been doing. I don't have any friends who follow any special diets and they've all been very pleased with these nutty and chocolaty paleo cookies!
Hazelnut butter is expensive so I recommend making your own by using this chocolate hazelnut butter recipe. Just do steps 1-3 and don't add any of the ingredients listed after hazelnuts.
And if you make your own hazelnut butter, then you can make my chocolate hazelnut fudge. It has the texture of traditional fudge and unlike so many other paleo fudges, doesn't melt at room temperature!
If you don't have hazelnut butter or hazelnuts on hand, try my perfect paleo chocolate chip cookies for some paleo cookies that taste just like regular gluten-containing cookies!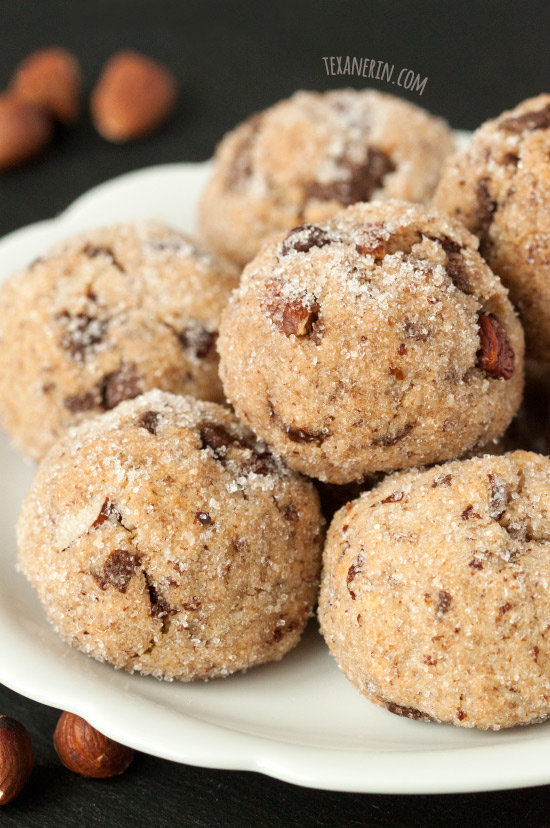 I haven't tried subbing almond butter in these cookies but I'm assuming it'd overpower the hazelnut taste in the hazelnut flour. Then you might as well use almond flour instead of hazelnut flour and turn them into chocolate almond cookies. If you do use freshly made nut butter, which is usually much runnier than refrigerated nut butter, you'll probably have to refrigerate the dough for about 30 minutes before rolling.
Something else that helped keep the cookies together was rolling them in sugar. I used granulated sugar but raw sugar works well, too, and so does coconut sugar if you don't mind its darker taste. Make sure to use one of the latter two if you want to make these paleo. Or you can skip the sugar rolling step all together but then they'll be a little more delicate.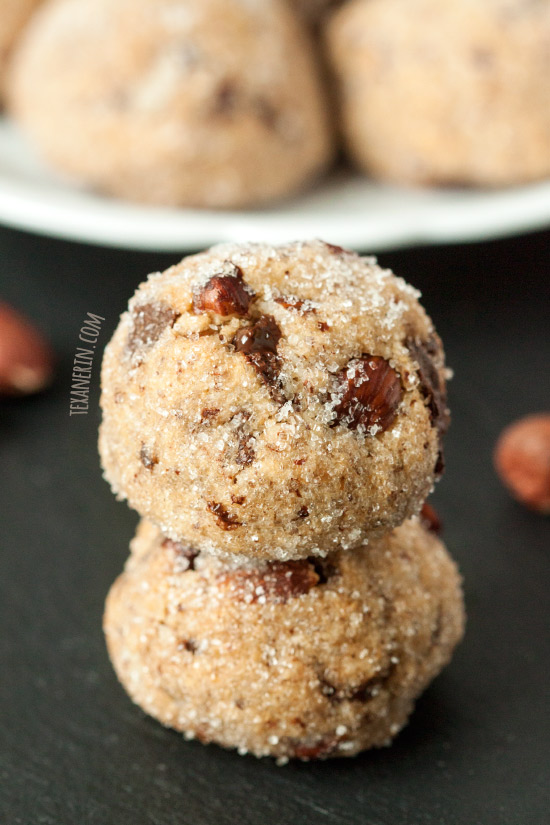 Have you ever baked with hazelnut flour before? After making these chocolate hazelnut cookies, I can't wait to try some more recipes with it! This stuff is SO good. Links are welcome in the comments!
Be sure to check out Bob's Red Mill's homepage for a $1 coupon and their monthly specials! For my whole grain baking friends out there: their amazing whole wheat pastry flour is 25% off :)
For another great Christmas cookie, try these gluten-free shortbread cookies!
❀
Paleo Hazelnut Cookies (vegan, grain-free, gluten-free, dairy-free)
Prep Time:
Cook Time:
Ready in:
Yield:

18 cookies
Ingredients
1/4 cup (56 grams) coconut oil, melted1
1/3 cup (79 milliliters) maple syrup
1/4 cup (64 grams) hazelnut butter2
1 teaspoon vanilla extract
1 cup + 3 tablespoons (133 grams) Bob's Red Mill hazelnut flour / meal
2 tablespoons (14 grams) coconut flour, sifted if lumpy
1/4 teaspoon salt
1/2 teaspoon baking soda
1/2 cup (85 grams) semi-sweet chocolate chips (make sure to use vegan / paleo / dairy-free chocolate chips, if necessary)
1/3 cup coarsely chopped roasted hazelnuts3
3 tablespoons sugar for rolling4
Directions
Preheat the oven to 350 °F (180 °C) and line a baking sheet with a piece of parchment paper.
In a large mixing bowl, mix together the melted coconut oil, maple syrup, hazelnut butter and vanilla. Set aside.
In a medium mixing bowl, stir together the hazelnut flour, coconut flour, salt and baking soda.
Add the dry ingredients to the wet and stir until thoroughly combined.
Stir in the chocolate chips and hazelnuts.
Place the sugar in a small bowl.
Roll the dough into 1" balls and roll in the sugar.
Place on the prepared cookie sheet about 2" apart. There's no need to flatten the dough balls.
Bake the cookies for 10 minutes or until firm on the top. They may crackle a little and will be very delicate but firm up as they cool.
Cool completely on the baking sheet and then place in an airtight container.
Store for up to 4 days at room temperature.
Notes
I used refined coconut oil, which has no coconut taste or smell. If you use unrefined coconut oil, these will likely have some coconut flavor to them.
If you use freshly made nut butter, you'll likely have to refrigerate the dough first.
To roast hazelnuts, place them on a rimmed tray and bake for 4-8 minutes at 350 °F (180 °C) or until they smell toasty. Keep a close eye on them as they can burn quickly. Let cool for about 5-10 minutes before chopping.
I used raw sugar but coconut sugar works if you don't mind the darker taste. Use coconut sugar for the paleo version.
I was compensated by Bob's Red Mill for this post but, as always, all opinions expressed in this post are my own.