These soft and chewy paleo lemon cookies are vegan, grain-free, gluten-free, and dairy-free. Scroll down for a how-to recipe video!
Unlike my last paleo cookie recipe, these paleo double chocolate cookies, you can tell these lemon cookies are grain-free.
Those other cookies (and these chocolate chip paleo cookies) have almond butter in them doing all kinds of magical things to the texture but I didn't want to add anything to detract from the lemon flavor in these cookies.
But that doesn't mean that these gluten-free lemon cookies aren't delicious! They're totally maple sweetened and surprisingly (and thankfully!) don't taste a thing like maple syrup. I absolutely love the taste of maple – but not in my lemon goodies.
I often use honey, like in my paleo mini lemon tarts and paleo lemon curd.
I want that lemon taste to shine through everything else. :) I used the lightest Grade A maple syrup and recommend you do the same if you don't want any maple flavor. Maple also worked great in this paleo lemon fudge!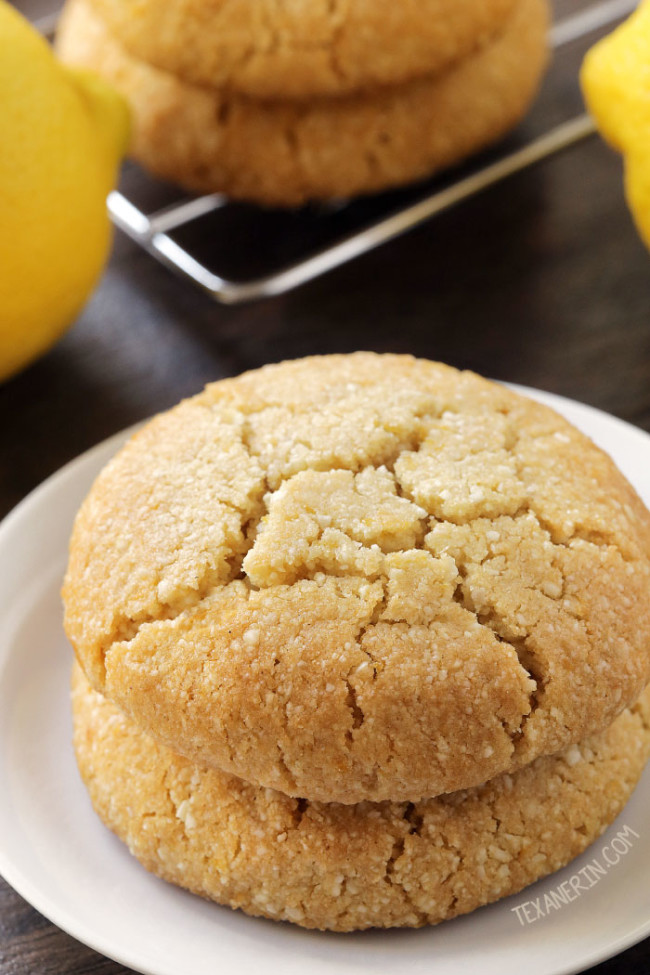 And hey, I'm finally posting a vegan recipe! Sorry, vegan readers, for my lack of vegan recipes as of late. And this is random but has anyone tried aquafaba? It's the liquid from canned chickpeas and is used as an egg substitute.
I have to admit that the thought of using chickpea brine turns me off. Whenever I make these chickpea cookies, I have to hold my breath when opening the can and rinsing off the chickpeas.
To the people who have tried it – do your baked goods have the slightest hint of chickpeas?! I'm curious.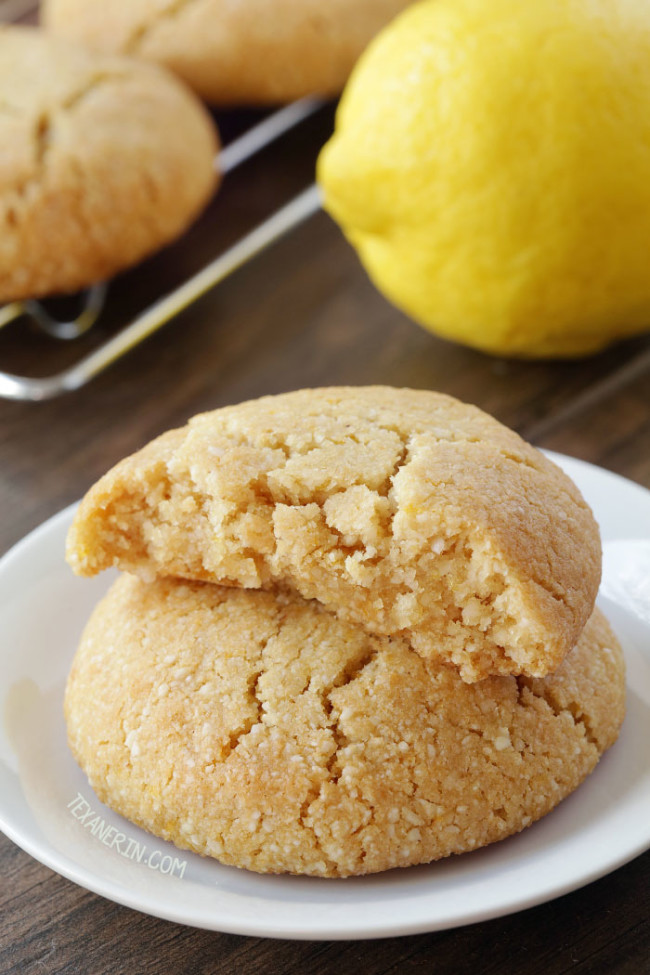 But back to these vegan lemon cookies – with no eggs or gluten, I have no idea how they hold together so well but I'm not complaining! The cookies pictured would be considered regular-sized for gluten-containing cookies at about 2 1/2″ but when rolling them out, I didn't take into consideration how filling almond flour-based cookies can be.
So then I made them a little smaller and thought that was more suitable. And they'd travel better that way! While the larger cookies hold together well, I can see bad things happening if you just tossed them in a Ziploc and threw them in your backpack.
This gluten-free lemon cookies recipe only calls for 2 tablespoons of coconut flour but you can't just omit it and there's no substitute for it. Just saying since someone always asks. ;)
For more paleo cookie recipes, check out my roundup of 75 Paleo Cookie Recipes You Can't Resist!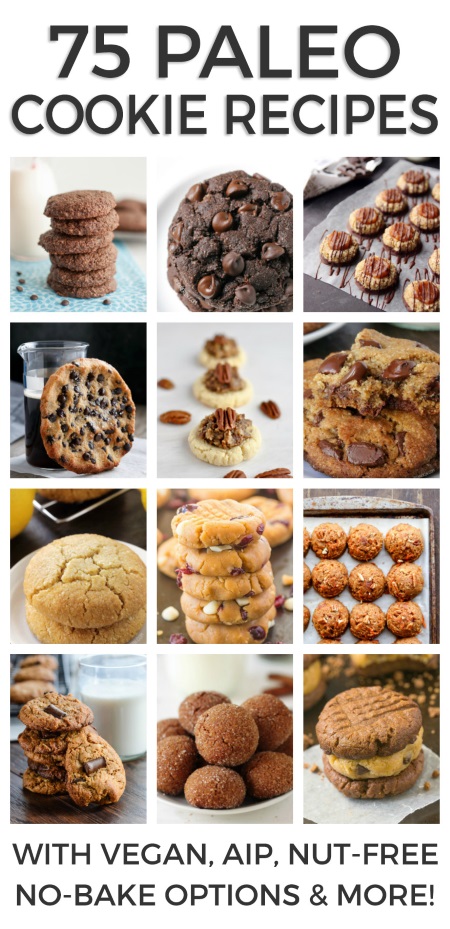 ❀
Paleo Lemon Cookies (vegan, grain-free, gluten-free, dairy-free)
Prep Time:
Cook Time:
Ready in:
Yield:

6-9 cookies
Ingredients
1/4 cup (56 grams) refined coconut oil, melted1 (I'm guessing butter would work for a dairy-containing version but I haven't tried it)
1/3 cup (80 milliliters) maple syrup (I used the lightest Grade A syrup, which results in no maple taste in the cookies)
1 tablespoon lemon zest
1 1/2 teaspoons lemon extract
1 1/3 cups (133 grams) blanched almond flour
2 tablespoons (17 grams) coconut flour, sifted if lumpy
1/2 teaspoon baking soda
1/8 teaspoon salt
Directions
In a large mixing bowl, mix together the coconut oil, maple syrup, lemon zest and lemon extract. Add the almond flour, coconut flour, baking soda and salt. The mixture might be thin and wet and much more like batter than dough. It might not be. Do not add any additional flour! Chilling will firm it up. Let the dough sit for 5 minutes and then place the bowl in the refrigerator for 30 minutes or until the dough is firm.
Preheat the oven to 350°F (176°C) and line a baking sheet with a piece of parchment paper.
For the large cookies pictured, roll into six 50-gram balls. For smaller, more reasonably-sized cookies, roll into nine 35-gram balls. Place 3" apart on the prepared baking sheet and press the balls down slightly with your palm.
Bake the smaller cookies for 10-12 minutes and the larger cookies for 12-15 minutes or until the cookies have lightly browned (not just the edges but also the middle of the cookies). The cookies may crackle a little.
The cookies will still be very soft when you remove them from the oven. Let them cool on the pan completely.
Store in an airtight container for up to 4 days.
Notes
Using unrefined coconut oil would yield cookies with some coconut flavor