It seems like people are really into muffins at the beginning of the year. Or maybe they're not, but they're just more interested in muffins than the other sweet recipes I have on the blog like cookies, brownies and cake.

Are people still tired of desserts six weeks post-Christmas? I'm not. Never was. :D
Here are some of my favorite paleo muffin recipes as well as some other paleo muffins I've been wanting to make from some other bloggers.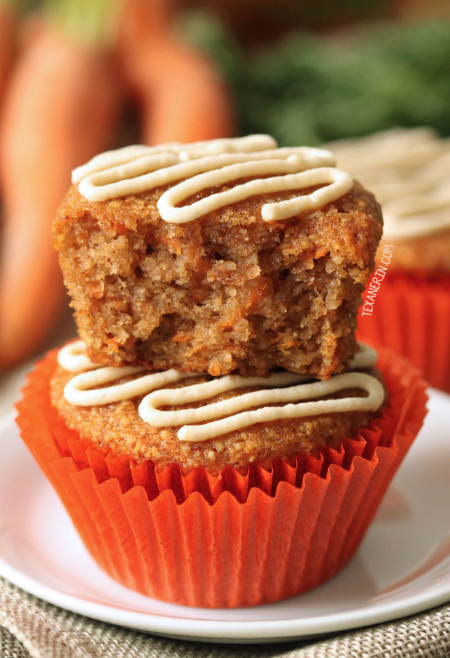 My Paleo Carrot Cake Muffins have been one of my most popular recipes for years. They're moist, lightly sweetened with honey and a little fluffy.
One reviewer said, "My paleo baked goods never come out quite right but these were AMAZING!"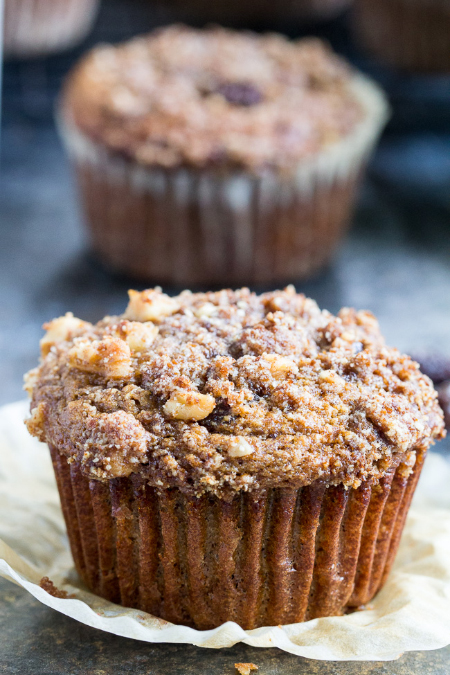 Don't these Cinnamon Raisin Coffee Cake Muffins from Paleo Running Momma look heavenly?! They're loaded with cinnamon flavor and topped with some mighty delicious looking cinnamon crumble!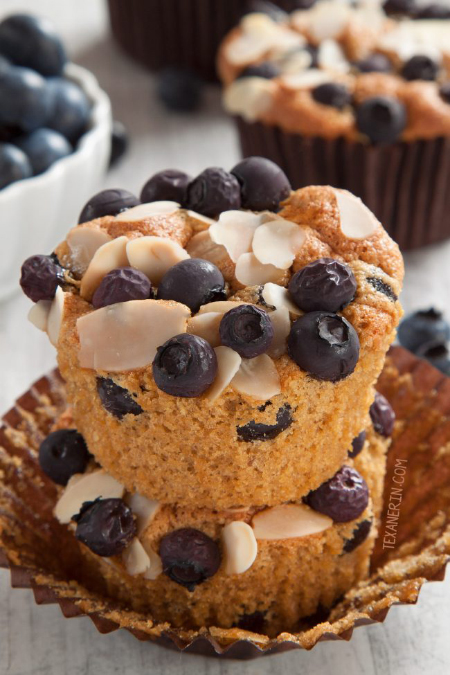 The Best Paleo Blueberry Muffins have a great texture, like angel food cake, and the almond extract just sends them over the top (for me, at least!). They're not just good for paleo muffins. These muffins are one of my very favorite recipes ever – even including the wheat-based ones!
I don't throw around "the best" with my recipe titles. But I felt it was right when it comes to that recipe. ;) Here's what one person said, "I made your delicious Best Paleo Blueberry Muffins Ever and you're right, they are the best."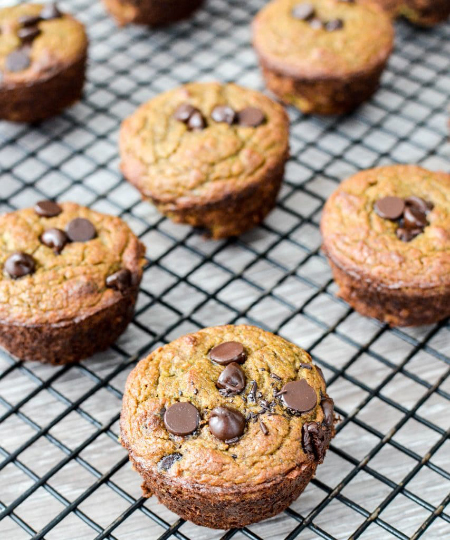 These Paleo Zucchini Banana Muffins from Joy Food Sunshine are filled with veggies, protein and fiber! Sounds awesome to me.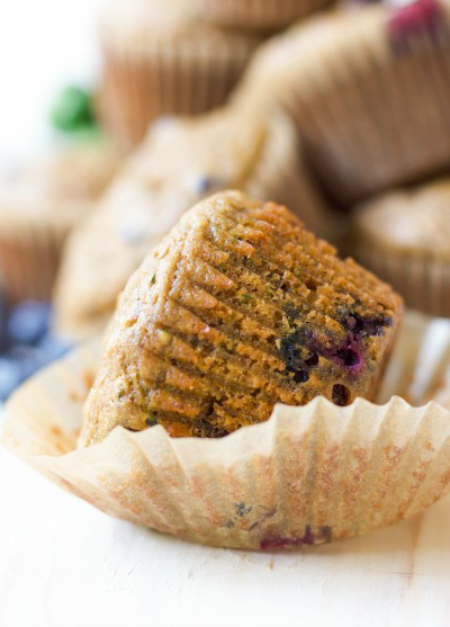 Blueberry Chocolate Chip Zucchini Muffins from Recipes to Nourish are packed with protein and perfect for an on-the-go breakfast. Blueberries + chocolate + zucchini sounds like an interesting combination, right? Have to try these!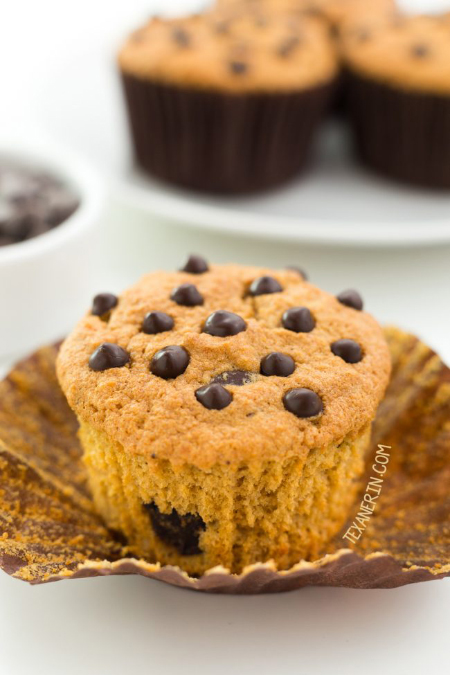 My Paleo Chocolate Chip Muffins use the same base as my blueberry muffins, but have chocolate chips instead. I prefer the blueberry version but I just got this comment – "As a passionate lover of muffins, I assert [I like the usage of assert here :)) that this is one of the best I've ever tried."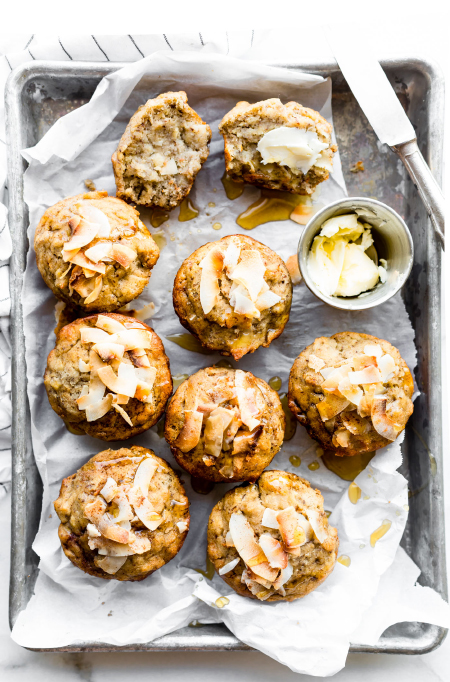 These Toasted Coconut Banana Muffins from Cotter Crunch are soft, fluffy, and addictive. I love what toasting coconut does to improve the flavor!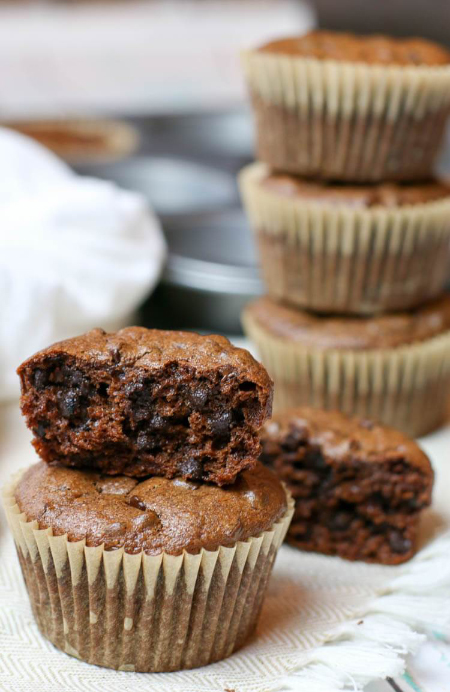 Prepare and Nourish's Double Chocolate Muffins are made in the blender and only have 6 main ingredients. So easy!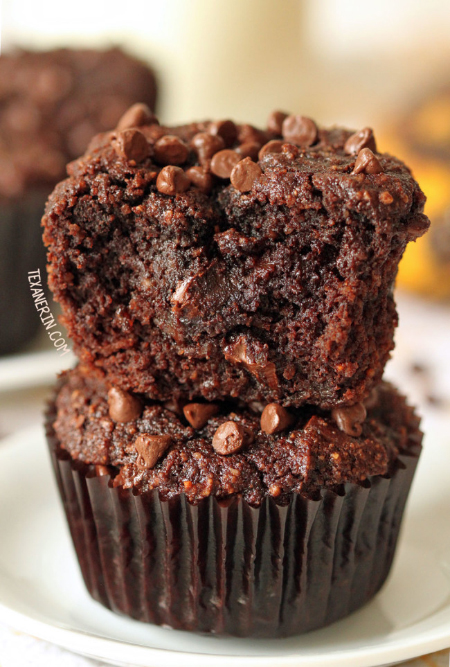 My Paleo Chocolate Banana Muffins have also been a big hit over the years. Do you see why? They're so darn fudgy! And I love that they're totally honey-sweetened. Or, well, kind of. There's a lot of chocolate in there, too. ;)
One reviewer said, "O.M.G these are my absolute favorite treats I've ever made – hands down the BEST!" I don't know if I'd go that far but I also think they're pretty awesome. ;)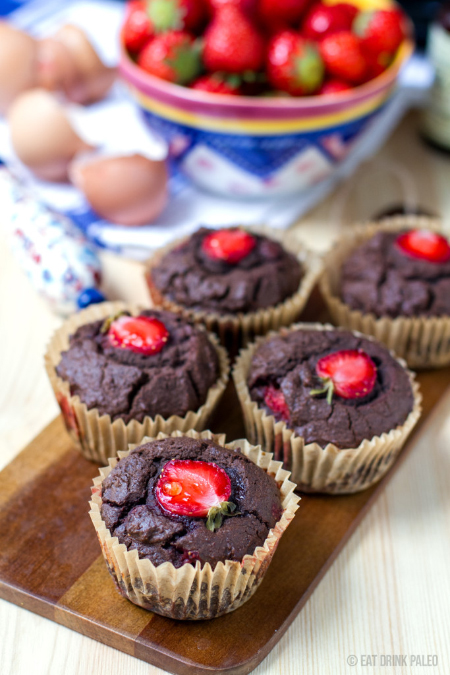 These Chocolate Strawberry Muffins from Eat Drink Paleo contain lots of hidden nutrients and are perfect for the lunch box! They use a mix of coconut flour and tapioca flour, a combination I haven't tried before. I'm intrigued!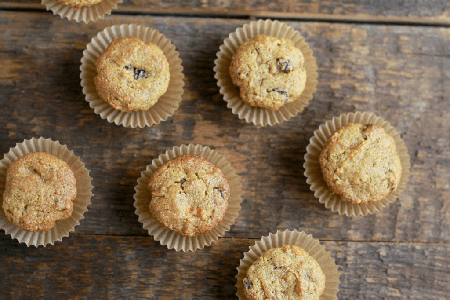 These Carrot Ginger Muffins from Savory Lotus sound like they have lots of flavor! I'm thinking they're more muffin-like than my carrot cake muffins above, which could also pass for cupcakes.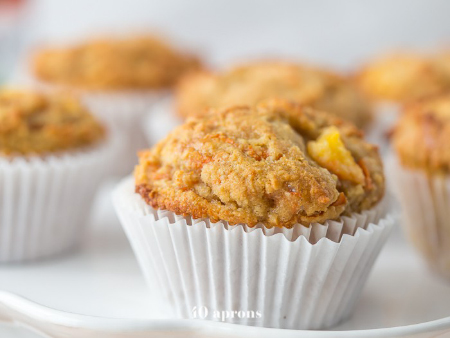 The best thing about these Peach Ginger Muffins from 40 Aprons is that they don't taste paleo! A super important quality to me. :) Moist, tender and full of peaches – I think they're a must-try!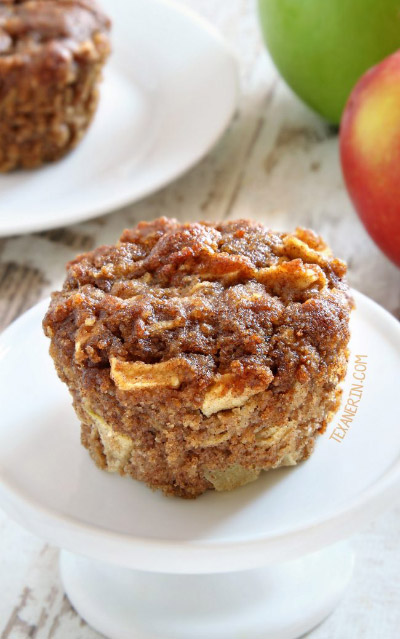 My Paleo Apple Muffins are loaded with cinnamon and apples and are maple-sweetened. I love these paleo muffins especially in the fall but they're great year-round, too!
One commenter said, "I never post comments. I mean never. But these are hands down the best muffins I have ever tasted."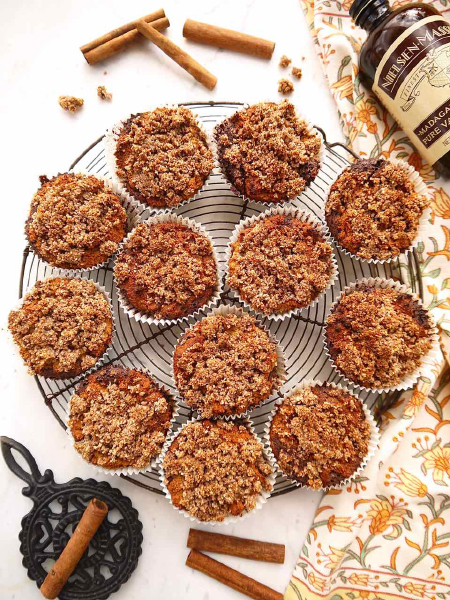 Perchance to Cook's Cinnamon Coffee Cake Crumble Muffins look like a cinnamon lover's dream, too. And they have a crumble topping!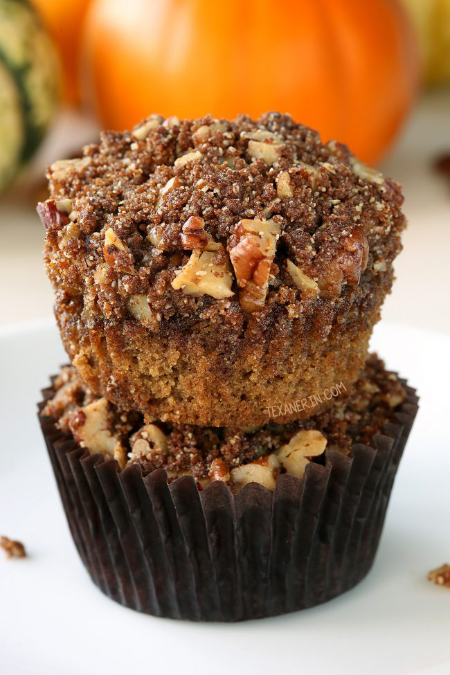 My Paleo Pumpkin Muffins also have a crumble-like topping and are full of autumnal flavors. They can also be made in cake form!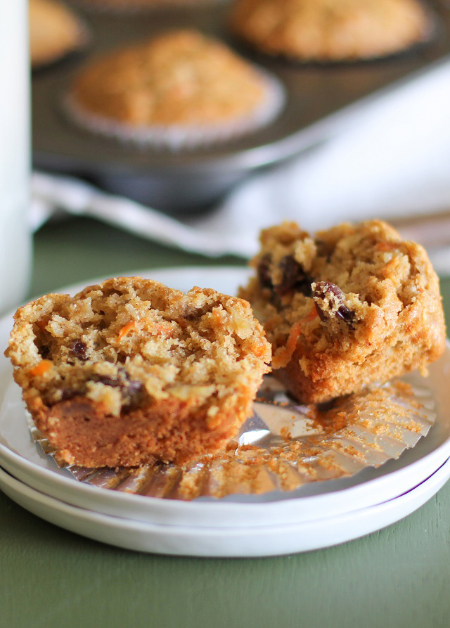 These Morning Glory Muffins from The Rosted Root are packed with carrots, apples, shredded coconut, raisins and walnuts. So much goodness in one muffin! I haven't tried them, but I think the texture looks great. If it sounds like I'm obsessed with texture, I am!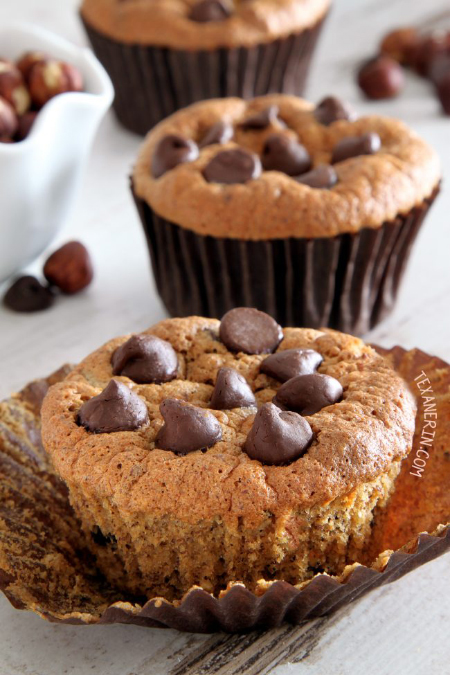 My Hazelnut Muffins have lots of nutty flavor! Have you ever baked with hazelnut meat? It's SO good! I'm guessing it's pretty expensive in the US, but it's quite common here (you can even get it at Aldi and Lidl) in Germany. You could use almond meal in its place.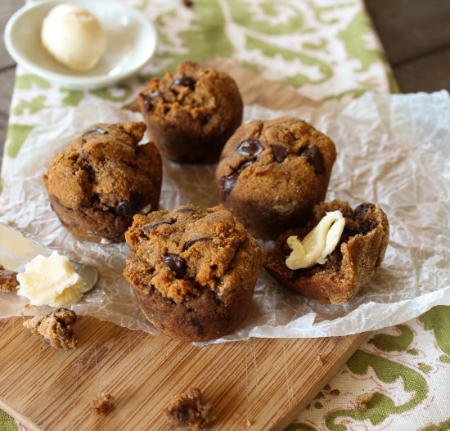 These Paleo Sweet Potato Muffins from Tessa the Domestic Diva are soft with a dense crumb, and are nut-free, vegan, egg-free (something that's hard to come by in paleo baking!)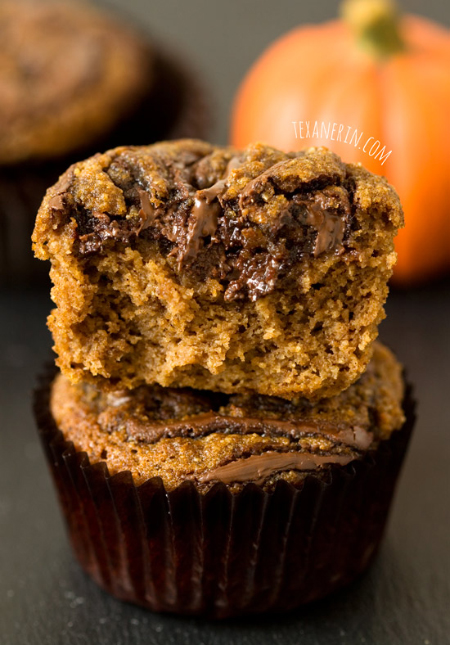 My Pumpkin Spice Latte Nutella Muffins don't actually contain real Nutella, but a homemade paleo version! You can leave it out for a simpler version.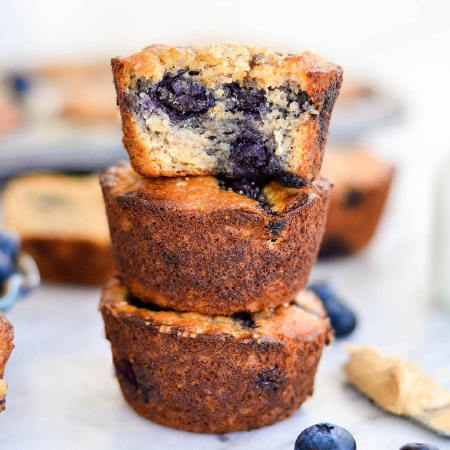 Joy Food Sunshine's Paleo Blueberry Banana Muffins taste like a delicious bakery muffin! But are made so much healthier with almond butter and almond flour.
So what are you going to try first? Might I recommend my blueberry muffins? :D So, so delicious!