No-bake vegan key lime pie made paleo with the help of maple syrup, cashews and coconut cream. Unbelievably creamy, decadent and every bit as delicious as the original! Thanks to Pure Canada Maple for making today's post possible!
It took me almost 5 years of blogging to post a recipe for healthy key lime pie because the other healthy recipes I tried were just too healthy tasting.
I posted these gluten-free key lime pie bars last month and they call for two cans of sweetened condensed milk. They're really delicious but I'll never make them again because these were honestly just as satisfying and are SO much better for you.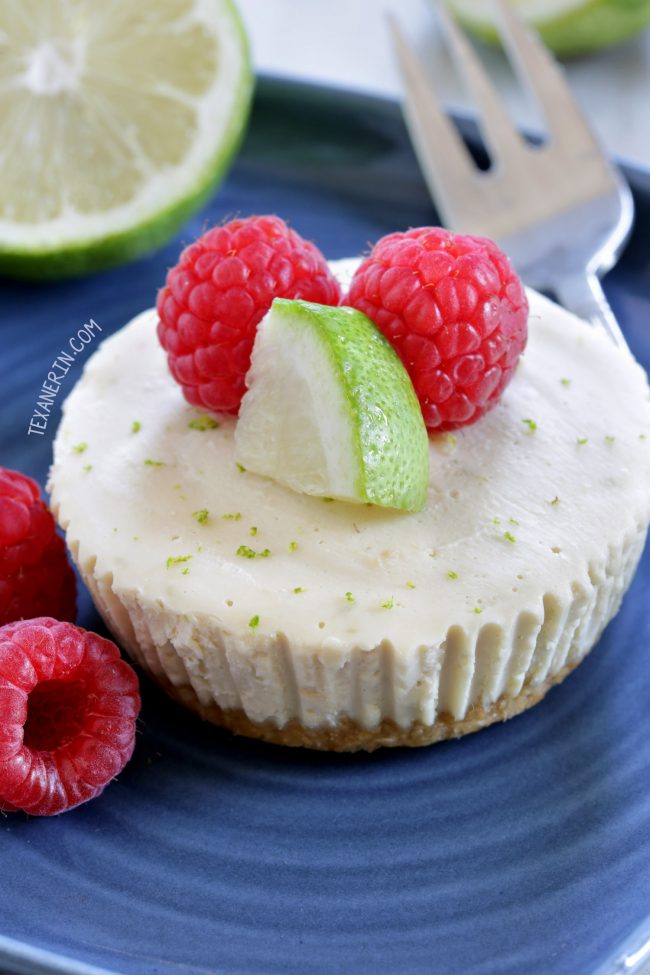 This vegan key lime pie recipe is loaded with healthy fats like cashews, coconut cream, and unrefined coconut oil. Those are some strongly flavored ingredients but these pies really taste perfectly key limey and not coconutty or like cashews. And they only have 7 1/2 tablespoons of sweetener (in the form of all-natural maple syrup) in them! That's less than 2 teaspoons of sweetener per pie.
Want a lemon version? Try my no-bake paleo lemon bars! It's basically this paleo key lime pie recipe but with lemon and in bar form.
Maple syrup is wonderfully versatile when it comes to baking (as well as cooking). While I love using the darker, more intense Grade A Dark Amber maple syrup for autumnal and wintry treats, I use the lighter and more delicately flavored Grade A Medium Amber (Light Amber would also work, but is more difficult to find than Medium Amber) in more light tasting treats like these paleo key lime pies or this paleo lemon fudge.
When I make something citrusy, I want the lemon or lime to shine through and using one of the lighter varieties allows just that.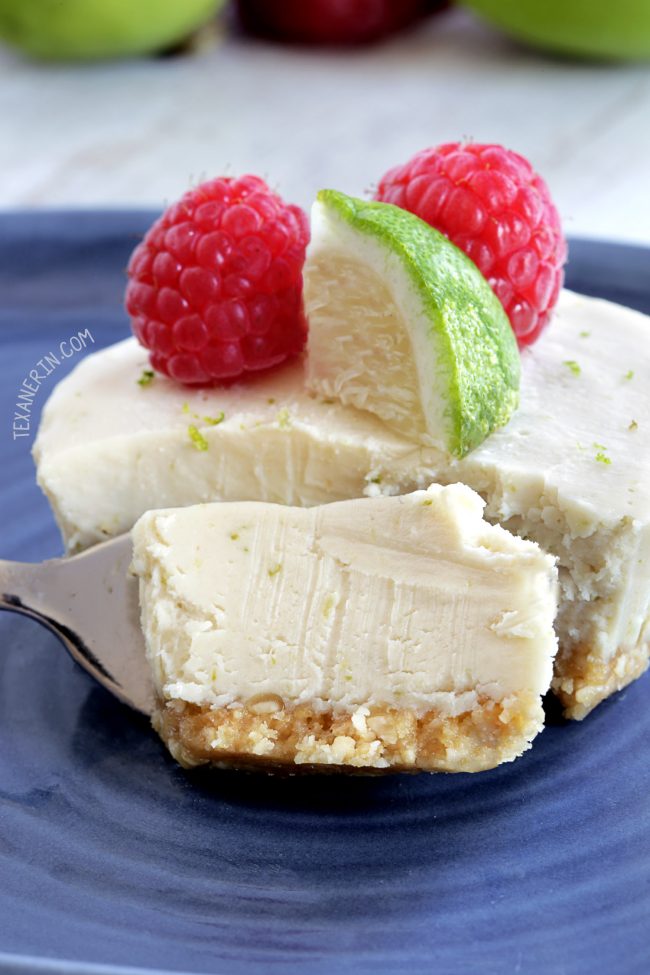 It's also easy to sub maple syrup for other sweeteners! In place of 1 cup (200 grams) of brown or granulated sugar, use 2/3 cup (158 milliliters) of pure maple syrup and reduce the liquid ingredients in the recipe (like water, milk, or juice) by about 1/4 cup (60 milliliters). You'll also need to lower the baking temperature by 25° F.
I've tried subbing maple syrup for granulated sugar in cookie recipes which didn't have any liquid to reduce. That resulted in cakey, rather than chewy, cookies. So be sure to use a recipe that actually has added liquid in it!
These vegan paleo lemon cookies already use maple syrup so if you're not comfortable making subs yet, give those a try!
If the recipe calls for liquid sweeteners, it's a 1-to-1 sub. But use your judgment when doing that. I wouldn't, for example, sub a cup of 100% maple syrup for a cup of corn syrup in a brittle recipe. Candy recipes can be finicky so I recommend finding cooked candy recipes that already call for maple syrup, like my peanut butter fudge.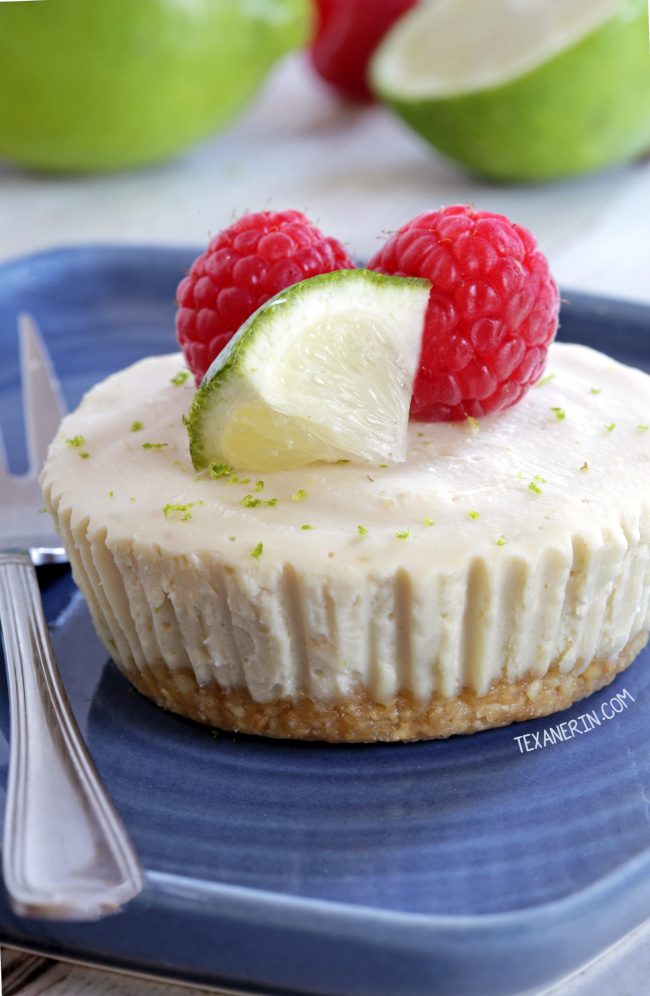 The honey in this paleo lemon curd might also be difficult to sub. I haven't tried it, but I'm not positive it'd work out.
I really hope you'll give this vegan key lime pie a chance! They're so, so creamy and just the perfect sweet treat for hot summer days. :)
Thanks again to Pure Canada Maple for sponsoring today's post! Be sure to check out their recipe section for even more delicious maple recipes.
❀
No-bake Vegan Key Lime Pies (paleo, grain-free, gluten-free, dairy-free)
Prep Time:
Cook Time:
Ready in:
Yield:

12 mini pies
Ingredients
For the crust:

1/2 cup (43 grams) unsweetened shredded coconut
1 cup (145 grams) roasted salted cashews
1 1/2 tablespoons pure Canadian maple syrup
1 teaspoon vanilla extract
pinch of salt

For the filling:

1 cup (145 grams) roasted salted cashews, soaked for 1 hour1 (there's no sub for the cashews)
3/4 cup (168 grams) unrefined coconut oil, very soft or melted (do not use cold coconut oil!)
1/4 cup (60 grams) coconut cream (the top, solid part from a can of full-fat coconut milk that's been refrigerated overnight)
1/2 cup (120 milliliters) freshly squeezed lime juice or Key lime juice
6 tablespoons (89 milliliters) pure Canadian maple syrup
2 tablespoons (8 grams) lime zest
1 teaspoon vanilla extract
pinch of salt, or more to taste
Directions
Line a muffin pan with 12 muffin liners. Prepare the crust. Heat a pan over medium-high heat and add the coconut. Stir frequently until nicely toasted. Do not walk away from the pan as the coconut starts to burn very quickly! Pour the coconut into a small bowl and let cool for about 5 minutes. You can skip the toasting step but I think it adds so much flavor to the crust!
Place all the crust ingredients in a high-powered blender and process at low speed until the mixture starts to clump together. Don't process so long that it becomes pasty. When you pinch some of the mixture between your fingers, it should easily clump together. If it doesn't, add a tiny bit of water and process again until it does.
Divide the mixture between the liners (17 grams per liner) and use the bottom of a shot glass or your fingers to press the mixture firmly over the bottom of the liners.
Place the pan in the refrigerator while you prepare the filling.
Wipe out the blender jar using a paper towel and place all the filling ingredients in there. Blend for about 30-60 seconds at high speed until totally smooth.
Pour about 1/4 cup (50 grams) of filling over each crust.
Refrigerate for about 4 hours or until firm. If you're in a hurry, place the pan in the freezer.
Refrigerate the pies in an airtight container for up to 3 days. If you freeze them for a while, they'll need about 70-80 minutes at room temperature to defrost or about 1 1/2 - 2 hours in the refrigerator. Once properly defrosted, they should be totally creamy.
Notes
Place the cashews in a small pot, pan or mug and cover with boiling water. Let sit for 1 hour. Drain the water.
While I'm sure the crust can be made in a food processor, I'm not sure about the filling. It definitely wouldn't be as smooth (using a high-power blender, it's totally smooth) and it may not work at all. If you try it anyway, let us know how it goes!