This matcha protein shake is thick, creamy, and a great way to start your day! It's perfect for people who don't love the taste of matcha and are trying to find a way to make it more palatable. It's vegan, as written, but can be made with regular milk and yogurt if desired.
I've been making this protein shake almost every day for six months. On the super busy days when I don't have time to make this, I enjoy some Protein Cookie Dough, of which I always have a stash.
I have a hard time getting in enough protein, and both recipes help. You can even add a handful of spinach to this shake, if you'd like!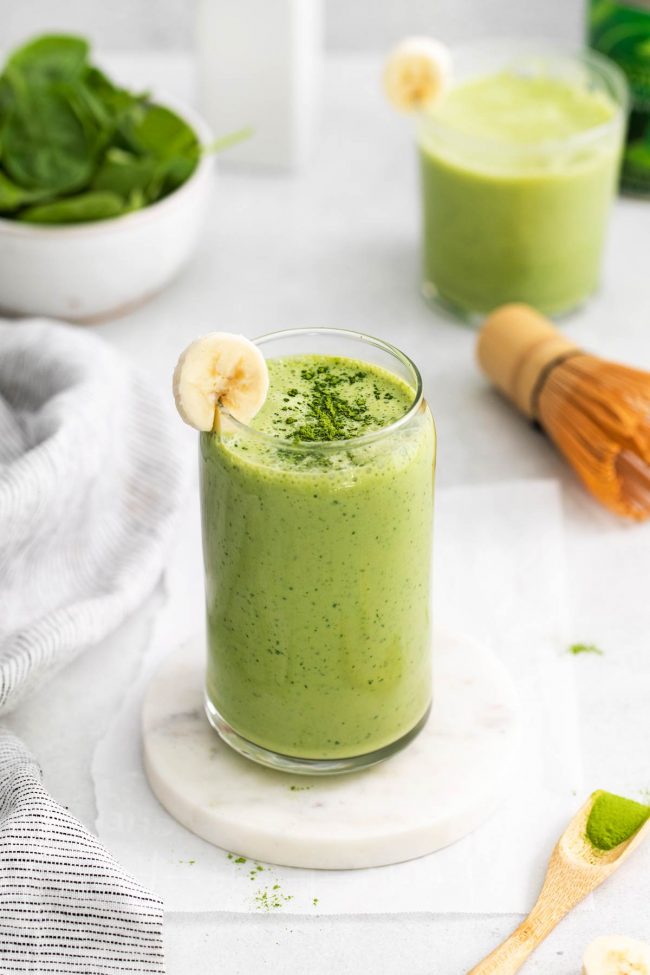 Ingredients
Yogurt and/or milk — I always use non-dairy, but dairy works, too.


Vanilla protein powder — you can use unflavored protein powder, if you prefer.


Banana — this is needed for sweetness, and it also helps thicken the shake. If you need to omit it, you'd probably need to add a tablespoon of sweetener and use all yogurt to make the shake not so liquidy. Using all plain yogurt would probably require more sweetener on top of the extra tablespoon.


Vanilla extract — you can omit this, if needed.


Matcha — no way to omit this if you want a matcha protein shake. ;) Never had it before? Check this out → What Does Matcha Taste Like?


Baby spinach and/or cinnamon — optional.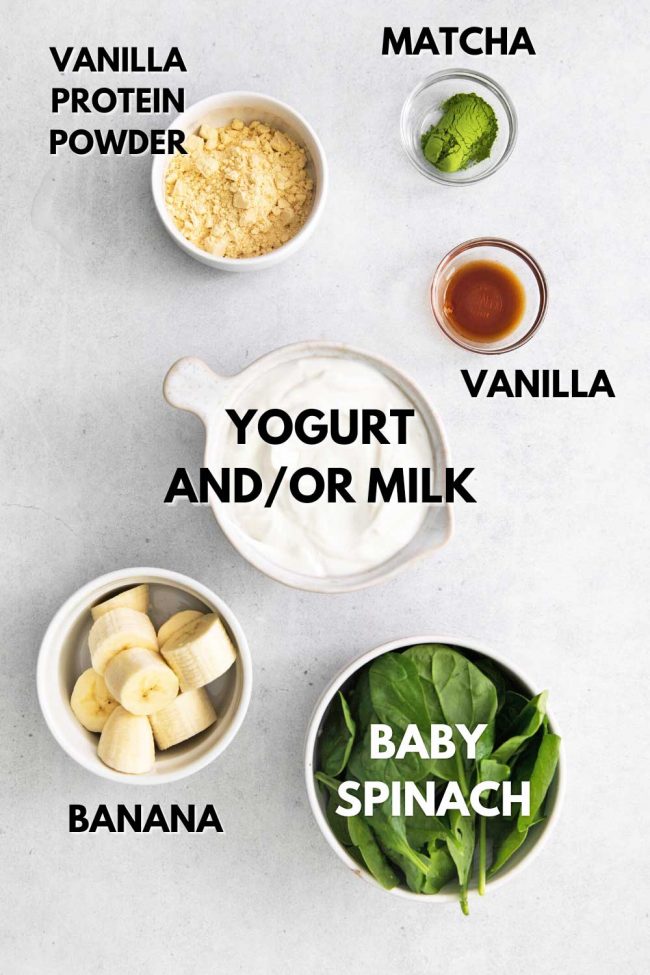 Yogurt/milk options
The shake is quite thick if you use all yogurt. So I use half yogurt and half milk or water.
I use coconut milk yogurt and unsweetened cashew milk. The resulting shake doesn't taste coconutty or of cashews.
You can use dairy milk and yogurt if you can have dairy.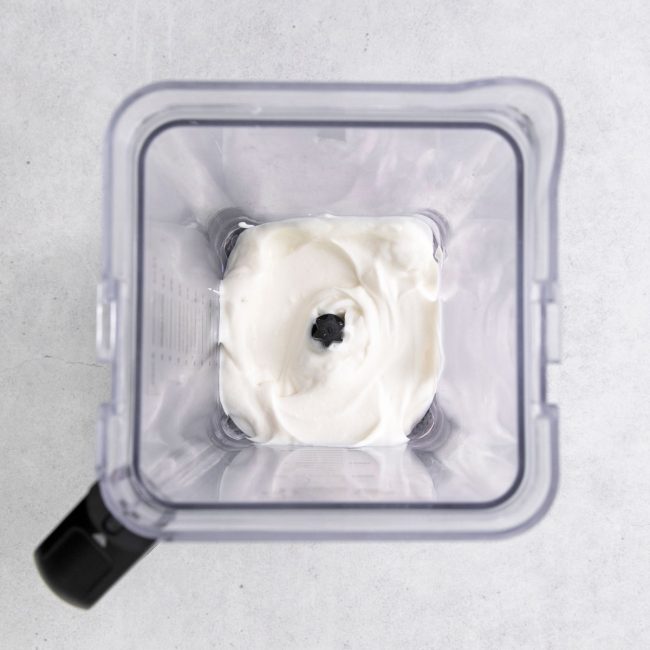 Spinach?!
To be honest, I used spinach for color reasons. My protein powder is brownish, and when you combine that and the matcha, the result isn't very pretty.
I don't care about the color when not posting things on the internet, and spinach isn't always the easiest to find here, so I often skip it.
You can't taste it at all with the protein powder I used. If your protein powder is unflavored, you might be able to taste the spinach, but probably not if you add the cinnamon.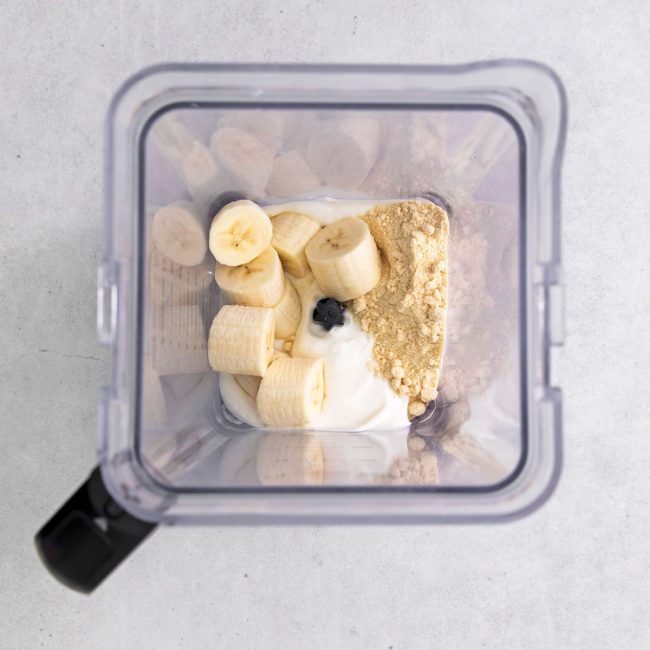 As I said in my Halloween Mac and Cheese post, which has 4 cups of "hidden" spinach in it to turn the cheese sauce green, I really don't like spinach.
So you can trust me when I say that you can't taste it! This is if you use baby spinach. I haven't tried it with regular spinach.
Baby spinach is sweeter and milder than regular spinach. It's also more tender than regular spinach, which I figured would be better for blending.
If you like the taste of spinach and have a high-speed blender, then I think regular spinach would likely be okay. And I say a high-speed blender because I'm sure how well it'd blend in a regular blender. But if you remove the stems, I think it'd be fine in a regular blender.
And if you have some spinach left over, you can try this Weight Loss Green Smoothie!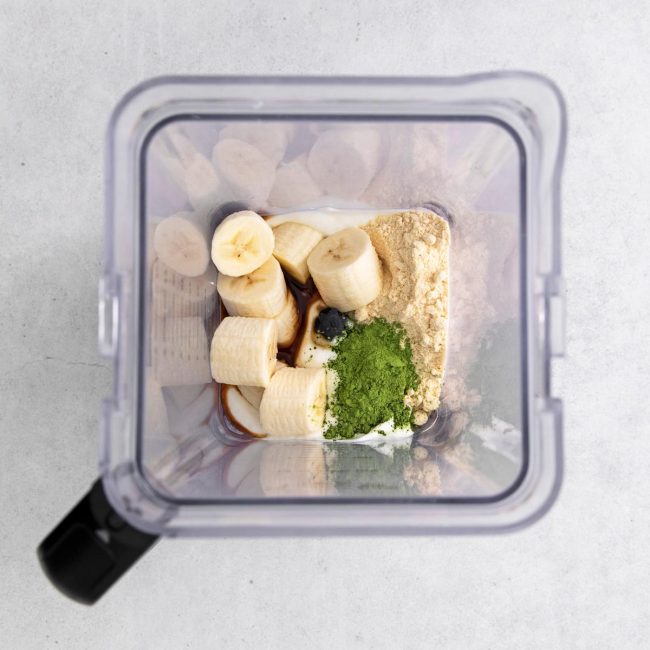 What protein powder to use
I use the same one that I use in all my protein recipes, Dr. Murray's Vanilla Protein Powder. I love the taste, and the ingredients aren't too funky.
Sometimes, I use their chocolate protein powder and add about 2 teaspoons of cocoa powder. It's not super chocolaty, but still satiates any chocolate cravings!
If you want something super chocolaty, try these Protein Brownies or Chocolate Protein Overnight Oats instead!
And if you want to ditch the matcha, try this Chocolate Protein Shake.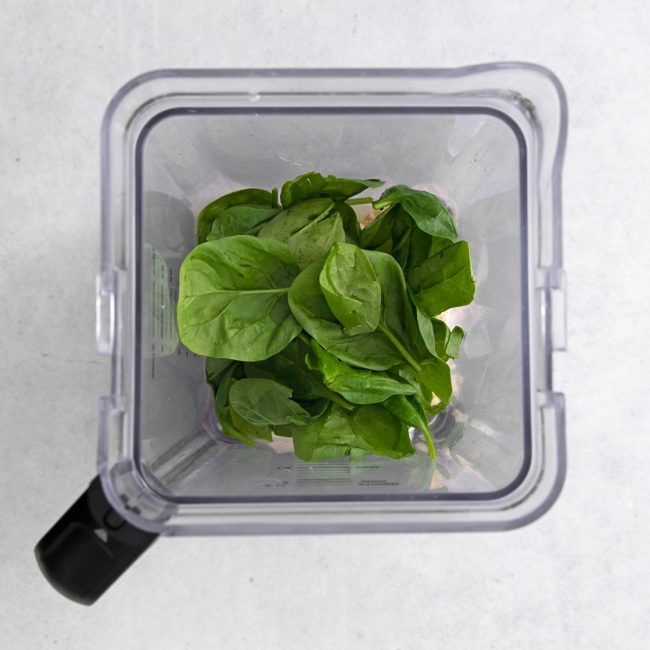 If you use an unsweetened protein powder, the shake might be sweet enough. Or you might need a add a little bit more banana or a little bit of sweetener.
And, as always, if your protein powder is disgusting, your protein shake will be, too.
The matcha, banana and cinnamon would do a great job covering up some of the taste, but likely not all of it.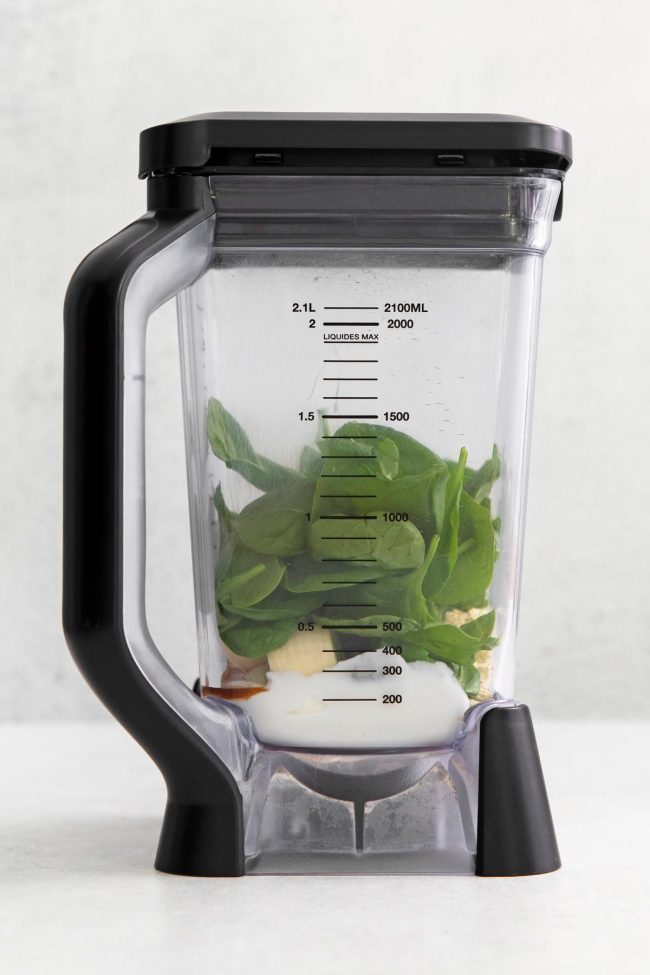 What matcha to use
In my baked matcha recipes, like this Matcha Cheesecake and these Vegan Matcha Cookies, I go into SUPER detail about what type of matcha you need to use.
Luckily for this recipe, you can use whatever you have. If you need to buy some, then Premium Culinary Grade is the best for smoothies and lattes like this Chai Matcha Latte and this Starbucks Matcha Latte Copycat. It's not super expensive and isn't very bitter, unlike some lower-quality types.
You don't need the expensive ceremonial kind for something like this. I only use ceremonial in baked goods for color reasons.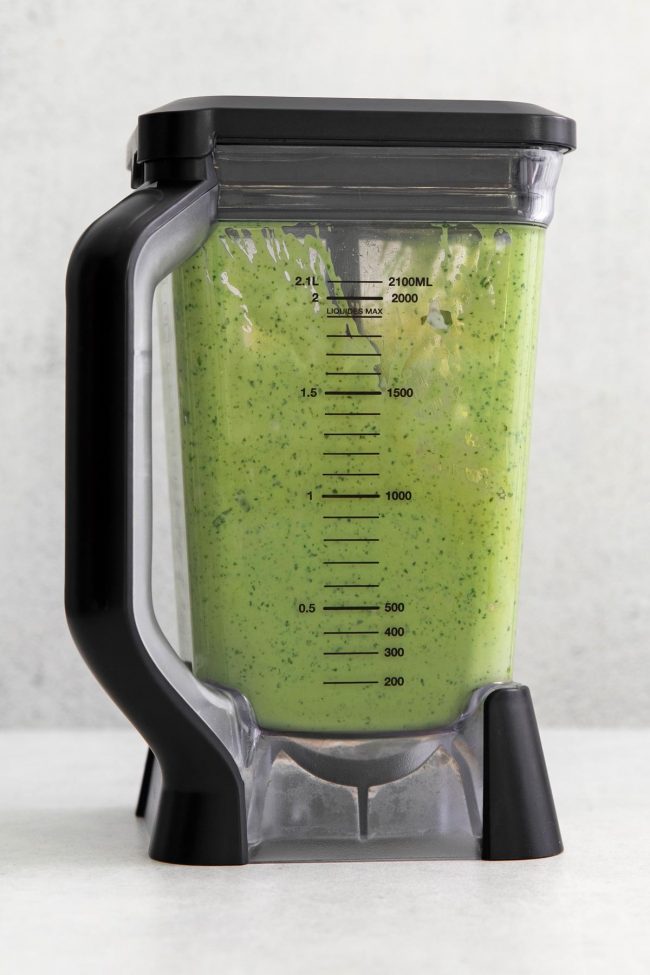 Can you taste the matcha?
When making it, as I've described above, you can't taste the matcha. If you use a very strong ceremonial matcha and unflavored protein powder, I imagine you'd be able to taste the matcha regardless of what brands and types of milk/yogurt you use.
If you want to get more matcha into your diet, but don't love it, then this is a great recipe! And if for some reason you can taste it in the finished drink, add the cinnamon and you'll have a lovely cinnamon banana smoothie! It'll be an ugly color – but delicious.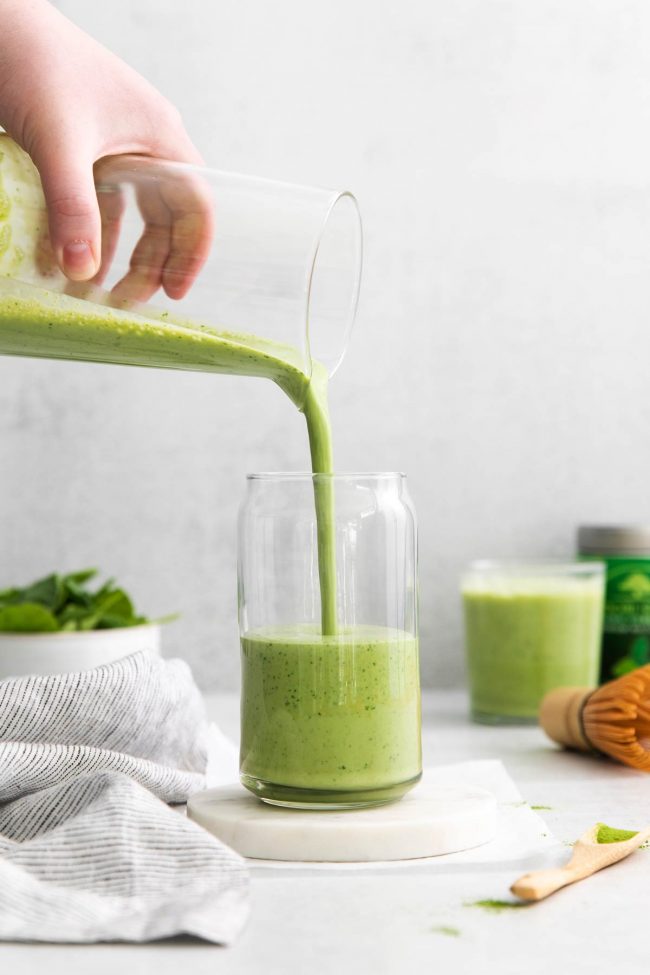 Paleo/vegan version
Just make sure to use paleo and/or vegan milk, yogurt and protein powder. That's how I always make it, and it tastes great.
The protein powder I mentioned above is vegan and the paleo protein powder I use seems to have been discontinued. Any favorites?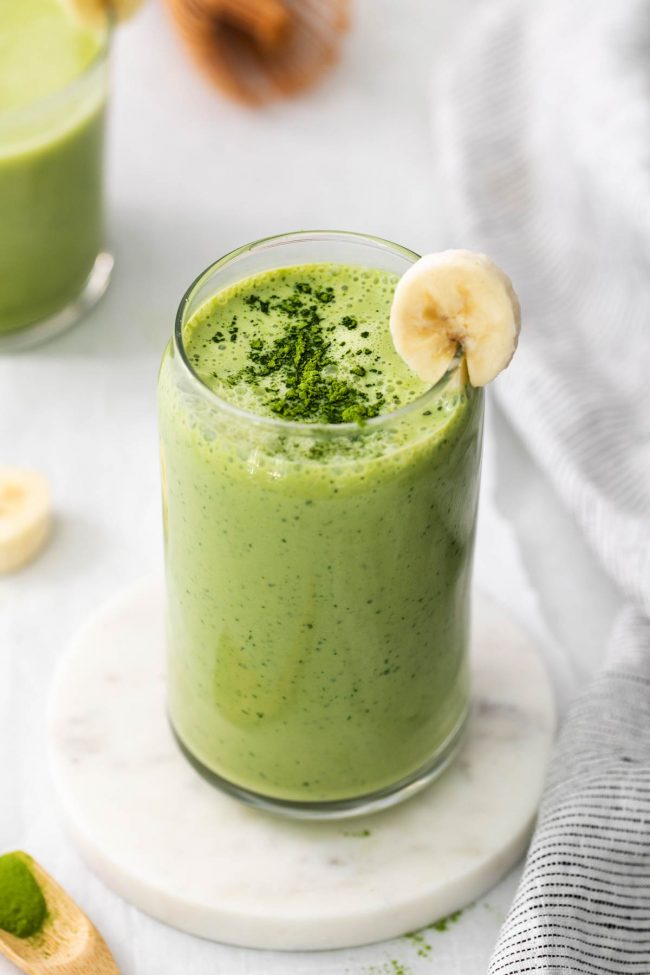 Other smoothies
I hope you enjoy this matcha protein shake! If you try it, please let us know how it turned out in the comments below. If you loved the recipe and want to share it on social media, feel free to tag #texanerin so I can be sure to see your creations. Thank you! :)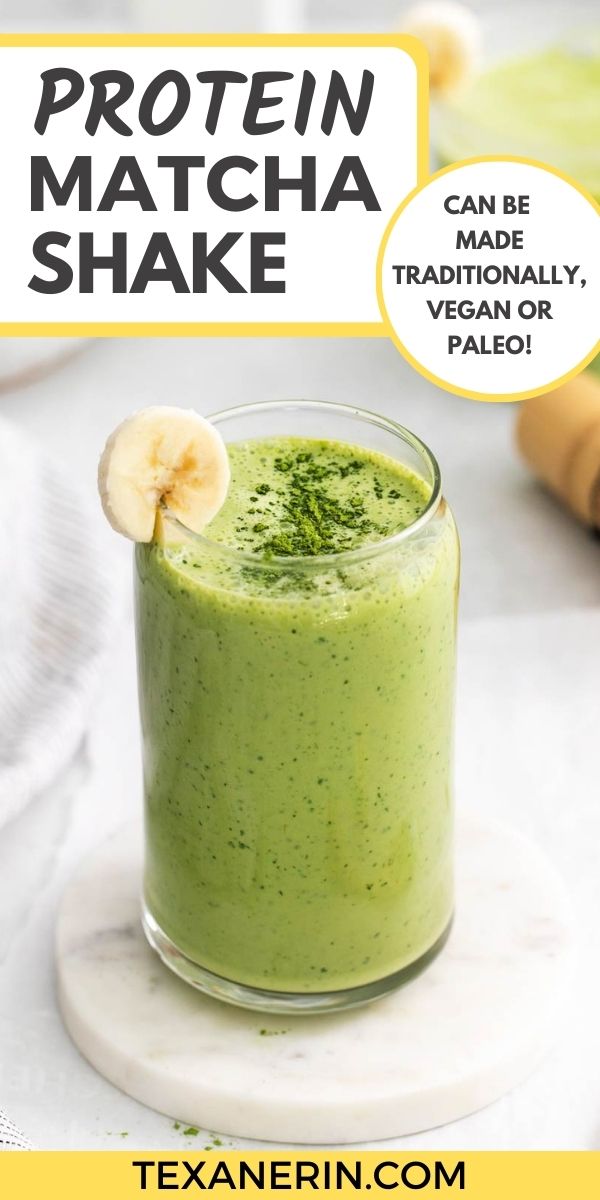 ❀
Matcha Protein Shake (vegan)
Prep Time:
Cook Time:
Ready in:
Yield:

1 serving
Ingredients
1/2 cup (120 grams) coconut milk yogurt or yogurt of choice
1/2 cup (120 ml) unsweetened cashew milk or milk of choice
1 scoop (30 grams) vanilla protein powder
1 medium banana (120 grams peeled)
1 teaspoon vanilla extract
1 teaspoon matcha powder
optional: 1 cup (25 grams) baby spinach and/or 1/2 teaspoon ground cinnamon
Directions
Put the ingredients in a blender in the order listed, and blend on high until totally smooth.
Pour into a glass.
Serve immediately.
Notes
If vegan/paleo, make sure to use vegan/paleo yogurt, milk and protein powder.
If gluten-free, make sure your protein powder is gluten-free.