This pumpkin fudge requires only 4 ingredients, is no-cook and takes just a few minutes to make! Can be made vegan and dairy-free. With a video.
Having friends over tonight? Make this fudge.
Going out? Make this white chocolate pumpkin fudge and take it with you.
Staying at home by yourself? Make this fudge. But only 1/4 of the batch or you're going to eat it all and have an aching tummy.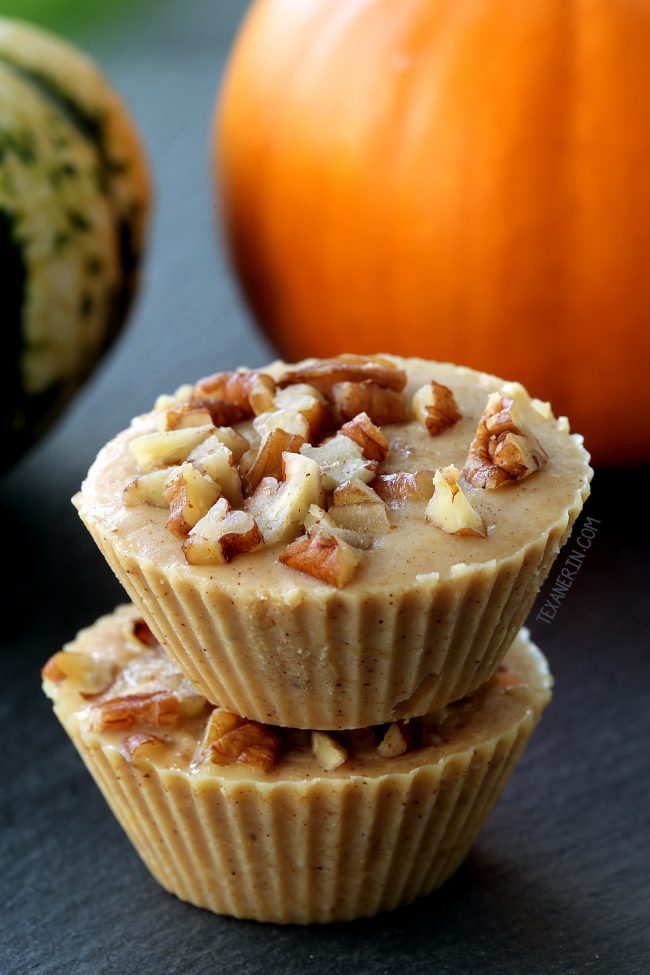 You melt white chocolate and coconut oil in the microwave and then add pumpkin and spices. It takes like 5 minutes. This is the easiest fudge ever.
Even easier than my chocolate peanut butter fudge, which is already super simple. The hardest part about this pumpkin fudge recipe was chopping the white chocolate.
Have I mentioned we also don't have chocolate chips over here? Yeah. I don't even want to think about how many hours I've spent chopping chocolate since I moved over here.
But on a positive note, German chocolate, even the cheapest stuff at Aldi, kicks butt. Unfortunately, in general, the white chocolate in the US isn't nearly as good.
If you want to make this recipe (and I hope you do!) please use a high-quality white chocolate like Ghirardelli and not the cheap stuff!
And if you want to make this as dairy-free and vegan pumpkin fudge, just use these vegan white chocolate chips.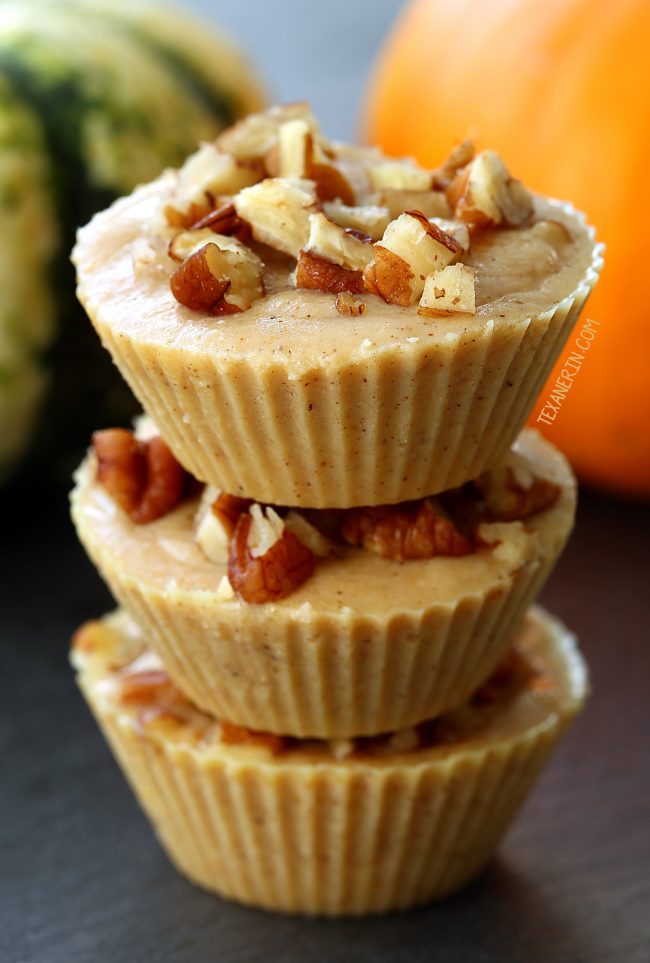 Anyway, this fudge? It's like pumpkin pie but without that pesky crust. And way creamier, quicker and delicious. Or actually… maybe not creamier than my vegan pumpkin pie. It's hard to compete with that pie!
I know a lot of people don't like white chocolate but I don't think that they'd mind it in this fudge. They might not even know it's in there unless you tell them. But maybe my opinion isn't valid because I am obsessed with white chocolate pumpkin desserts…
The one downside is that it needs to be kept chilled. It's really soft at room temperature, although it doesn't melt. At least not at these chilly fall temperatures. If your coconut oil is solid at room temperature, then your fudge also should be solid and not melt at room temp.
For something that'd be more suitable for a party, try my pumpkin cupcakes or pumpkin pie bars.
The pictures don't do this fudge justice at all. Every time I took a bite of the fudge to give you a texture picture, the other half of the bite just immediately fell into my mouth. So you're going to just have to believe me when I say this pumpkin fudge is creamy.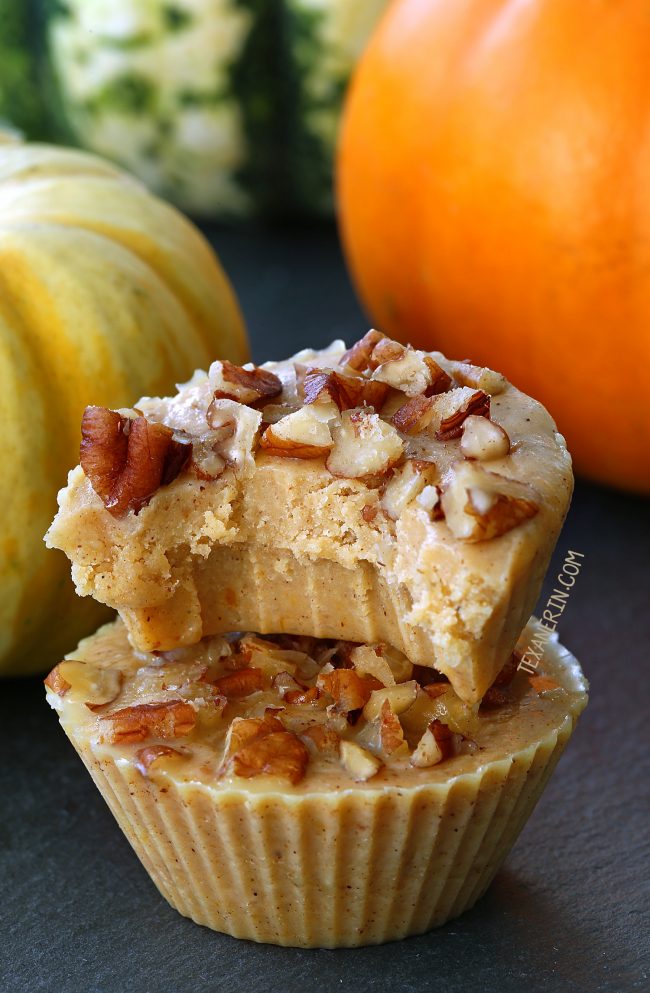 This pumpkin fudge is also quite sweet, like fudge normally is, but it's not too sweet.
Substitution questions –
Can I use unrefined coconut oil?

I used refined coconut oil, which has no coconut taste. If you don't mind coconut taste in your fudge, then go ahead and use the unrefined stuff. I can't imagine it being as tasty, though.


Can I use butter instead of coconut oil?

Short answer: yes. The recipe specifically called for coconut oil up until today but one commenter made this pumpkin fudge with butter and was successful and one person said it didn't work with butter. So I tried it out yesterday and the butter didn't combine at all with melted white chocolate. No matter how much I stirred!

Turns out the problem was that I used a different white chocolate that didn't have soy lecithin in it, which is an emulsifier preventing fat separation. I made it again with regular white chocolate that contains soy lecithin and it worked perfectly!


Can I use homemade pumpkin puree?

I really recommend using canned pumpkin. I'd be worried about the fudge not setting if you use the homemade stuff as it's usually more watery and it's difficult to get it the same exact consistency as the canned stuff.


Can I use milk / semi-sweet / dark chocolate or Nutella or peanut butter or something else instead of white chocolate?

I really don't think so. I haven't tried it but I don't think it'd work out well and I don't think it'd be very tasty. I could of course be wrong (except about Nutella, peanut butter and others spreads – those will not work!) It's just a guess.


Click here to view, comment or share the video on Facebook! Thank you. :)
10/2017 note: The pictures were updated and a video was added. Here's the original picture for reference!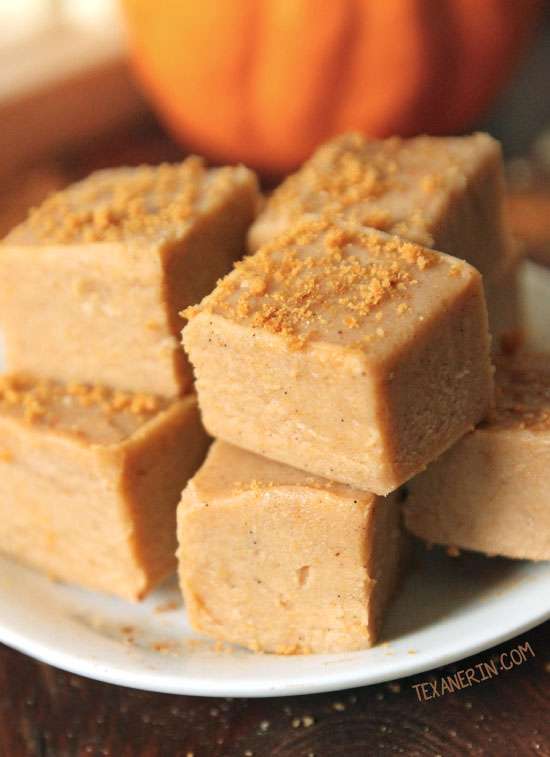 ❀
Easy 4-ingredient Pumpkin Fudge (vegan, dairy-free options)
Prep Time:
Cook Time:
Ready in:
Yield:

32 pieces
Ingredients
12 ounces (340 grams) white chocolate chips (for vegan / dairy-free, use vegan white chocolate chips)1
5 3/4 tablespoons (80 grams) refined coconut oil or unsalted butter for a non-vegan and dairy-containing version
1/3 cup (80 grams) canned pumpkin puree
2 1/2 teaspoons pumpkin pie spice2
the seeds of one vanilla bean, optional (I use really tasty white chocolate and don't use this)
Directions
In a microwave safe bowl, microwave the white chocolate chips and coconut oil on half power in 30 second increments, stirring after every 30 seconds. It took me about 4 minutes total. If you prefer the stovetop, use a double broiler as white chocolate is easy to burn. It's much easier to do in the microwave!
Once completely melted, take out of the microwave and add the pumpkin puree, spices and the seeds of the vanilla bean, if using. At first the oil might separate and it might look curdled. Just keep stirring and stirring. It'll come together after about a minute.
Pour into a parchment or wax paper lined 9"x5" loaf pan or use about 12-16 silicone mini muffin liners in a mini muffin pan. Place in the freezer or refrigerator to firm up. It took about 45 minutes in the freezer. Store in the fridge or freezer.
Notes
Almost all white chocolate contains soy lecithin, an emulsifier preventing fat separation, in it. You most likely have to use chocolate with soy lecithin in it to guarantee that the mixture combines!
You can also use 1 teaspoon cinnamon, 3/4 teaspoon ground ginger, 1/2 teaspoon ground allspice and 1/4 teaspoon ground nutmeg instead of pumpkin pie spice.
As an Amazon Associate, I earn from qualifying purchases. For more info, see my disclosure.