These chewy pumpkin spice cookies are sure to be a hit with your paleo + vegan friends as well as gluten eaters! This recipe also has a low-carb option.
I'm guessing a lot of people are over pumpkin for the year but I'm definitely not. If you've moved on to all things Thanksgiving, check out my paleo apple crisp, cranberry orange sauce or gluten-free pumpkin pie bars.
Does anyone have any Thanksgiving recipe requests? I'd be happy to have some suggestions!
Now on to these cookies. I've been working on a paleo pumpkin cookie recipe for over five years.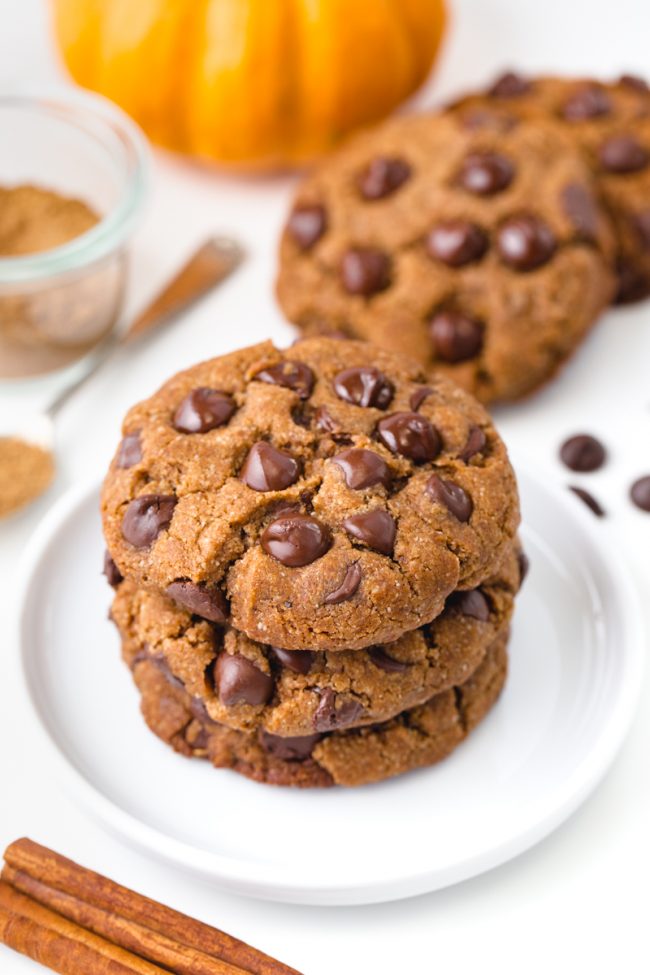 I want them to be super chewy but chewy and pumpkin cookies don't seem to go together. I've made other pumpkin cookie recipes that were supposed to be chewy, but I thought that they were still cakey.
As some of you who have been following me for a while might know, I'd rather not post a recipe than compromising on quality. So yeah. I'm done with pumpkin cookies!
They have defeated me. I declare: it can't be done (but I'd be delighted to be proven wrong!) ;)
So today I'm bringing you the next best thing – pumpkin spice cookies. :) I wouldn't say that these cookies are super spicy. If that's what you want, try my paleo gingerbread cookies, which have a similar base to this one.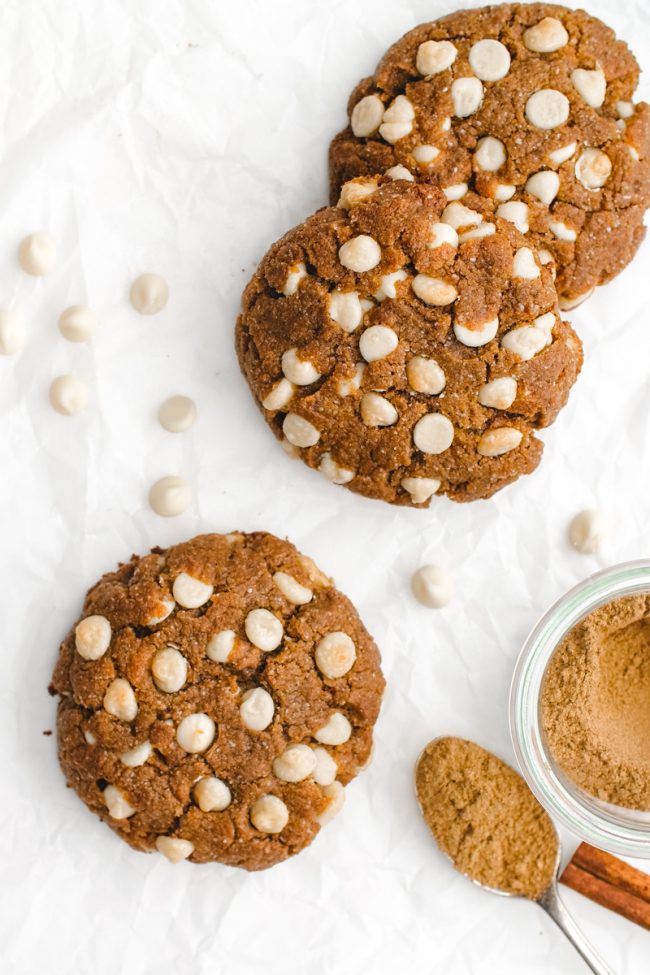 Some espresso powder in these pumpkin spice cookies would be a delicious addition! Maybe 1/2 – 1 teaspoon?
I make mine with a chia egg but they're great with a regular egg, too. Make sure to use dairy-free / vegan chocolate chips, if needed. There are vegan white chocolate chips but they're far from paleo.
For another fun pumpkin try, check out this pumpkin chocolate chip cookie in a mug.
Hope you'll enjoy them!
Substitution questions for these pumpkin spice cookies:
What can I use instead of the egg or chia egg?

A flax egg should work. I haven't tried anything else, though, so I can't say for sure.

Can I use something instead of coconut sugar?

Brown sugar would work if you don't care about it being paleo. Subbing in a liquid sweetener won't work. Lakanto Monkfruit Sweetener works for a low-carb version. Some people would consider it paleo, some don't. It's up to you! Do note that your cookies won't be as chewy or spread as flat as the ones in the picture.

Can I use something instead of almond flour?

Yes! Make my coconut flour cookies and add 1 tablespoon of pumpkin pie spice.

Can I use something instead of coconut flour?

Nope! There's no sub for coconut flour.

Can I use something instead of almond butter?

They work great with sunflower seed butter. I haven't tried any other nut butters so I can't say for sure that these pumpkin spice cookies would come out as well as with almond butter. My guess is that they wouldn't. Whatever you use should be free of added fat and sugar.
❀
Paleo Pumpkin Spice Cookies (vegan, low-carb, grain-free, gluten-free, dairy-free)
Prep Time:
Cook Time:
Ready in:
Yield:

12
Ingredients
1 cup (100 grams) blanched almond flour1
1/4 cup (32 grams) coconut flour2
1 tablespoon pumpkin pie spice (here's how to make it yourself)
1 teaspoon baking soda
1/4 teaspoon salt
6 tablespoons (84 grams) coconut oil or unsalted butter, room temperature (if your coconut oil is a little melty, put it in the fridge for about 10-20 minutes or until firmer, like softened butter.)3
3/4 cup (150 grams) coconut sugar, very tightly packed or brown sugar4 or Lakanto Monkfruit Sweetener for low-carb
6 tablespoons (98 grams) natural almond butter (the kind with just almonds in it and no added fat / sugar), room temperature5 (here's how to make almond butter)
1 1/2 teaspoons vanilla extract
1 large egg, room temperature (or 1 chia egg for vegan)6
1 1/4 cups (213 grams) chocolate chips, divided (make sure to use paleo-friendly / vegan / low-carb chocolate chips, if desired)
Directions
In a medium mixing bowl, stir together the almond flour, coconut flour, baking soda, pumpkin pie spice and salt. Set aside.
In a large mixing bowl with an electric hand mixer or using a stand mixer, beat together the coconut oil, coconut sugar, almond butter and vanilla at medium speed until well combined, about 1 minute.
Beat in the egg on low and mix until well incorporated.
Stir in the flour mixture until well combined.
Then stir in 1 cup (170 grams) chocolate chips. Place the bowl in the refrigerator for about 1 hour or until the dough is firm.
Preheat the oven to 350 °F (175 °C) and line a baking sheet with a piece of parchment paper.
Roll the dough into 8 (75-gram) balls and place the remaining 1/4 cup (43 grams) of chocolate chips on the top and on the sides of the dough balls. Place 4" apart on the prepared baking sheet. Press the cookies down lightly with the palm of your hand.
Bake for 11-14 minutes or until the surface of the center of the cookies no longer appears wet. They'll be very soft but will continue to cook as they sit on the cookie sheet.
Let cool completely on the baking sheet. Store in an airtight container for up to 3 days.
Notes
If you don't have almond flour, you could try a different type of nut flour. Unfortunately, nuts flours aren't interchangeable with non-nut flours. I've heard of people using sunflower seed flour as a sub but I've never tried it and have no idea if it'd work here.
There's no sub for coconut flour.
If you use slightly melted coconut oil, the dough will be greasy and the chocolate chips will be hard to incorporate.
I don't recommend using honey, maple syrup, date syrup, etc. They make the cookies very cakey and in my opinion, not worth making.
I don't recommend making these with peanut butter. I've made these so many times with homemade peanut butter (with just peanuts and salt in it) and while the cookies aren't a disaster, I just don't think they're very good. The texture is so different than the almond flour version and they're not very peanut butter-y.
I used 1 tablespoon of ground chia egg + 2.5 tablespoons of water for my chia egg
For paleo: use coconut sugar, coconut oil, and paleo chocolate.
For dairy-free: use coconut oil and dairy-free chocolate.
As an Amazon Associate, I earn from qualifying purchases. For more info, see my disclosure.