These red-skinned mashed potatoes are quicker to make than regular mashed potatoes, are wonderfully creamy and not at all gummy thanks to several tips that will guarantee perfect mashed potatoes! Can be made the traditional way or paleo, vegan and whole30-friendly.
I don't often post savory recipes but when I do, you can be assured that they're loaded with carbs. ;)
I like sweet potatoes – if they're filled with brown sugar, butter and cinnamon – but I much prefer regular mashed potatoes. All I need for Thanksgiving is some mashed potatoes, with a tiny bit of turkey, cornbread, Swedish apple pie and sweet potato mac and cheese.
I'm super excited about today's recipe. I've discovered some tricks that will help your mashed potatoes come out great, every time. No more gluey, heavy mashed potatoes!
Ideal side dish for Thanksgiving
What's so nice about using red potatoes for mashed potatoes is that you don't need to peel them. They have such thin skin that all you need to do is scrub and cut them.
I'm all for spending as little time as possible preparing food for Thanksgiving. When I spend so much time making food, I'm not even hungry for it when it's time to eat. Is anyone else the same way?
This cranberry apple crisp, gluten-free apple crisp and these pumpkin pie bars are all great make-ahead options. Dessert is one thing you really shouldn't have to worry about on Thanksgiving day!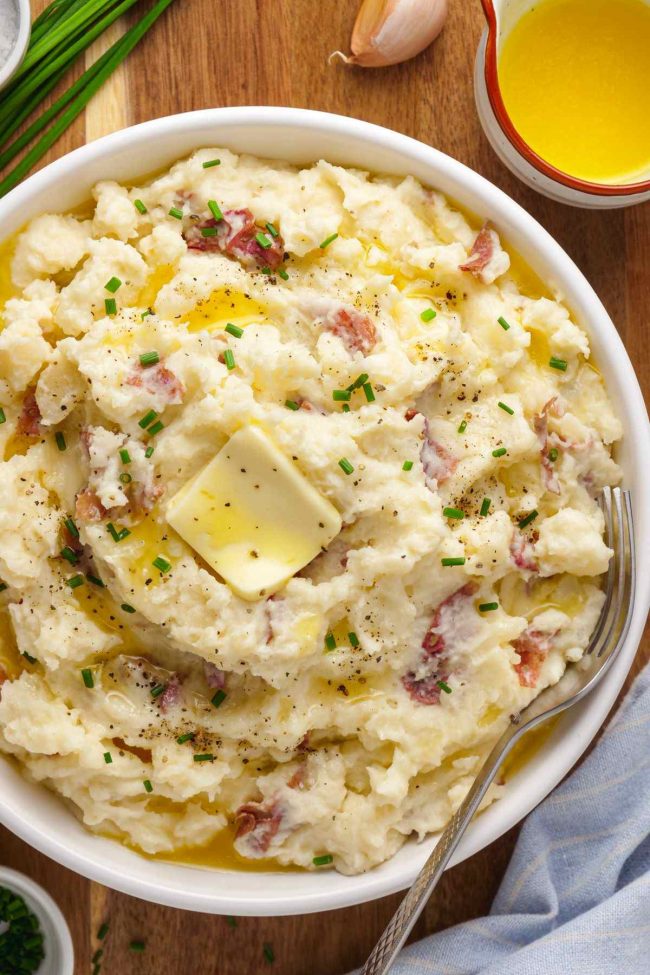 How to prevent starchy mashed potatoes
If you just dump all the potatoes in a pot and boil them, it could work. But they might come out gummy. They often did for me.
But now I've done a ton of reading and experimenting to find the best ways to prevent that issue. By following these tips, you'll get the creamiest mashed potatoes. Here's what you can do:
Cut then rinse the potatoes
Here's something I bet that a lot of us don't do. Rinse the potatoes after you've cut them. That'll get rid of any excess starch, which is one of the things that leads to gummy potatoes.
Steam the potatoes
When you boil potatoes, they can easily become water-logged. And if your potatoes are water-logged, they're not going to absorb the milk and butter as they should.
That's not a problem with steaming. They're also less easy to overcook when you steam them.
Red potatoes get gummier faster than regular Russet or similar potatoes. So it's super important not to over mash them.
Make sure to steam your potatoes until they're very tender so that they're easy to mash.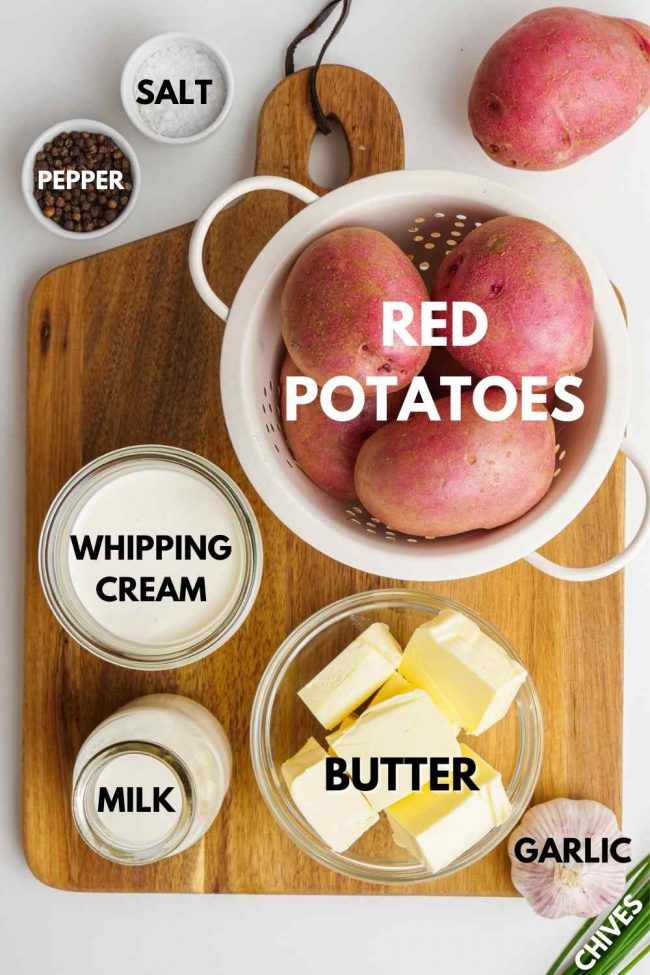 "Dry" the potatoes after steaming
After removing the potatoes from the steamer insert, drain the water, put the potatoes back in the pot and on the burner, without the lid, for a few minutes. Shake the pot a few times.
This also helps with the above-mentioned water-logging issue.
Coating in butter
Adding butter to the steamed and "dried potatoes" will coat the starches in the potatoes, which then prevents it from interacting with the water in the milk. This will help keep the mashed potatoes creamy, smooth and fluffy, rather than the dreaded heavy and gummy.
Don't let the potatoes sit around
I've done this so many times. And maybe it isn't true for all types of potatoes but for the ones common in Germany, if you let the cooked potatoes just sit around for an hour or two, the mashed potatoes come out terribly.
So steam your potatoes and then mash your potatoes. Don't get distracted and forget about them.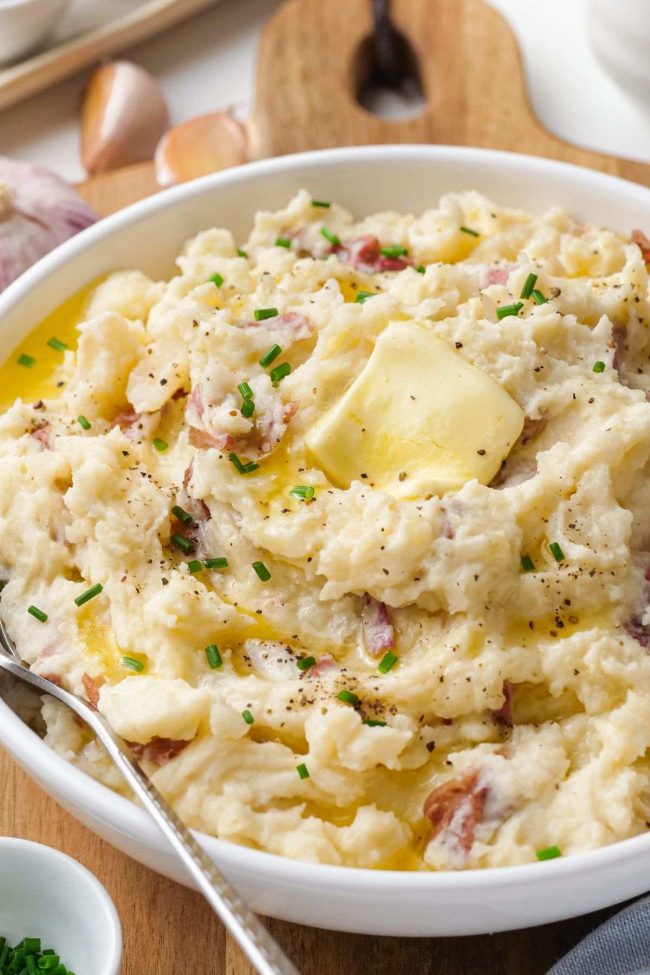 Follow the directions, please ;)
Potatoes are quite different from country to country. It's crazy but true. So I had a few people test these.
For me and my other recipe tester in Europe, they came out perfectly. But I was worried that red-skinned potatoes might be different in the US so I had someone there make them.
She said that they were gummy. But she also only used 1/2 or 2/3 of the milk mixture.
So I had another person in the US test them, one of my long-time readers, Charlotte, and she said that they were delicious and not at all gluey.
She also said, "After they have been in the refrigerator, they are still soft and creamy. Not like the ones I have seen that you stick a spoon in and the whole lump comes out." The potatoes were also a big hit with her husband, who has requested them again.
So there you have it. Follow the directions and you won't have gummy potatoes. :D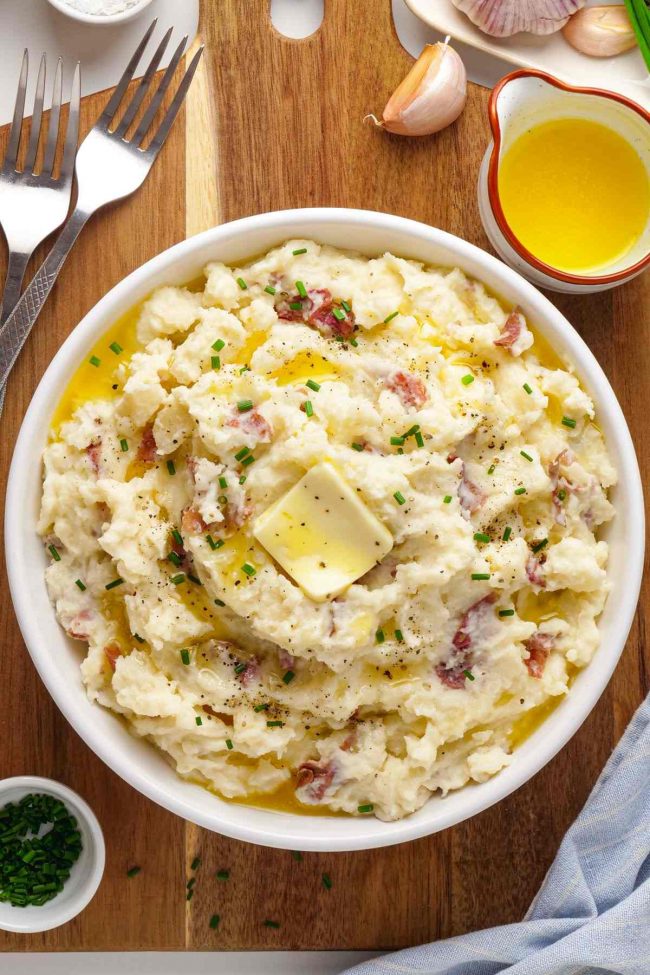 Vegan, dairy-free, paleo and whole30 option
It's easy to make these without the dairy!
Use:
Dairy-free milk instead of whole milk
Coconut milk instead of whipping cream
6 tablespoons of olive oil + 6 tablespoons refined coconut oil for paleo, dairy-free, whole30 and vegan OR 3/4 cup vegan butter for dairy-free and vegan
I don't recommend using coconut milk in place of the whole milk. Just in place of the cream.
If you use all coconut milk, the potatoes will have a coconut taste to them. So it's better to use something more neutral, like almond, cashew, oat, soy, etc.
And you don't have to use coconut milk in place of the cream. I just like it because it adds a bit more fat and richness. You could instead use more of whatever dairy-free milk it is that you used in place of the whole milk.
The garlic covers up the coconut taste so you don't have to worry about any coconut flavor, as long as you use refined coconut oil.
So that's it. I'll be back on Sunday with a dessert. Until then, enjoy these potatoes!
If you try them, I'd love to hear how they came out! I'm excited to hear if the tips for avoiding gummy mashed potatoes worked as well for you as they have for me. :)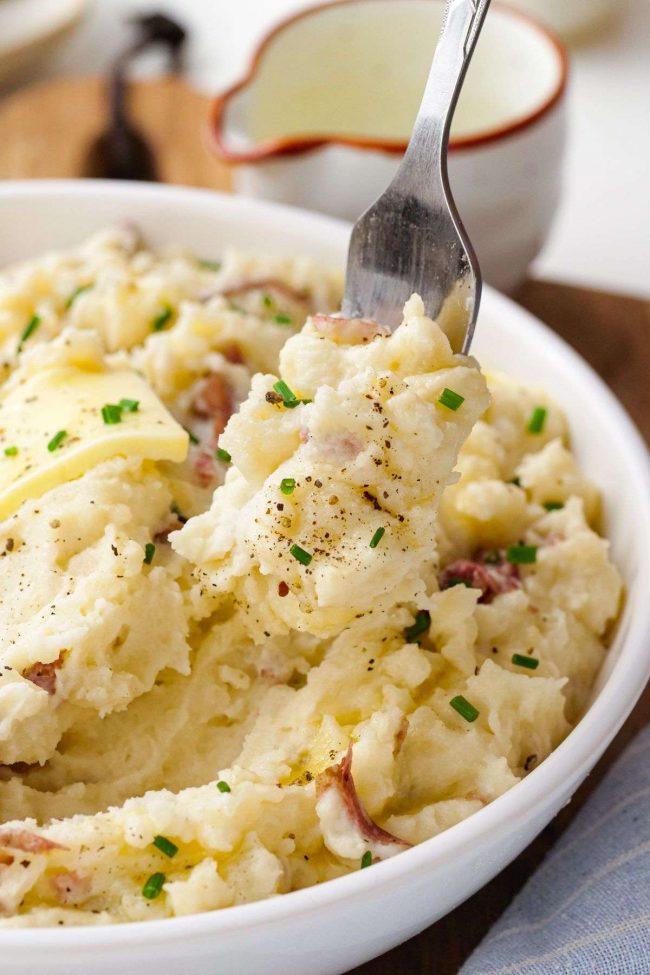 Questions about this recipe?
Can I just use regular potatoes?

They should work just fine but peel them first. And you might need to adjust the steaming time.

Can I use different milk?

You can use any type you'd like.

What can I use instead of whipping cream?

You can use heavy cream or half and half.

Do I have to use the garlic?

No, but I think these mashed potatoes are tastier with it. You could also use granulated garlic or garlic powder. Add to taste!

What can I use instead of butter?

Ghee would be great. I don't recommend using all olive oil or another type of oil for taste reasons. Half olive oil + half coconut oil or half vegan butter works.

Can I reduce the butter?

I think you could probably get by with 1/2 cup. If you want to try, have the other 1/4 cup on hand in case you decide you need it after all.
Wondering what else to serve with these mashed potatoes? This gluten-free green bean casserole would be great! So would this dairy-free cornbread.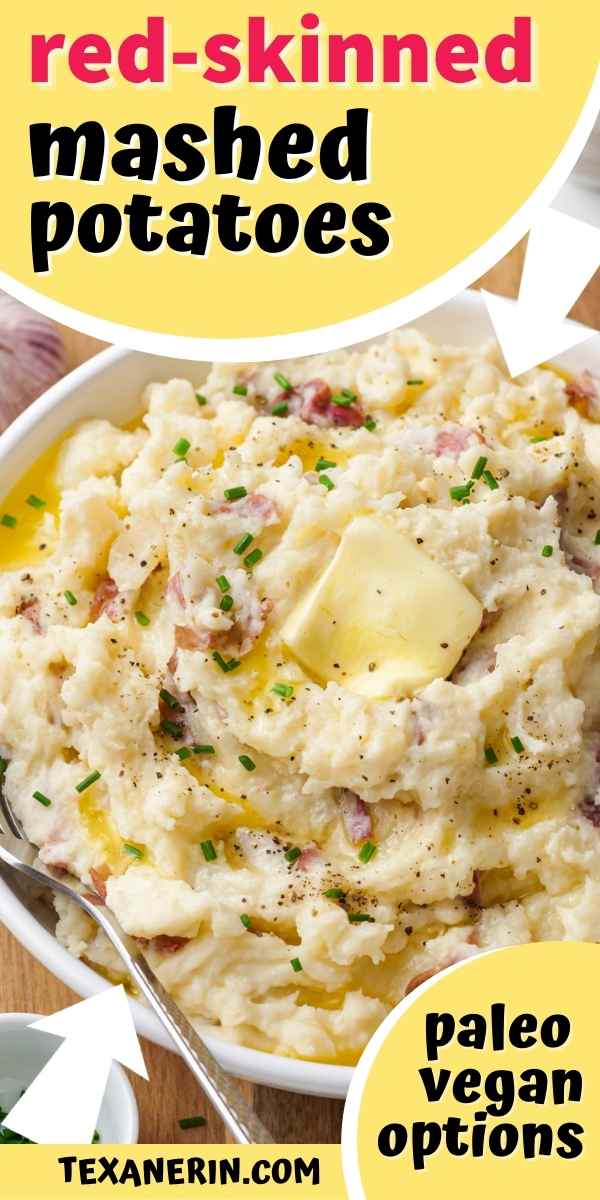 ❀
Red-skinned Mashed Potatoes
Prep Time:
Cook Time:
Ready in:
Yield:

12-16 servings
For the paleo / vegan option, please see the notes!
Ingredients
3 pounds (1360 grams) red potatoes
3/4 cup (175 ml) whole milk1
3/4 cup (175 ml) whipping cream
5 garlic cloves, crushed
2 teaspoons salt
3/4 cup (168 grams) unsalted butter
black pepper and chives (as garnish), optional
Directions
Scrub the potatoes clean and cut the potatoes into 1" chunks (do not peel them). Put them in a colander and rinse under cold water.
Get out a steaming basket and a pot that's large enough for the steaming basket. Add an inch of water to the pot, and put in the steaming basket. Bring the water to a boil and add the potatoes to the steaming basket. Cover the pot with a lid.
Turn the heat down to medium and steam for about 20-30 minutes or until tender. They should be fully cooked.
Meanwhile, in a small saucepan over low heat, add the milk, cream, garlic, and salt (I recommend using 2 teaspoons and adding more later, if desired). Once it's all melted, turn the heat off (but keep the saucepan on the stove so it stays warm).
Once the potatoes are fully cooked, remove the steamer basket from the pot and drain the water from the pot. Put the potatoes back into the pot and put back on the burner (which is now off - if you have a gas or induction burner that's not still hot, then turn the heat to the lowest setting). Let any remaining moisture cook off for 1-3 minutes, shaking the pot occasionally.
With an electric hand mixer (turned off) or a potato masher, break up the large potato pieces first. Stir in the butter (with a large spoon or silicone spatula) so that it coats the potatoes. It doesn't have to be perfectly mixed in - it just has to be melted and coat the potatoes.
Add the milk mixture in 3 additions (using an electric hand mixer), starting off on low so that the liquid doesn't fly everywhere and then turning it up to high and beat until smooth and creamy. You need the full amount of liquid. Do not overmix! Taste and add more salt, if needed.
Garnish with chopped chives and fresh black pepper. Best if served immediately, as with all mashed potatoes.
Notes
For paleo, vegan, dairy-free, whole30, use:
– Dairy-free milk instead of whole milk
– Coconut milk instead of whipping cream
– 6 tablespoons of olive oil + 6 tablespoons refined coconut oil for paleo / vegan / dairy-free / whole30 OR 3/4 cup vegan butter for vegan or dairy-free