This cranberry apple crisp recipe is a super easy dessert for Thanksgiving or Christmas. It can be made two days ahead of time and kept on the counter to keep the oven and fridge clear for other recipes. It can also easily be made gluten-free, vegan and dairy-free.
Please note that the recipe doesn't have cornstarch or maple in the filling as you see in the video. I changed the recipe between sending off the recipe to the videographer and posting the recipe.
Now that cranberries are in all of the stores, let's put them to good use with this delicious crisp.
The topping is the same one I use in all my crisp recipes, like this gluten-free apple crisp and strawberry rhubarb crisp. I just don't see a reason to fix what I think is the most perfect crisp topping ever. ;)
I can't tell you how many times I've made that topping, only to have to remake another half batch because I've eaten half of the topping while preparing the filling. It's really, really delicious.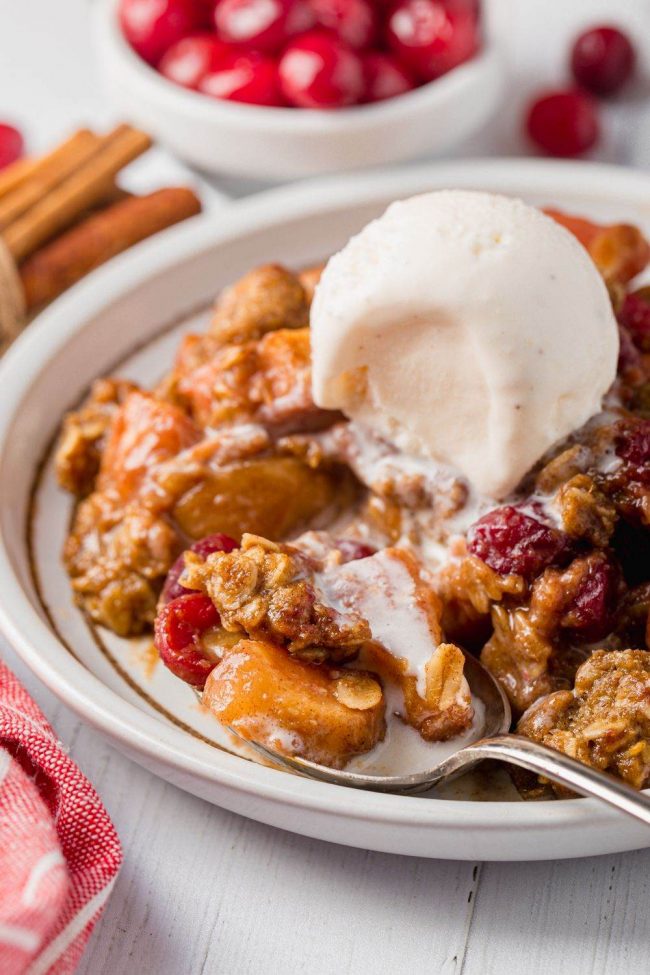 The sweetener
I always prefer to use coconut sugar over brown sugar, but the taste and texture with brown sugar is better in this recipe. It holds together better and has the classic crumble taste.
With coconut sugar, you can tell it's healthier. That's fine if you're used to it but if you want to bring something that tastes like a totally traditional crisp, go with brown sugar.
Raw sugar also works if you don't mind a bit of a crunch to the topping.
As for other granulated sugars, I'm not sure that they'd work as I haven't tried them. If you prefer something with very little sweetener, try this Healthy Apple Crisp!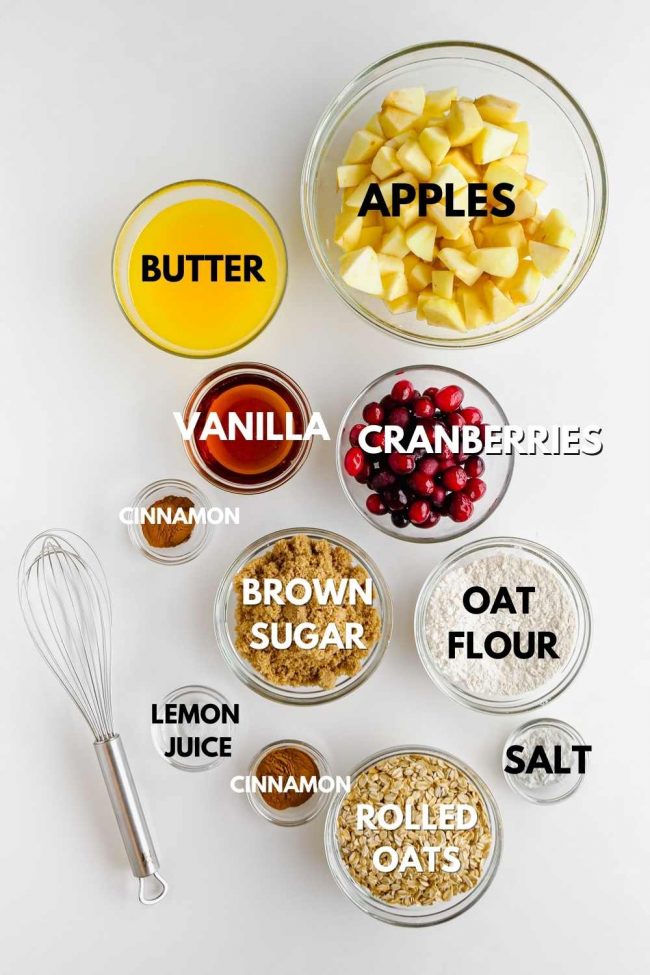 The fat
If you have no preference when it comes to butter or coconut oil, I recommend butter. Because a buttery taste is always going to be tastier than what you get with coconut oil. At least to me it is!
You can use refined coconut oil for no coconut taste or unrefined coconut oil if you want some coconut flavor.
You can also use vegan butter if that's something you use and like. In that case, use it in place of the butter amount and not the amount of coconut oil.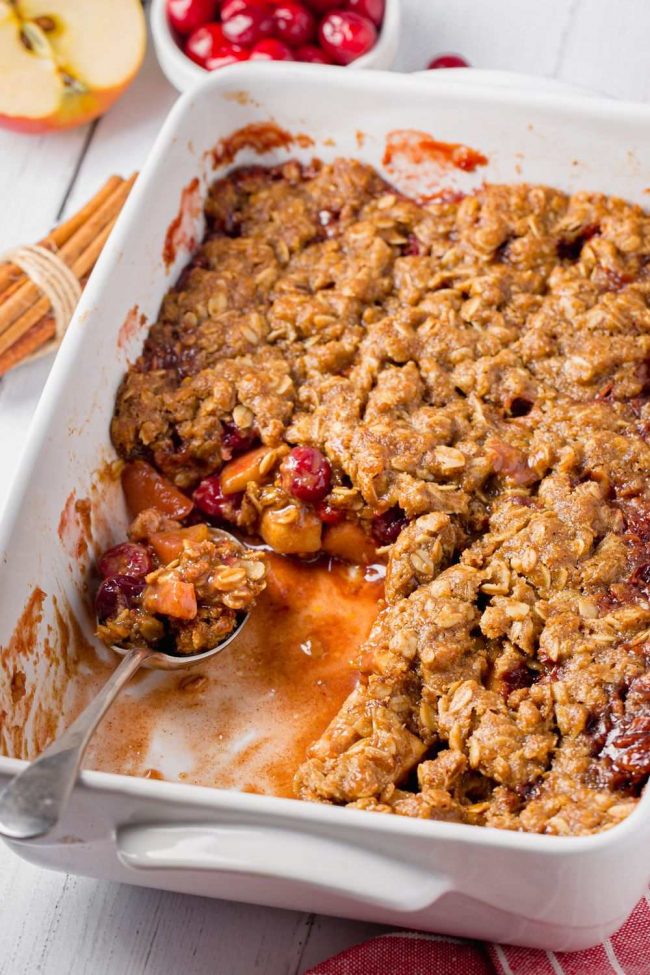 The flour
Oats and ground-up oats (oat flour) make up the base of the topping. That makes this recipe 100% whole grain and gluten-free if using gluten-free oats + oat flour (more on that below).
There's not a good sub for oat flour. It's a lot like coconut flour in that there's no good sub for it. It's also quite absorbent like coconut flour, but not as absorbent.
So, no, there's no sub for it in this recipe. But you can easily make your own oat flour if you don't want to buy it!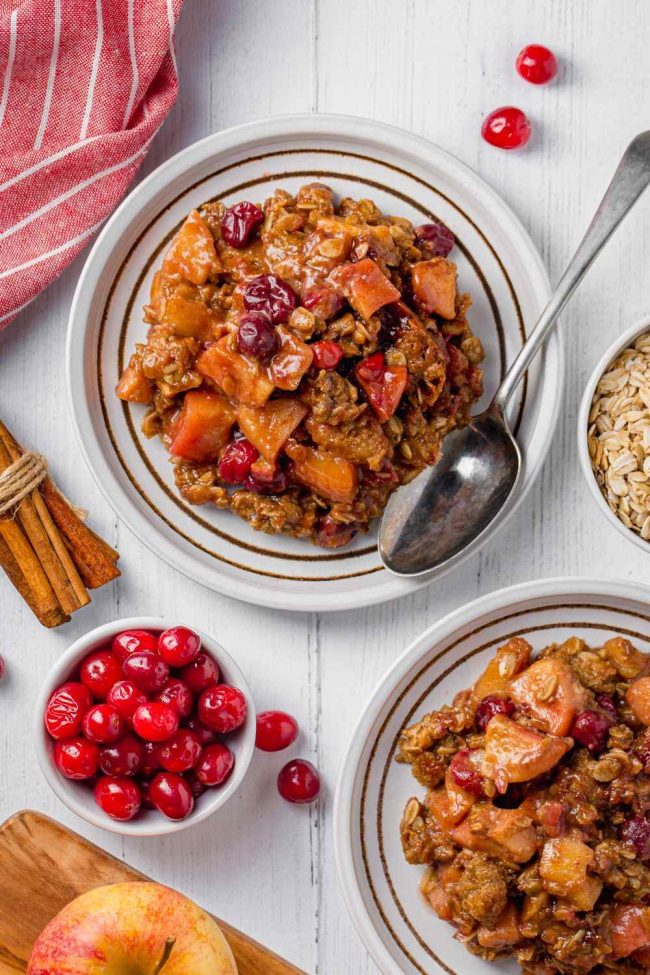 How to make oat flour
Put some quick or rolled oats in a food processor, a high-powered blender such as a Blendtec or Vitamix or an electric coffee grinder until you have something very fine and powdery.
The easiest way for small amounts is the coffee grinder. Then the high-powered blender. Those both get the oats really fine.
If you need to use a large food processor, you'll likely need to grind more oats than you'll need for this cranberry apple crisp recipe in order to grind the oats finely enough. And even then, the oat flour won't be as fine as with the other two methods. But it'll still work just fine for this recipe!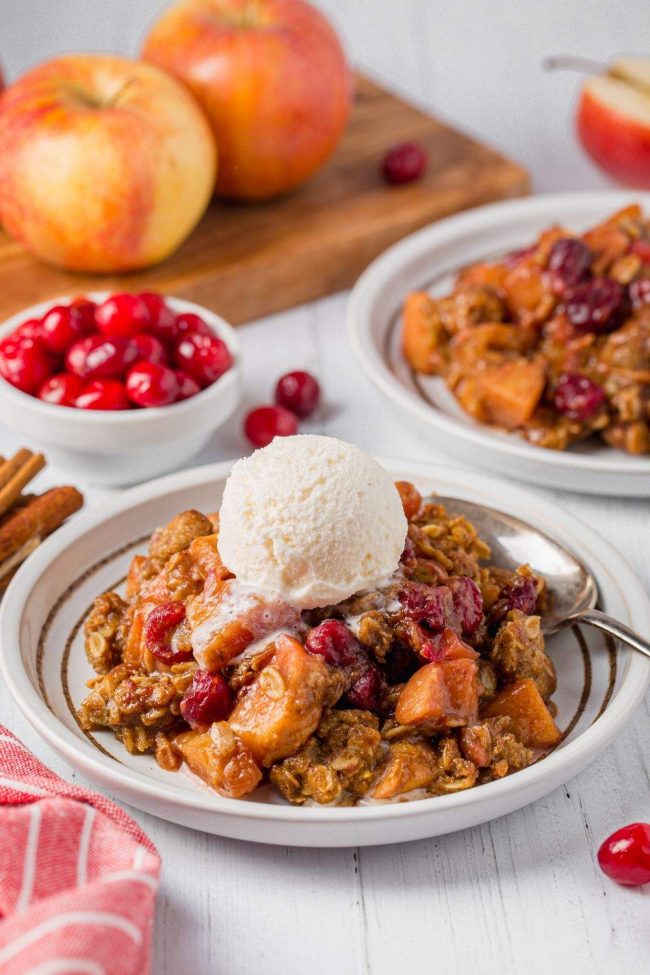 If you need this crisp to be gluten-free
Just use gluten-free oats and gluten-free oat flour. It's as simple as that!
That also makes this a great dessert for people who aren't gluten-free but need to bring a gluten-free dessert for Thanksgiving or Christmas. Just get a bag of gluten-free oats, make some oat flour, and use the rest of the oats as you would normally use oats.
Or make this Swedish apple pie! That's my most popular Thanksgiving dessert recipe. It also uses oats and oat flour.
You could also save them for later and make some surprise gluten-free oatmeal cookies for your gluten-free friends or family.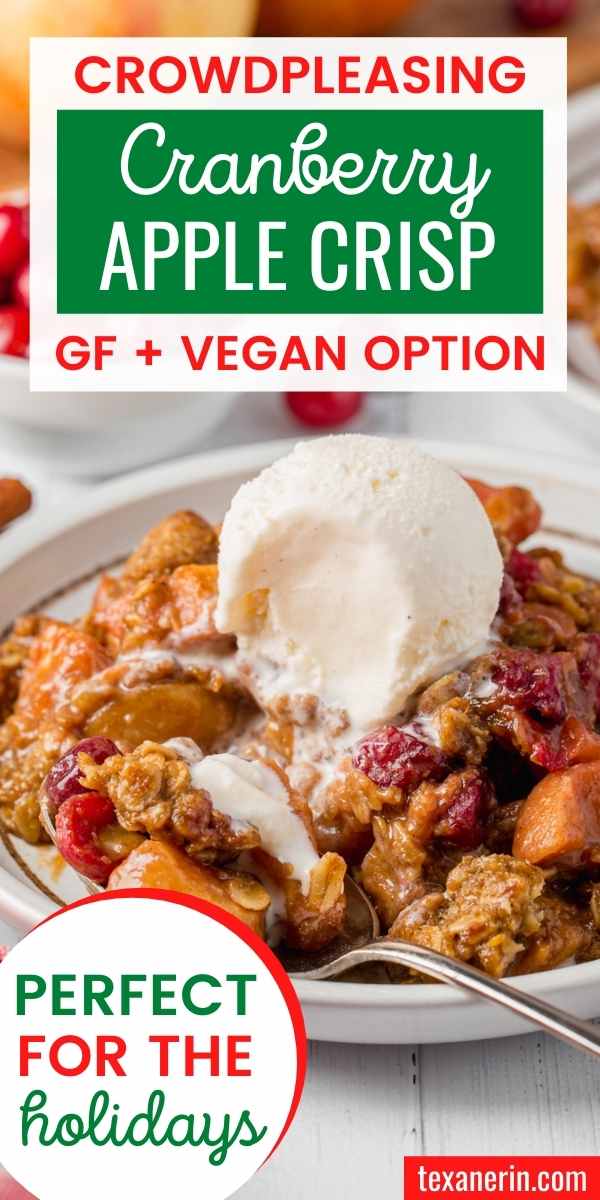 What to serve it with
The topping is so tasty; I wouldn't say that anything else is really necessary! But if you feel like you need to serve it with something, try one of these options.
Vanilla ice cream (this paleo ice cream is incredible, even if you're not paleo!)
Other cranberry treats
If you have some cranberries left, try this cranberry orange sauce. This has always been my husband's contribution to Thanksgiving and Christmas because it is really the easiest recipe ever.
These cranberry almond bars are also an amazing choice. Cranberries and almond together are absolutely amazing.
Not in a cranberry mood? Try this great-looking Apple Crumble Tart!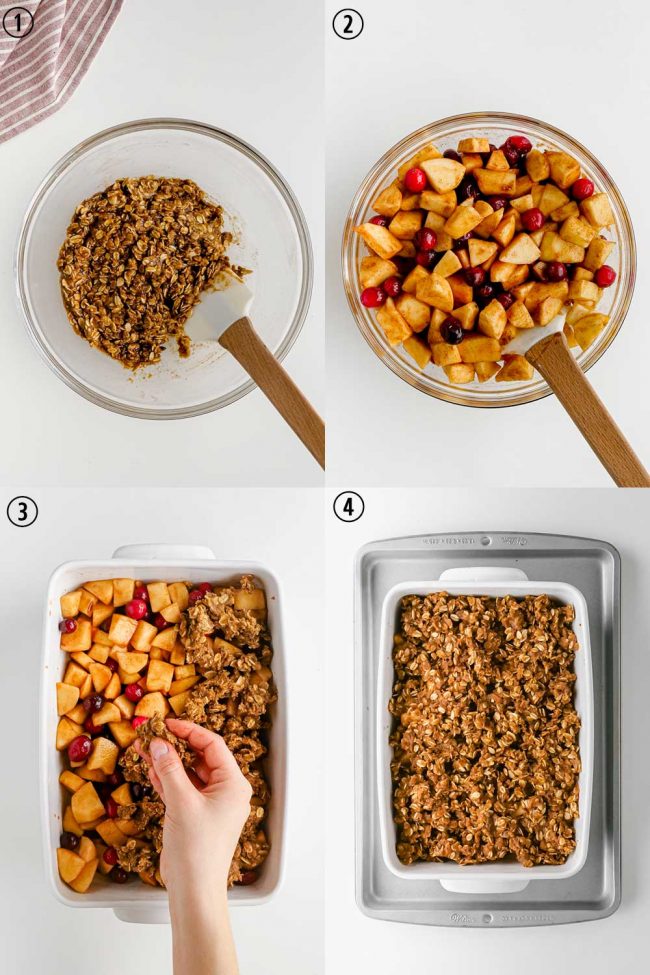 Questions about this cranberry crisp?
Can I use something other than oat flour?

It's not really interchangeable with any other type of flour, so unfortunately not.

What other sweeteners could I use?

You definitely need to use a granulated one. If you have a granulated sweetener that you use that's a good sub for brown sugar, it should probably work in this recipe. But I can't be sure as I haven't tried it.

What can I use instead of coconut oil or butter?

Vegan butter would work. Use the same amount as butter listed.

Olive oil (a light-tasting one) or another neutral-tasting might work, but I haven't tried it. If using oil, use the same amount as coconut oil listed.

Can you taste the coconut if you use coconut oil?

Not if you use refined coconut oil (which I highly recommend for this recipe)!

What type of apple should I use?

To be honest, I usually use whatever I have on hand for crisps. But here's some info on the best apples to use for baking. In that, they recommend Granny Smith, Braeburn, Honeycrisp, Jonagold and a few others.

Can I use dried cranberries?

I haven't tried it but I think 1/3 cup dried cranberries in place of the fresh or frozen would work. The crisp will probably be a bit sweeter due to the sweetener on dried cranberries. You could reduce the sweetener in the filling by maybe 1 tablespoon. It's just a guess, though.
If you try this cranberry apple crisp, I'd love to hear what you think! Thanks. :)
❀
Cranberry Apple Crisp (gluten-free, vegan options)
Prep Time:
Cook Time:
Ready in:
Yield:

8 servings
Please note that the recipe doesn't have cornstarch or maple in the filling, as the video shows. I changed the recipe between sending off the recipe to the videographer and posting the recipe.
Ingredients
For the topping:

3/4 cup + 1 tablespoon (75 grams) oat flour (make sure to use gluten-free oat flour, if needed)
1 1/4 cups (115 grams) rolled oats (make sure to use gluten-free oats, if needed)
2 teaspoons ground cinnamon
2/3 cup (132 grams) brown sugar or coconut sugar (brown sugar is what I used in the photos)
2/3 cup (149 grams) butter (regular or vegan), melted or 1/2 cup + 1 tablespoon (126 grams) refined coconut oil, melted and cooled slightly
1/4 teaspoon salt

For the filling:

2 tablespoons (12 grams) oat flour
1/4 cup (50 grams) brown sugar or coconut sugar
2 teaspoons lemon juice
1 teaspoon ground cinnamon
1 teaspoon vanilla extract
5 cups (548 grams) apple chunks, cut into 3/4-inch (2 cm) chunks, from about 4-5 medium apples
1 cup (115 grams) fresh or frozen cranberries
Directions
Adjust oven rack to lower third of the oven. Preheat the oven to 350°F (175°C) and get out a 1-quart (1-liter) casserole dish or an 8 × 8-inch (20 × 20 cm) baking dish.
In a medium mixing bowl, mix together all of the topping ingredients. It might be quite wet.
Prepare the apple filling. Place the chopped apples in a large mixing bowl and then sprinkle the remaining ingredients on top. Stir to coat the apples in the liquid mixture. Add the cranberries. Spoon the apple mixture into the pan and distribute the topping evenly over the top. It'll be a thick layer of topping.
Place the crisp on a baking sheet to catch spills and bake for 30 to 35 minutes or until the topping is firm and the edges are bubbly. Let cool for 1 hour, which will give the juice some time to thicken a little.
Serve warm, room temperature, or cold, with vanilla or maple ice cream or vanilla sauce.
Cover any leftovers with plastic wrap and store at room temperature for 2 days or chill for 4-5 days.
Notes
For vegan and dairy-free, make sure to use vegan butter or coconut oil. I recommend refined coconut oil for no coconut taste.