This easy and delicious cranberry apple crisp has added pecans in the crisp topping, is 100% whole grain and has vegan and dairy-free options! Perfect for Thanksgiving and Christmas.
After I made that sweet potato mac and cheese on Saturday, I had a weird reaction to the cheddar. I react badly to something in some types of cheddar (I have no idea what) and it seems to give me an instant sinus infection. Fun, right?!
I haven't had this happen in at least 10 years so I thought I had gotten past it, which explains why I ate half the pot of mac and cheese on Saturday. Whoops.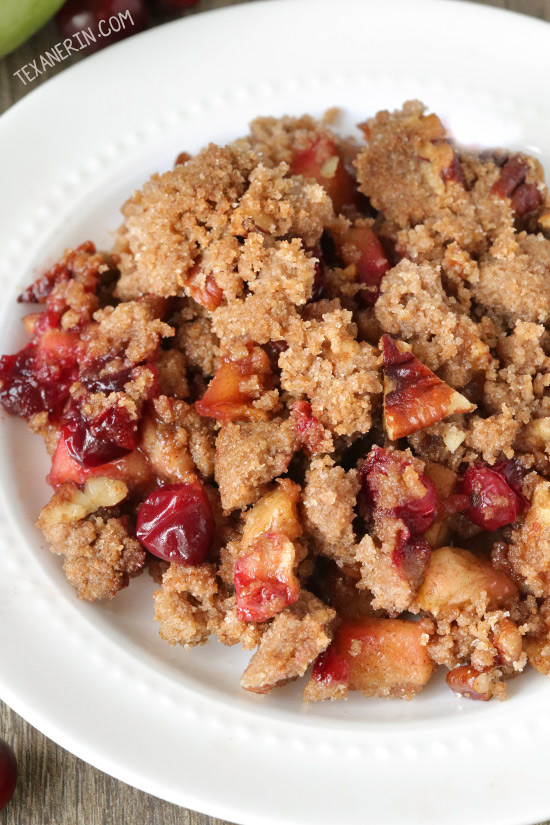 The only reason why I'm sharing this is because I can't taste a thing (other than, ironically, vegetables and one type of medicine). Last night I was in a panic over what to make and post today. Normally I wouldn't care and just take some time off, but with Thanksgiving coming up, I felt compelled to post another Thanksgiving dessert!
Because I would never post something I couldn't taste myself (I really don't understand how anyone can do that!), this cranberry apple crisp is a mash-up of two recipes I've made in the past. I used a pecan crisp topping from my book and updated a cranberry apple crisp recipe I posted four years ago.
In the filling, I used maple syrup instead of honey to make it vegan, added some cornstarch to make it thicker, and used fewer cranberries. Those things are expensive 'round these parts! And I added more cinnamon in the topping and filling, just because… it's cinnamon. More cinnamon never hurt anything, right?!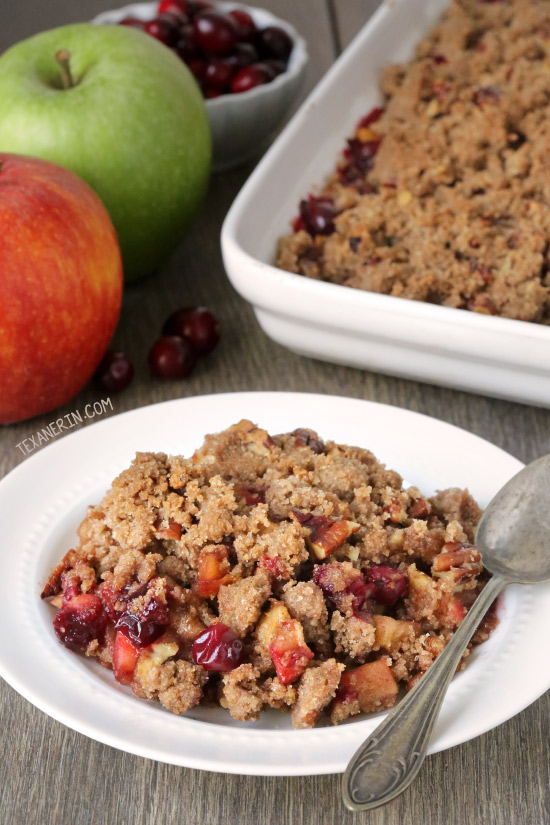 There's quite a bit of topping in this cranberry apple crisp so if you want more fruit, you could easily do 1.5x the amount of fruit filling. You could also add more pecans to the topping, if you'd like. They're there just to add a little flavor and crunch! Walnuts would also be fantastic if you'd prefer to use those.
I was seriously so bummed when it was baking. I couldn't smell anything but according to Mr. Texanerin, it smells and taste fantastic. If you make this and feel something is unbalanced, I'll forward your complaints to him. ;)
Update: I froze a little to enjoy later. It's delicious! :D
❀
Cranberry Apple Crisp (vegan option, 100% whole grain, dairy-free)
Prep Time:
Cook Time:
Ready in:
Yield:

6-8 servings
Ingredients
For the topping:

1 cup (125 grams) whole wheat or white whole wheat flour
1/2 cup (100 grams) raw sugar or granulated sugar
2 teaspoons ground cinnamon
1/4 teaspoon salt
7 tablespoons (98 grams) unsalted butter or 6 tablespoons (84 grams) coconut oil, melted and cooled slightly1
1/2 cup (55 grams) chopped pecans or walnuts

For the filling:

4 cups (475 grams) peeled and chopped apples (I used Granny Smith and Braeburn)
1 cup (114 grams) fresh or frozen cranberries
1/4 cup (60 milliliters) maple syrup
1 tablespoon cornstarch
1 1/2 teaspoons cinnamon
pinch of salt
Directions
Preheat the oven to 350 °F (175 °C) and grease a 8"x8" (20cm×20 cm) baking dish.
Prepare the topping. In a medium mixing bowl, mix together all of the topping ingredients. It will have the texture of wet sand.
Prepare the filling. In a large mixing bowl, mix together all the filling ingredients. Spoon the fruit mixture into the prepared pan and distribute the topping evenly over the top.
Place the crisp on a baking sheet to catch spills and bake for 30-35 minutes or until the topping is firm and the edges are bubbly. Let cool for 10 minutes and serve warm or room temperature. Can sit at room temperature, covered, for 1 day or refrigerated for up to 3 days.
Notes
I used refined coconut oil, which doesn't have any coconut taste to it. If you use unrefined coconut oil, this may have some coconut flavor to it.
For vegan and dairy-free: Use coconut oil.