This rum punch for Halloween is an easy party drink to put together for adult guests. It's made with white rum, pineapple, apple mango juice, and lime juice for a fun, fruity drink. It's also naturally vegan and gluten-free.
Try this Non-alcoholic Halloween Punch if you need a kid-friendly option. It's made with nothing but 100% fruit juice and is therefore naturally refined sugar-free.
For today's concoction, you just mix everything in a punch bowl, carefully add some dry ice, and you're done.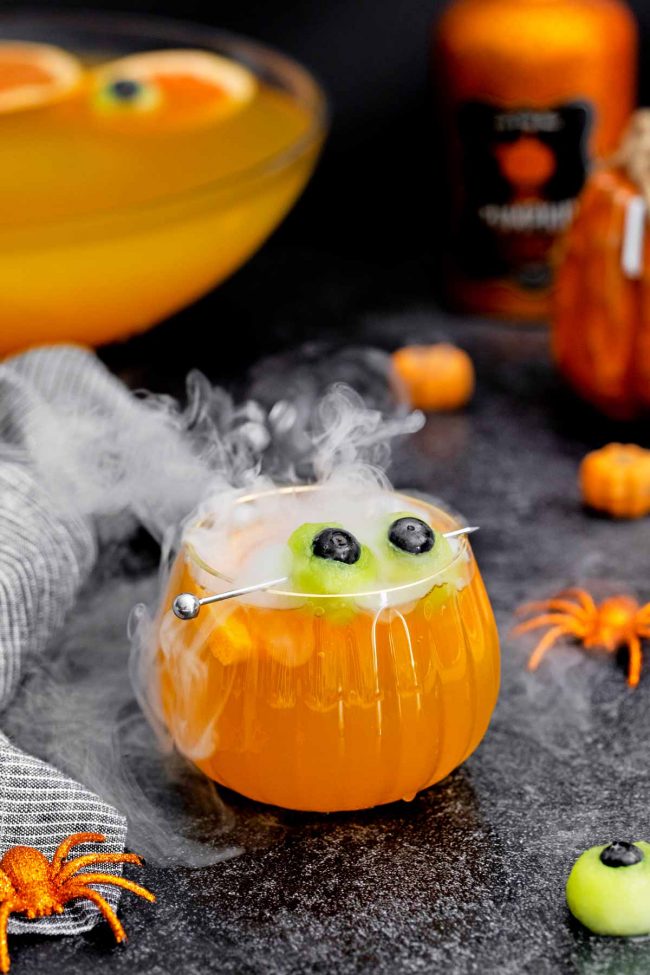 Ingredients
Here's what you need. Pretty basic!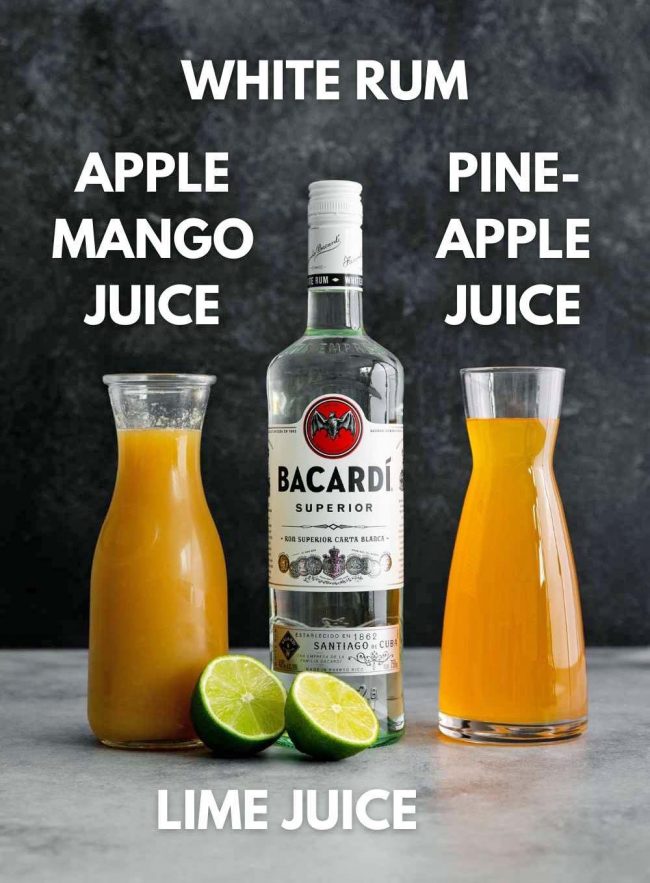 Apple mango juice?
Mott's has an apple mango juice that is 100% juice and can be found easily. And there seem to be plenty of organic choices as well.
Whether or not another type of juice would work just as well in this punch – I don't know as I haven't tried it.
I find apple mango juice to be quite a bit sweeter than other types of juice, so if you try another type of juice and the punch isn't sweet enough, you might need to add some sweetener.
What kind of rum?
I used white rum. I think any brand will do as there's so much flavor coming from the juice.
Need this drink to be gluten-free? Almost all white rum is gluten-free. It's just the flavored rums that you really need to pay attention to.
Celiac.com has a list of gluten-free rum brands if you need to shop for rum.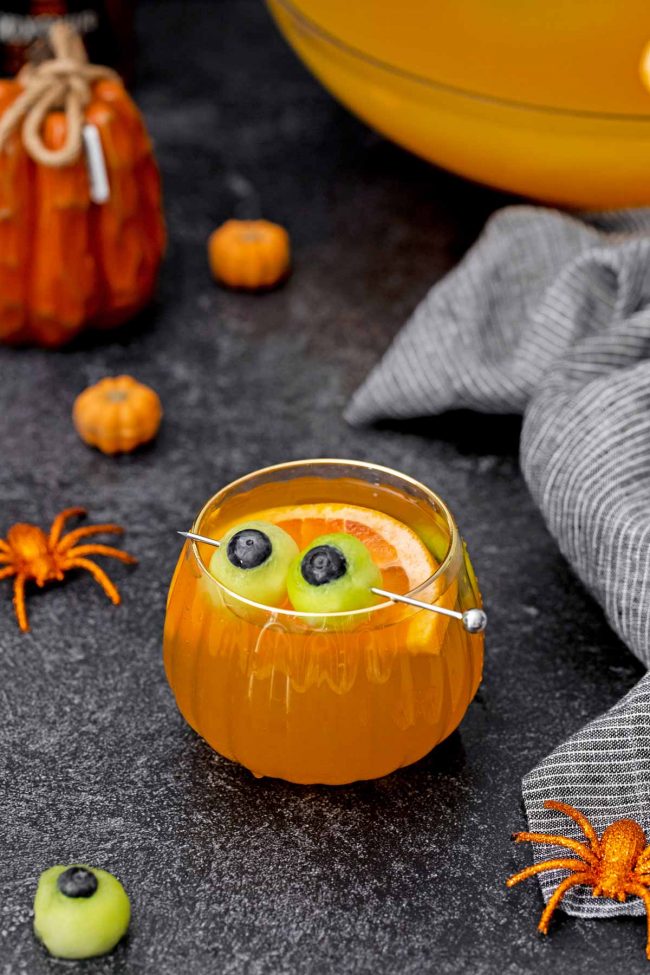 Garnish
This rum punch can easily be garnished with blood orange or regular orange wheels, but you can also make fruit eyeballs to give it a Halloween-themed garnish.
I've seen a lot of photos where the fruit eyeballs appear to be floating. But they don't float.
And there's no way to make them float. I've tried everything.
People are setting the eyeballs on something to give the illusion that they're floating. So I gave that a try, too, and you can see the result in the last photo.
I put the eyeballs on an upside down glass, but I don't think that's very practical for a party. I think the better idea is to assemble the eyeballs with a cocktail pick.
To make them, you need melon and blueberries. Just scoop out balls of melon with a melon scoop. Make an X on the top of the ball and dig a little hole so the blueberry has a place to rest.
Then, put two eyeballs on a cocktail pick, store them on a baking sheet with plastic wrap in the fridge, and they're ready to add to the punch glass when you're ready to serve.
To keep the eyeballs fresh, I recommend assembling them an hour or two before your party.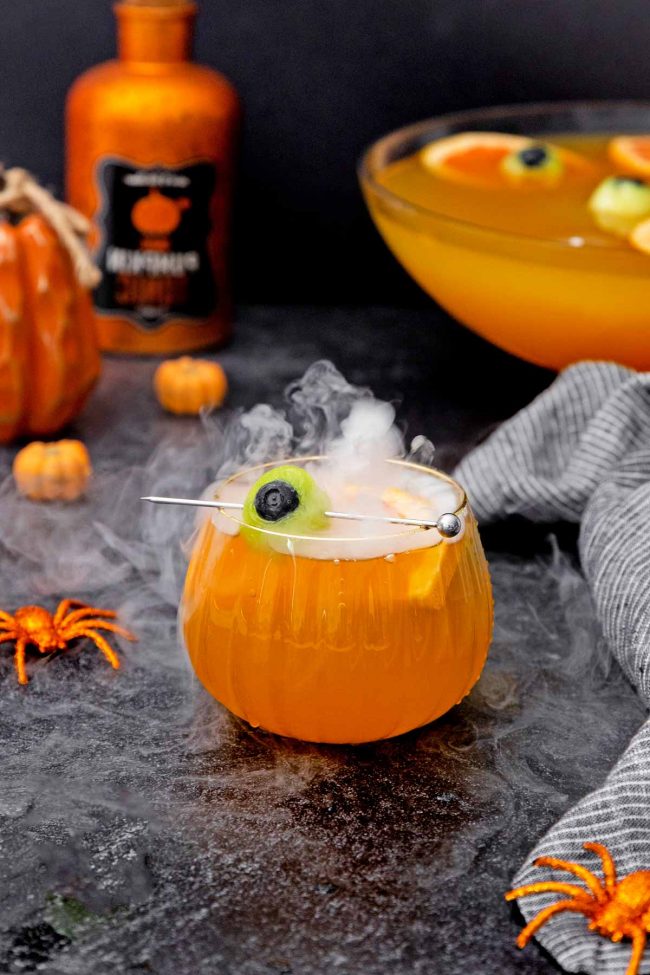 Dry ice safety tips
To create a spooky effect for this Halloween punch, I used dry ice – a solid form of carbon dioxide that vaporizes into a gas and makes a smoky effect. It's so cold that it can cause frostbite and burns if not handled correctly.
⚠️ If you're inexperienced with dry ice, please read the sections below because it can be dangerous if you don't know how to handle it.
I don't mean to sound an alarm and scare people from using it because as long as you take the necessary precautions, you can safely use it.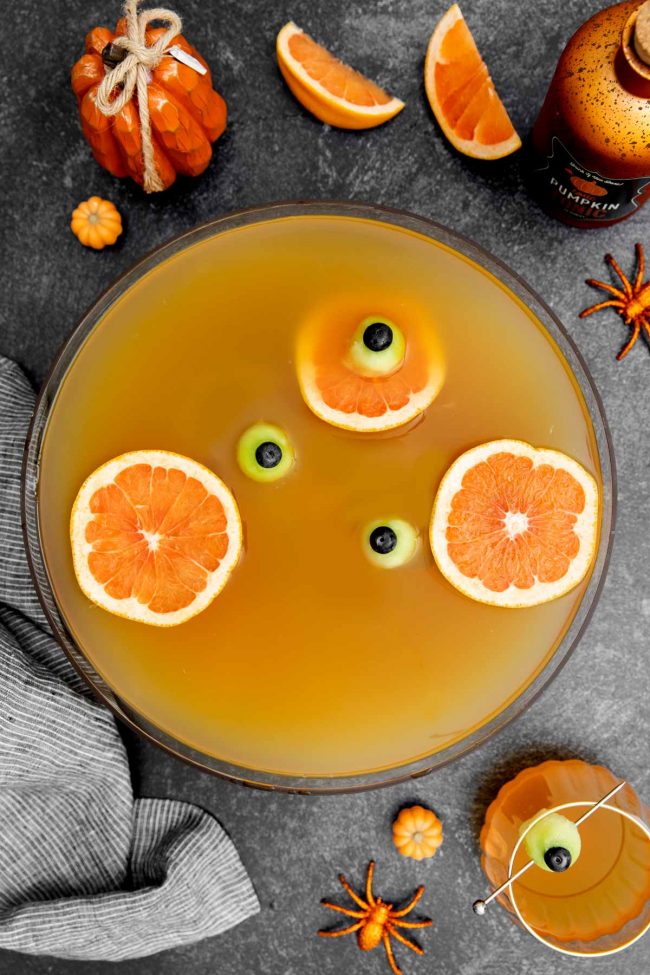 ⚠️ Safety first! ⚠️
Keep kids and pets away from dry ice.
Do not swallow!
Do not touch with bare hands; you must use tongs or gloves.
Wear gloves and goggles when handling dry ice and use tongs when adding it to the glasses.
If the dry ice is in block form, you should break it into chunks. Keep it in the package, wrap it in a towel or plastic bag and drop it on the ground.
Do not set it on the counter, as it can crack glass, ceramic, stoneware and plastic.
How to properly store dry ice
Don't place dry ice in the freezer because it can make it too cold and break it.
The best way to keep dry ice is in a styrofoam cooler because it won't crack, insulates well, and lets carbon dioxide disperse safely. Plastic coolers may break.
Ventilation is essential, so don't put dry ice in an airtight container. Carbon dioxide gas can build up, so leave the lid ajar to minimize the risk of explosion.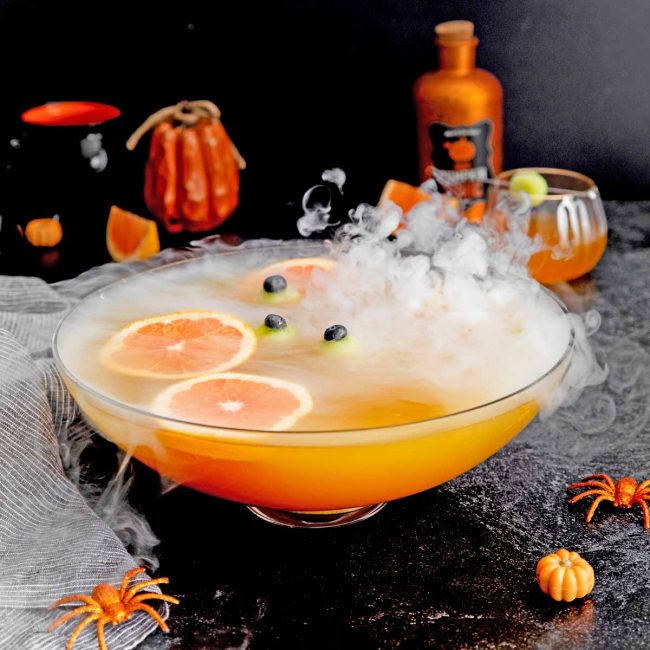 How to properly dispose of dry ice
Let the dry ice vaporize if you have some left over.
Place the container in an outdoor area in direct sunlight, away from kids and pets and leave the lid open while it turns to vapor.
Never dump dry ice in sewer lines, garbage disposal, trash cans, toilets or sinks because it can cause pipes to freeze and burst.
Recap
Always wear gloves, tongs and goggles when handling dry ice.
Always store dry ice away from kids and pets.
Always allow dry ice to turn to vapor in a cooler with the lid slightly ajar in a well-ventilated space or outdoors.
More easy adult Halloween drinks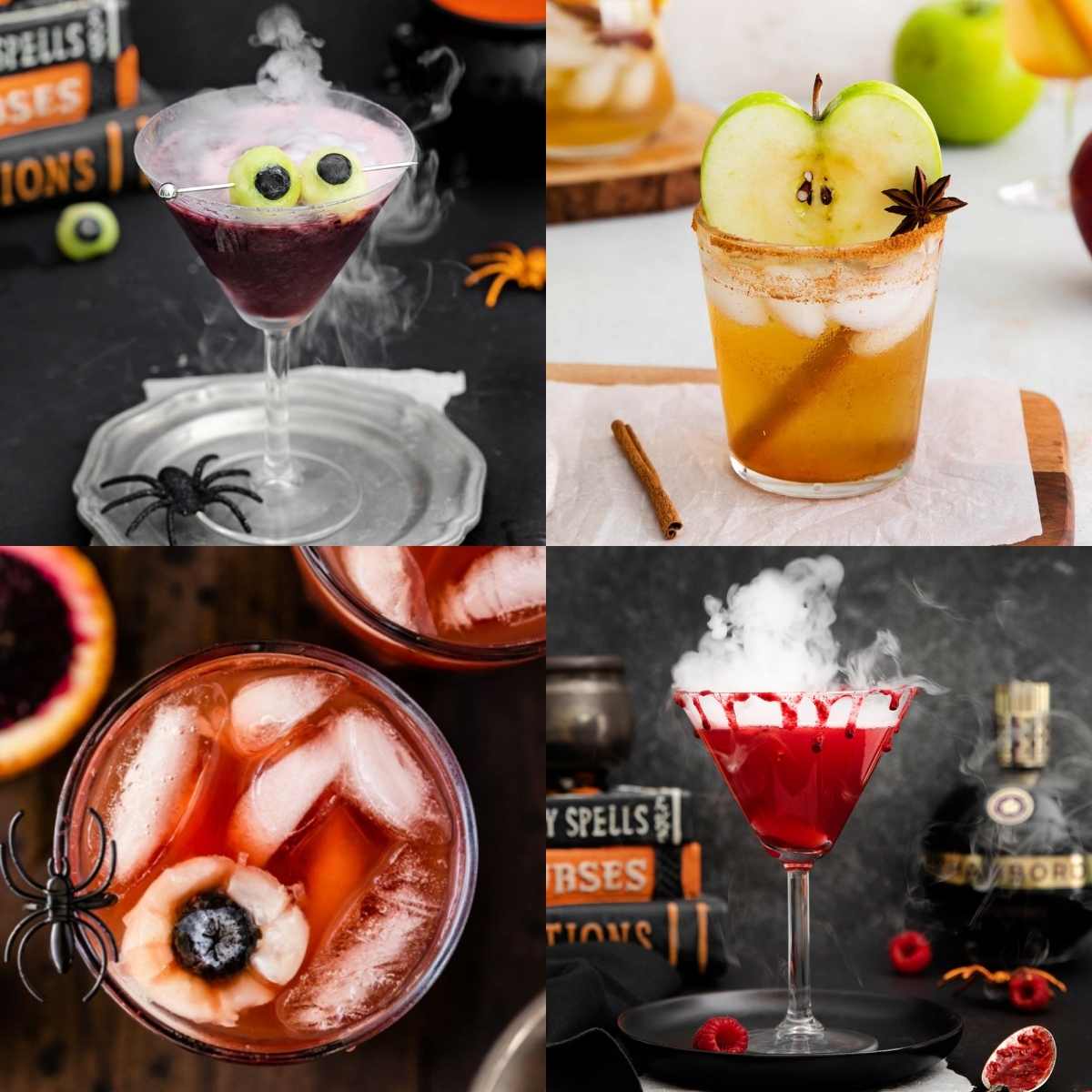 I hope you'll enjoy this rum punch for Halloween! We'd love to see how it turns out, so if you snap a photo, please tag #teanerin so we can see it. Thanks! :)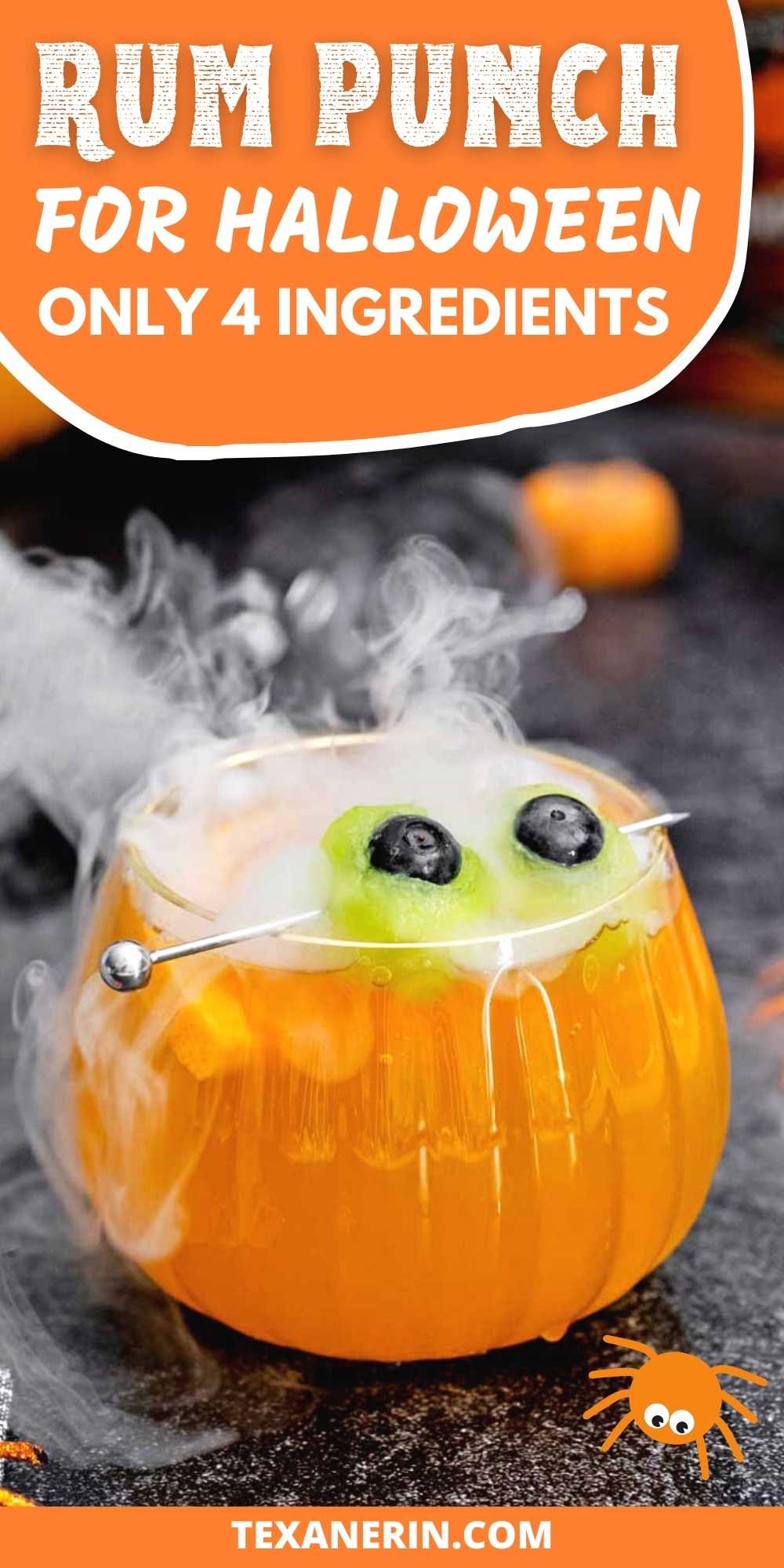 ❀
Rum Punch for Halloween
Prep Time:
Cook Time:
Ready in:
Yield:

11 cups or 2.6 liters
Ingredients
1 700-ml bottle (3 cups) white rum
4 cups (945ml) 100% pineapple juice
4 cups (945ml) 100% apple mango juice
3 tablespoons (45ml) lime juice
garnish: blood orange or regular orange wheels, optional
honeydew melon + blueberries for eyeballs
dry ice, optional
Directions
Mix the rum and juices together in a punch bowl.
Top with blood orange slices.
To make the eyeballs, scoop out balls with a melon scoop. Make an X at the top of the ball and dig a little hole out so that the blueberry has a place to sit. Put two on a cocktail pick to create a set of eyeballs.
If using dry ice, please read all the safety tips in the post first. Keep the dry ice pieces at least 1-2" in size. You don't want one to accidentally get into your glass. Add one to the glass, top with the eyeballs and serve.