This apple margarita is perfectly balanced between sweetness and tartness with freshly squeezed lime juice, apple juice and maple syrup and just a touch of cinnamon to get all the fall flavors into one apple cocktail. Gluten-free and vegan.
I have to admit that I thought tequila, lime and cinnamon would be an awful combination. But I tried it, anyway, and was shocked by how delicious it was.
If you're hesitant – don't be! It's such a fun drink.
And it's a great use of any leftover apple juice or lime juice. I know I'll be making this drink year-round!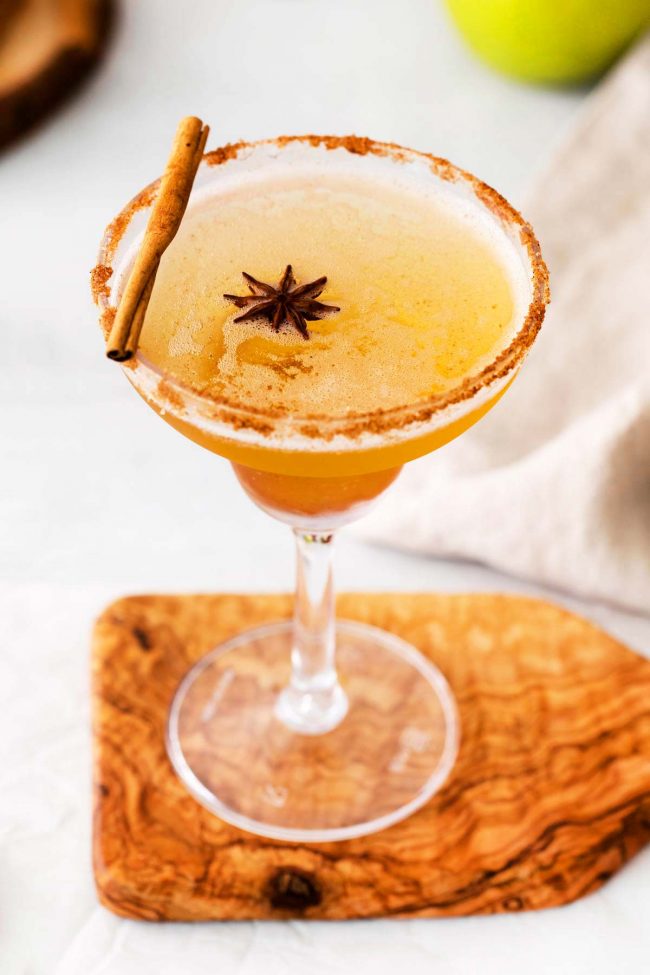 Ingredients
Tequila – I would recommend white tequila.


Cointreau or triple sec – I write about the differences down below. Both work great in this drink.


Apple juice – make sure it's 100% juice. And apple cider should work just as well!


Freshly squeezed lime juice – please don't use the bottled stuff! It makes such a difference in this drink.


Maple syrup – maple syrup pairs perfectly with apple and cinnamon! You can use simple syrup if you don't want to use maple syrup.


Cinnamon – again, don't hesitate to use this! It adds so much flavor.


Tips
If you don't have maple syrup on hand, you can use simple syrup instead. I haven't tried it with honey, but if you don't need a vegan version, I bet honey would taste great with the other flavor profiles.


This tasty fall margarita is so easy to quickly make into a big batch to serve to larger crowds.


I recommend mixing the cocktail just before serving to keep it cold. If you make a larger batch, put it in the fridge.


If you don't have a cocktail shaker, you can use a variety of items you probably already have at home. See the section below for more information.


Drink responsibly!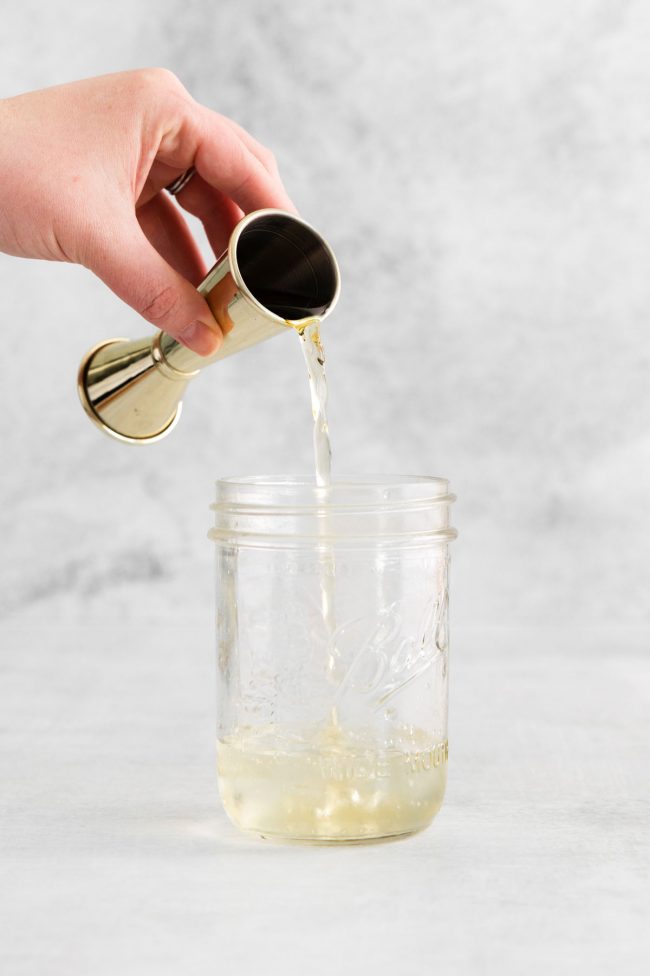 How to garnish
Using a slice of apple or lime works nicely. If I'm entertaining, I might notch it up a bit.
I might add some lime zest for a little extra zing.
It goes a long way on looks and taste.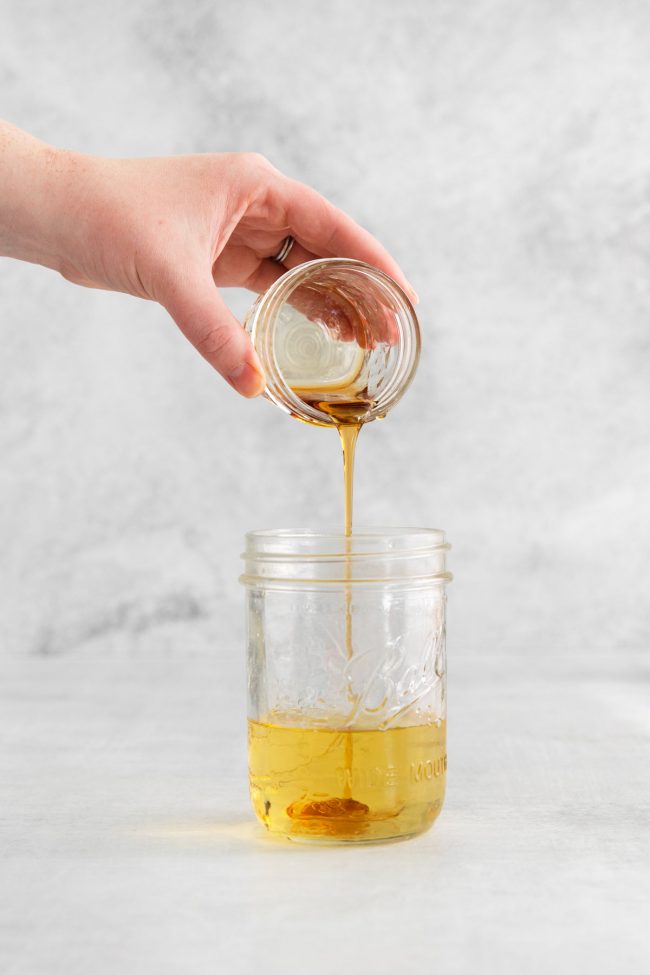 Don't have a cocktail shaker?
No problem, there are other household items you could use.
Travel coffee cups work great because they are double-walled and made to handle cold, so they should work well to chill the cocktail.
Protein shakers also work well. The ones with metal mixing balls are perfect for mixing.
Got a blender bottle? Then break it out for your next cocktail party!
A mason jar with a tight lid always does the trick.
However, if you like making cocktails, it might be good to invest in a cocktail shaker.
They perfectly chill drinks quickly and have a built-in strainer. They're also great for muddling and easy pouring!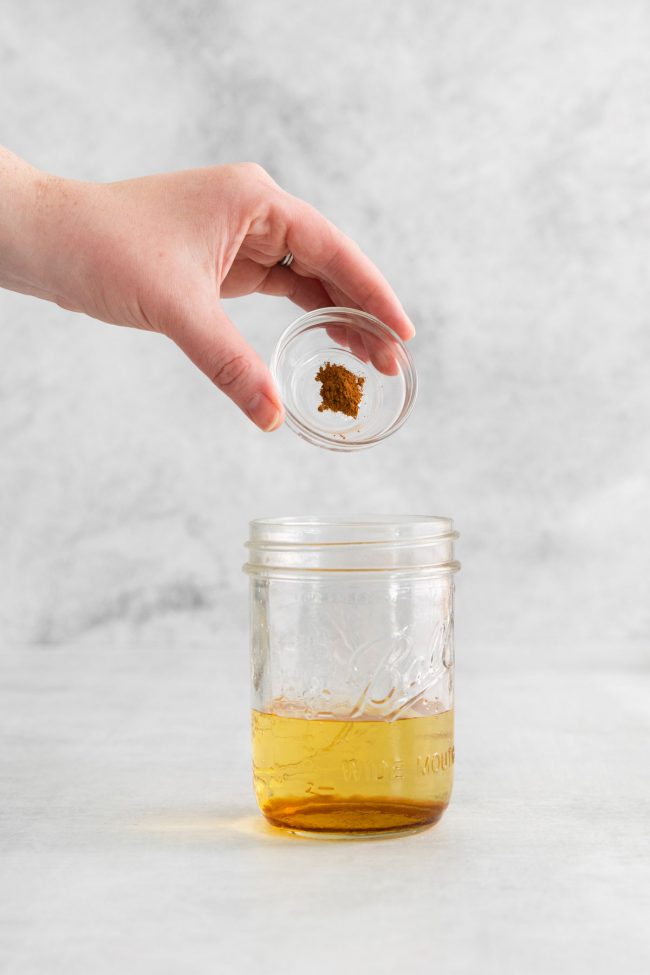 Can I make it frozen?
Without a doubt! I'm lazy, so I didn't bring out the blender and ice cubes, but by all means, if you prefer a frozen cocktail, suit yourself and let me know how it turned out so I can update the post.
What tequila to use?
I recommend white tequila because of its smooth taste. White tequilas are young and crisp and aged in stainless steel containers. Plus, it's balanced well with fruit and other sweeter flavors.
Gold tequilas are oak-y which gives them a distinct flavor. Color additives aid in giving them that golden hue, so be mindful if you have dietary restrictions. They have a strong woody flavor and are best for sipping.
Caramel coloring is usually added to gold tequila before fermentation. If it doesn't say 100% agave, then coloring has been added.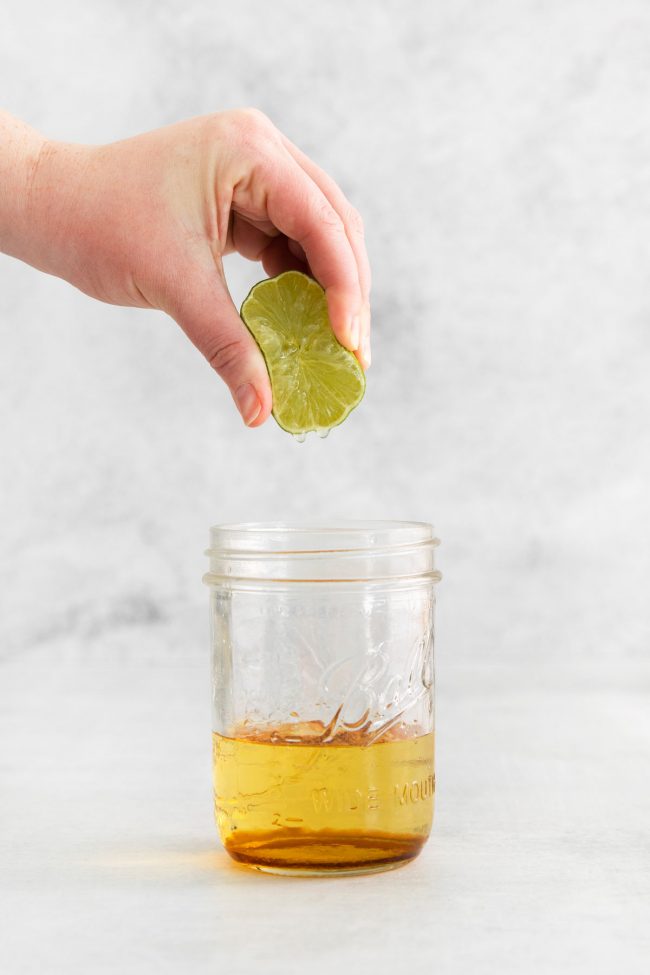 Is triple sec the same as Cointreau?
Not exactly. Both are a type of orange liqueur.
Cointreau is a type of triple sec, but when a recipe calls for Cointreau, the recipe creator recommends you use Cointreau.
When a recipe calls for triple sec, you can use Cointreau, but it's not mandatory.
Triple sec is much cheaper than Cointreau and also lower in quality.
Cointreau has a more complex and smoother flavor and also has a stronger taste.
Do I have to use tequila?
Margaritas are classically made with tequila, triple sec and lime juice.
This Gin Margarita is made for gin lovers and is like a classic margarita with a gin twist.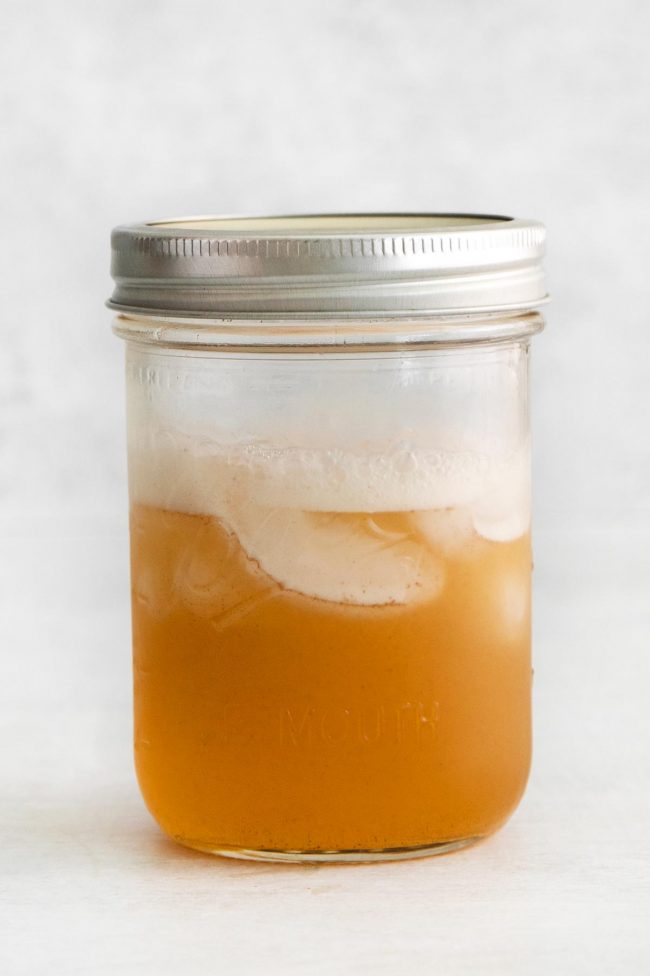 I have this Raspberry Margarita in which you can sub out the tequila for rum or vodka, mostly because of the heavy fruity flavors.
But in this apple margarita, I'm not sure I would substitute anything for the tequila. Mainly because of the lime juice – it just pairs well with tequila and helps meld all the flavors together.
But don't fret, if you're not a tequila fan, try these Apple Juice Cocktails instead. They're made with vodka and actually have similar ingredients to this margarita.
Maple syrup in a margarita?
Yep, because it works! It doesn't taste maple-y at all, so no worries. It just delicately sweetens it a bit more, adding to the overall fall cocktail taste.
You can use either the lighter or darker kind.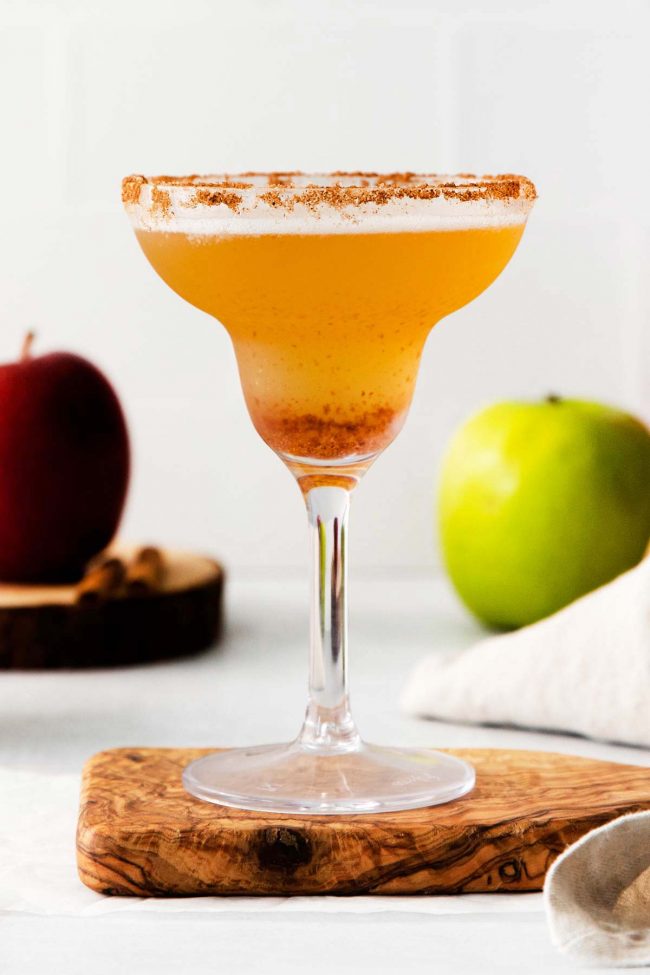 Is this margarita vegan?
Yes, it can be! Tequila is the most vegan-friendly of all liquors. According to Barnivore, 4% of tequila brands are non-vegan.
But if you're vegan, be sure to buy the right brand to make a vegan cocktail. Patron is vegan, for example.
Most Triple sec brands are vegan-friendly meaning they have not been made with any animal products.
Cointreau is also vegan-friendly.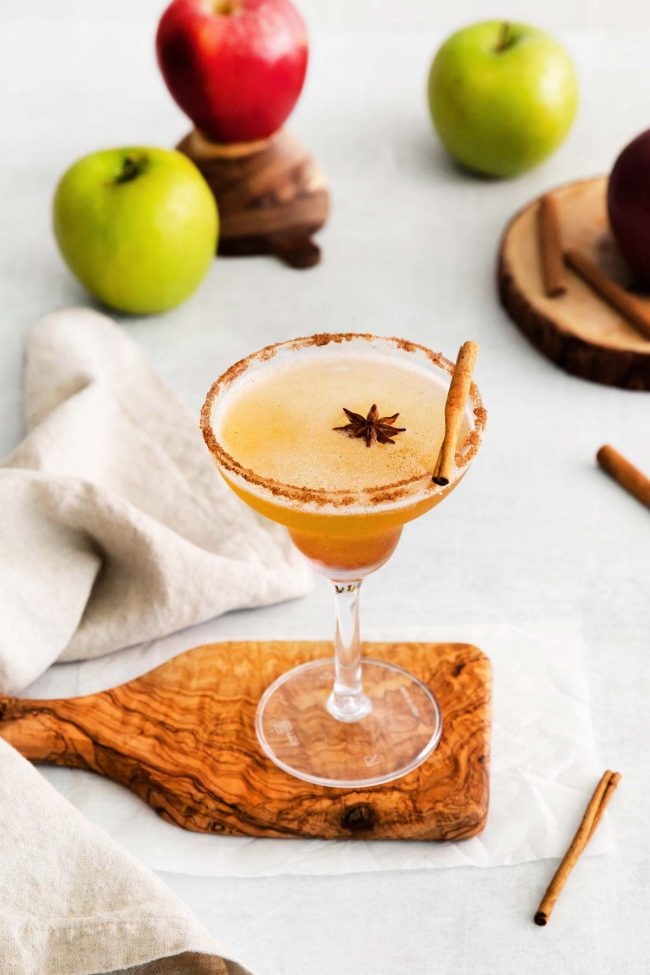 Is this cocktail gluten-free?
Yep! All of the ingredients in this margarita, according to Beyondceliac.org, are glute-free due to the distillation process. But be aware when selecting tequila.
Pure, distilled tequila that is made 100% from blue agave is considered gluten-free. Even if it is a mix of agave and other sugar, it is safe for people with celiac disease.
Patron shows up on the list as a pure distilled tequila, but when in doubt, always check the manufacturer's website.
As for maple syrup and apple juice, make sure there aren't any additives or colorings and that you are getting 100% maple syrup and 100% apple juice.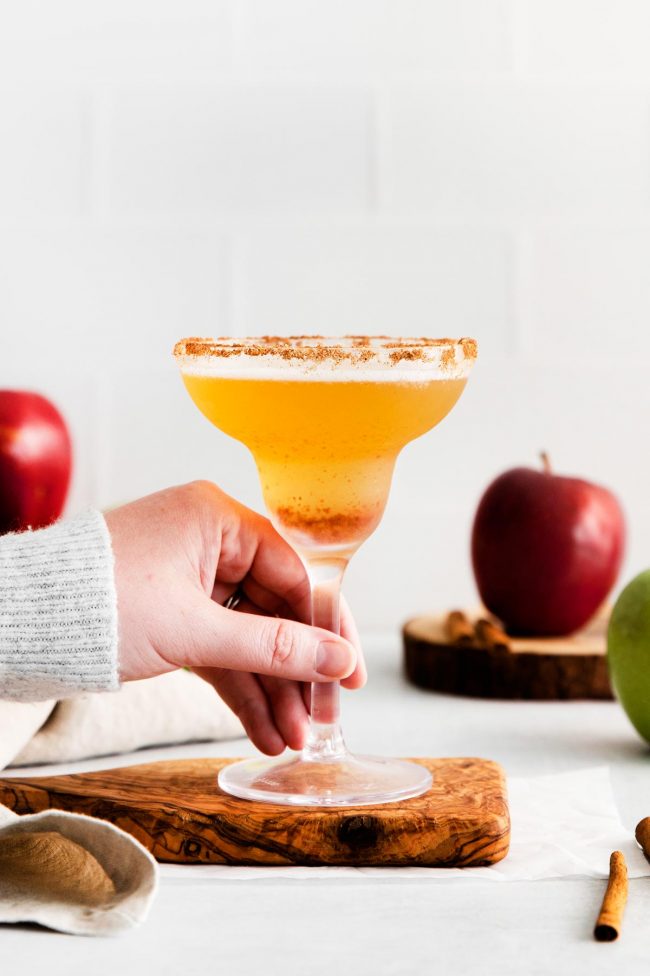 Other great drinks
I've got several cocktail recipes that you might want to check out.
Non-alcoholic
I hope you like this apple margarita as much as we do! If you try it, leave us a comment below and let us know what you think! Cheers!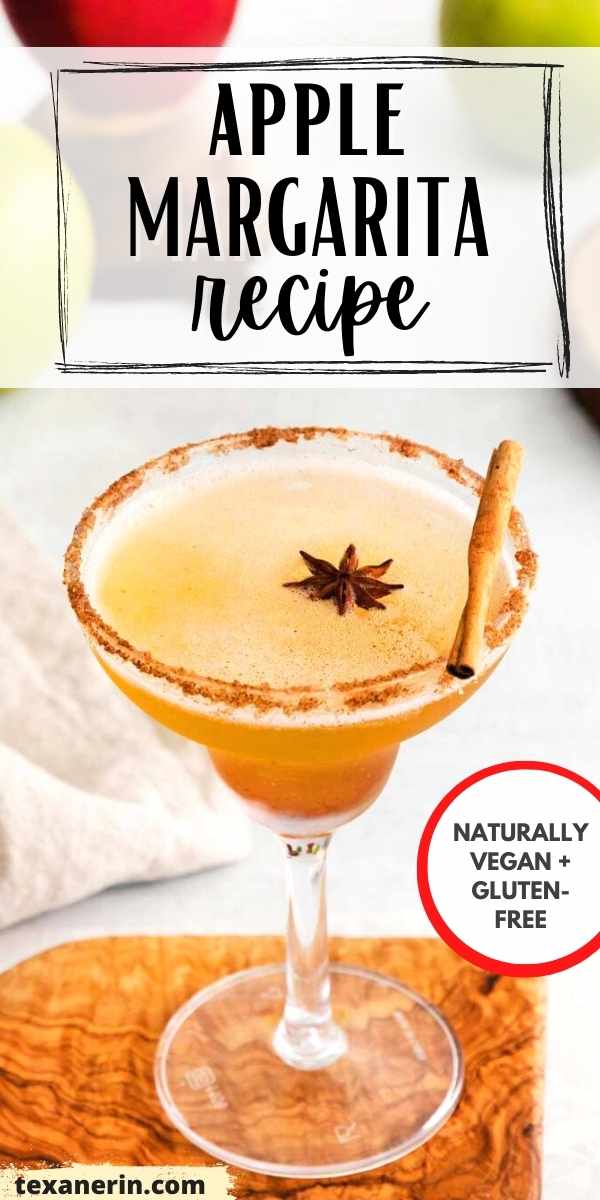 ❀
Apple Margarita Recipe
Prep Time:
Cook Time:
Ready in:
Yield:

1
Ingredients
For the rim:

1/2 tablespoon granulated sugar or coconut sugar
3/4 teaspoon ground cinnamon

For the margarita:

2 oz (1/4 cup) tequila
1/2 oz (1 tablespoon) Cointreau or triple sec
2 oz (1/4 cup) 100% apple juice
3/4 oz (1 1/2 tablespoons) freshly squeezed lime juice
2 teaspoons maple syrup
1/8 teaspoon ground cinnamon
Directions
To make the rim:

Mix together the cinnamon and sugar on a small shallow plate that's wider than the rim of the glass you're using.
Pour a little water into a saucer, flat plate, or shallow bowl larger than your glass.
Dip the glass ever in a little water to wet the rims. Then dip in cinnamon sugar.

For the margarita:

Fill a cocktail shaker halfway with ice.
Add all the ingredients and shake for about 10 seconds until well combined.
Strain into a margarita glass. If not serving right away, chill until serving (you can mix the drink about 8 hours in advance, but it's best not to sugar the rims ahead of time).