There are two whole oranges in this cake, peel and all. And fresh cranberries. Fresh cranberries that I had to go to 5 stores to find! By the way, do people eat cranberry desserts for Christmas? Because once I found those cranberries… I got a bunch. And now I need to use them.
I was very lucky to have received a Thanksgiving invitation for Sunday. I wanted to control the dessert, just because having all those gluten-filled desserts around and not being able to eat them is equivalent to torture for me. So I had to find something quick that would appeal to everyone.
Other than the hostess, I was the only American there and the other guests were French and German. They all loved my cake. Thus, I'm claiming this cake as an international pleaser. ;)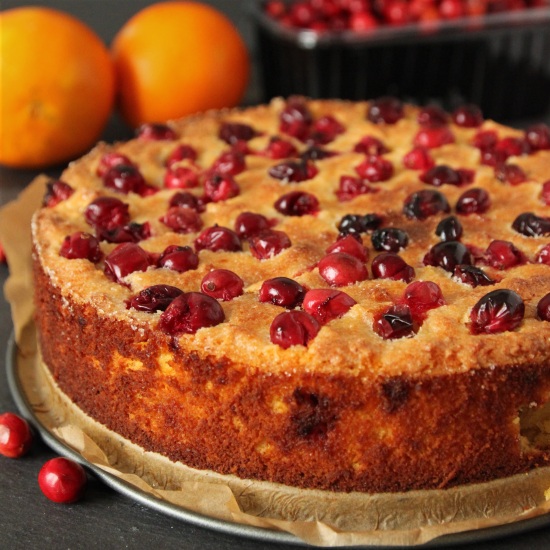 (Edit: I've already posted this but just realized you can see my "I have to try it!" hole on the right side of the cake. Whoops.)
I didn't want to waste 3 cups of almond flour on experimenting, so I followed the recipe and used granulated sugar. I rarely do that, but it was for Thanksgiving and I didn't want to subject a dozen people to some funky experiment gone wrong. But hey, there's no added fat at all! That should count for something.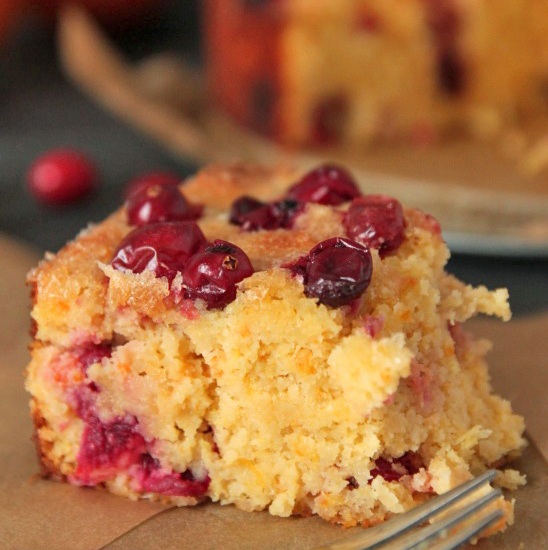 I'm still working on my close-ups. I'm posting this picture anyway, just so you can see the texture.
The cake is just sweet enough as is, but if you want a glaze, there's one included at the source. The cake was super moist and nobody seemed to notice the lack of regular flour. Woohoo!
Looking for something else delicious for Thanksgiving? Try these Gluten-Free Crescent Rolls!
❀
Grain- and Gluten-free Cranberry Orange Cake
Prep Time:
Cook Time:
Ready in:
Yield:

12 pieces
Ingredients
2 oranges
zest of 2 other oranges
3 eggs
215 grams (1 cup) caster or granulated sugar
300 grams (~3 cups) almond meal or almond flour
1 teaspoon gluten-free baking powder
2 cups fresh cranberries (4 3/4 dl)
Directions
Preheat your oven to 340°F/170°C. Spray a round 8" / 22cm springform pan with baking spray to grease. Line the base with parchment paper.
Put the oranges in a pot and cover with cold water. They will float a little, though. Bring to a boil over medium heat and cook for 15 minutes. Drain and then cover the oranges with cold water again and boil another 15 minutes. Rinse with cold water and let cool for 10 minutes or until you're able to cut them without burning your hands. Coarsely chop the oranges and remove any seeds.
Process the orange pieces in the bowl of your food processor until smooth. Add the zest of two oranges and give it another whirl.
In a large bowl, beat the eggs and sugar together using an electric mixer. Beat until pale and thick and then gently fold in the orange, almond meal and baking powder. Then fold in half of the cranberries.
Pour into the prepared pan, sprinkle the over half of the cranberries over the top of the batter, and bake for 1 hour or until a toothpick inserted in the middle comes out clean. Cool completely in the pan before cutting.
Adapted from Taste.com.au