These gluten-free thumbprint cookies are also grain-free and dairy-free! They have a fantastic texture and can be adapted to use different zests, extracts and jams.
I love gluten-free cookies like these year-round. I don't understand why raspberry thumbprints are a Christmas thing. I mean, they're raspberry flavored!
To me, that screams summer. So here's a little piece of summer for you in December.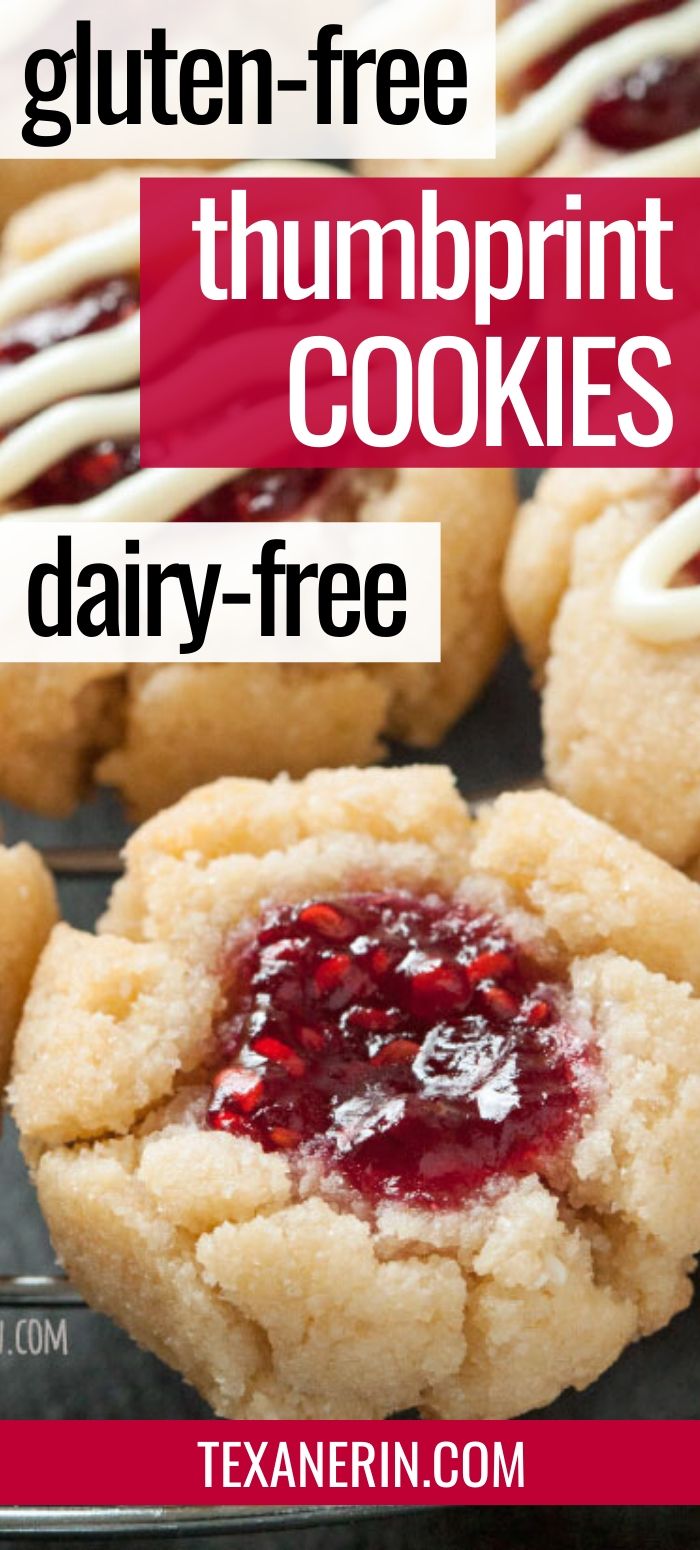 Use whatever flavors you'd like
I first made these cookies in January when I was experiencing the post-Christmas winter blues. So of course I loaded them with lemon zest and extract. Lemon does a great job of cheering me up.
With Christmas around the corner, I thought I ought to try an almond version and they were just as delicious.
Or maybe even more delicious?! It's hard to pick a favorite.
You can of course use whatever extract and jam you'd like. Some commenters have used apricot jam and I think that sounds amazing in combination with almond extract. Blueberry jam would also be great!
A less fussy dough
The dough in these raspberry thumbprint cookies is almost the same as the one in my lemon curd thumbprints. Except I made these dairy-free!
To do that, I just used coconut oil instead of butter and reduced the amount by a tablespoon. The two types of fat are often not interchangeable in cookie recipes.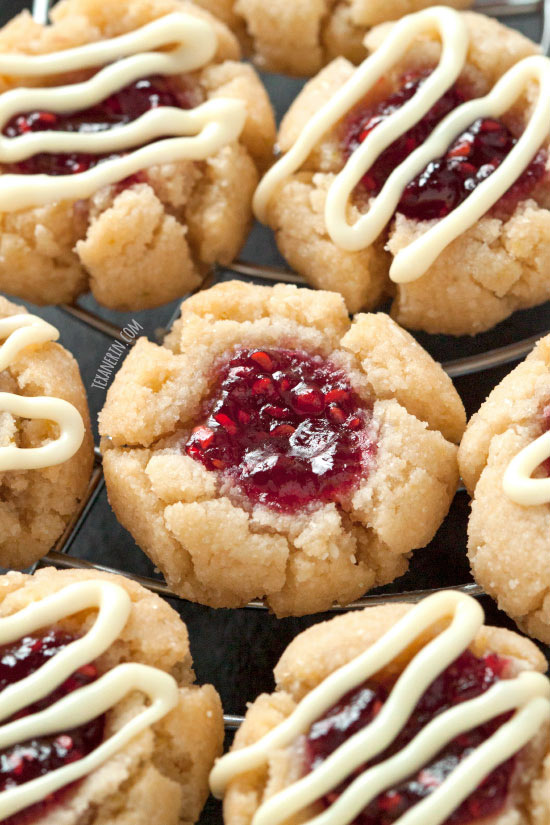 And the raspberry version is actually a little less fussy! For whatever reason, you have to pre-bake the lemon curd cookies a little before adding the curd.
They came out looking funky when I made the indentation, added the lemon curd and then baked.
These raspberry thumbprints get rid of that pre-baking step. It's not much but I'll take one less step as an improvement!
How to decorate thumbprint cookies
I think a powdered sugar glaze is pretty standard with thumbprint cookies but I know most of my regular readers don't like it when I use powdered sugar (neither do I) so I just used some melted white chocolate. It's also full of white sugar so it's not really any better, but at least it tastes like something other than pure sugar.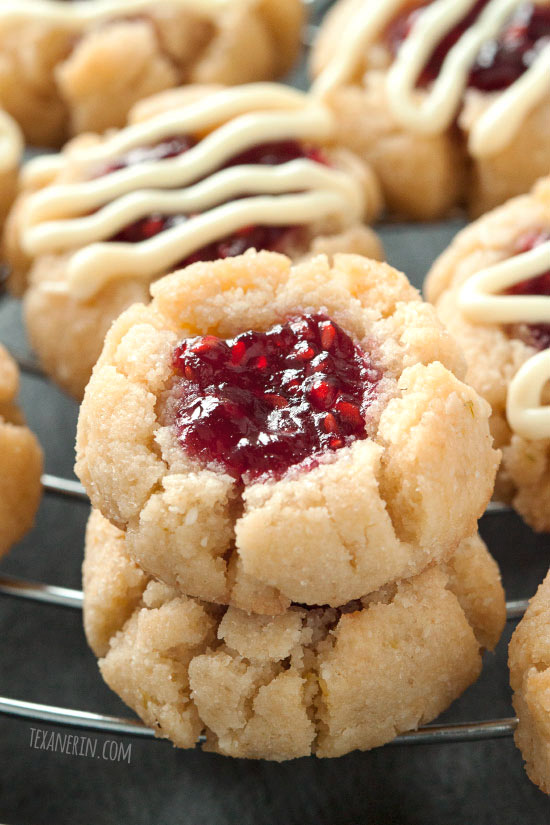 I think these gluten-free thumbprint cookies are quite pretty without the white chocolate on top so you can easily leave it out. That means less washing up, which is always good. ;) If you want to use white chocolate and need these cookies to be dairy-free, you can make your own dairy-free white chocolate.
Using different types of sugar?
I used a light-colored raw sugar in the cookie dough and recommend thinking twice before using a dark raw sugar or coconut sugar. You don't want the molasses-y taste to interfere with the light almond taste!
If you need something that's free of refined sugar, check out my paleo peppermint cookies, gluten-free orange cookies or peanut butter cookies.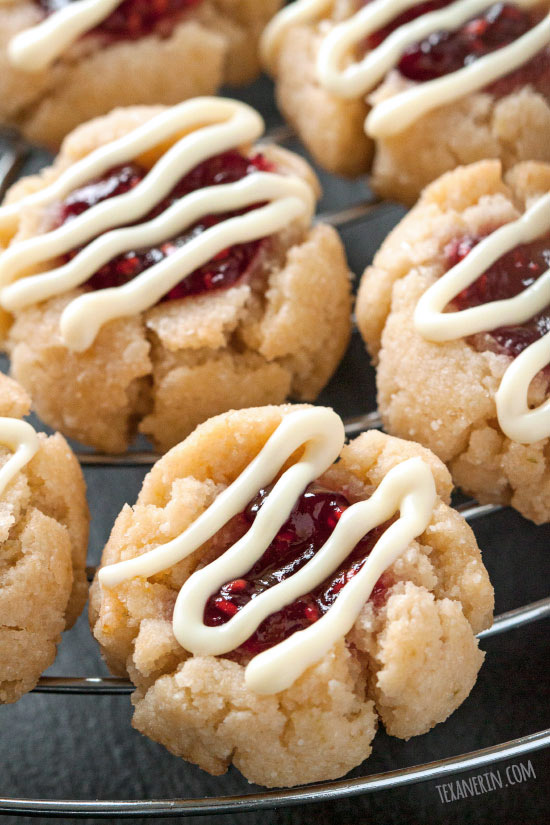 These gluten-free molasses cookies are also amazing! They remind me of the Archway cookies from my childhood.
If you try out these gluten-free thumbprints, please let me know how you like them!
❀
Raspberry Thumbprint Cookies (grain-free, gluten-free, dairy-free)
Prep Time:
Cook Time:
Ready in:
Yield:

32 cookies
Ingredients
2 cups (200 grams) blanched almond flour (called ground almonds in other countries)
1/4 cup (34 grams) coconut flour, sifted if lumpy
1/2 cup (100 grams) raw or granulated sugar
1 teaspoon baking powder
1/8 teaspoon salt
7 tablespoons (98 grams) coconut oil 1 or 1/2 cup (113 grams) butter if you can have dairy, melted and cooled slightly
1 large egg, room temperature
1 teaspoon almond extract
1/3 cup (100 grams) raspberry jam or jam of choice
1/2 cup (85 grams) white chocolate for piping, optional (omit for dairy-free)
Directions
In a medium bowl, stir together the almond flour, coconut flour, sugar, baking powder and salt.
In another medium bowl, stir together the coconut oil, egg and almond extract.
Add the flour mixture to the wet mixture and stir just until combined. The dough will feel quite wet. Let sit for 10 minutes, which allows the coconut flour to absorb the liquid.
Preheat the oven to 350 °F (175 °C) and line a cookie sheet with a piece of parchment paper.
Roll the dough into 1" balls and place 2" apart on the prepared cookie sheet. The dough will feel quite greasy but this is okay.
Using your thumb, make an indentation about 3/4 of the way down into each cookie. You may want to re-form the edges a little to make them prettier.
Fill each indentation with 1/2 teaspoon of jam. Be sure not to overfill them.
Bake for 8 minutes or until the cookies have barely started browning on the bottom.
Let the cookies, which will be very soft, cool for 5 minutes on the baking sheet and then remove to a wire rack to cool completely.
Pipe with white chocolate, if desired.
Store in an airtight container for up to 4 days.
Notes
If you use unrefined coconut oil, these will likely have a coconut taste to them. With refined coconut oil, there will be no coconut taste.
Adapted from my lemon curd thumbprint cookies