This Strawberry Frosé calls for only four ingredients and comes together in a few minutes. It can even be naturally sweetened, and it's naturally gluten-free + vegan.
No strawberries on hand? Then you might want to check out my Limoncello Spritz and Raspberry Margarita for other summertime cocktail options!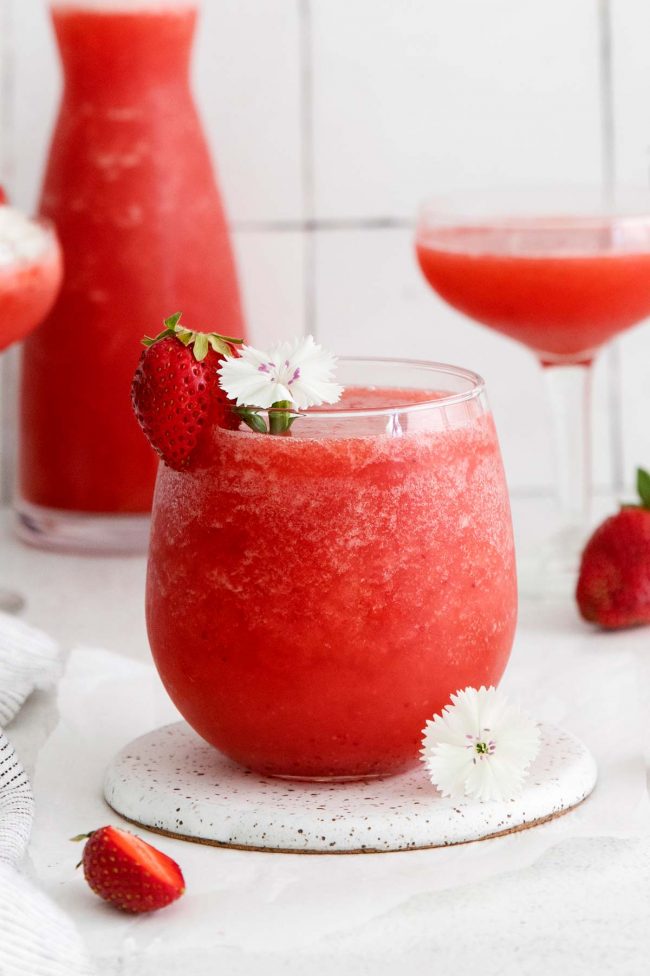 Ingredients:
Rosé – you don't need to buy an expensive bottle. The one I buy is 3 euros, and it's even organic.

But I'm far from a wine connoisseur. You should buy one that's still enjoyable on its own, as you'll be able to clearly taste it in the frosé.


Frozen strawberries – I go into detail below on why you want to use frozen and not fresh.


Sweetener – I used maple syrup, which pairs perfectly with strawberries. You could also use simple syrup, vanilla simple syrup (I have a recipe in my post for Starbucks Chocolate Cream Cold Brew) or granulated sugar.

If you're not vegan, runny honey (not crystallized or whipped honey) also works, but you will be able to taste it, which isn't necessarily a bad thing. I don't recommend coconut sugar as that will flavor the drink too darkly.


Vanilla – I know a lot of people use lemon juice in their frosé, but when I tried that, I had to add even more sweetener. So I tried with vanilla. No extra sweetener was needed, and I preferred the vanilla flavor over lemon.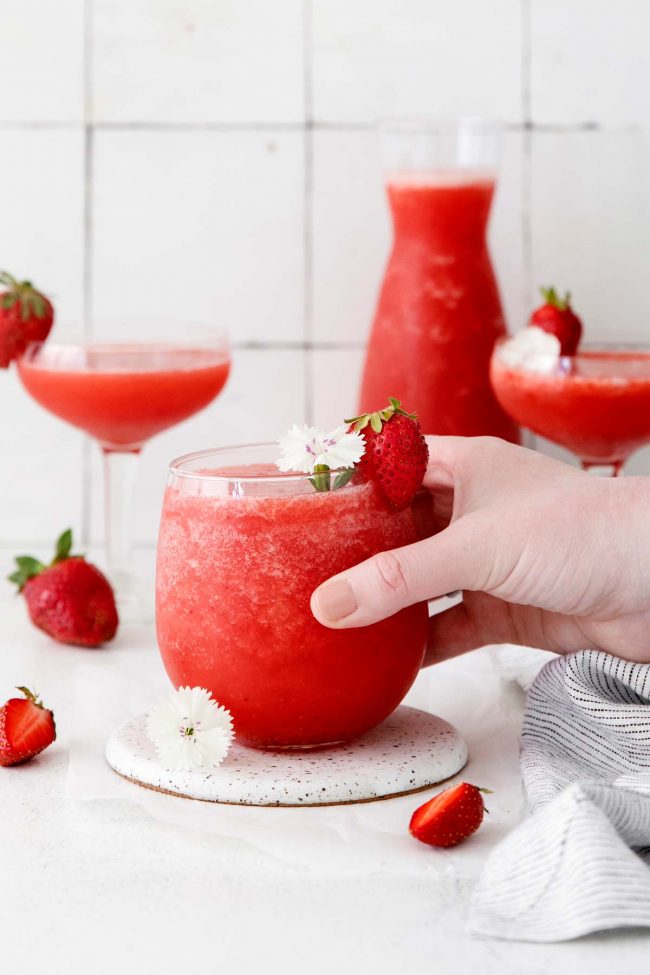 Sweetener
Some strawberry frosé recipes list the sweetener as optional. I know I have a sweet-tooth but – wow. I have no idea how people are drinking frosé without sweetener!
Maybe they all have candy-like strawberries and very sweet rosé? But I still can't imagine not adding any sweetener!
My strawberries were typical frozen strawberries, meaning they weren't very sweet at all.
So in my recipe, you blend everything together, taste, and then start adding sweetener. That way, you're guaranteed to have a drink that's the perfect sweetness for you.
I used 1/4 cup of maple syrup, but you may find that you need less. For reference, other recipes use 0 to 2 tablespoons of sweetener for the same amount of rosé. You could also try using Strawberry Simple Syrup!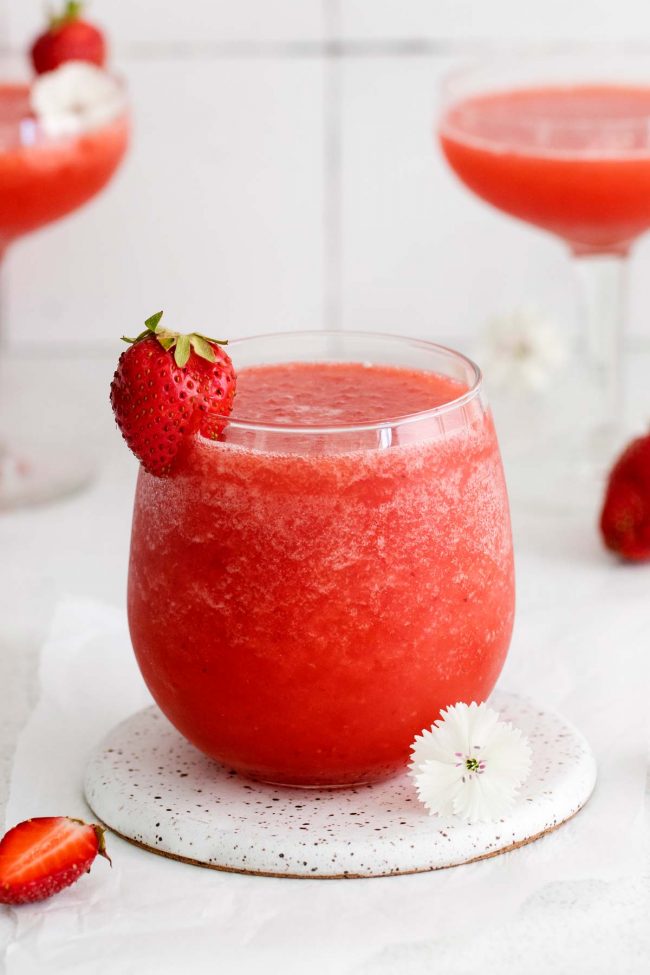 Frozen vs fresh strawberries
As I said above, frozen strawberries generally aren't very sweet. If you've got an abundance of fresh strawberries, you can freeze them and use them in this drink (and this Berry Lemonade)!
If you're in a hurry, you can place the strawberries in a ziploc, close and smash the strawberries with the bottom of a glass. Place the bag in the freezer until frozen.
If you've just got average frozen strawberries, they still work! You'll just need more sweetener.
You want to use frozen instead of fresh because the frozen strawberries are what create the frozen rosé.
If you just add ice, it'll water the drink down. And I find this happens rather quickly.
If you find yourself wanting to do something with fresh strawberries, check out this show-stopping Japanese Strawberry Shortcake. This Classic Strawberry Galette also looks fantastic!
Peach or orange additions
I list them as optional, but adding 1/4 cup of peach schnapps or triple sec (not both!) adds such a nice twist.
We preferred peach schnapps, but we always prefer peach schnapps over everything, so we're not entirely unbiased. I used the brand Peachtree.
For the orangey version, I used Cointreau, but I think any old triple sec would do. As long as it's of decent quality. I think next time I'd also add some orange zest!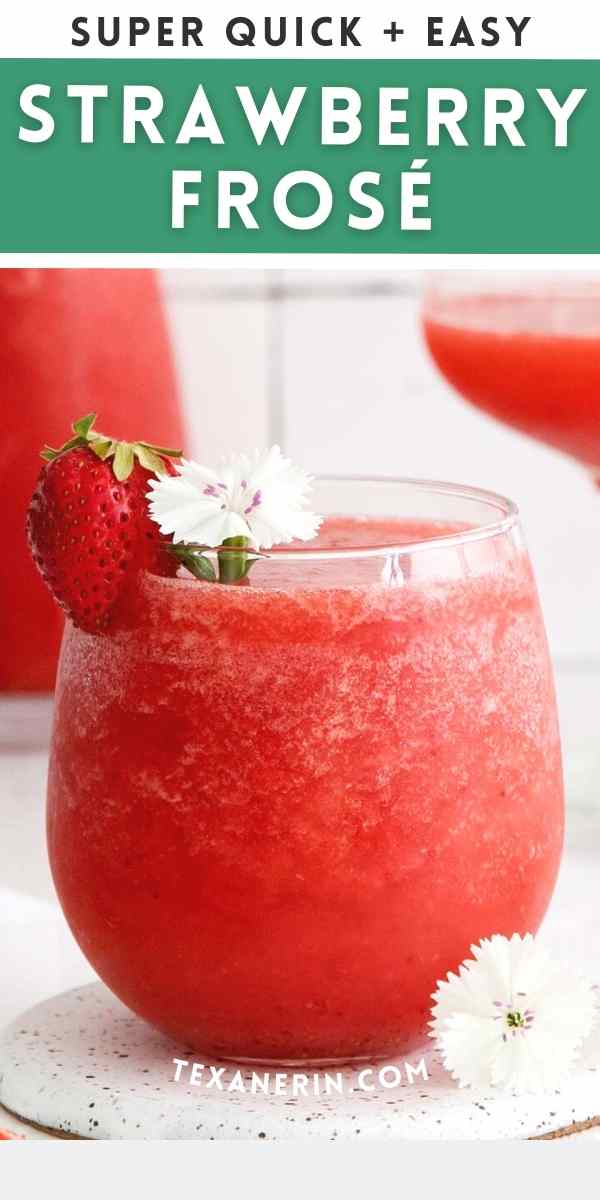 Other fruit
Raspberries would be great, but you'd need even more sweetener. Using raspberries + Chambord instead of peach schnapps or triple sec sounds like great combination!
Mango or pineapple sound interesting, and for those, you'd likely need less sweetener.
Peaches would also be lovely! You'd probably need around the same amount of sweetener.
Is this vegan? Gluten-free?
All of the ingredients are usually naturally vegan and gluten-free, but the rosé could be problematic if you're vegan as animal products are sometimes used during the winemaking process.
So make sure to buy a bottle that's vegan. Trader Joe's has Charles Shaw Rosé and it's only $3.99 a bottle. And it's even organic!
That price is from news articles I found that are over a year old, and I can't find anything about the current in-store price, so it might be more expensive by now.
If you want a pricier one or don't have Trader Joe's near you, here's a list of vegan rosé wines.
I hope you'll enjoy the frosé! I'd love to hear about it if you give it a try. :)
❀
Strawberry Frosé
Prep Time:
Cook Time:
Ready in:
Yield:

6 drinks
Ingredients
3 cups (400 grams / 14 ounces) frozen strawberries
1 bottle (750 ml) chilled rosé wine
2 teaspoons vanilla extract
up to 1/4 cup (60 ml) maple syrup, simple syrup, or granulated sugar1
optional but recommended: 1/4 cup (60 ml) peach schnapps or triple sec
Directions
Add everything but the sweetener to a high-speed blender.
Process until high until totally smooth.
Taste and start adding sweetener a tablespoon at a time. I used 1/4 cup of maple syrup.
Serve immediately.
Notes
Runny honey also works if you're not vegan.