This strawberry mule is utterly refreshing. It's maple-sweetened (with a simple syrup option) with citrusy lime juice, spirited with vodka and spicy ginger beer. It's also naturally gluten-free and vegan.
This strawberry cocktail has all the essence of spring and summer. It's sweet and slightly fizzy, with a kick of ginger to make a well-balanced, lovely cocktail.
I recently posted this Strawberry Latte, which is a coffee drink with a strawberry twist and this Strawberry Matcha Latte. I apparently decided I was lacking in strawberry drinks, so here's another. :)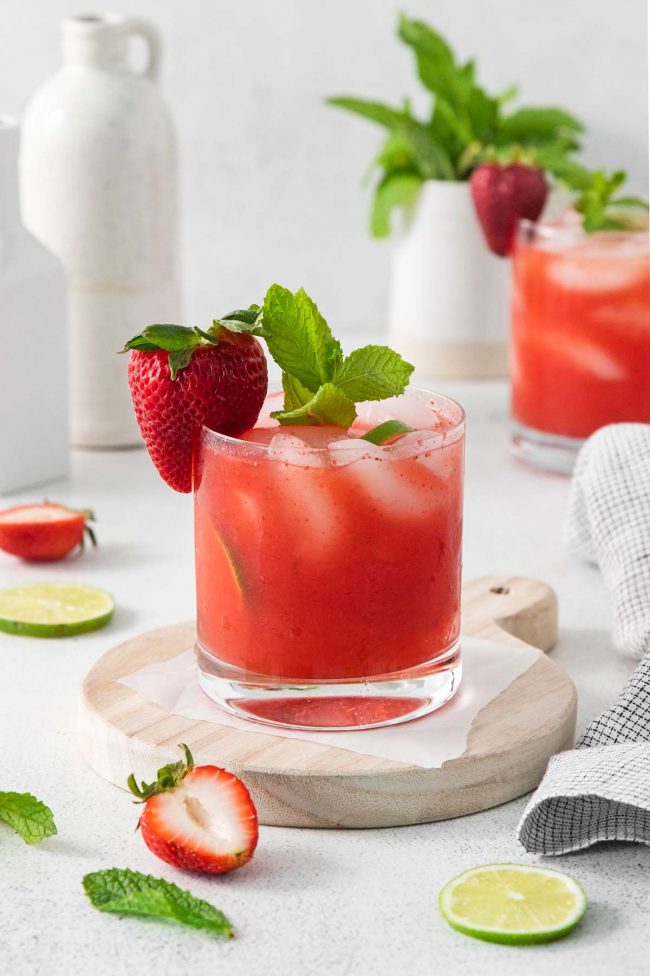 What is a mule?
The Moscow mule, most famous for being served in a shiny copper mug, was invented in the 1940s to eliminate some overstock of vodka and ginger beer. The only other thing you need to make a Moscow mule is some lime juice.
Today, we're adding a sweet twist of strawberries to sweeten it up and to make it more fruity.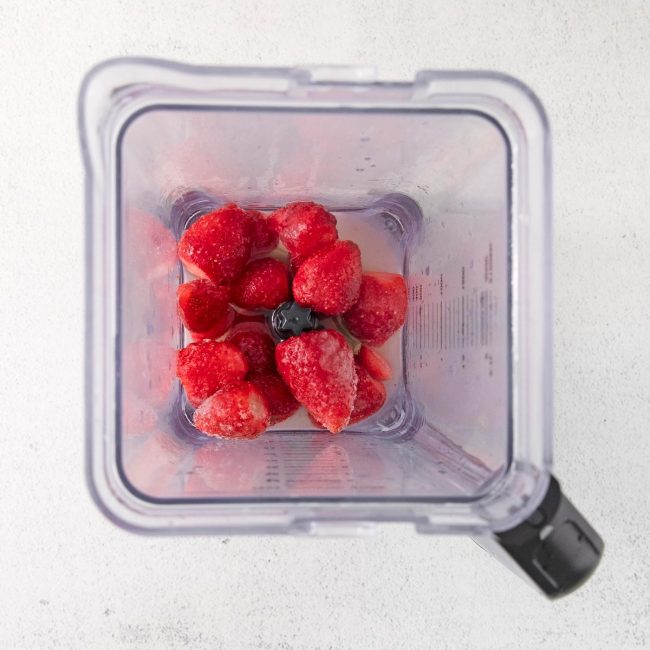 What's ginger beer?
Ginger beer is a carbonated, non-alcoholic beverage produced by the natural fermentation of ginger, yeast and sugar. It originated in England and dates back to the mid-18th century.
Today, you can find ginger beer that contains alcohol, usually labeled alcoholic ginger beer.
Unless you want to supercharge the alcohol content in this drink, I would stick to the non-alcoholic version.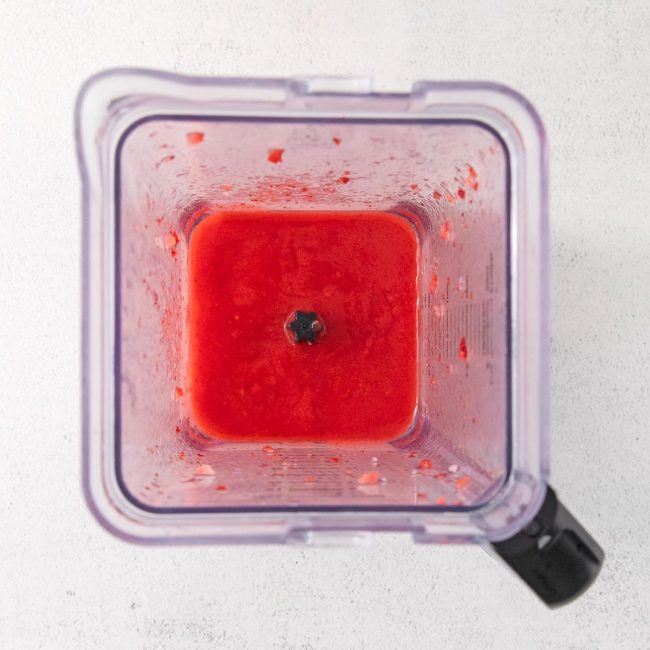 Can I use ginger ale instead?
Ginger ale is less spicy than ginger beer but more carbonated. Depending on your preference, you could use ginger ale if you like more fizz and sweetness.
If you use ginger ale, reduce the maple or simple syrup and add it to taste, as it might make this cocktail too sweet.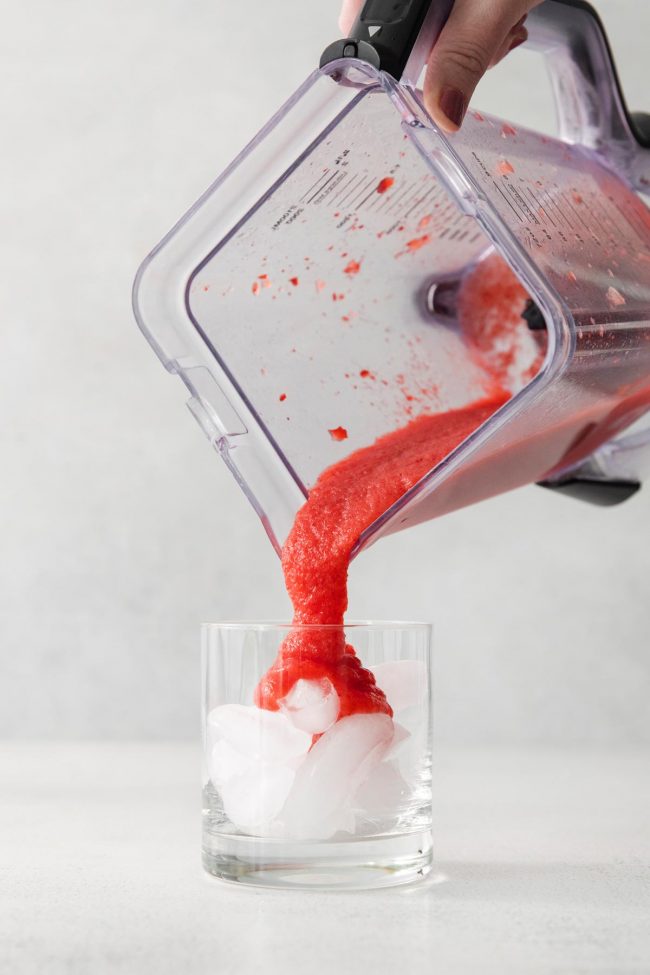 Fresh or frozen strawberries?
Both work fine. If you use frozen strawberries, just thaw them a bit before blending to get a smooth drink without frozen chunks.
If you went berry picking and have a lot of strawberries to use up, I have several strawberry recipes that can help you with that.
Here's How to Make Strawberry Jam, and these Strawberry Oat Bars are another great option. This Strawberry Applesauce uses 4 cups of strawberries and the only other ingredient is apples, so it's super easy.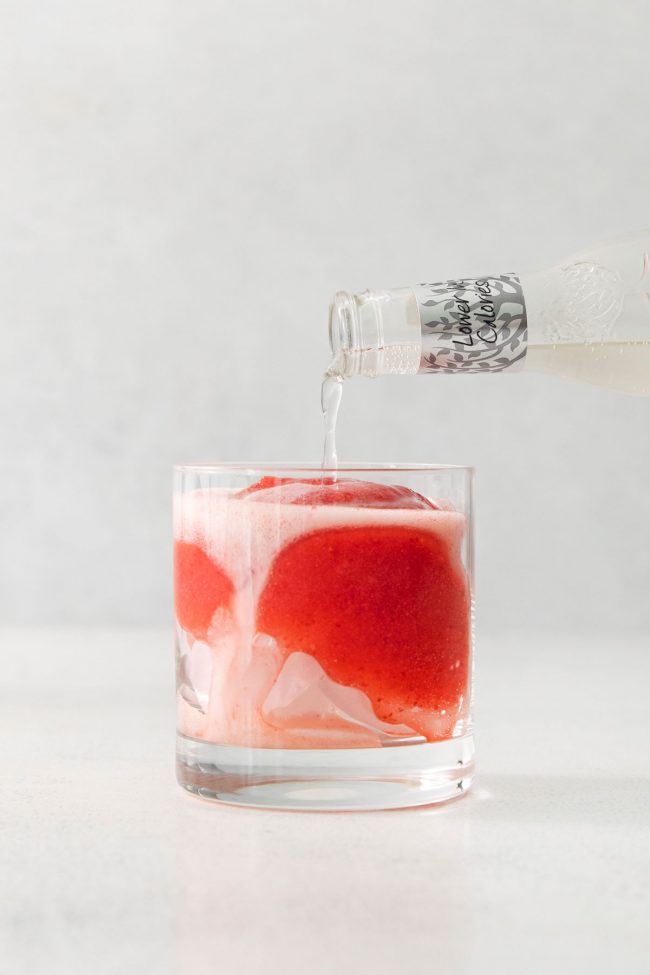 Big batch
This cocktail is perfect for gatherings. You can easily quadruple the recipe.
Just blend the strawberries and add the other ingredients (minus the ginger beer) to a pitcher, and when you're ready to serve, top off each glass with the ginger beer.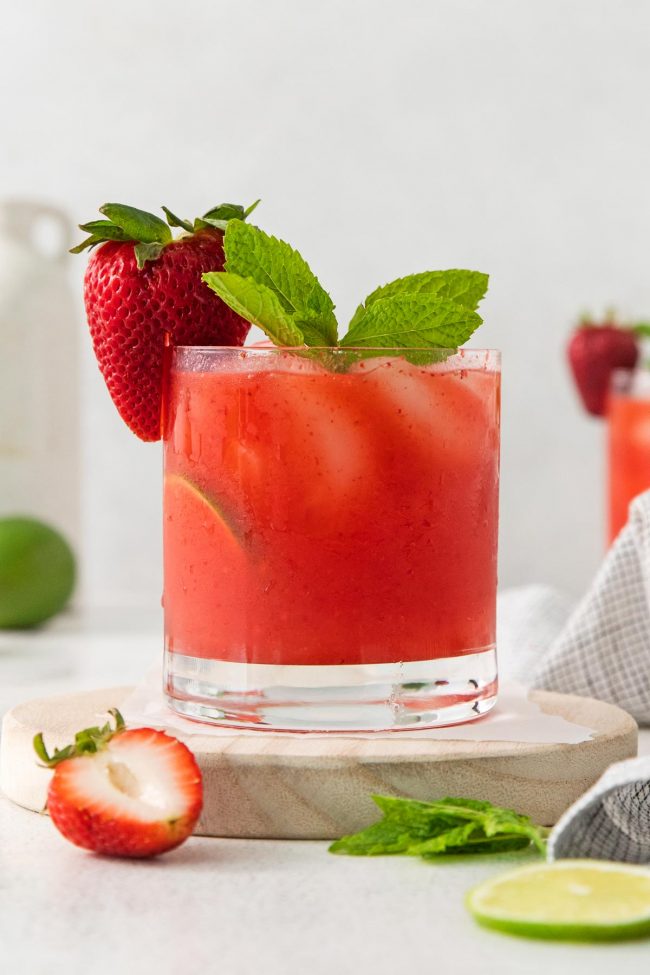 Copper mug
If you've had a mule before, you're probably familiar with the copper mug. Copper is highly conductive and chills the drink over ice to make a truly frosty drink.
But to photograph this cocktail, I much prefer to see the color of the cocktail than just a copper mug.
If you have a copper mug, you can definitely use it for this drink, as well as this Pumpkin Pie Moscow Mule.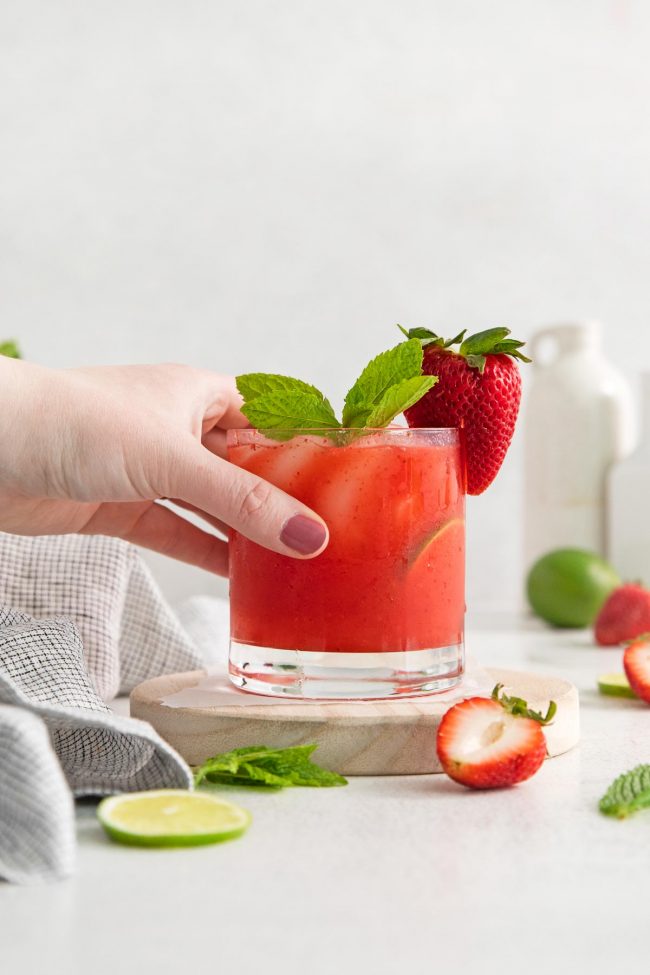 What kind of vodka?
You can use whatever vodka you like. I normally go for a mid-range vodka that is relatively inexpensive.
Sweetener
I love naturally sweetening my cocktails with maple syrup. But if you want, you can use simple syrup instead.
Add 1/2 cup of granulated sugar and 1/2 cup of water in a small saucepan over medium heat to make simple syrup. Stir until the sugar dissolves. Let it cool, and pour it into a glass jar with a tight lid.
It will keep in the fridge for a few weeks.
Can I make this mule without alcohol?
Sure! Just leave out the vodka, maybe reduce the sweetener by a bit, and have a strawberry mule mocktail.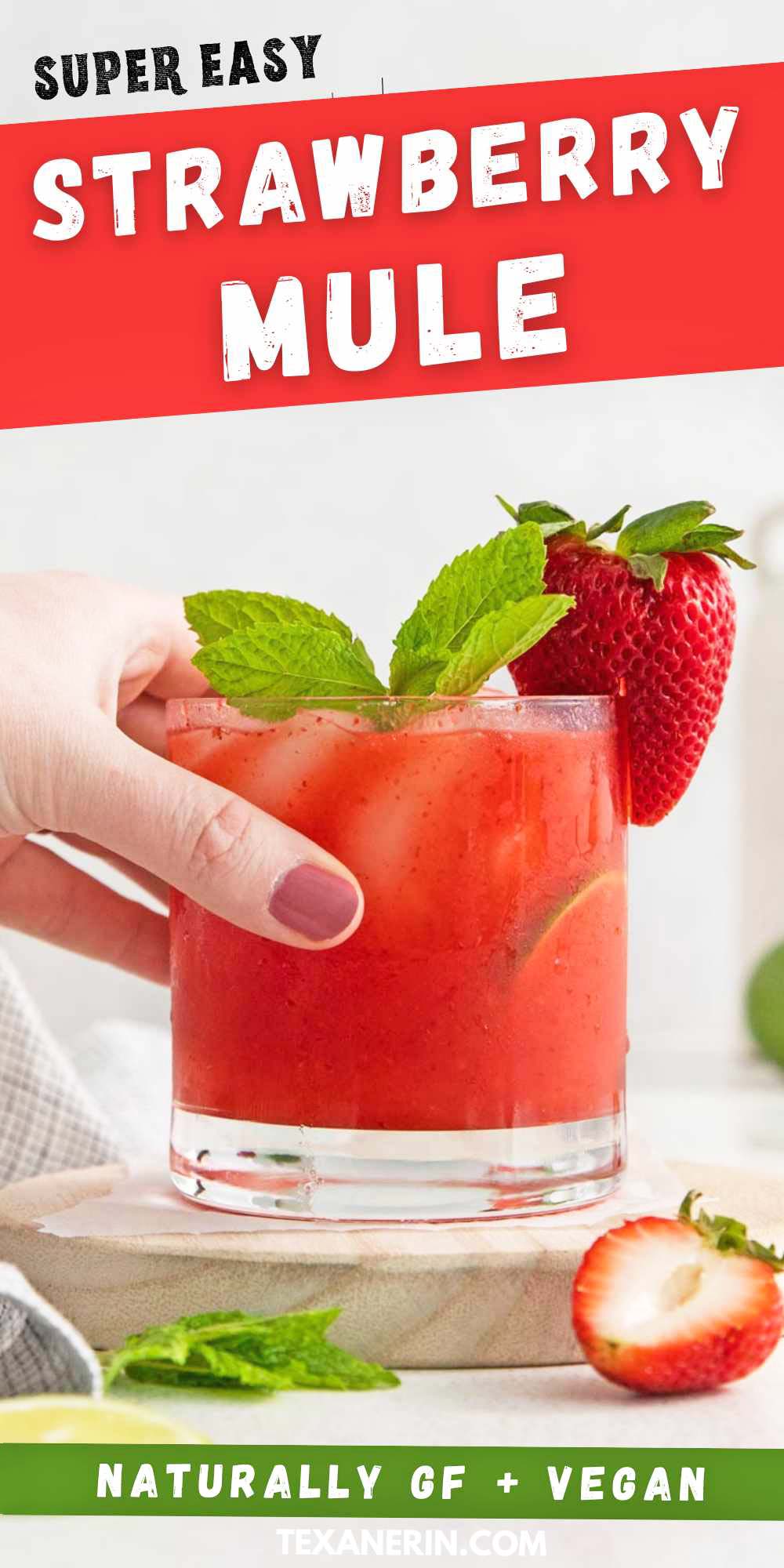 More refreshing cocktails
I hope you'll enjoy this strawberry mule! If you try it, please let me know in the comments how it turned out. Thanks! :)
❀
Strawberry Mule
Prep Time:
Cook Time:
Ready in:
Yield:

1
Ingredients
3 ounces (6 tablespoons) vodka
4 ounces (113 grams) strawberries (I used frozen and slightly thawed)
1.5 ounces (3 tablespoons) lime juice
4 teaspoons maple syrup
Ice
6 ounces (3/4 cup) ginger beer
Directions
Place the vodka, strawberries, lime juice and maple syrup in a blender and blend on high until no chunks of fruit remain.
Place ice in the glass.
Pour the strawberry mixture into the glass and top with the ginger beer. Give it a stir.