This tequila espresso martini has a strong coffee flavor from robust espresso and a shot of Kahlua, sweetened with Baileys and spirited with tequila. It's easy to make with just 4 ingredients and is gluten-free with a vegan option.
In all of my martini cocktail recipes, I've used vodka as the base spirit. Today, we're giving this exceptional espresso martini a tequila twist, and it's sublime.
But is tequila and coffee a good combination? It is!
It makes a tasty cocktail with a caffeine kick and is perfect for coffee lovers. It's well-balanced with an aromatic coffee liqueur with bold espresso but lets the other flavors shine without overpowering.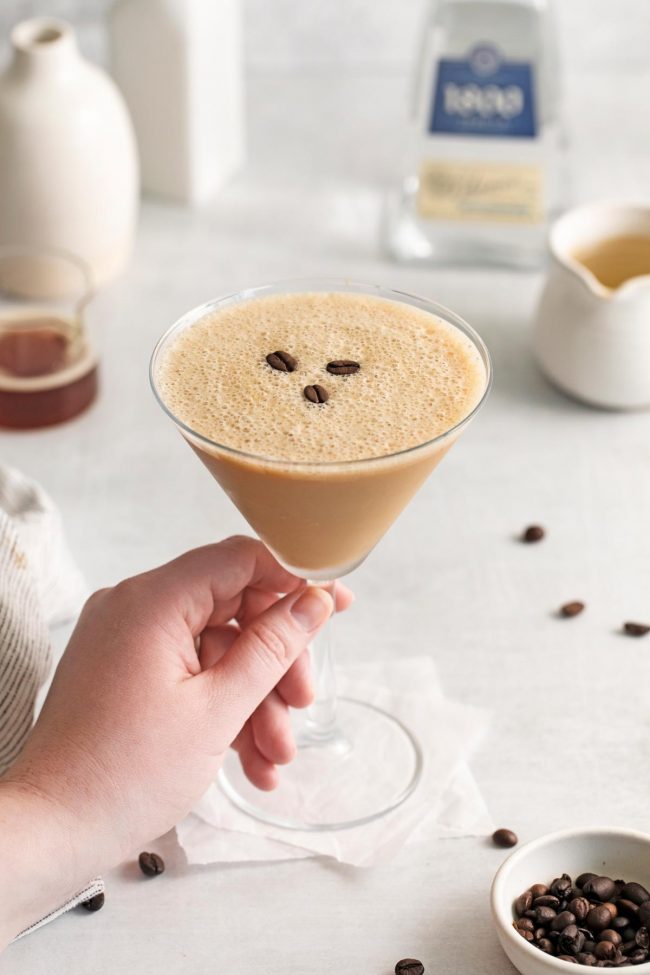 What is an espresso martini?
A classic espresso martini is made with espresso, vodka and Kahlua. In my Espresso Martini with Baileys recipe, I replaced the Kahlua with Baileys because I prefer it over the other. It was a little sweeter without being too espresso-forward.
The trademark garnish of espresso martinis is three roasted espresso beans representing health, wealth and happiness.
You can also rim espresso martinis with coffee grounds, but if that seems like an overload of coffee, you can leave it out. You could also shave the beans on top for a quick garnish.
How to brew espresso without a machine
It's easy to make French Press Espresso. Since this is a chilled drink, you could also make French Press Cold Brew the night before you make the martinis.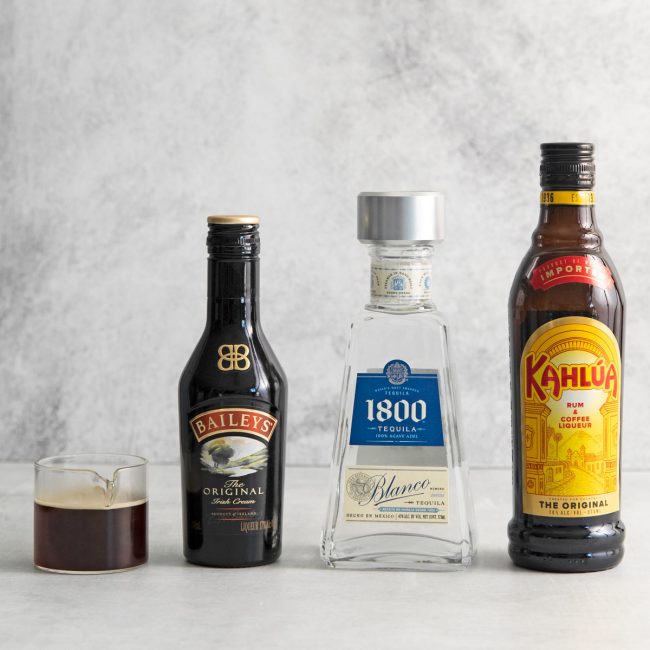 If you don't have a French press, your next best option is to make Mason Jar Cold Brew.
And check out this post, Espresso Beans vs Coffee Beans for the difference between the two and what kind of grind you need to make espresso at home.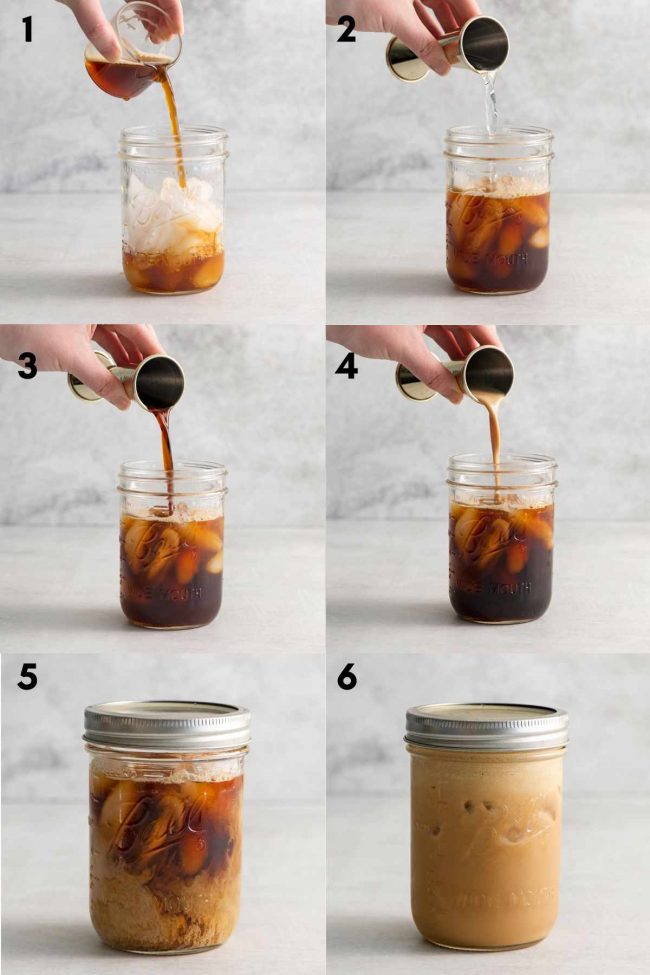 Vegan options
Here are the substitutions to make this espresso martini vegan-friendly.
For a vegan-friendly version, you can plan ahead and make this Vegan Baileys Recipe or try it with Baileys Almande. If you try this drink with either of these, I would love to hear about it.
Kahlua is NOT vegan, but you can use Tia Maria instead.
Tequila is vegan-friendly if it's made from 100% agave with no added flavorings.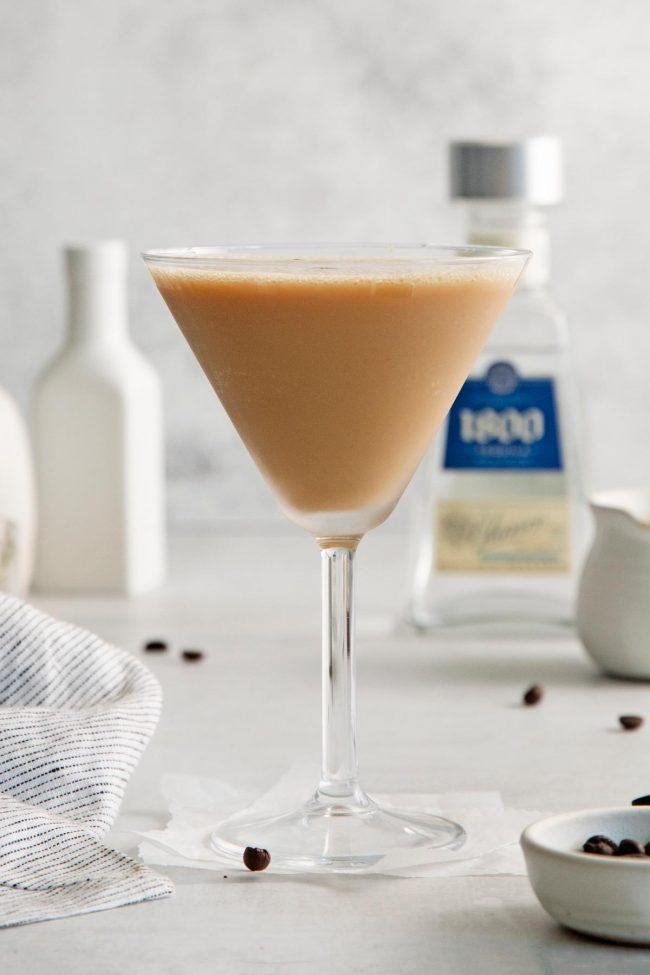 Gluten-free
Kahlua's website states, "We do not add any known gluten ingredients in Kahlua Original or the Kahlua Flavors."
Baileys states, "The known ingredients in Baileys are gluten-free."
Beyondceliac.org says, "… pure, distilled tequila, usually made with blue agave plant, is considered gluten-free." Adding, "Even if the tequila is mixtos, meaning that it contains at least 51% agave with other sugars added, it will still be safe for people with celiac disease."
If you're going with Tia Maria coffee liqueur for the vegan option, their website says it's vegan and gluten-free. But stay away from the "cream" liqueur as it doesn't say gluten-free or vegan, but it's not what we're using today anyway.
Alcohol brands are not required to disclose ingredients on the label, which makes it almost impossible to tell by looking at the bottle.
If you try a different brand of coffee liqueur, it's best to google whether it is vegan/gluten-free or not.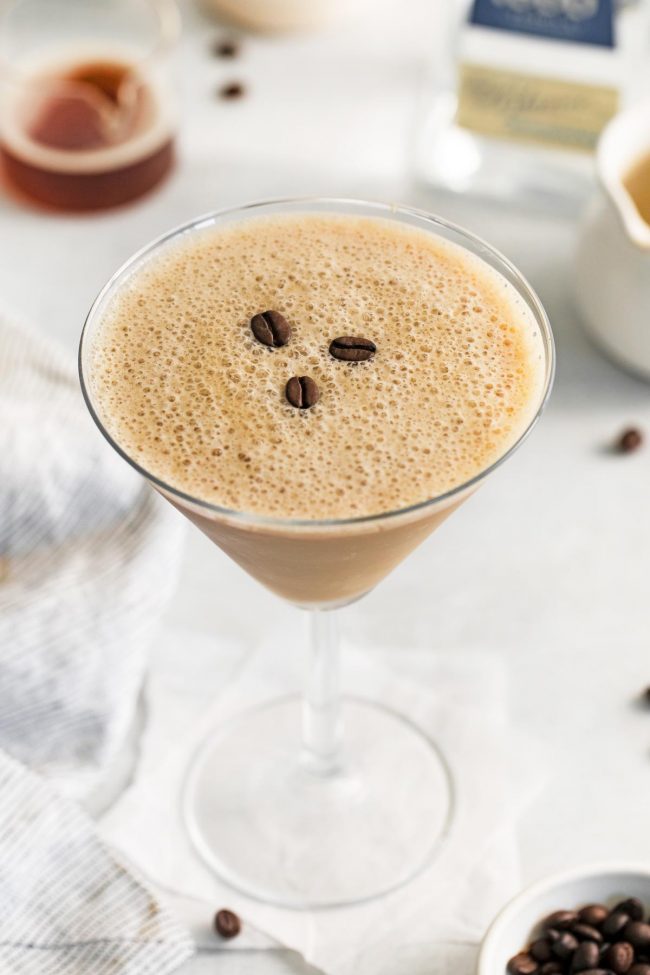 Is this martini caffeinated?
The espresso is caffeinated along with the Kahlua. 1.5 oz of Kahlua has 5 mg of caffeine, so this drink would have just under that for the Kahlua, then you have to add the caffeine for the espresso shot.
If you wanted to reduce the caffeine, you could use decaffeinated espresso beans to make the espresso and use Kahlua.
Or use decaf espresso and leave out the Kahlua/Tia Maria altogether.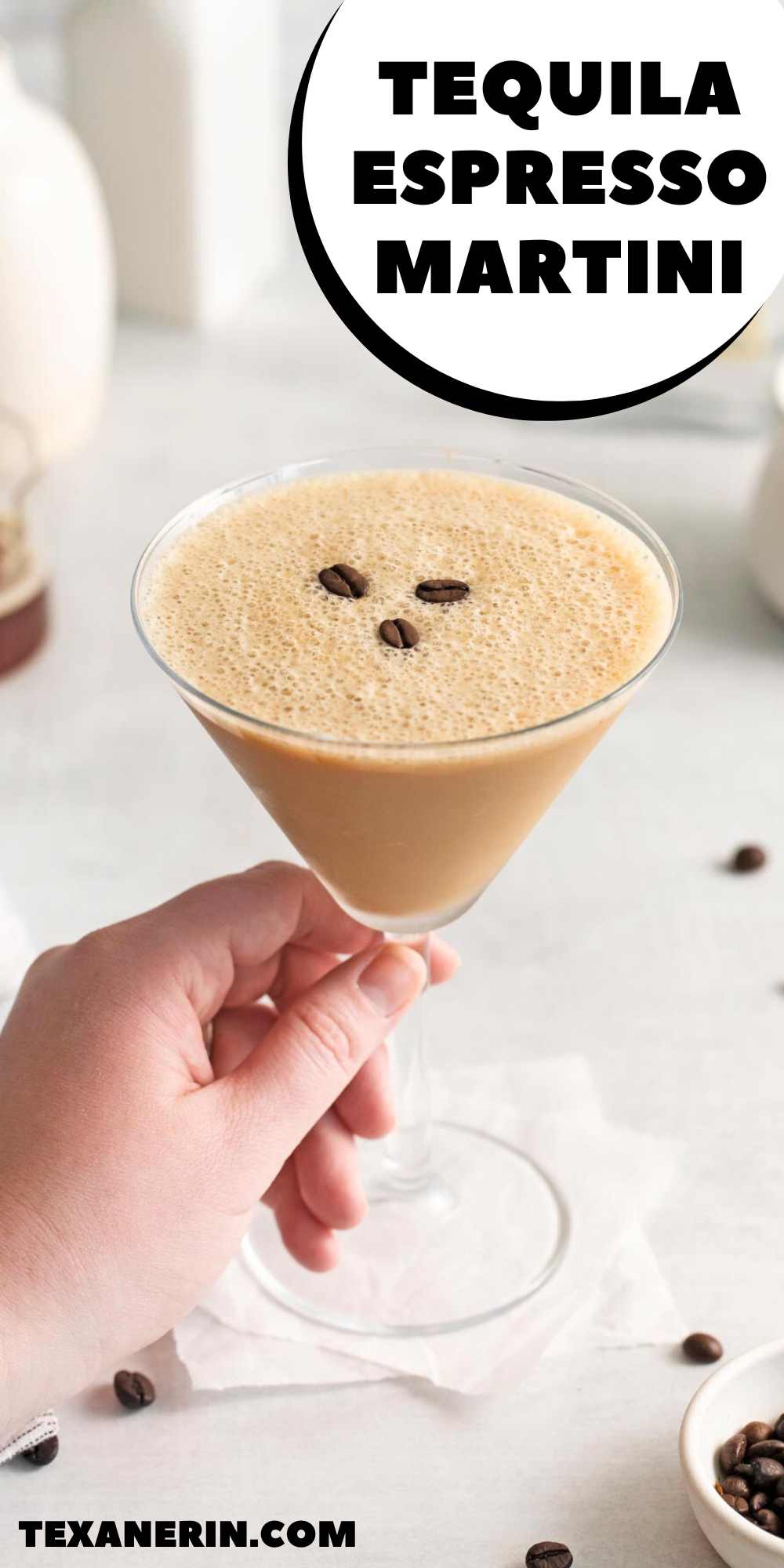 More cocktails
That's it! I hope you enjoy this tequila espresso martini. :) If you try it, please let us know how it tastes by commenting below. Thanks!
❀
Tequila Espresso Martini
Prep Time:
Cook Time:
Ready in:
Yield:

1
Ingredients
ice
2 oz (1/4 cup) cooled espresso
1.5 oz (3 tablespoons) tequila
1 oz (2 tablespoons) Baileys (use Baileys Almande or Vegan Baileys for vegan)
1 oz (2 tablespoons) Kahlua (use Tia Maria for vegan)
Directions
Fill a cocktail shaker about halfway full with ice.
Add everything and shake well, at least 20 seconds (in hopes of creating some foam). Shake a few more seconds and quickly strain into the glasses.